Who doesn't love a sticky honey chicken dish that is easy to make, tastes great, and the whole family eats up? Imagine chunks of juicy chicken covered in a sweet and spicy honey glaze with the perfect amount of crispiness to make your taste buds happy. This sticky chicken has the ideal mix of flavors and textures that will impress anyone!
Sticky Honey Chicken
Are you in the mood for a dish that will make your mouth water and awaken your taste buds? Try our crispy and sticky honey chicken recipe, which is a tasty take on the classic dish from PF Changs.
In this recipe, we fry the chicken in a pan and add some ginger and a little bit of heat to make a flavorful honey sauce. Pair it with steaming hot fried rice, freshly steamed or roasted vegetables, or flavorful stir fry, and you're in for a treat.
With every bite, you'll enjoy how crispy the chicken is and how rich the sauce tastes. It's a dish you'll want to lick off your plate.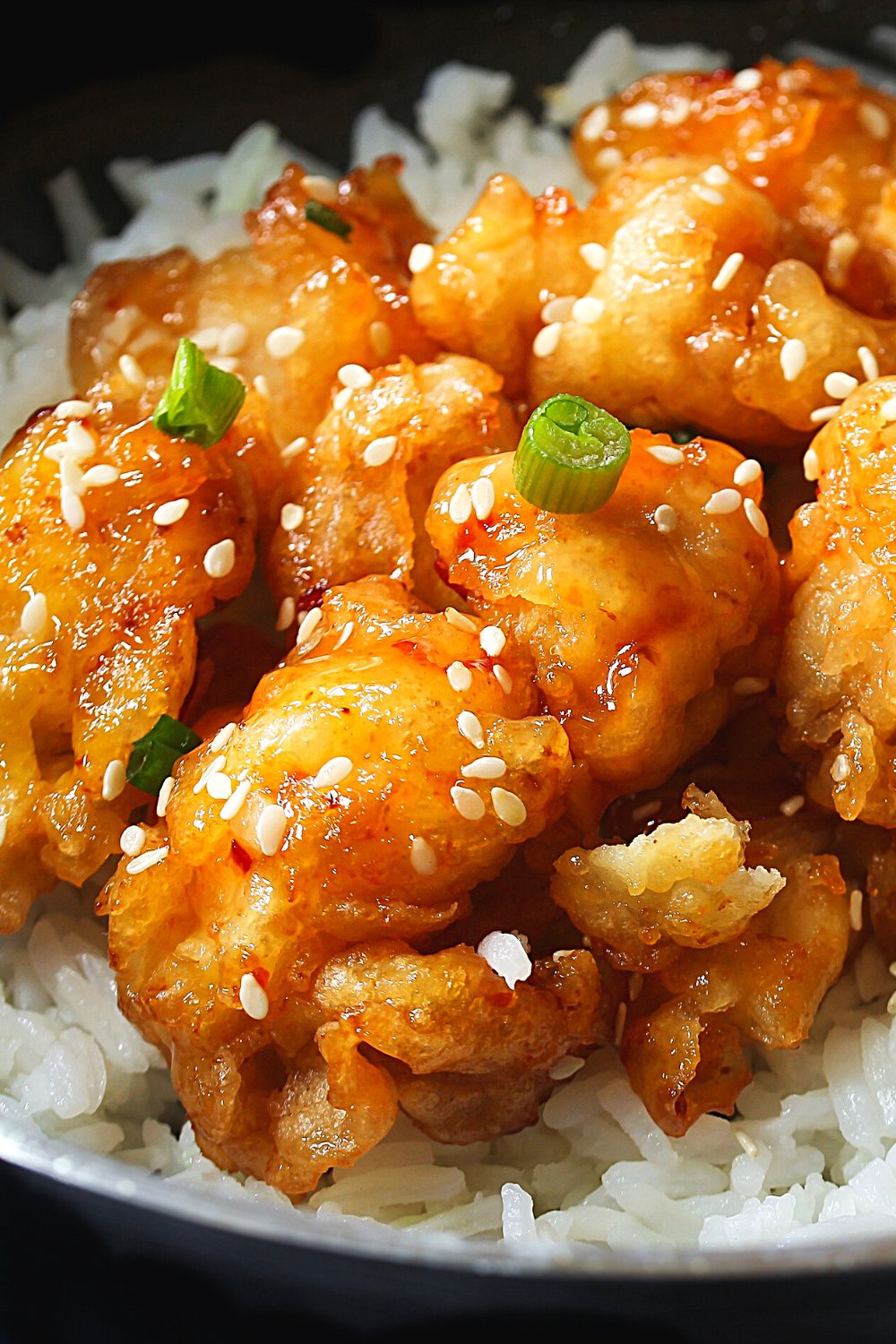 Ingredients you'll need
Chicken breasts: This dish's main ingredient is chicken. Make sure to use chicken breasts that are boneless and skinless for the best results.
Honey: The sweetness of honey balances the salty and spicy flavors in the dish. It also gives the chicken a gorgeous sticky glaze.
Cornstarch: Using cornstarch is the secret to making the chicken's coating crispy. It helps absorb moisture and gives a light, crunchy texture. Cornstarch is also used for the sauce in this recipe.
Vegetable oil: Vegetable oil is used for pan-frying the chicken. Use vegetable oil with a high smoke point, making it great for high-temperature cooking.
Green onions: Green onions give the dish a bright, fresh flavor. They also add texture and color.
Chicken broth or water: Chicken broth can give the sauce a deeper flavor, especially if you make it yourself or buy a good-quality store-bought broth. But you can use water instead of chicken broth if you don't have any on hand or if you want a milder sauce.
Soy sauce: Soy sauce gives the dish a rich, savory flavor profile. It also adds a little salty flavor.
Ginger: Ginger gives the dish a warm, spicy flavor. It is also slightly sweet, which goes well with the honey.
Sriracha: This sauce gives the dish a spicy kick to your chicken. Use it sparingly because a little bit goes a long way.
Garlic: Garlic gives the dish a strong, savory flavor. It also tastes a little bit sweet and nutty, which goes well with the honey.
How to make Sticky Honey Chicken
Step 1: First, season and coat your chicken in cornstarch to give it some flavor.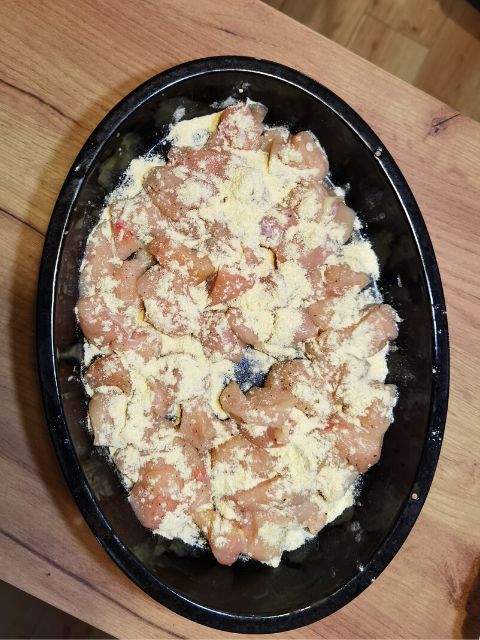 Step 2: The next step is to make the sauce that will make this dish taste fantastic. Just whisk together all the ingredients for the sauce until they are well mixed.
Step 3: Pan-fry the chicken until golden brown, then set it aside on a plate.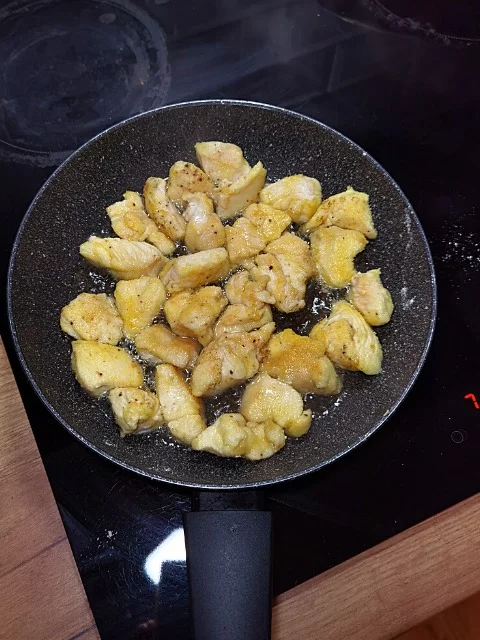 Step 4: Add the sauce mixture to the same pan and let it cook until it thickens to a nice, sticky consistency (it should take around 1 minute). Then, toss the chicken in the sauce until it is fully coated and ready to eat!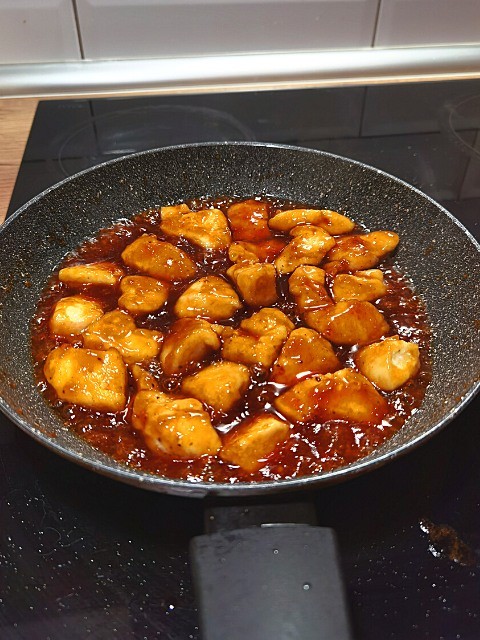 Honey Chicken Tips & Variations
Want to spice up your recipe for sticky honey chicken? Add a pinch of chili flakes or a little more sriracha for a spicy adventure for your taste buds. Get ready for a taste explosion!
Not into chicken breasts? Don't fret! Turn your sticky honey sauce into an adaptable marinade and try it with cubed pork tenderloin or even boneless pork chops or turkey meatballs. We promise it will be delicious.
Want to add something special to your dish? Throw in some bell pepper, onion, or pineapple chunks to add color and sweetness. You'll get a dish that's full of flavor and has a tropical twist. Your taste buds will be dancing for joy.
Sticky Honey Chicken Recipe
With this Sticky Honey Chicken Recipe, you'll want to lick your fingers and enjoy every bite. This sweet and savory dish is full of flavor and is a great blend of juicy chicken covered in a sticky glaze of honey, soy sauce, and spiciness.
Ingredients
1 ½ lbs of chicken breasts
½ tsp of salt
½ tsp of pepper
3 Tbsp of cornstarch
2 Tbsp of vegetable oil, or more if needed
Green onions and sesame seed for garnish
For the Honey Sauce:
5 Tbsp of honey
2 Tbsp of chicken broth or water
2 Tbsp of soy sauce
2 tsp of ginger, finely grated
2 tsp of cornstarch
1 tsp of sriracha sauce, or to your liking
3 cloves of garlic, minced
Instructions
Start by chopping the chicken breasts into bite-sized pieces. Salt and pepper the chicken pieces, then coat them in cornstarch.
Next, make the sauce by mixing all the ingredients in a small bowl. Mix until everything is well-blended, then set it aside for later.
Add oil to a large skillet and heat it on medium-high heat. When the oil is hot, add the chicken in small batches to ensure it cooks evenly.
Cook the chicken for about 5–6 minutes or until there are no more pink parts. When the chicken is done, please put it in a bowl and set it aside.
Pour the sauce into the skillet and let it cook for around one minute. Make sure to stir the sauce every so often so it doesn't stick to the pan.
Add the cooked chicken back to the pan and toss it with the sauce. Make sure every piece of chicken is covered in the sauce. Let the chicken cook for a minute or two until the sauce thickens and the chicken gets all the flavors.
Add green onions and sesame seeds for decoration. Serve with fried rice or steamed or roasted veggies, and enjoy!
If you liked our recipe for Sticky Honey Chicken, pin the image below to your Pinterest board. Share the joy (and the stickiness) with your friends and followers in a snap! 🍯📌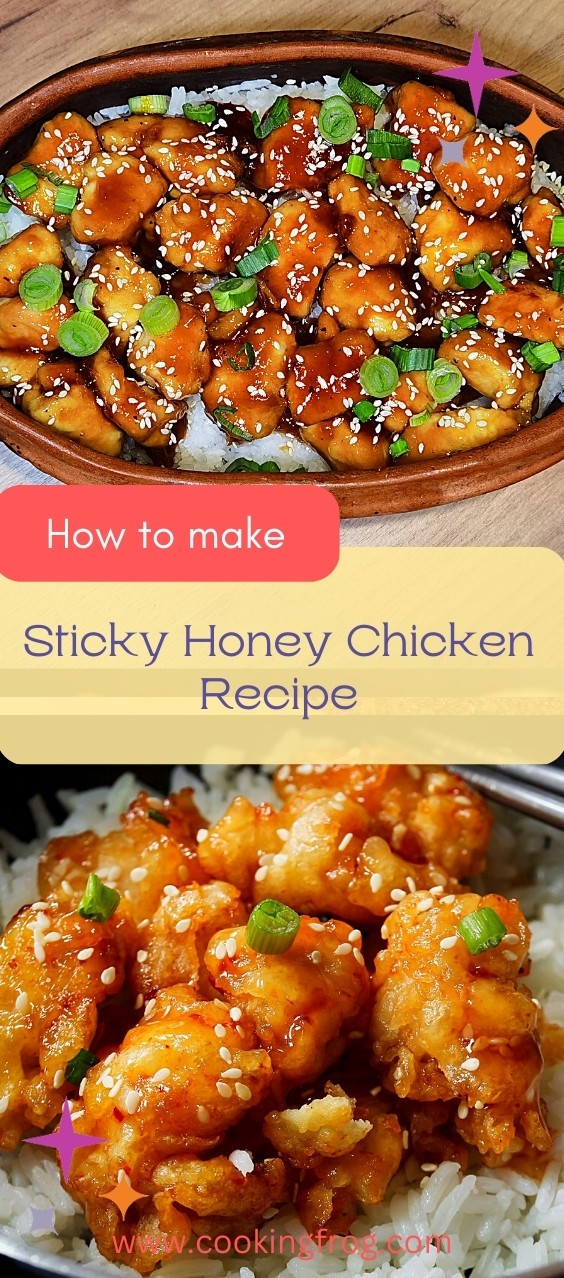 Video Recipe