Crispy Parmesan Garlic Chicken Recipe is one of the easiest meals to make, yet so tasty and delicious. With breaded, crispy chicken, potatoes and asparagus. Your whole family will enjoy and it will be a breeze to make.
Juicy on the inside and crunchy on the outside, this whole meal is made on just one sheet pan. Aren't the best recipes, ones with just one dish to wash? And still, this crispy Parmesan garlic chicken is one of the favorite meals in my family.
Can i make Crispy Parmesan Garlic Chicken in a skillet?
Sure you can, just take a medium size skillet, and pour about two tablespoons of oil. Place the chicken in the skillet until it's crispy, for about 4-5 minutes. Just cook them evenly and turn sides while cooking.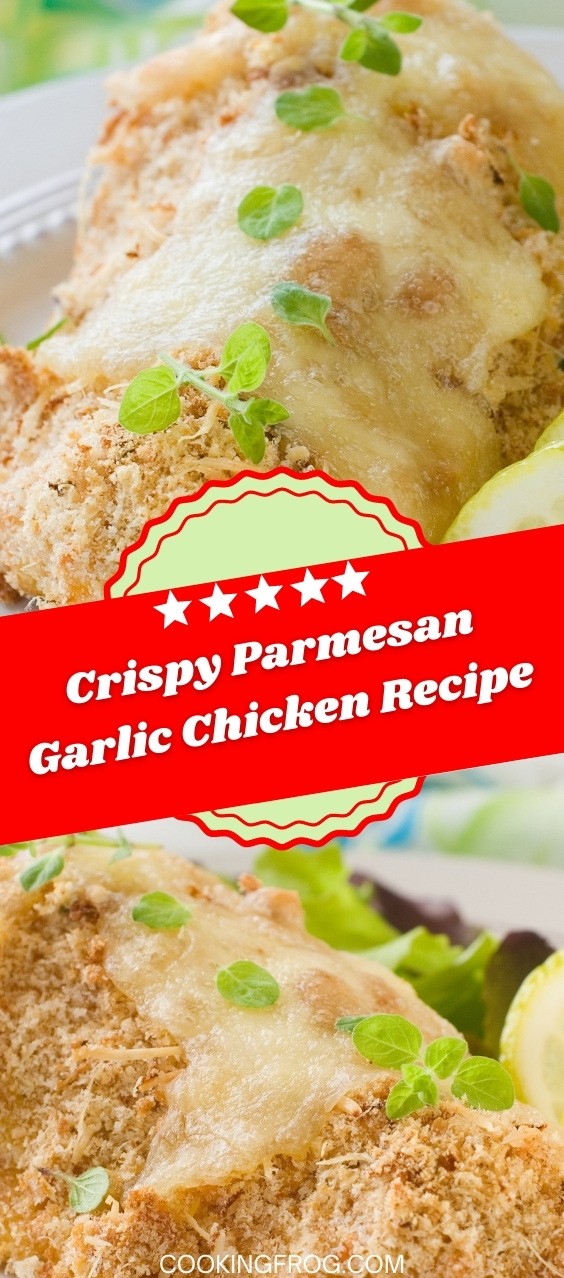 Ingredients
4 pieces of fresh chicken breasts
2 whole eggs
salt and pepper
2 ounces of milk
3 cups of panko breadcrumbs
2 cups of shredded Parmesan cheese
Tablespoon of Italian seasoning
A teaspoon of powdered garlic
A pound of potatoes, i use baby potatoes
Handful of asparagus
2 tablespoons of olive oil
Instructions
Heat the oven to 425 degrees Fahrenheit. Take the cooking spray and spray the sheet pan. Or you can line, with parchment paper if you prefer.
While the oven is heating, whisk milk and eggs together in a shallow dish.
Add panko breadcrumbs, Italian seasoning, Parmesan cheese and garlic powder in another shallow dish.
Season the chicken with pepper and salt and dip them in the milk and eggs mixture. Finally, dredge them in the panko mix to give them a nice coating. Place them on the sheet pan.
Add potatoes and asparagus in two separate medium size bowls. Season them with pepper and salt and spray with olive oil. Place the potatoes on the sheet pan, next to the chicken.
After 15 minutes of baking, take the pan out of the oven and flip the chicken. Also, add asparagus to the pan. Put back in the oven and bake until the chicken reaches an internal temperature of 160-170 degrees. It should take around 13 – 15 minutes. Serve right away!