Homemade McDonald's Chicken McGriddles recipe is really worth mastering at home. It is not hard to make at all, however, you need to follow the instructions carefully.
I'm on the row of making copycat recipes here. After Chick-fil-A Chicken minis and Popeyes Chicken Sandwich are so popular on our website, we're stopping at McDonald's next. So today, I've decided to make one amongst the legendary fast food breakfasts of all time, the McDonald's McGriddles Copycat, and it turned out pretty darn awesome!
McDonald's Chicken McGriddles
Pancake buns are really soft and have small pockets of warm maple syrup throughout each bite. There's also a small secret to getting the syrup inside these McGriddles.
I was introduced to the Chicken McGriddles through my friend, Johana. Johana loves McGriddles, and this was forever her favorite meal to order at McDonald's. And I had heard and seen the name many times; however, I never really knew that a McGriddle was pancaked BUNS rather than biscuits or McMuffins.
I really don't visit McDonald's a lot any longer, however, when I do have the urge to indulge in a fast food breakfast, it's almost always Mcdonald's and it is always Chicken McGriddles.
This recipe is precisely just like the original. The sole difference is that they're homemade, so they are a touch thicker, with a bit more syrup, and simply taste like homemade. But not losing any flavors.
Be sure to check the newest addition to my recipes: Homemade McDonald's Hash Browns.
For McDonald's Chicken
I've decided to fry up a chicken breast fillet for this recipe rather than making a "formed" chicken patty. I will always take chicken breasts over ground and shaped chicken patty any day of the week.
The breading and seasoning is incredibly similar to the McChicken however won't be exactly just like the original. This is an upgrade for sure for this recipe, and you'll have to trust me!
For McDonald's Syrup
There are a number of recipes on the internet that tell you to use 100% pure maple syrup. I'm sorry about that, but they need to update cause that doesn't taste like McGriddle. For real, you want a real pancake syrup.
The secret to those pockets of syrup is you actually boil the syrup to form a candied solid "glass." You break it down into tiny shards and then stick pieces into the batter as it cooks. While it warms up, it begins to break down and get gooey inside the McGriddles.
Pin the image below if you like this McGriddles Recipe!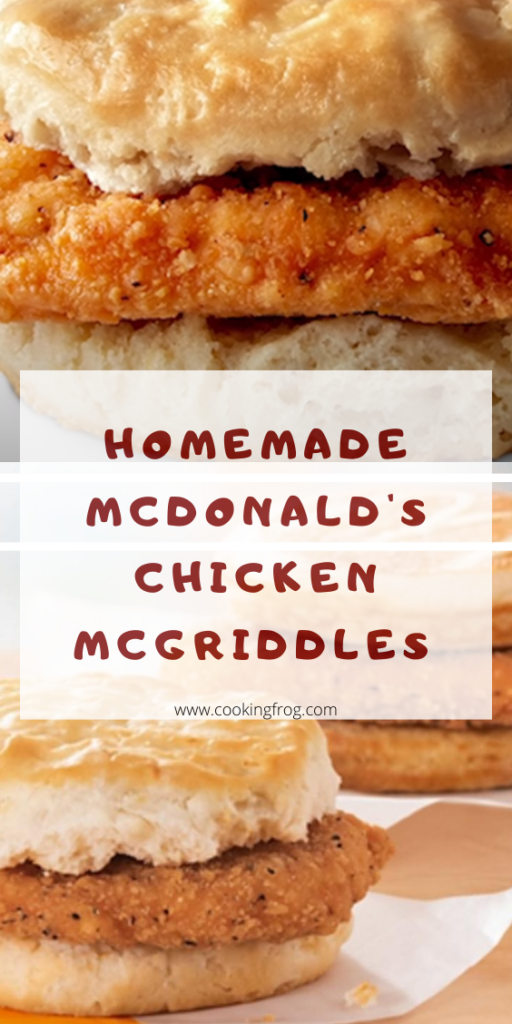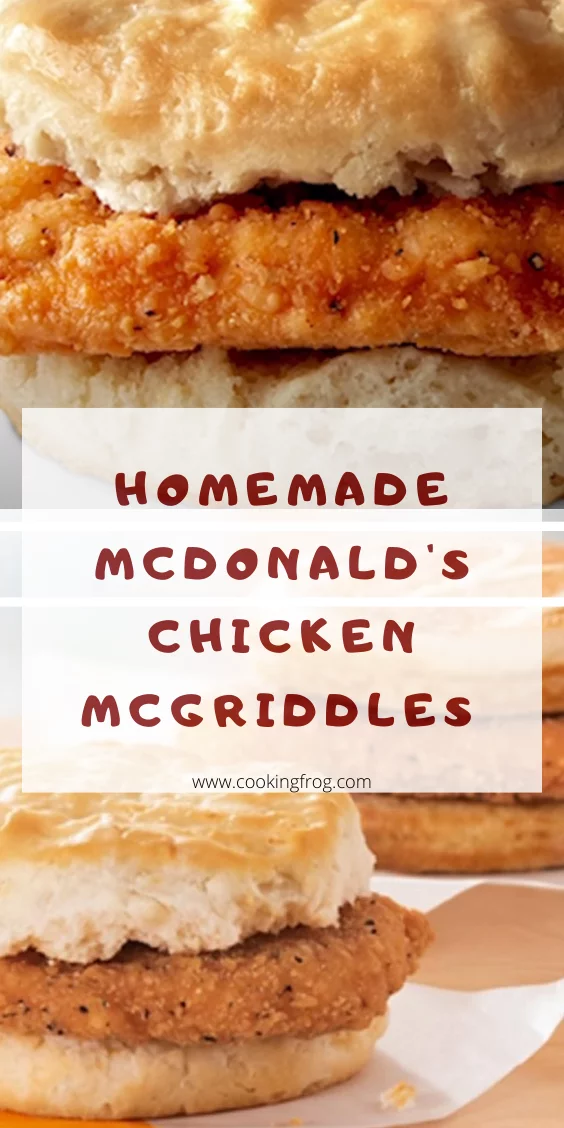 Ingredients
McGriddle
2 cups of Pancake Mixture
1/3 cup of whole milk
2 tsp of vanilla extract
Butter for the griddle/pan
1 cup of pancake syrup
McChicken
1 cup of all purpose flour
2 tablespoons of cornstarch
1/2 tsp of pepper
1 tsp of salt
1 tsp of seasoning salt
1/2 tsp of garlic powder
1 tsp of onion powder
2 tsp of paprika
2 chicken breasts, pounded and cut to 3×3
Frying oil
How to make Homemade McDonald's Chicken McGriddles (Copycat)
McGriddle Syrup Glass Instructions
Line the baking dish with parchment paper and put aside.
Take a small cooking pan with a candy thermometer connected, add one cup of pancake syrup over medium heat.
Allow it to come to a boil point and stir often till it calms down.
Watch the temperature closely and swirl oftent ill it reaches 265 degrees, it should take about ten minutes.
Take away from the heat and carefully pour into ready baking dish, spreading it around equally.
Set pan aside to chill as you prepare the chicken and McGriddles.
Once the syrup is ready, break it into tiny shards.
Keep a handful of the pieces into a bowl close to the stove for later.
McChicken Fillets Instructions
Heat oil to 375 F in a fry-safe pot.
Optional – flip the oven to 210 F(to keep chicken heat while you prepare McGriddles)
Prepare a surface to put the finished deep-fried chicken – a chilling rack beside your stove, lined with layers of paper towels.
Mix the beaten egg and water using a small bowl.
Add all dry ingredients in a shallow bowl.
Place the chicken fillets into the flour mixture to coat nicely, dip them into the egg wash, and then again back to the flour mixture. Make sure all of the area of the chicken fillets are coated in batter.
Fry the chicken in batches, not overcrowd the pan, adjusting the temperature as required to keep it steady and equal.
Once the chicken is close to being cooked, 6-7 minutes, take away from the pot and place onto ready surface.
Allow it to cool for just a minute, more or less and place back to the pan for about 1-2 minutes more.
Take away from the frying oil and allow to chill. You can keep them in the oven, while making McGriddles.
McGriddle Pancakes Instruction
Combine the pancake mixture, milk and vanilla extract and mix nicely.
Heat your frying pan on a medium-low heat, add butter and allow it to brown, just slightly.
Place the round cookie cutter at the bottom of the pan and pour a couple of spoons of batter into the circle. Spread nicely.
Put a couple of shards of the syrup glass onto the batter. Top with a couple of additional spoons of batter.
When the batter starts bubbling, easily take away the ring (it's hot) and flip the McGriddle.
If you've liked this be sure to check these Keto Chicken Wings