Greetings, foodies! Are you looking for a meal that is quick and easy, and full of delicious flavors? Well, let us stop looking because we have the right dish for you: the Blackstone Chicken Breast recipe! This is not just a regular chicken dish; it is a magic show of spices and textures that will keep your taste buds on their toes.
This recipe is a winner thanks to its strong flavors and enticing aromas. The best part is that it is so easy to make that you can show off your cooking skills in no time. Let us dive into the world of tastes and make this beauty, shall we?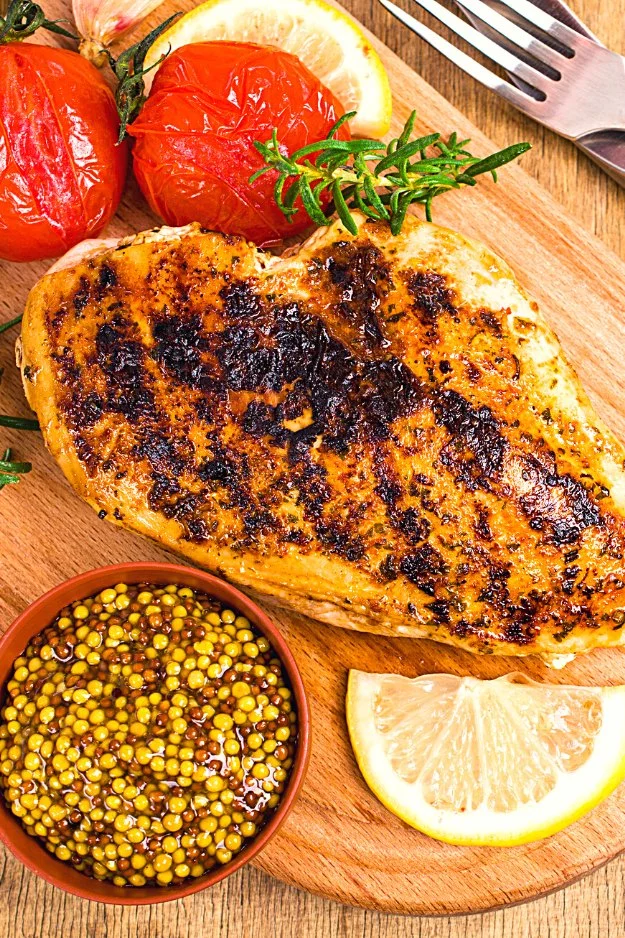 Blackstone Griddle Chicken Breast Recipe
Ignite your culinary enthusiasm with this amazing Blackstone Griddle Chicken Breast recipe. Simple yet filled with rich flavors, it transforms an everyday meal into a gastronomic delight.
Ingredients
4 chicken breasts
2 Tbsp of Avocado oil
1 Tbsp of Blackstone Chicken & Herb seasoning
1 tsp of garlic salt
1 tsp of onion powder
1/2 tsp of black pepper
Instructions
Step 1: Get the chicken ready
First, use a paper towel to dry the chicken breasts. This step is important because it helps the spices stick better to the chicken, making for a more flavorful meal.
Step 2: Season the chicken
In a bowl, mix together the garlic salt, onion powder, black pepper, Blackstone Chicken & Herb seasoning. Rub the chicken breasts with this fragrant mixture until they are well-coated and ready to cook.
Step 3: Cook the chicken
Preheat your Blackstone griddle over medium heat, then brush it with avocado oil. Place your seasoned chicken breasts on the griddle and cook each side for about 7 minutes or until the chicken's internal temperature reaches 165 F. Enjoy!
Make your Blackstone Chicken Seasoning
If you do not have Blackstone Chicken & Herb seasoning, you can make your own blend with spices you already have at home. Here's a simple mixture you can make yourself:
Ingredients
1 Tbsp of dried rosemary
1 Tbsp of dried thyme
1 Tbsp of dried oregano
1 Tbsp of dried basil
1 Tbsp of garlic powder
1 Tbsp of onion powder
1 tsp of salt
1 tsp of black pepper
Instructions
Combine these ingredients in a bowl and stir well. Store any extra seasoning in an airtight container.
Different Flavors to Try
Here are some ideas for changes to keep things even more interesting:
If you like your chicken spicy, you can add chili flakes to the seasoning mix.
Add some fresh rosemary or thyme to the seasoning mix for a twist with herbs.
A lemon or lime juice squeeze can make your chicken taste tangy and fresh.
A dash of honey or maple syrup will add a touch of sweetness to balance the salty spices.
Did you enjoy this Blackstone Griddle Chicken Breast recipe? Do not leave your Pinterest board feeling all alone. Pin the image below and let the good vibes fly in. Still, food is the language of love. Share the flavors, share the love! 🙂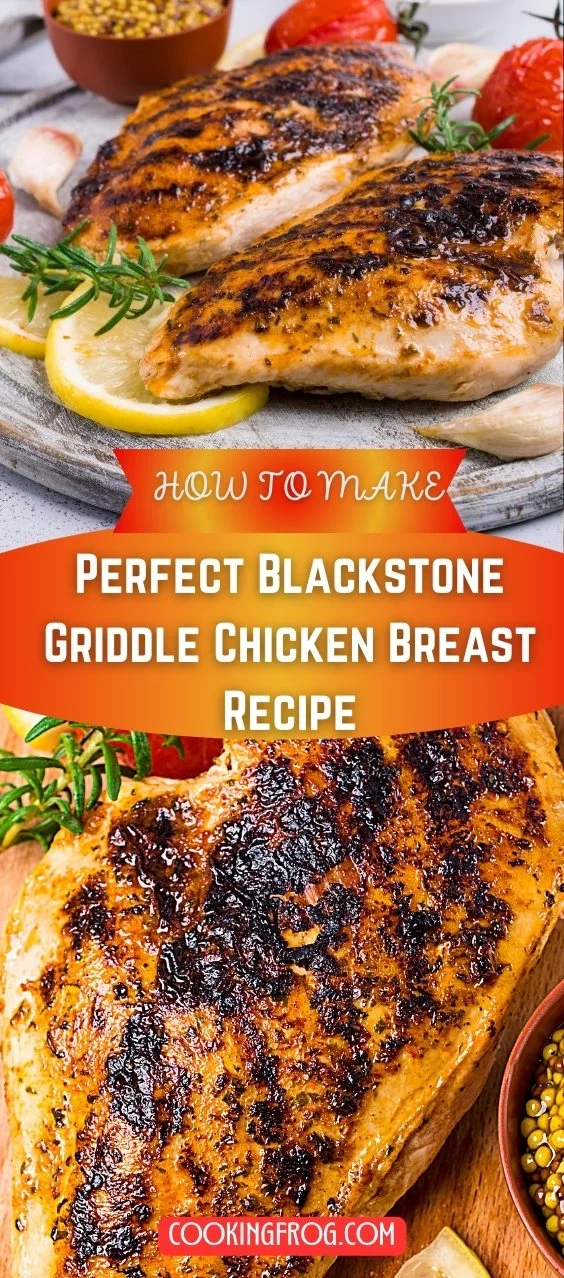 Additional Tips for Best Results
Here are some tips to make your Blackstone Chicken Breast dish even better:
Ensure that your chicken breast is evenly coated with the seasonings. This ensures a consistent flavor throughout each bite.
After grilling the chicken, let it sit for a few minutes. This helps the juices spread out again, making sure the final product is moist and tender.
Always check the thickest part of the breast to see if it is done. This is because the middle of the chicken could still be raw even if the outside looks done.
More Delicious Blackstone Griddle Recipes
Blackstone Griddle Chicken Thighs: If you thought that chicken breasts were the only way to go, these juicy thighs would change your mind. They are marinated in a mix of spices and then grilled to perfection for a dish that will make you want to lick your fingers.
Blackstone Griddle Chicken Wings: The ultimate party food gets a Blackstone makeover. Seasoned and grilled until crispy on the outside and tender on the inside, these wings will be the star of any gathering.
Blackstone Griddle T-bone Steak: A dish sure to satisfy anyone. This T-bone steak is seasoned and grilled to perfection, offering a juicy, tender, and flavor-filled meal that'll leave your guests asking for more.
Blackstone Griddle Juicy Smash Burger: Say hi to the ultimate comfort food. Hand-formed patties are "smashed" on the griddle, which creates a beautiful charred exterior while keeping the inside juicy and full of flavor. This is a burger you will not forget.
Blackstone Griddle Eggs in a Basket: A fun and tasty twist on a typical breakfast. The toast is grilled until it is golden brown, and an egg is placed in the middle. This is a wholesome way to start your day.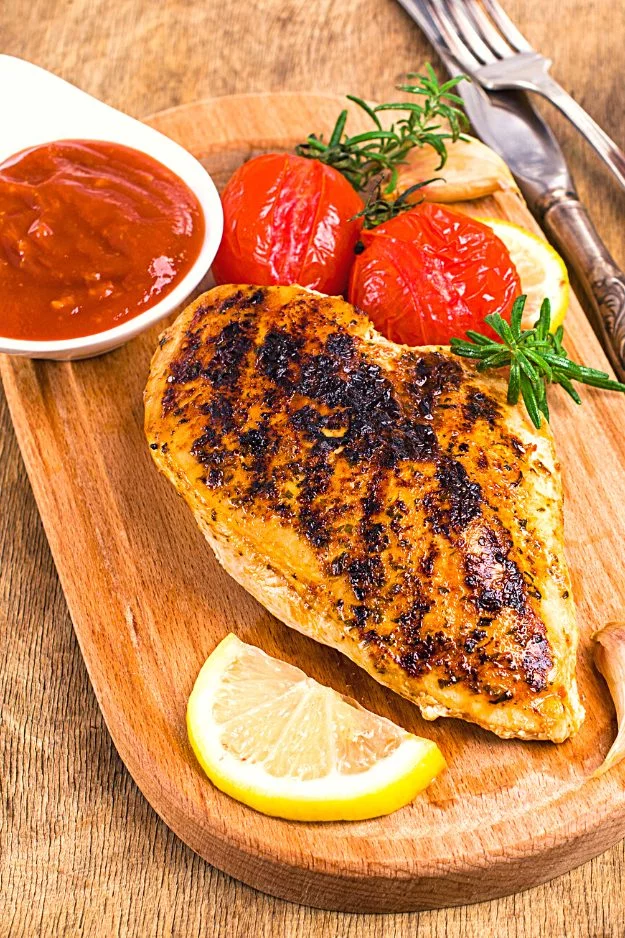 FAQs
Can I replace a Blackstone griddle with a regular pan?
Absolutely, you can use a non-stick pan or even an outdoor grill.
What pairs well with the Blackstone Chicken Breast?
This dish goes well with many different sides, like roasted vegetables, crispy Brussel sprouts, mashed potatoes, fresh salad, or this Slim Chickens slim sauce.
How to store leftover cooked chicken?
You can store your chicken in an airtight container in the fridge for about 3-4 days. You should place it in the fridge within 2 hours after sitting at room temperature.