When you make this Popeyes Chicken Sandwich Recipe, you will be instantly teleported to Popeyes, but won't have to be confronted with long lines or sold-out signs!
You eat plenty of chicken sandwiches in your life. However, this one is the one that stops you in your thoughts and stays in your mind long once you ate it. It's wonderful. It's good. It makes me really happy and this version is simply as wonderful if not better than the original.
Popeyes Spicy Chicken Sandwich Recipe Notes
A thermometer is very important so you'll monitor and regulate the oil temperature as you go.
Keep a spider – skimmer to skim out all the fallen breading so it doesn't burn in your grease.
It is ideal to marinate the chicken a minimum of the night before, however the complete 24 hours is really ideal.
About the spices – the higher quality, the better this dish will be.
I really like Penzey's spices and i am setting out to buy those slowly once my cheaper versions run out. They aren't even costlier, they're simply less accessible as they aren't at grocery stores.
Share the image below to your Pinterest board if you like this Copycat Popeyes Chicken Sandwich recipe!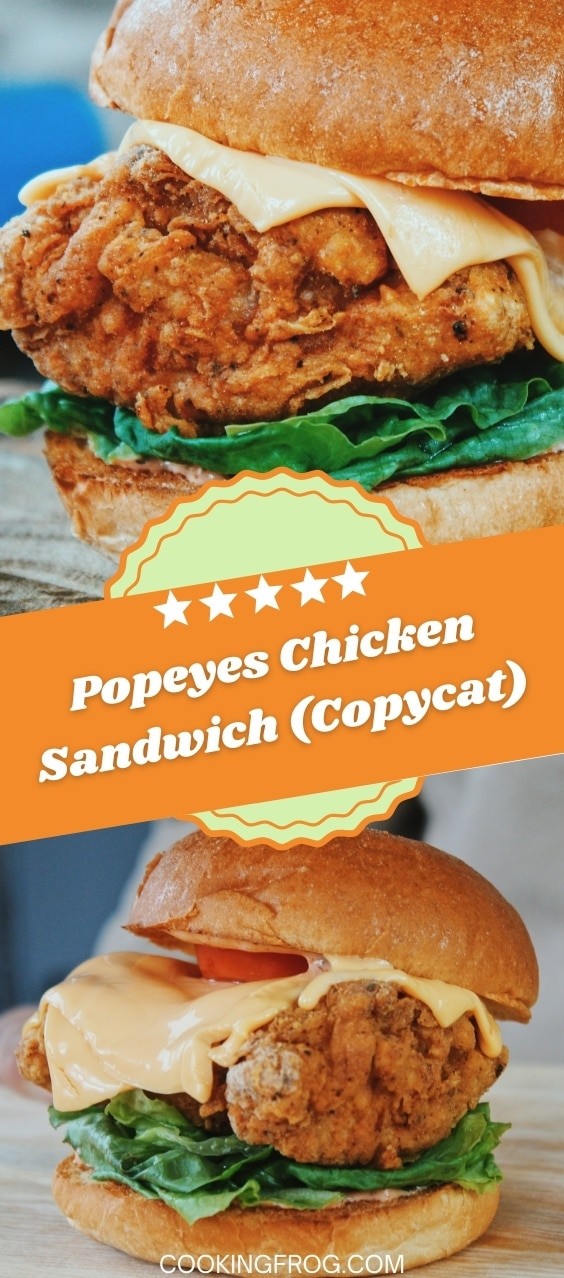 Ingredients
Chicken Marinade
2 pounded chicken breasts, and cut in half to sandwich size
1 cup of buttermilk
1 teaspoon of cayenne, paprika, sea salt, pepper
Tablespoon of Louisiana hot sauce
Chicken Breading and Frying
Vegetable oil
1.5 cups of flour, all-purpose
3/4 cup of corn starch
1.5 tablespoons of paprika, garlic powder, onion powder, Cajun seasoning and cayenne pepper.
2 teaspoons of sea salt
2 teaspoons of ground pepper
Spicy Mayo and Assembly
3/4 cup of mayonnaise
2 tablespoons of Louisiana hot sauce
2 teaspoons of paprika
2 teaspoons of Cajun seasoning
1 teaspoon of cayenne pepper
1/2 tsp of garlic powder
2 tablespoons of butter
4 buns, Brioche
Kosher dill pickle slices
How to make Spicy Popeyes Chicken Sandwich Recipe (Copycat)
Marinate the chicken 4-24 hours before serving.
Add the buttermilk and all marinade ingredients in a medium size bowl and mix well.
Put the pounded chicken breasts into the marinade, make sure it's absolutely submerged. Tightly cover and refrigerate.
Prepare the spicy mayonnaise by mixing all the ingredients in a smaller bowl; mayo, paprika , hot sauce, Cajun, cayenne and garlic powder.
Cover and put aside in the fridge to allow time for the flavors to meld along nicely.
Breading & Frying Popeyes Spicy Chicken Sandwich:
Heat oil to 350 degrees using a heavy duty pot.
Prepare a landing destination for the finished chicken, while the oil is heating.
In this case, I use a baking sheet lined in paper bags or a couple of layers of paper towels.
Using a medium-size bowl, prepare the dry flour mixture by combining all the breading ingredients.
Take out the chicken marinade from the fridge, scoop 1/3 cup of the liquid marinade and add it into the flour mixture.
Use a fork to mix the liquid marinade into the flour mixture.
Take the chicken from the marinade, one at a time and dry pat excess moisture with paper towels before placing in the flour mixture.
Coat chicken completely with flour mixture, adding additional marinade liquid as needed.
Place the chicken into the frying oil, for about 4-6 minutes.
Take away the chicken and place onto lined baking sheet.
Let the chicken rest for a couple of moments, then return to the fry oil for an additional minute or two.
For the buns:
Heat the pan to medium heat.
When it's hot enough, add the butter and place either side of the buns face down into the buttered surface.
Toast till edges of the buns are nicely butter crisp.
Assemble the Popeyes Chicken sandwich:
Add spicy mayo to each side of the buns, and do it generously.
Add 4-5 pickle slices to bottom bun, add chicken breast and place the top bun.
Let us know what you think of this Crispy, spicy and tangy copycat version of the famous Popeyes Chicken Sandwich Recipe!
If you've liked this recipe, be sure to check this Chick-fil-a Chicken minis copycat recipe.