This Marry Me chicken recipe is delicious, flavorful, juicy, and covered in a rich parmesan sauce. This meal, which is seasoned with delicious herbs and sun-dried tomatoes, will dissolve in your mouth and make you wish someone would propose!
The taste of Marry Me Chicken is rich, flavorful, and creamy. It is stated that if you prepare this chicken meal for your lover, they will immediately ask to marry you.
Additionally, kid- and family-friendly, this creamy chicken is sure to satisfy! This delicious recipe requires a few simple ingredients and 30 minutes of your time to prepare.
Why the name "Marry Me Chicken"?
Although its exact origins are unclear, Marry Me Chicken lives up to its name. To put it simply, anyone you offer it to will proclaim, "Marry me!" The name "marry me chicken" refers to how delicious it is and how the flavors "marry" and make the dish taste even better.
You'll only need one mouthful before you start craving more. This delicious chicken is covered in a flavorful sauce that is rich in cream, parmesan cheese, and herbs. The delicious sun-dried tomatoes steal the stage in the Marry me chicken recipe. Pasta is a great addition to this recipe since it helps the creamy sauce absorbent. Just wait till it reaches your lips—you'll want to propose right now!
The nicest thing about this dish is how quickly it comes together and only requires one skillet! Whenever I'm rushing the kids to all of their activities on hectic weeknights, simple one-pan meals definitely come in handy.
The sweetest part is since it's quick and delicious and easy to clean up, is this marry me chicken! If you serve it with buns and a salad, this will undoubtedly become a crowd-pleaser in your home.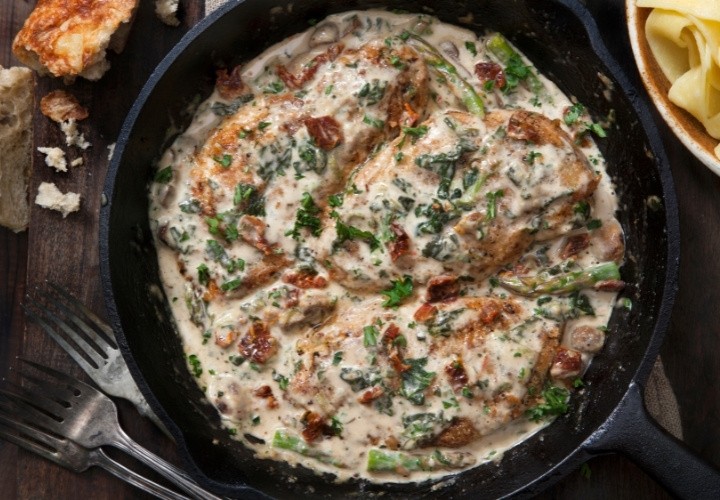 Marry Me Chicken Ingredients
Another reason this Mary Me chicken recipe is fantastic is you probably already have all the ingredients you need.
However, if you don't, they are simple to obtain and may be stored in your fridge and pantry until you are ready to prepare it.
For specific ingredient amounts, see the recipe at the end of the article.
Chicken Breasts (Boneless and Skinless): The highlight of this recipe is succulent, tender chicken.
Butter: To thicken your creamy sauce, you'll need melted butter. It also provides fantastic taste!
Salt and Pepper: To improve the flavor of the chicken, season it on both sides. Pepper adds some spiciness to counteract the salt.
Olive Oil: Chicken in olive oil is a common practice.
Flour: The roux, which thickens the sauce, is made using flour and butter.
Garlic: This meal is extremely great with the addition of garlic taste.
Heavy cream: A creamy element that thickens the sauce and gives the food a rich taste.
Sun-dried tomatoes: very flavorful, acidic, and sweet! Complements the creamy sauce so wonderfully.
Chicken broth: Chicken broth is the liquid you must add to your roux to make the sauce.
Parmesan Cheese: An essential component of taste, this salty, creamy cheese dissolves into the sauce.
Dried Italian seasoning: While most recipes only call for one herb, we want all of them for the fullest possible Italian taste!
Fresh Basil: To enhance visual appeal and taste, garnish this marry-me chicken with fresh chiffoned basil.
Marry Me Chicken Recipe
This recipe for Marry Me Chicken is one of my favorites since everything cooks together in a single skillet, making serving and cleanup a breeze. It really makes my life so much simpler to cook the sauce and brown the chicken in the same skillet!
Step 1: Prepare the Chicken
Prepare the chicken by slicing the chicken breasts more thinly so they cook more evenly. If necessary, use a mallet to pound the chicken until it is thinner. Use salt and pepper to season the chicken on both sides.
Step 2: Cook the Chicken
To cook the chicken, heat the olive oil to a medium-high temperature in a big pan. After adding it, grill the chicken for 5 minutes on each side. Cook it until it is mostly cooked through and has a browned exterior. Later, it will continue to finish cooking. While preparing the sauce, transfer the cooked chicken to a platter and put it aside.
Step 3: Making the Roux Sauce
To make the roux, add the butter to the same skillet once more. When the garlic is aromatic, add it and sauté for 30 seconds. To create a paste, add the flour and mix. Add the grated parmesan cheese, heavy cream, and chicken broth, stirring using a whisk.
Add the Italian seasoning and sun-dried tomatoes once they have been rinsed. If necessary, add extra salt and pepper to the dish. Simmer while allowing the sauce to thicken for a few minutes over low heat.
Step 4: Marry The Chicken with the Sauce
Layer the Chicken on Top of the Sauce. Add the chicken back to the pan. Reduce the heat to medium-low and simmer for a further 10 minutes. 11.
To garnish this marry-me chicken, add chiffoned or fresh chopped basil leaves for taste and a stunning look.
How to Store "Marry Me Chicken"?
If this "marry me chicken" happens to have any leftovers, you will be overjoyed! It stays well in the refrigerator for another lunch or dinner.
In the fridge: You may keep leftover chicken there for up to three days in a shallow, airtight container.
Freezer: It's better not to freeze this dish. The best outcomes are served the same day or after being chilled and warmed.
To reheat "Marry me chicken, cook this in the microwave in a pan over medium heat until the chicken is well heated.
Share the image below to your Pinterest board if you like this "Marry Me Chicken" recipe!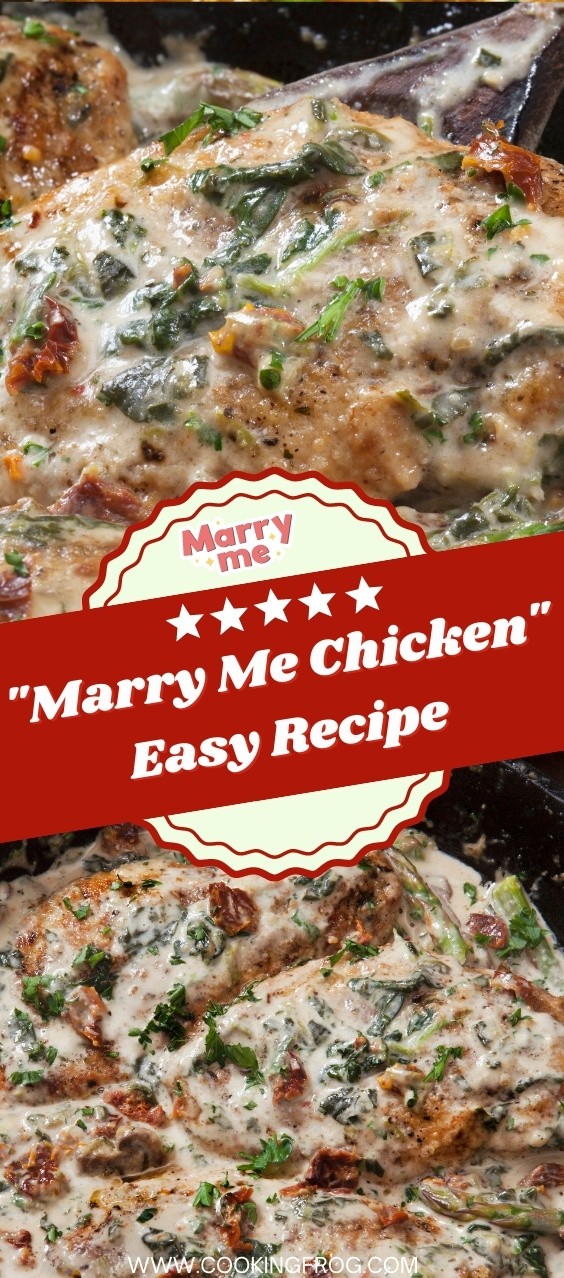 Ingredients
16 oz of Boneless Skinless Chicken Breasts
1 TBSP of Olive Oil
3 Tbsp of Butter
2 tsp of Garlic (minced)
3 TBSP of Flour
½ tsp of Salt
1/4 tsp of Pepper
1 Cup of Chicken Broth
3/4 Cup of Heavy Cream
1/2 Cup of grated Parmesan
1/2 cup of drained Sun-Dried Tomatoes
1 tsp of Italian Seasoning
For Garnishing, Fresh Basil or Spinach (Optional)
Instructions
To ensure consistent cooking, cut the chicken breasts into thinner slices. If necessary, use a mallet to pound the chicken until it is thinner.
Season the chicken breasts with salt and pepper on both sides.
Heat the olive oil in a large pan over medium-high heat and cook the chicken. The chicken should be largely cooked after adding it and cooking it for 5 minutes on each side. Later, it will proceed to finish cooking.
While you prepare the sauce, place the cooked chicken on a platter and put it aside.
Add the butter to the same pan when you are done. Sauté the garlic for 20-30 seconds or until it is aromatic after it has melted. To create a paste, whisk in the flour.
Stir in the heavy cream, parmesan cheese, and chicken broth.
Combine the Italian seasoning and drain sun-dried tomatoes. If necessary, add extra salt and pepper to the dish.
To thicken the sauce, simmer it for a couple of minutes or until the sauce is thick enough.
Place the chicken in the pan and cover with sauce.
Reduce the temperature to medium-low and simmer for an additional 8-10 minutes.
Top with warm pasta or rice with freshly chopped basil leaves for garnish.