Chicken tempura is a local specialty in Japan's Oita Prefecture, which is part of the Kyushu region. This Chicken Tempura is typically served dipped in karashi mustard ponzu sauce, with a toasty and puffy shell on the exterior and delicious and succulent meat within.
What is Chicken Tempura exactly?
You're not the only one if you've never read about "chicken tempura." Chicken tempura, I assumed, was a westernized variation of tempura. However, Chicken Tempura, or Toriten (とり天) in Japanese, was invented at a restaurant in Oita prefecture and is a popular dish largely appreciated in this area.
I have a friend who lived 15 years in Japan and never tried or even heard of Chicken Tempura until I ordered it when I was with him at the Japanese New Mizu Sushi restaurant in New York. After a few months, I recreated the recipe according to the instructions of the most generous chef, and the result is this recipe.
Chicken tempura is fried chicken in the tempura style, as the name implies. Chicken breast or thigh is chopped into strips, marinated in a combination of soy sauce, garlic, and ginger, sake then deep-fried in tempura batter.
The dipping sauce makes a significant distinction between chicken tempura and normal tempura. Tempura chicken is frequently dunked in kabosu ponzu sauce, which is made with Japanese karashi spicy mustard.
Chicken Tempura Recipe
Suppose you've never attempted to make tempura chicken before. In that case, you're missing out on one of the most fantastic chicken dishes available.
This traditional Japanese chicken dish is similar to chicken fingers, except the breading is lighter and crispier.
And marinated chicken is used in this dish to enhance the entire flavor and get to that next level of amazing flavor.
The tempura that coats each delectable piece of chicken is both delicious and simple to prepare. And thanks to the method employed in this dish, each cut of chicken will be fully covered in fried, crunchy, juicy goodness.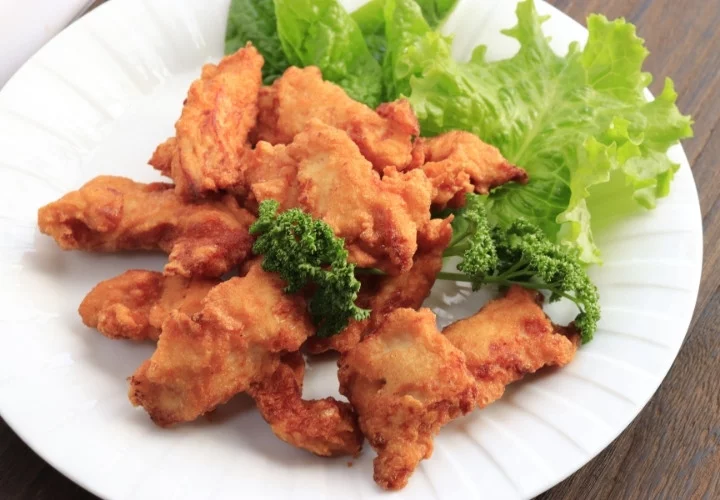 How to make Chicken Tempura
As I previously stated, preparing this meal is rather straightforward.
All that's left now is to marinate the chicken, prepare the tempura batter, and mix the two before frying the chicken tempura. The method for creating this fried squash is comparable.
Let's not spend any more time and get this party started!
Marinate the Chicken
The first step is to thin down your chicken breast by pounding it with a meat tenderizer. Then slice your chicken into strips about 1 inch broad and 3 inches long.
Next, combine your ginger, garlic, ground pepper, salt, sake, and soy sauce in a small mixing bowl.
Afterward, place the chicken in a ziplock bag or an airtight container. Pour in your marinade, and chill in the fridge for 15 minutes.
You may create the tempura batter while the chicken is marinating.
Make the batter for Chicken Tempura.
Fill a big bowl (around halfway full) with ice and water, then put a medium-sized bowl inside.
Then, in a medium mixing dish, whisk together the yolk and white of your egg.
Sift the cake flour and cornstarch together with the beaten egg into the mixing bowl.
Then slowly drizzle in the 1/3 cup of cold water, constantly stirring until everything is just incorporated and a batter forms. Ensure you don't overmix the mixture; stop mixing once a batter has formed!
Prepare your Chicken for Frying
So, at this point, your marinated chicken and tempura batter should be ready to go.
To begin, place all of the chicken pieces in the batter dish and completely coat them in the batter.
Next, fill a medium-sized saucepan (or deep fryer) halfway with oil and heat it to 350°F (180°C).
Once the oil is hot, add 2-3 pieces of coated chicken at a time to the saucepan—cook for 2 minutes on each side or until the outside is crisp.
Garnish your chicken tempura with soy sauce and shredded cabbage, and get ready to eat!
How to keep Chicken Tempura Leftovers?
As a result, this dish serves two people, making it ideal for a meal for one or two. However, if you need to feed a large family, this dish may simply be doubled or tripled!
If there are any leftovers, just put them in an airtight container in the fridge for up to two days.
Set your oven to 425°F and put the pieces on a lined baking sheet to warm your tempura.
Save the image below to your Pinterest board if you like this Japanese Chicken Tempura recipe!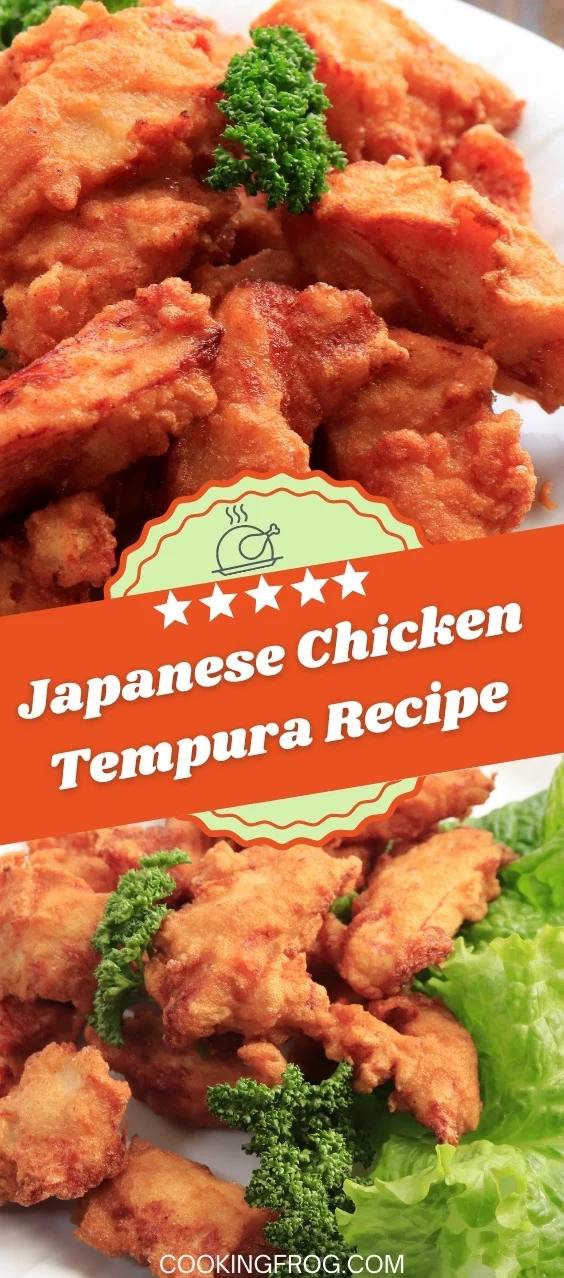 List of Ingredients
For the Marinade
For one large chicken breast, about 125g
Chicken breasts
¼ tsp sea salt
Freshly ground black pepper
½ tsp minced ginger
1 tbsp soy sauce
1 clove of garlic, minced
1-2 tsp of sake (according to your preference)
3 cups oil for frying
For the Batter
⅓ cup (45g) cake flour
⅓ cup (50g) cornstarch or potato starch
⅓ cup cold water
1 large egg
Directions
To thin down the chicken breast, beat it with a meat tenderizer. Then, slice into strips that are about 1 inch wide and 3 inches long.
Combine the black pepper, salt, soy sauce, ginger, sake, and garlic in a small bowl. Put the chicken in a zip-lock bag or an airtight container for 15 minutes to marinate. Prepare the tempura batter in the meantime.
Fill a large mixing bowl halfway with ice and water.
In another mixing bowl, whisk one egg. Then add 1/3 cup of cake flour and 1/3 cup of cornstarch to the egg mix.
Mix in the 1/3 cup of cold water slowly until everything is just incorporated and the batter forms.
Dredge the chicken pieces in the batter one at a time in the mixing basin.
Heat the oil to 350°F (180°C) in a pan (you can also use a deep fryer).
Only cook 2-3 pieces of battered chicken at a time. Fry until the outsides are crispy, about 2 minutes on each side.
Last words
I really hope you try this Chicken Tempura recipe and let me know how it went down in the comments section. Also, please let me know if you're having any issues with the recipe or if you have any suggestions. It would mean a lot to me if you shared it on your Pinterest or other social media platform you are using and get the word out about this recipe. Thank you 🙂