This convenient and simple Greek Lemon Rice recipe makes four servings of delicious Greek Lemon Rice (also known as Greek Rice Pilaf). This meal is zesty, summery, and filled with flavor from sautéed onions, garlic, Mediterranean herbs, seasonings, and lemons! It'll be ready in half an hour!
Are you fed up with the same old white rice? We were, too, which prompted me to conduct some experimentation and study unique ideas to jazz up white rice. So, which one is our personal favorite? This dish for lemon rice is fantastic and goes amazingly with this Greek gyro!
This dish is a riff on Greek rice and takes about 25-30 minutes to prepare, which is approximately the same amount of time it takes to prepare conventional rice! So, with a sprinkle of this and a smidgeon of that, you'll have a new favorite, a quick lemon rice meal to add to your dinner rotation.
Lemon Rice in the Traditional Greek Style
By cooking it with some onion, vegetable broth, and lemon, you can turn ordinary long-grain rice into a delicious dish that can stand on its own. And if you want to improve it, add some parsley and lemon zest right before serving. Unless, of course, you're following in the footsteps of your wise and wonderful mother and grandmother, who knew that it's not necessary when serving it with a saucy meat dish.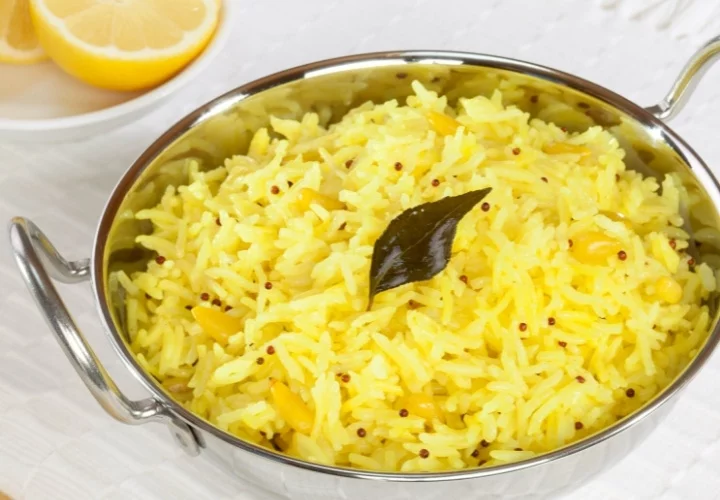 Greek Lemon Rice Preparation
Begin by sautéing the finely chopped onion in a skillet. This is a crucial stage in the flavoring process. I use olive oil to sauté in this recipe.
After that, add the rice and cook until it starts to turn color.
Next, add the stock—I use vegetable broth for a vegetarian version, but you may also use chicken broth.
Cook over low heat, with the lid on, until the water has been soaked up and the rice has softened.
Allow it to sit for a couple of minutes before fluffing it with a fork. Combine the lemon juice and freshly ground pepper in a mixing bowl.
Garnish with chopped parsley and lemon zest if desired, and serve hot or at room temp.
Ingredients for Greek Lemon Rice
Onion: For this dish, I prefer white onion since it is relatively mild and adds sweetness to the rice.
Rice: Because you don't want a sticky consistency in this Greek rice dish, you should use plain long-grain rice. Additionally, I prefer plain rice rather than basmati or Jasmine rice, which have a distinct flavor.
Broth: I use vegetarian broth, but chicken broth can also be used. Keep in mind that many ready-made broths contain salt, so keep that in mind when adding salt to taste.
Lemon: It's critical to utilize fresh lemon juice rather than bottled lemon juice. This dish relies heavily on lemon, which must be used fresh.
Herbs: As previously said, the broth and whichever sauce you choose to put in the accompanying meal give flavor to this sort of rice. If you're not going to serve it with a sauce, go ahead and add the herbs.
Olive Oil: For this dish, I used olive oil because of its clear health advantages and taste.
Frequently Asked Questions
What is rice pilaf, exactly?
Rice pilaf is a kind of rice, including this Greek rice. Rice pilaf is made by heating rice with sautéed onion and garlic, then simmering the rice in broth. This is the most basic sort of pilaf; it often includes meat, such as chicken or beef, as well as a variety of spices and herbs.
Can I make Greek Lemon Rice in a rice cooker?
It's not something I'd suggest. The rice should be prepared on the stovetop since it will be sautéed with onion and garlic.
Could I use brown rice instead?
You can try but bear in mind that it will take longer to prepare and may necessitate additional liquid. Check the rice package directions for detailed information on the optimal rice-to-liquid ratio.
Share the image below to your Pinterest board if you like this Greek Lemon Rice Recipe!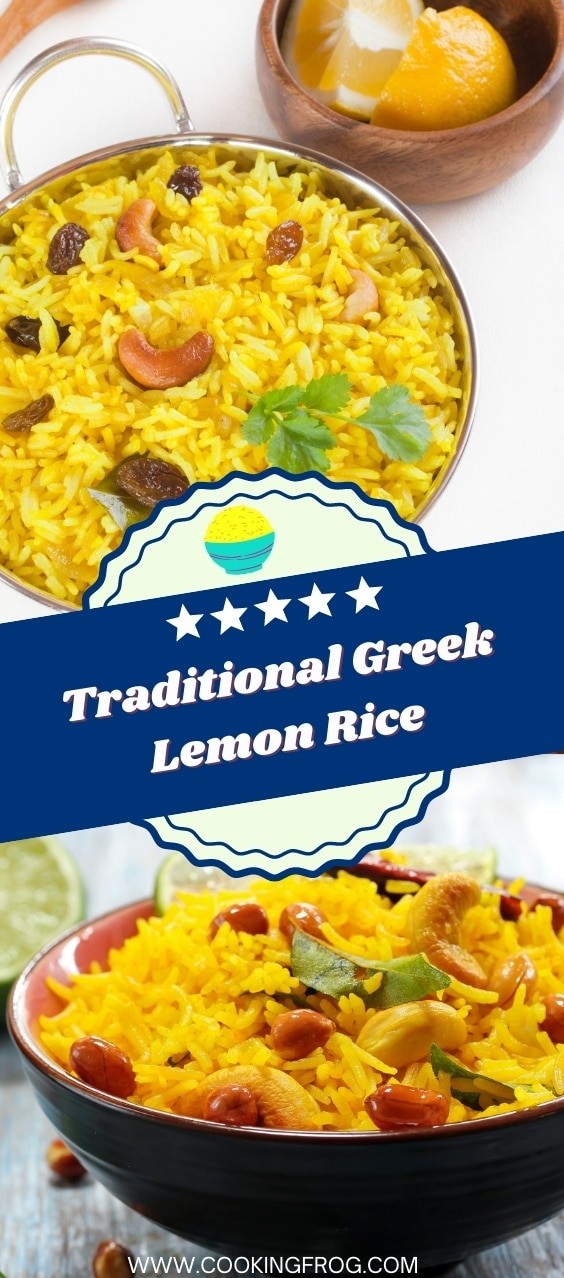 List of Ingredients
Fresh ground pepper for serving
Salt to taste
1 ½ tbsp. chopped parsley (optional)
2 tbsp Extra virgin olive oil
3 tbsp fresh lemon juice
Lemon zest from half a lemon (optional)
1 small white onion (finely chopped)
1 cup uncooked plain white long-grain rice
2 cups (500 ml) water or vegetable broth
Directions
On medium heat, heat the olive oil. For about five min, sauté the onion until it is tender and transparent.
Throw in the rice and continue to cook, constantly stirring, until it becomes golden, approximately 1 minute.
Pour in the broth, close with the lid, and reduce the heat to a gentle simmer. Cook for 10-15 minutes (depending on the type of rice you used), or until the rice is cooked and most of the liquid has been soaked up.
Remove the pan from the heat and cover the rice for 10 minutes.
Toss in the lemon juice and freshly ground pepper with a fork.
Season with salt to taste.
Garnish with chopped parsley and lemon zest, if desired.
Serve at room temperature or hot.
Tips
It would be best if you used plain long-grain rice because this Greek rice dish doesn't want a tacky consistency. I don't advocate basmati or Jasmine rice because they taste differently.
Last words
Well, I hope you've enjoyed making this Greek Lemon Rice recipe. This Greek dish is refreshing, full of flavors, and ideal for summertime, although I sometimes make it during the winter months to get a bit of nostalgia for the summer. 🙂 That being said, if you're going to Greece on holiday, please try this dish and let me know if there's any difference. By the way, the restaurant I tried this dish while on vacation in Santorini, Greece, is called Anogi.
If you have any questions or suggestions for this Lemon Rice recipe, please write them down in the comments section, and as always, I will reply. Oh, I almost forgot; please share this Greek recipe on your social media pages; it would mean a lot to me.