Imagine taking a stroll through the lovely streets of an Italian village while inhaling the smell of freshly brewed espresso and warm cookies. Yes, we're referring to the authentic Italian Pizzelle recipe, a sweet treat that has won people's hearts and taste buds worldwide.
In this easy-to-follow guide, we'll talk about the history of waffle cookies, what they are made of, and the simple steps to make them. Get ready to roll up your sleeves, heat up your pizzelle iron, and let's dive into the lovely world of Italian pizzelle!
Our step-by-step Italian Pizzelle recipe will not only help you make this traditional treat, but it will also let you in on the passion and centuries-old tradition that has been conveyed through Italian kitchens. So, whether you've been baking for a long time or you've never made pizzelle before, come along with us on this tasty journey and learn how to make the best Italian pizzelles from scratch. Andiamo!
What are Italian Pizzelle?
Pizzelle are wonderful, wafer-thin Italian cookies that have captivated dessert lovers for centuries. With a special pizzelle iron, the plates are used to blend together flour, eggs, butter, anise, and vanilla to create these crisp, waffle-inspired confections.
Italian Pizzelle History
The world's oldest known cookie (according to Biscuit People), the pizzelle, has a fascinating history that starts in the heart of Italy. In the region of Abruzzo (east of Rome) centuries ago, the village of Cocullo held the "Festival of the Snakes," which was also called the "Feast Day of San Domenico." This one-of-a-kind party marked the day when the villagers beat a snake problem that had been plaguing their town.
As part of the celebrations, the villagers ate sweet bread pancakes, which are now known as pizzelle. During the procession, the saint's statue would be carried through the town while the delicious pizzelles were the main attraction.
Even now, the humble pizzelle is an integral part of Italy's rich culinary history, and it continues to please folks worldwide, just like Italian sponge cake or this Maritozzi sweet bun.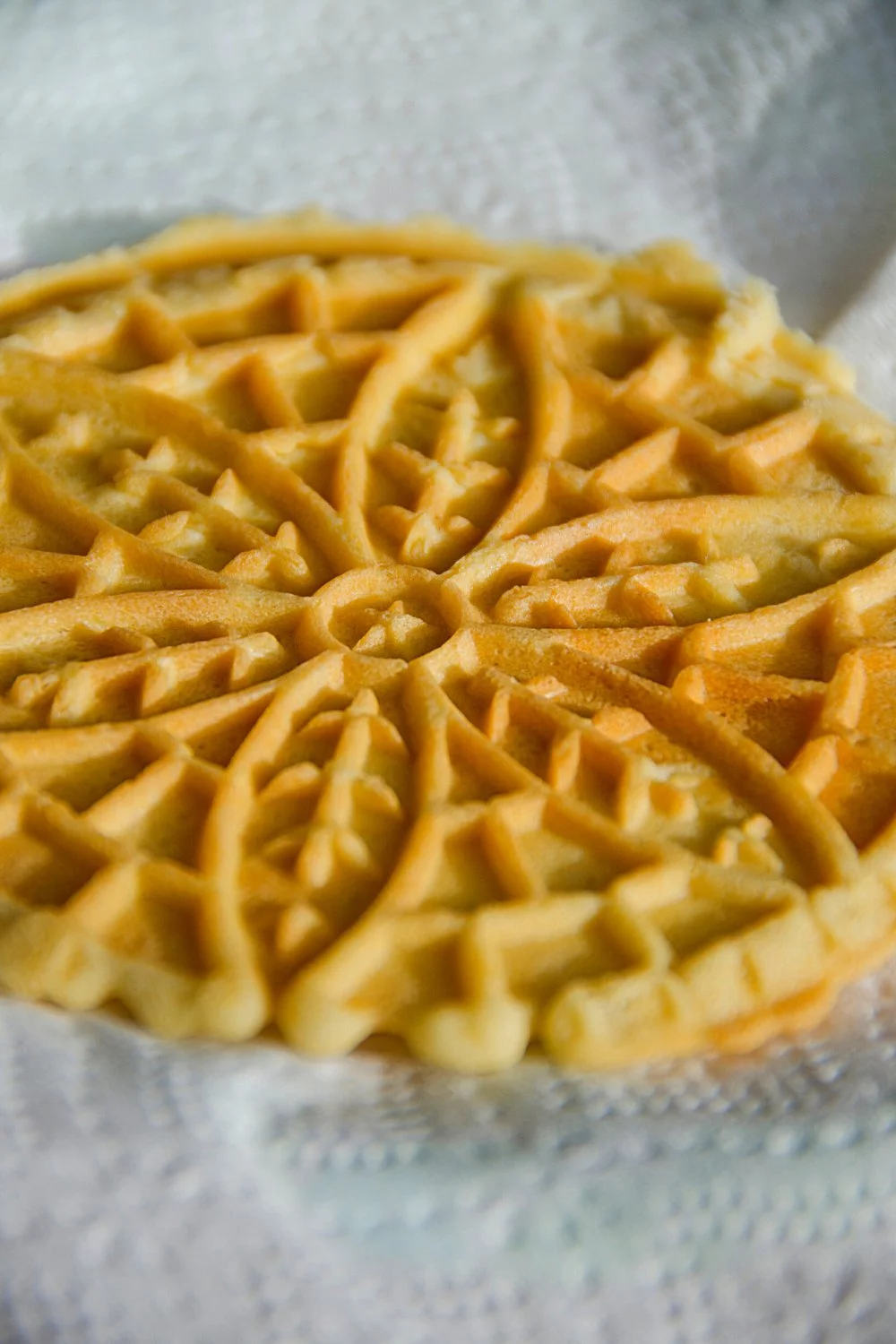 Ingredients you'll need
All-purpose flour: All-purpose flour gives the cookies their structure and foundation, making sure they stay crisp and light.
Eggs: Eggs bind the ingredients together and help make the pizzelles' rich, soft crumb.
Sugar: Sugar sweetens the pizzelle and caramelizes as they cook, giving them a beautiful golden color and a touch of crispness.
Butter: Butter adds to the flavor and richness of the cookies and gives them a soft, delicate mouthfeel.
Vanilla extract: Vanilla extract adds a subtle, sweet smell and taste that goes well with the other flavors in the pizzelles.
Anise extract (or anise oil): Anise gives pizzelle their unique, slightly licorice-like flavor that sets them apart from other waffle cookies.
Each of these ingredients works well together to make the famous Italian pizzelle, a delicious dessert that continues to delight taste buds and celebrate Italy's rich culinary history.
The Pizzelle Iron (Pizzelle maker)
The Pizzelle Iron: The pizzelle iron, which looks like a small waffle iron but has shallower grooves, is an important part of making these delicious Italian cookies. These irons are very cheap, especially if you buy them well before Christmas. They also last a very long time. In fact, many people have had their pizzelle irons for more than ten years, and they still work great.
This versatile tool can be used to make tasty pizzelles, but it can also be used to make homemade ice cream cones and cannoli shells, giving you even more delicious dessert options and making the most of its use in your kitchen.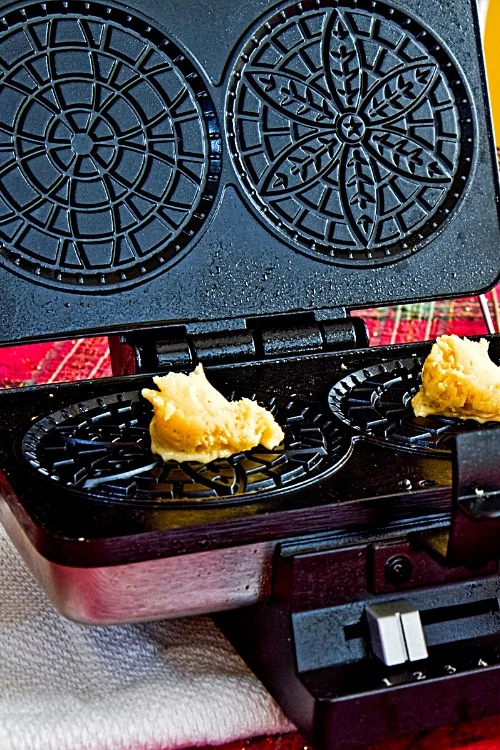 Pizzelle Variations
This classic pizzelle cookie recipe calls for anise extract, which gives the cookies their traditional anise flavor. But if you don't have anise on hand or want to try different flavors, we've put together a list of delicious alternatives so you can make pizzelles that suit your tastes. The following ingredients can be used in the same amounts as the anise extract:
Lemon pizzelle: Use lemon extract for a zesty, citrusy twist.
Vanilla pizzelle: Swap in vanilla extract for a softly sweet aroma and taste.
Almond pizzelle: Replace with almond extract for a wonderful nutty flavor.
Chocolate pizzelle: Add chocolate flavor or chocolate extract for a rich, indulgent touch.
How to Serve Pizzelle Cookies
With just a little bit of powdered sugar on them, pizzelle cookies are tasty on their own. But there are many different ways to enjoy these tasty treats. Here are some suggestions:
Rolled: Pizzelles that have just been cooked are soft and can be rolled into shapes like cannoli shells.
S'mores Twist: For a fun twist on the classic campfire treats, combine pizzelle, marshmallows, and chocolate.
Ice Cream Cone: If you want to serve ice cream in a unique and tasty way, try rolling pizzelle into the shape of a cone.
Ice Cream Topping: As a topping for ice cream, crumble pizzelle on top to add texture and flavor.
Sandwich: Spread Nutella, peanut butter, or caramel on pizzelle to make a sandwich (similar to a stroopwafel). To keep them from getting soggy, add them just before serving.
Fruit-filled: To make a light and refreshing pizzelle dessert, add a dollop of whipped cream and your favorite fresh fruit.
Layered Pizzelle Cake: To make an elegant, layered dessert, stack pizzelles with layers of sweetened mascarpone or cream cheese frosting in between.
Chocolate-Dipped: For a chocolatey touch, dip half of the pizzelles in melted chocolate and let them cool on parchment paper.
Pizzelle Tiramisu: Use pizzelles as a clever alternative for ladyfingers in a traditional tiramisu recipe.
Mini Pizzelle Cups: While the pizzelles are still flexible, press them into a mini muffin tin to make small cups that can be filled with mousse, custard, or fruit for a bite-sized dessert.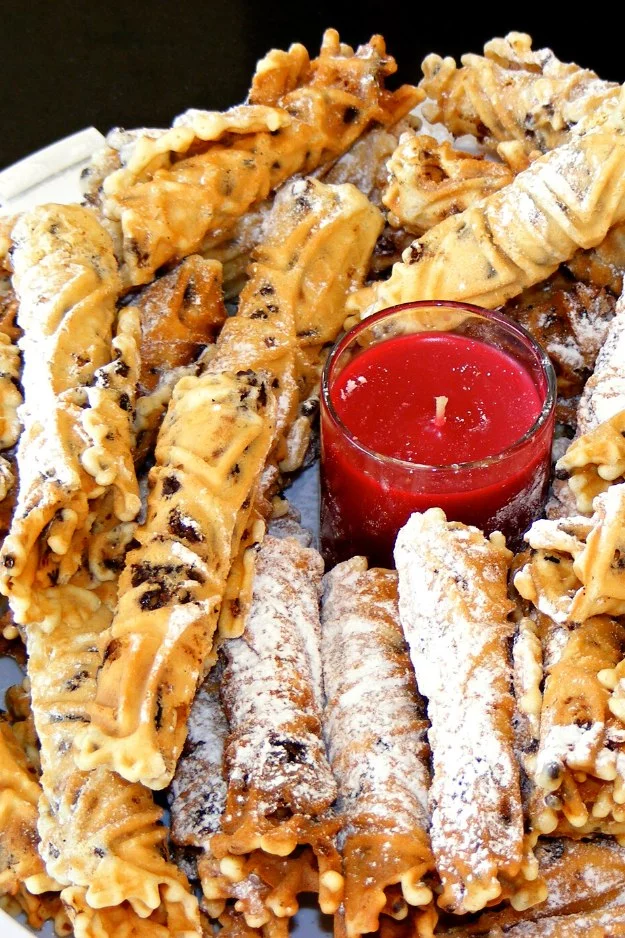 Italian Pizzelle Recipe
Hello, fellow cookie lover! With our delicious Pizzelle recipe, you'll be whisked away on a delightful trip to Italy. Imagine thin, crispy waffle cookies with adorable patterns that melt in your mouth when you take a bite.
Ingredients
4 eggs
¾ cup of sugar
2 cups of all-purpose flour
2 tsp of baking powder
2 tsp of vanilla extract
2-3 drops of anise
8 Tbsp of melted unsalted butter
¼ tsp of kosher salt
Powdered sugar for dusting
Instructions
Start by whisking together the eggs, vanilla, sugar, and anise in a medium-sized bowl.
Next, mix the flour, salt, and baking powder until the batter is smooth and lump-free.
Mix the melted butter into the mixture to make a smooth, cohesive batter.
Preheat your pizzelle iron maker according to the manufacturer's instructions, as each model may differ slightly.
Once the pizzelle maker is hot, put a large tablespoon of the thick dough into each section. Close and cook for about 35–45 seconds or until they turn a light golden color. If the color looks too light, just shut the iron and cook for a few more seconds.
Carefully take the cooked pizzelles out of the iron. At this point, they will be soft and pliable. Place them on a cooling rack, where they will crisp up beautifully. Keep doing this until all of the dough has been used up.
Once all of your pizzelles are done and have cooled, sprinkle a little powdered sugar on each one and enjoy!
Hey, if you liked these crispy Italian pizzelle cookies, let's share the happiness! Pin the picture of the recipe below to your Pinterest board and share it with your foodie friends.