A fantastic way to brighten up a frozen cheesecake is with these deep-fried cheesecake bites. They make the perfect party finger food dessert since they are both crispy on the exterior and creamy on the inside.
These delicious deep-fried cheesecake bites have a crunchy exterior and a velvety, smooth inside. Since they can be served without plates or utensils, they are the ideal dessert for a gathering.
If you need to make a quick dessert for unexpected visitors, deep-fried cheesecake bites are the best option since you can store the ingredients in your freezer and pantry for a while and have them on hand when you need them.
These fried cheesecake bites may be made in as little as 30 minutes by using Bisquick pancake mix and frozen cheesecake from the grocery store.
Fun Fact: According to legend, cheesecakes were first invented in ancient Greece and were even offered to competitors at the initial Olympic Games. The first documented recipe is attributed to Roman politician Marcus Cato in the first century B.C. However, evidence of early cheesecakes dates back to the Greek island of Samos as early as 2,000 B.C.
Recipe for deep-fried cheesecake
The deep-fried form of cheesecake is a fantastic delight and is always an excellent idea. You will be very pleased by how quickly this can be made and how simple it truly is.
Do you wish to learn the truth? Beginning with frozen cheesecake, the recipe! There's no need to purchase cream cheese, graham cracker crumbs, and other cheesecake ingredients. Instead, use a frozen cheesecake.
It not only cuts down on the preparation time for this dish, but it also aids in maintaining its form during frying. The outcomes? A heavenly dessert that is very rich and delicious. This cheesecake is just fantastic in every way.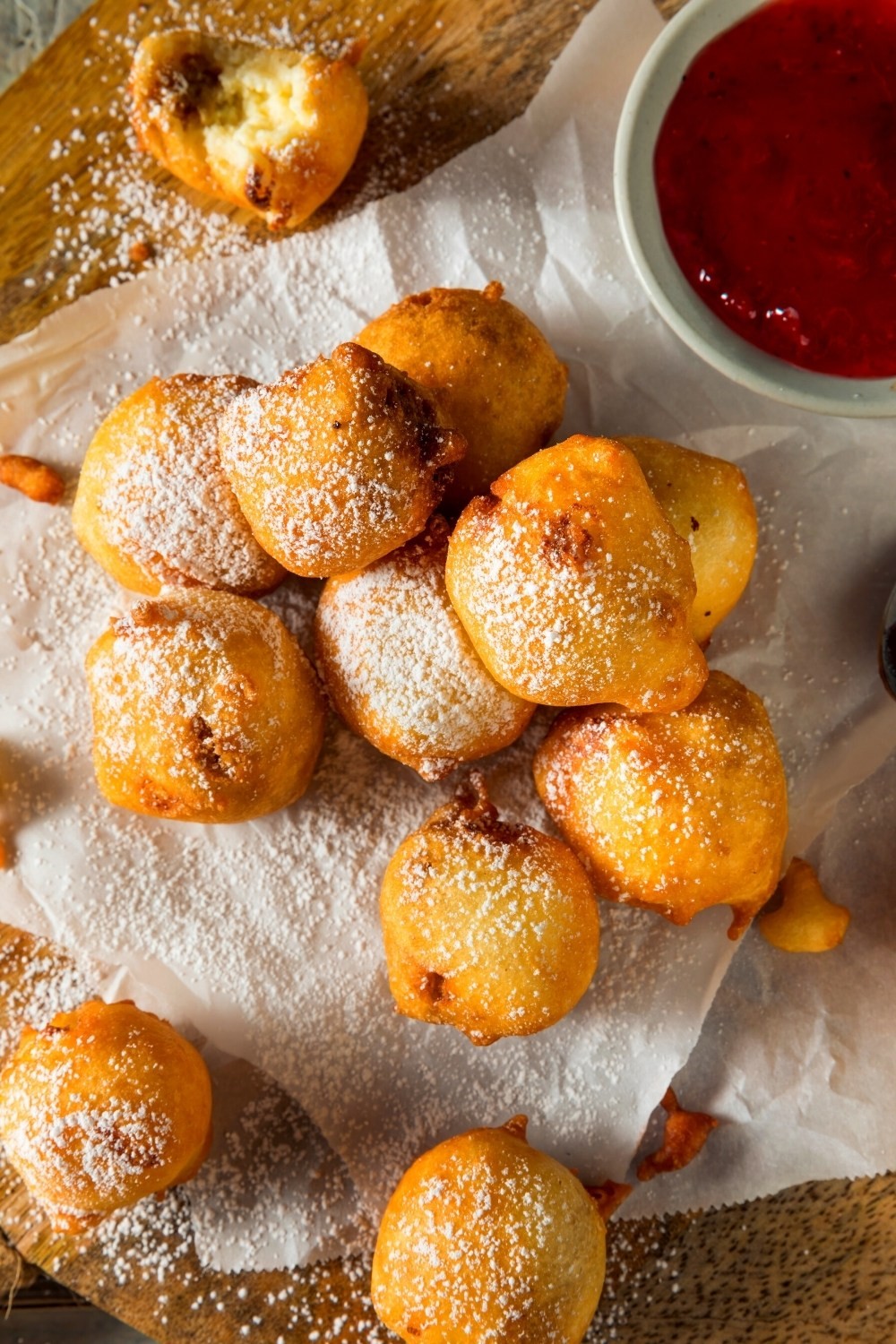 What does Deep-Fried Cheesecake taste like?
The marriage of creamy and crunchy is my favorite. It is heavenly.
Ordinary cheesecake has an entirely different flavor and texture than deep-fried cheesecake. I know a few people that will eat them even if they don't like cheesecake since they taste different.
It has a unique feel that is similar to a warm cream puff that is on another level. These cheesecake bites have the ideal crunchy top and are very creamy on the inside.
Ingredients you'll need
You might already have all of the ingredients for these cheesecake bites in your cupboard or refrigerator, so you won't need to go shopping. For ingredient quantities, refer to the recipe card below.
Bisquick pancake mix
Whole Milk. Whole milk works better for this recipe, but you can also make it with skimmed milk.
Eggs
Canola oil. Or any other vegetable frying oil
Powdered Sugar
Frozen cheesecake: For this recipe, we used basic vanilla cheesecake; however, you may play with other flavors, such as peanut butter, chocolate, lemon or strawberry.
How to make Deep-Fried Cheesecake
For the detailed ingredients list with directions, scroll down to the bottom of the article.
Step 1: Add 3–4 inches of canola or other vegetable frying oil to a big dutch oven or heavy bottom pot and heat to 375F. Using a candy thermometer is the easiest way to ensure the temperature is what you want.
Step 2: In a mixing bowl, combine the pancake mix, milk, vegetable oil, and eggs.
Step 3: Whisk till the majority of the lumps have disappeared. The batter shouldn't run off your cheesecake bite since the mixture must be thick enough to coat it. If somehow the batter is too thin, add more mixture. Observe the batter for five minutes.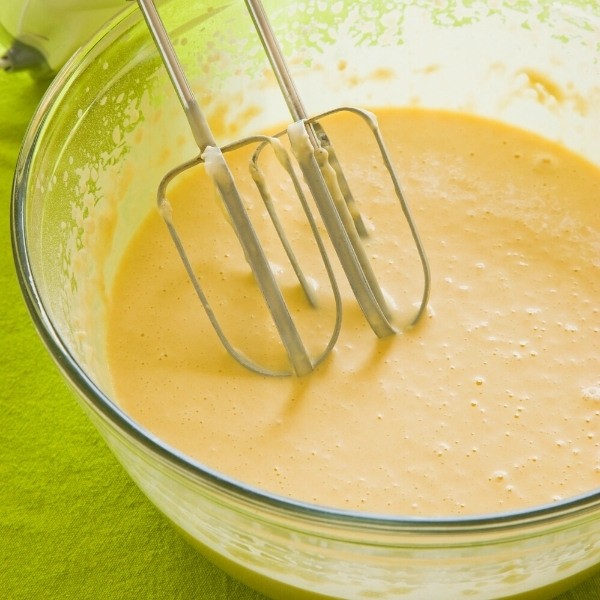 Step 4: To make the cheesecake's middle into a square, trim the cheesecake's outer edge.
Step 5: Cut the cheesecake into twelve equally sized squares.
Step 6: Cover with batter by dipping a cheesecake piece with your hands into the bowl. Coat entirely. Let extra batter trickle off.
Step 7: Place the cheesecake into the heated oil carefully for a deep fry. To obtain an even, deep golden brown on all sides of the cheesecake, flip it periodically using a slotted spoon.
Step 8: Take out the cheesecake bites and place them on a wire rack coated in paper towels to remove extra oil. Do the same with the remaining cheesecake pieces.
Step 9: Sprinkle the cheesecake pieces with powdered sugar.
Step 10: Let it cool for five to ten minutes. Serve to your family, friends, or to yourself. 🙂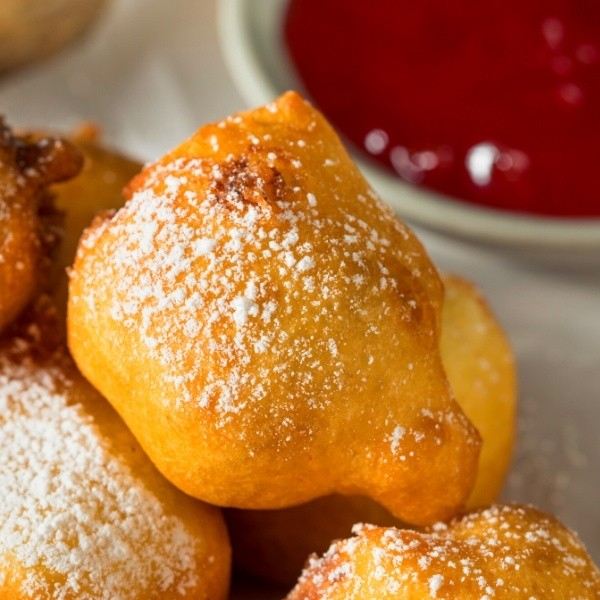 Deep-Fried Cheesecake Bites Topping Ideas
Pour strawberry sauce over the top.
Raspberry sauce – Served with cheesecake; this is simple and delicious. This is my preferred option.
Drizzle chocolate sauce over the cheesecake bites. This is my second option; I love chocolate. 🙂
Add amazing hot fudge to your cheesecake.
Caramel sauce is also one of my favorites.
Try this simple homemade peanut butter topping, peanut butter sauce.
Liberally sprinkle powdered sugar.
Combine sugar and cinnamon. Sprinkle some cheesecake on top.
You may also use whipped cream as a garnish. Yummy!
I occasionally prepare a few different toppings and let my guests decide which they want. They are always thrilled to see a topping bar!
But we also made it fairly straightforward and dusted it with powdered sugar. It's impossible to go wrong with this delectable dish.
Share the image below on your Pinterest board if you like these cheesecake bites!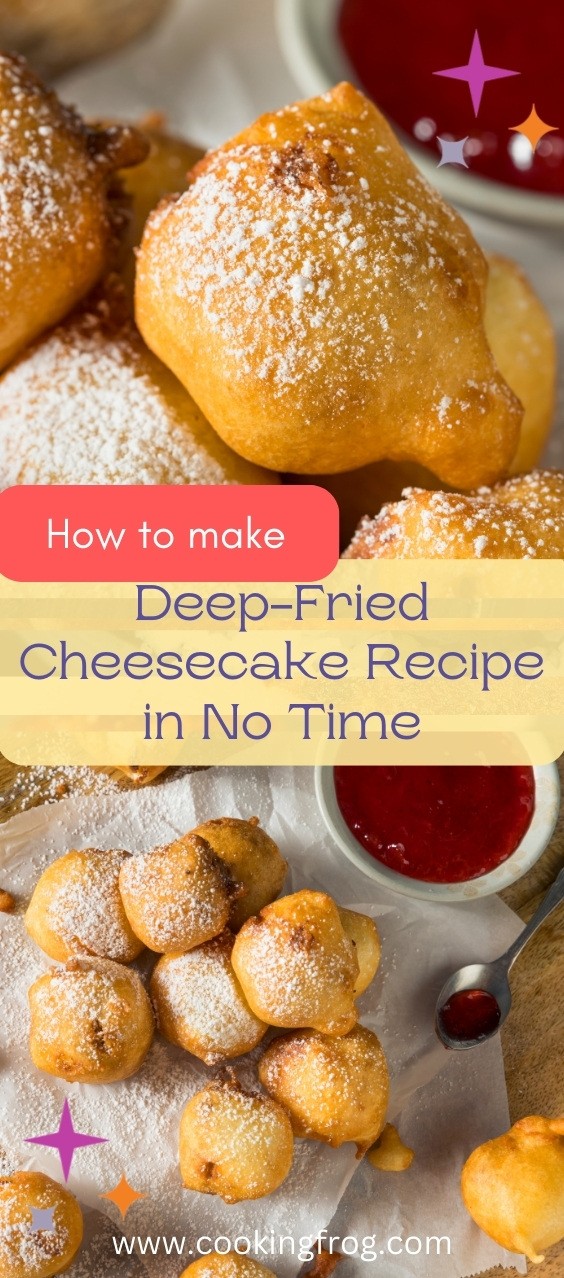 Deep-Fried Cheesecake Recipe
The deep-fried cheesecake recipe has a creamy interior and a crunchy outside in every mouthful. It's a really simple recipe, and we have the finest advice.
Ingredients
1 cup of pancake mix
½ cup milk
1 Tbsp of canola oil
1 whole egg
1 frozen cheesecake
¼ cup powdered sugar
Frying oil
Instructions
Add vegetable oil to a heavy-bottomed saucepan until it is 3–4 inches deep, and heat to 375°F. Check the temperature of the oil with an oil or candy thermometer.
In a mixing bowl, combine the pancake mix, milk, vegetable oil, and egg.
Whisk the ingredients until most lumps are gone. Your cheesecake bits should be coated in batter thick enough to prevent runoff. If the batter is too thin, add more mixture. Observe the batter for five minutes.
Cut the cheesecake into four equal square pieces.
Using your hands, dunk a cheesecake slice into the pancake batter—thoroughly coat. Permit the extra batter to trickle off.
Gently place the cheesecake in the heated oil. When flipping the cheesecake, use a slotted spoon to ensure that both sides match deep golden.
Take the golden-breaded cheesecake out of the oil. Put the cheesecake on a wire rack coated in paper towels to remove extra oil. Do the same with the remaining cheesecake pieces.
Sprinkle powdered sugar over the cheesecake pieces. Give it five to ten minutes to cool. Serve and enjoy!
Deep-Fried Cheesecake Tips
Experiment with cheesecake varieties. Oreo, strawberry swirl, and chocolate chip are a few delectable suggestions.
You may use any leftover cheesecake in this. Place in the freezer to achieve the ideal texture if you have leftovers from, for example, this delicious Basque Burnt Cheesecake!
The best serving time is 10 minutes after frying.
Keep the oil from getting too hot, or the exterior will get too brown.