Get ready for a spectacular Italian bread pudding with a touch of vanilla-infused condensed milk. This dessert is easy to make and tastes great. Give your day-old bread a fresh look by mixing it with juicy golden raisins, wholesome eggs, sugar, and milk.
Bake this mixture until it's a beautiful golden brown in the oven, and then top it with a delicious sauce made from sweetened condensed milk. This delicious bread pudding is not only a show-stopper at parties but also a quick way to satisfy a sweet tooth craving.
Italian Bread Pudding VS. American Bread Pudding
Learn about the wonderful similarities and differences between Italian and American bread pudding! Both versions usually have golden raisins, but the Italian version often has a fancy crème anglaise sauce that uses egg-yolks and takes more time to make.
But in this recipe, we've made the vanilla sauce easier by mixing condensed milk, butter, vanilla, and milk together. The result is a sauce that is an authentic Italian recipe and tastes like heaven.
Instead of mixing it into the recipe, drizzling the condensed milk over the bread pudding is a great way to bring out its delicious flavor. And trust us; the result is undeniably more delicious! This Italian bread pudding does not have cinnamon like its American counterpart. Still, it uses the same basic ingredients to turn old bread into a masterpiece that will make your mouth water.
Last summer, I went to a small town in Italy where I learned how to make the simplest and most delicious Italian bread pudding. And as you can see from the photos, this Italian bread pudding is unlike any bread pudding you have tried, with amazing texture and golden vanilla sauce topped with delicious berries. Prepare to enjoy every delicious bite of this dessert.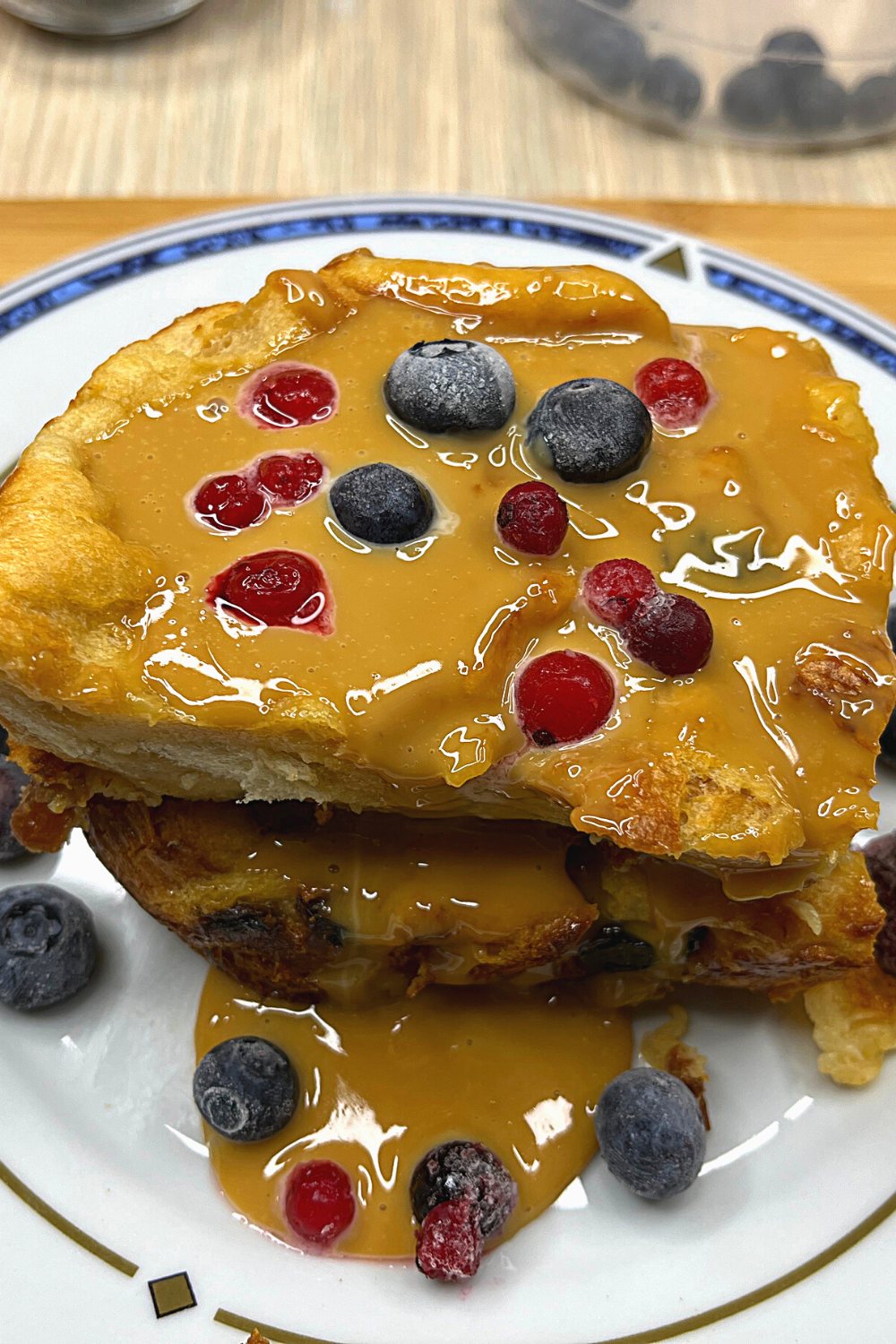 Ingredients you'll need
Condensed milk sauce: For this recipe, I've used this delightful Vanilla condensed milk sauce, so check it out. This decadent, velvety richness gives the sauce a strong sweetness layer that pairs perfectly with the bread pudding.
Eggs: Eggs are the foundation of every bread pudding, giving it structure and binding the ingredients together. They also impart a divinely creamy and custardy texture to the pudding.
Stale bread: Stale bread is the ideal canvas for soaking the milky-eggy mixture and transforming it into a mouthwatering dessert. Also, it's a great way to utilize an old loaf!
Milk: Milk gives the bread pudding moisture and creaminess, producing the ideal harmony of textures. Also, allowing the stale bread to soften and combine with the other components is essential.
Butter: Butter gives the bread pudding a rich, velvety texture and aids in creating that tempting golden-brown crust. That is merely the secret to a decadent, luscious treat.
Sugar: Sugar elevates the flavors of the other ingredients and gives the bread pudding its characteristic sweetness.
Golden raisins: These tiny bursts of natural sweetness make every bite more enjoyable and create a pleasant contrast to the soft, creamy bread pudding.
Berries (optional): Add some fresh berries on top for a splash of color and a tangy twist. They not only make the dish look better, but their natural tartness also helps balance out the sweetness.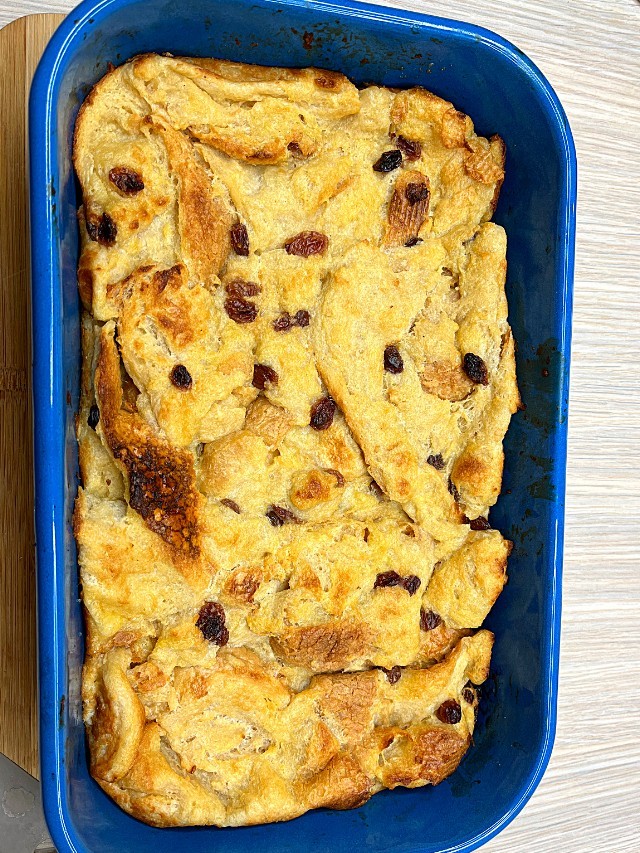 The Best Bread for Italian Bread Pudding
The key ingredient in this delicious bread pudding with condensed milk is stale baguette bread. If you don't have any day-old bread or are pressed for time, buy a simple, unadorned baguette from the bakery section.
Leave it on the counter for the entire night to allow it to stiffen slightly in preparation for the dish.
Remember that staleness will develop more slowly in bread with a higher preservative content. Selecting all-natural bread makes for a better bread pudding experience while also being healthier!
When choosing the perfect bread, seek a robust rather than arid texture. Overly desiccated bread, like a crouton, won't deliver the desired outcome.
Essentially, using stale and chewy bread is the secret to making a great bread pudding.
More Italian Dessert Recipes:
Italian Bread Pudding Recipe
This Italian Bread Pudding Recipe is full of rich, creamy goodness. This scrumptious dessert will become a favorite family, thanks to its delicious mix of flavors. Prepared to wow? Get ready to impress everyone! Let's dive in!
Ingredients
4 oz of stale baguette bread, or half of a baguette, cut into thin inch slices
12 oz of milk
½ cup of golden raisins
1 cup of sugar
1 Tbsp of unsalted butter (for greasing)
1 egg + 1 egg yolk
Vanilla Condensed Milk Sauce (Add to your liking)
Berries (optional)
Instructions
Start by preheating your oven to 325°F.
In a small saucepan, gradually heat 12 oz of milk and 1 cup of sugar until the milk is hot and the sugar completely dissolves.
Put 4 oz of sliced stale bread in a shallow dish, then pour the hot milk mixture over it. Let it sit for 20 minutes so that it can soak in.
Soak 1/2 cup of golden raisins in hot water in a separate small bowl for 20 minutes.
Prepare four large ramekins (you can also use an 8×8 inch square baking dish or 6×2 inch round dish) by coating them with 1 tablespoon of unsalted butter and a pinch of sugar, making sure to cover the whole surface.
After the bread has soaked, put it in a large sieve and squeeze it gently to get rid of any extra milk. Put the bread in a large mixing bowl.
Drain the raisins and add them to a mixing bowl. Before adding them to the bread mixture, whisk one egg and one egg yolk lightly in a separate bowl. Carefully mix so the bread doesn't break.
Spread the bread mixture out evenly in the ramekins, filling them up to just below the rim.
Place the full ramekins on a baking sheet, put them in the oven, and bake for 15 minutes.
After 15 minutes have passed, raise the oven temperature to 350°F and bake for another 10 minutes.
While the bread pudding bakes, make vanilla-infused condensed milk sauce.
Once the bread pudding is done, take it out of the oven and let it sit for 5 minutes.
Pour vanilla condensed milk sauce generously over the warm, delicious bread pudding, top with some berries of your choice, and then savor every bite.
Don't miss out on sharing the deliciousness! If you've enjoyed this Italian Bread Pudding, it's time to act. Pin the picture below to your Pinterest board to inspire others to enjoy it, too.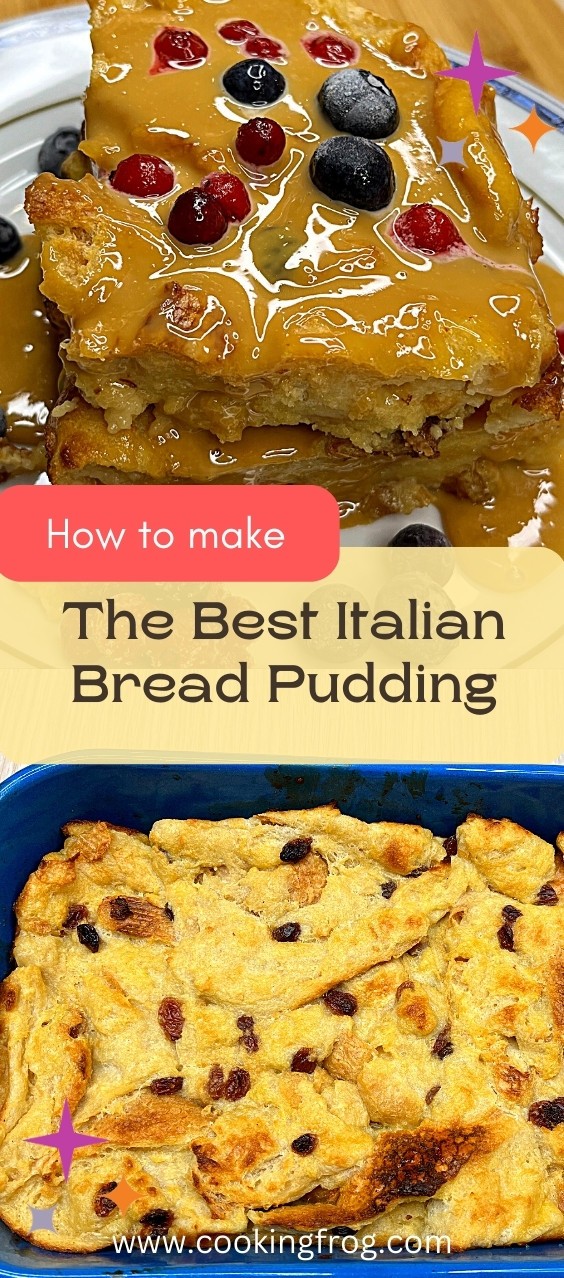 Italian Bread Pudding Video Instructions