On a sunny morning in Tuscany, a soft breeze rustled through the rolling hills, carrying the sweet aroma of Nonna's seductive Canestrelli. Oh, these little golden jewels! Just the name "Italian Egg Yolk Cookies" makes your taste buds dance to the tarantella in anticipation. Canestrelli is like getting a warm hug from your favorite Italian grandmother while she whispers "Mangia!" in your ear.
Get ready to be taken on a magical journey through the art of baking these melt-in-your-mouth treats, and let the spirit of La Dolce Vita fill your kitchen with love and laughter. So put on your apron, and let's go on a magical adventure to make these heavenly, sunshine-filled Canestrelli!
Canestrelli (Italian Egg Yolk Cookies)
Gather around, my fellow cookie lovers, because I will tell you the secret behind these delicious Italian treats. Canestrelli are traditional Italian cookies from sunny areas like Liguria and Piedmont. They are also called "the golden crescents of love." When you take a bite, the soft crumb and silky egg yolks make you feel like you're in a quaint little Italian village.
These heavenly cookies have a long and interesting history that goes back hundreds of years. The stories about how they came to be are as intertwined as the arms of two lovers lost in each other's embrace. Canestrelli is more than just cookies.
They are a love story, just like Sicilian Cassata cake, Sicilian Cannoli, or Italian Gelato, a celebration of Italian culinary fine art, and a testament to the magic that happens when simple ingredients like flour, sugar, and butter come together in a passionate dance.
One can't help but be hypnotized by the magical dusting of powdered sugar on these cookies, which looks like a light snowfall on the beautiful Italian mountains. When you bite into the crumbly, buttery goodness, it's like the heavens have opened up and is serenading your taste buds with heavenly flavors.
So, my dear friends, let's pay tribute to the charming Canestrelli, these Italian Egg Yolk Cookies that have won the hearts of cookie lovers all over the world. As we start this fun baking adventure, may our kitchens be filled with the sounds of laughter, the smell of love, and, of course, the irresistible smell of freshly baked Canestrelli. As they say in Italy, Buon appetito!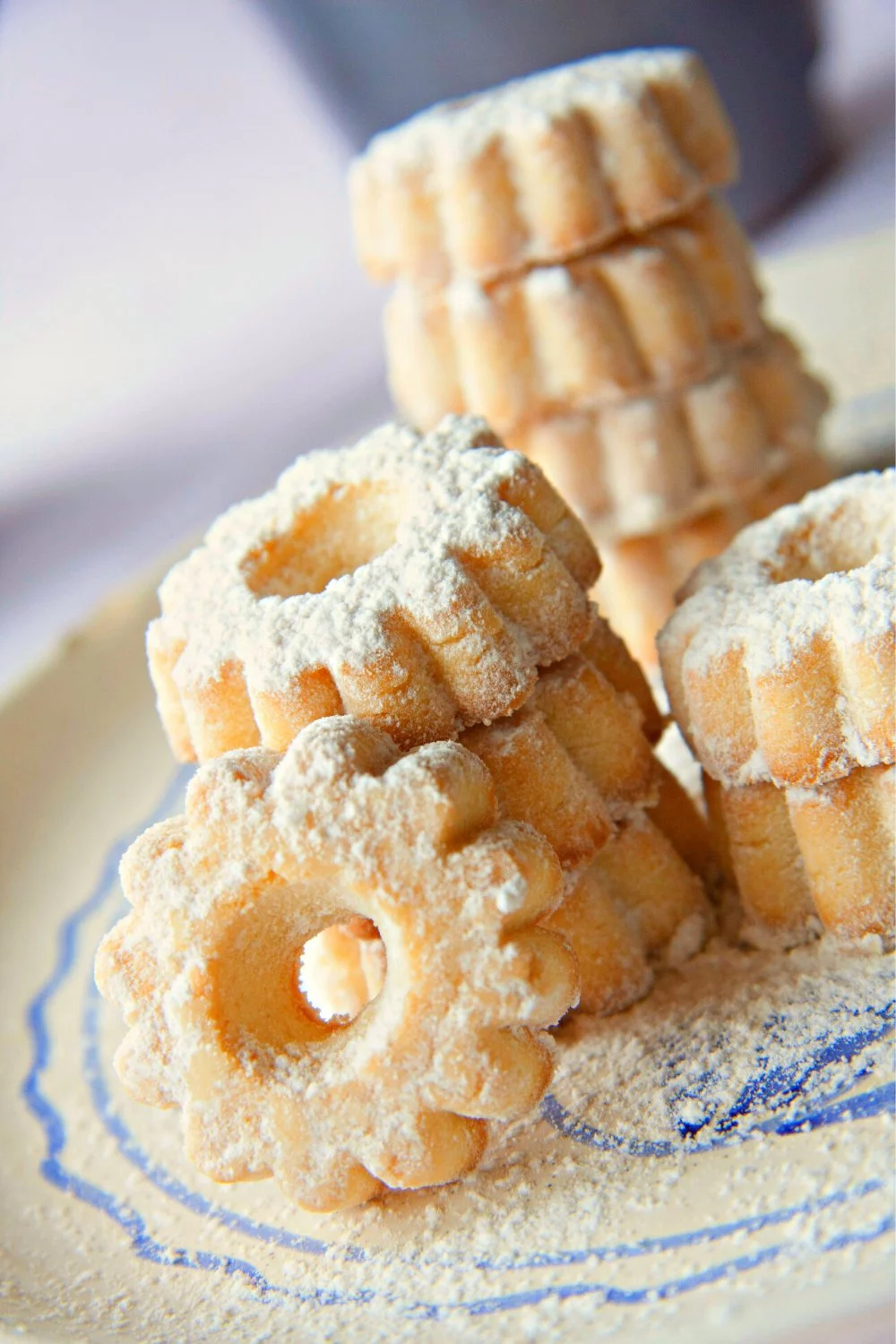 Ingredients you'll need
Hard-boiled egg yolks: These golden orbs are the stars of the show. They give our Canestrelli a rich, velvety texture that makes them crumble and melt on your tongue like an Italian sunset.
All-purpose flour: All-purpose flour is the stage on which our other ingredients do their dance, giving delicate turns of flavor structure and stability.
Cornstarch: Cornstarch is the whispering wind that gives these cookies a feather-light touch and keeps them as soft as the wings of a flying butterfly.
Cold butter: Cold butter is the maestro of this symphony of aromas. It weaves through the other ingredients with ease, giving our Canestrelli a creamy, melt-in-your-mouth texture.
Confectioners' sugar: Confectioners' sugar is like a magical snowfall that gently kisses our cookies, adding just the right amount of sweetness to balance the rich, buttery flavors of the Canestrelli.
Lemon zest: Like children's laughter echoing through the cobbled streets, lemon zest gives our cookies a bright, zesty zing that gives them depth and a touch of fun, just like in this Italian lemon ricotta cake.
Vanilla extract: Like the soft, loving arms of Nonna, the smell of vanilla extract wraps around your heart and stays there long after you've eaten the last crumb.
How to Store Canestrelli?
Once your Canestrelli has cooled, carefully place them in an airtight container or a cookie tin. This will keep them as fresh as the air in Tuscany. Layer the cookies with thin sheets of parchment paper to keep them from breaking or losing their pretty sugar coating.
Can I Prepare Canestrelli in Advance?
Yes, you can make the Canestrelli dough ahead of time. Make your dough by following the instructions, and when you're done, wrap it in plastic wrap.
Refrigerate for 1–2 days: Give your dough the gift of time by putting it in the cool sanctuary of your refrigerator for 1–2 days to rest and develop its flavors.
Temper at room temperature: Before you shape your cookies, give the dough about 1 to 2 hours to get used to room temperature. This important step makes the dough more flexible and easier to roll, which makes it possible to make Canestrelli with beautiful shapes.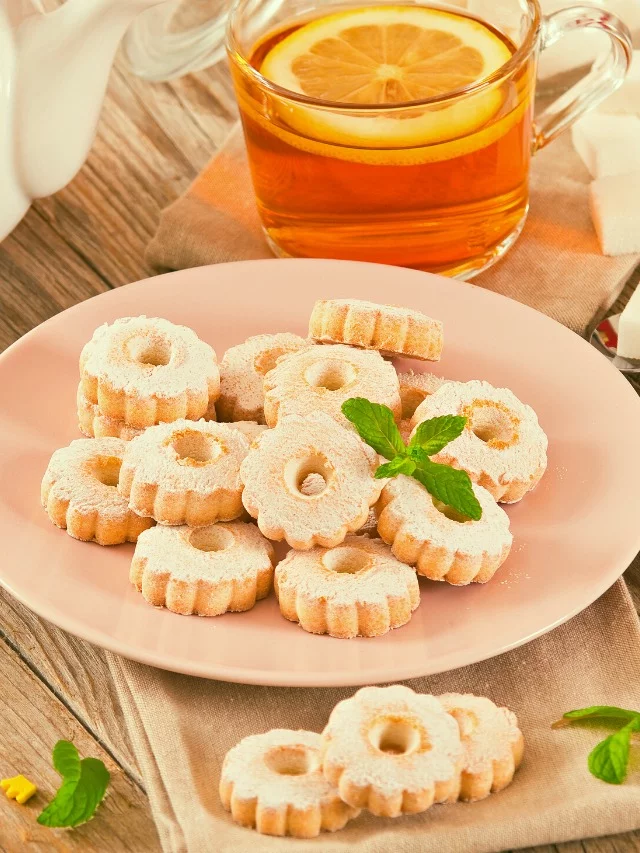 Canestrelli Recipe (Italian Egg Yolk Cookies)
With this yummy Canestrelli recipe, you'll be taken on a trip to Italy through your taste buds. You'll sing "Mamma Mia!" as soon as you try one of these delicious cookies. So put on your favorite Italian music, put on your apron, and let's get ready to bake a storm with these delicious treats.
Ingredients
4 hard-boiled egg yolks
7 oz of all-purpose flour (200 g)
1 cup of cornstarch + 1 tsp (125 g)
1 cup of cold butter (200 g)
⅔ cup of confectioners sugar (230 g)
1 zest for a whole lemon
1 tsp of vanilla extract
Instructions
First, let's cook the egg. Put the eggs in a pot with cold water and boil it for 8 to 10 minutes. Once it's done, run it under cold water to cool it down. Peel the egg yolks and set them aside. You can do this step ahead of time so that when it's time to bake, you're ready to go.
Sift flour, cornstarch, and confectioners sugar together in a large bowl. Add lemon zest and vanilla. Add cold, cubed butter and chop everything together using a dough blender or a food processor.
Now add the grated egg yolks and work the dough with your hands until it forms a smooth ball. Wrap it in plastic wrap and let it sit for 30 to 60 minutes. If you want to make the dough ahead of time, you can even put it in the fridge overnight. Just remember to take it out at least 1–2 hours before you start making the cookies.
Turn your oven up to 335 F. Cut off a big piece of the dough and roll it out to about 1/3 inch thick on a lightly floured work surface.
Use a cookie-shaped cutter to cut out your cookies, and use a medium-sized piping nozzle or other small round hollow device to press out the middle of each cookie.
Put your cookies on a baking sheet lined with parchment paper, and bake them in a preheated oven for 10-15 minutes. You want your Canestrelli to stay pale and not get too brown.
Lastly, let your cookies cool completely on a wire rack and sprinkle them generously with confectioners sugar. And voila! You've made some delicious Canestrelli cookies that will definitely impress everyone.
Enjoyed this Italian Canestrelli recipe? 🇮🇹🍪 Add some flavor to your Pinterest board by pinning the image below. Let's share some cookie love with everyone, one pin at a time. 😋