Today we'll be making a Copycat of Sweet Martha's Cookies famous recipe, and it's really easy if you follow the directions. These delicious crispy cookies with a chewy inside come from my own recipe inspired by Sweet Martha's cookie jar at Minnesota State Fair.
If I am asked to mention the two best things in Minnesota, they would always be its fantastic summer season and Minnesota State Fair. This fair is organized at the end of the summer as a fun celebration of the ending summer season and all the awesome things about Minnesota.
Sweet Martha's Cookies
These cookies are amazingly delicious and can be best described as freshly baked, bite-sized oven cookies that are crispy and chewy simultaneously.
In short, these are Sweet Martha's bestselling cookies at Minnesota State Fair. And the best thing is that you don't have to go to the Minnesota State Fair to enjoy these super delicious crunchy cookies. You can easily make them at home whenever you want.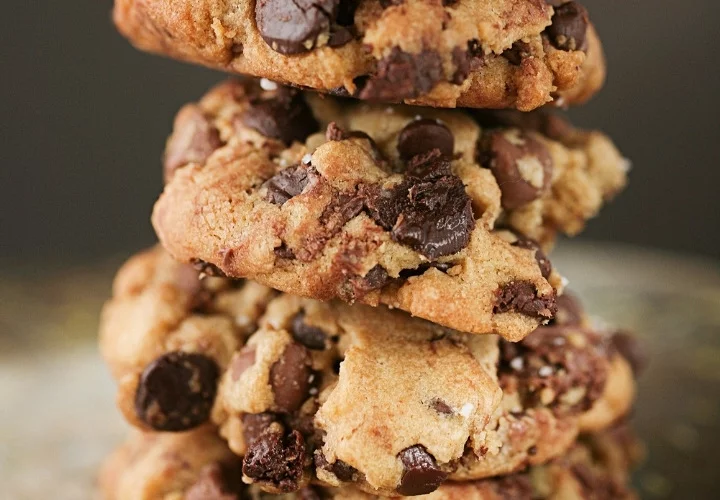 It's a yummy tradition to have Sweet Martha's chocolate chip cookies at Minnesota State Fair. They serve warm cookies loaded with small, slushy chocolate chips in beautiful small buckets! Some people like to eat them all at the fair, while some pack them up to consume them later at home. Some even store them in the freezer to savor throughout the year!
If you want to make and enjoy these cookies, then look no further, I have successfully doubled their recipe. You can follow this recipe to enjoy the best chocolate chip cookies ever. To make these cookies at home, you need a large mixer because you are going to make a ton of dough. I use a Professional Viking Mixer and it gets filled with dough up to 75%. I made this dough for 200 cookies for my special "Cupcake Friday."
It's pretty easy to make this many cookies at home. I have a couple of baking sheets that can be used to make 30 cookies at a time. I baked cookies in both simultaneously, and it took me about one hour to bake 200 cookies.
Share the image below to your Pinterest board if you like these Sweet Martha's cookies recipe!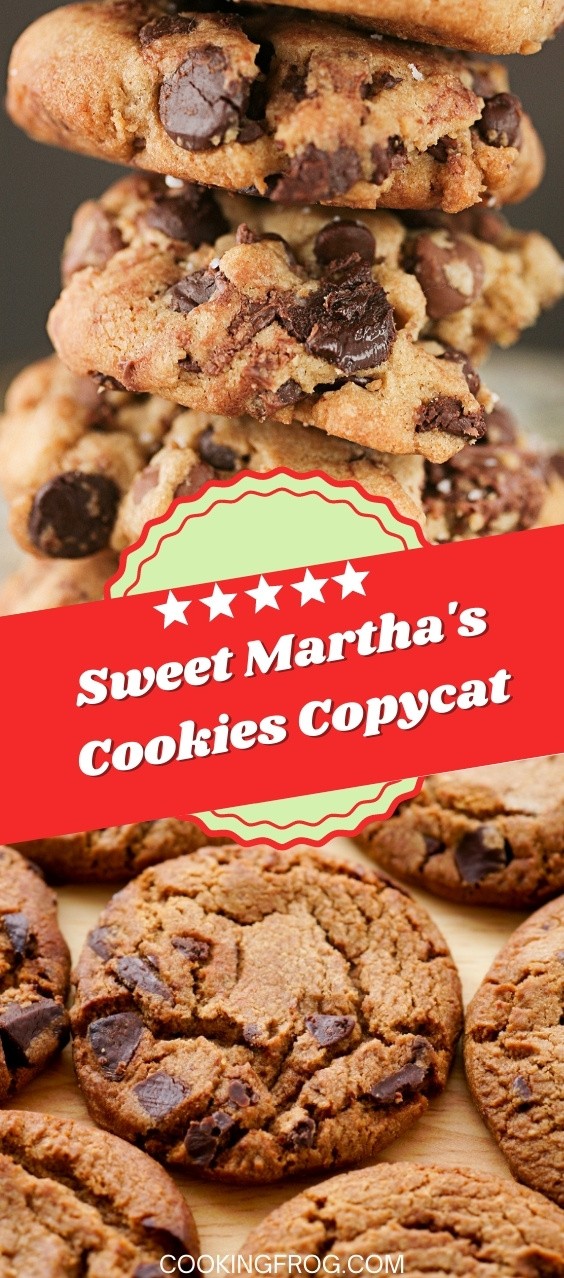 Ingredients
(2 cups minus 2 tablespoons) of Cake Flour
11/4 teaspoon of Baking Soda
1 teaspoon of Sea Salt
21/2 sticks of Salted Butter (softened)
11/4 cup of Brown Sugar (both Light and Dark Brown Sugar work well)
(1 cup + 2 tablespoons) Sugar
12/3 cup of Bread Flour
1 tablespoon of Vanilla Extract
2 Egg Yolks
11/2 teaspoon Baking Powder
1 Egg
Finishing Salt
2 tablespoons of Instant Espresso Powder (Optional)
1 bag of small, semi-sweet Chocolate Chips
How to make Sweet Martha's cookies
Add all the dry ingredients to a large bowl and whisk them well. You can also add Espresso Powder if you want to enhance the taste. Make sure not to add the finishing salt yet. This will be sprinkled on the baked cookies.
Take a mixing bowl. Add sugar and softened butter sticks and beat them well for about 2 – 3 minutes until fluffy. Now add the egg yolks and egg, one by one. And mix them well. Add 1 teaspoon of vanilla essence and mix until well combined.
Now set the mixer to the slowest speed and add the dry mixture slowly and gradually. Mix them just barely to combine. Some streaks of the flour are okay.
Now remove the mixing bowl from the mixer and add chocolate chips. Mix them with the help of a spatula to distribute them evenly.
Divide the dough into four equal parts. Place each portion of the cookie dough in plastic wrap. Shape the dough into rectangular disks which are about ½ inch thick. Wrap the disks tightly and keep them in the freezer for 45 minutes. You can refrigerate the dough for a few hours or even overnight.
Preheat the oven to 350°F.
Roll the dough with a rolling pin while still wrapped in the plastic sheet. This will give an even surface to the dough.
Now unwrap the down and cut it into ½-inch horizontal strips using a knife or the pizza cutter. Now cut the strips into ½-inch vertical strips. Make sure the cookie dough is about the size of your thumbnail.
Place the parchment paper into the baking sheet and spread the cookie dough over it. Make sure to keep a 1-inch space in between the cookies.
Place them in the oven and bake for 6 – 8 minutes. This will allow the cookies to be a bit under-cooked. Remove the cookies from the oven and sprinkle the finishing salt over them. Place the cookies on a cooling rack and serve them warm.
Serving options for Sweet Martha's cookies:
You can serve the cookies with ice-cold milk as Sweet Martha's cookie vendor does. Also, you can pair them with vanilla ice cream as well. You can turn them into ice cream cookies or delicious cream pie cookies. Another great option is to dip them half into the melted chocolate.