Let's go on a culinary adventure to the heart of Sicily, where we'll find the delicious Sicilian Cassata Cake. This mouthwatering dessert is a short-crust cake filled with a creamy mix of sweetened sheep's ricotta and dark chocolate drops.
Even though it's usually the highlight of Easter celebrations in Italy, you can enjoy it any time of the year. Don't worry if you have dietary restrictions because we'll also talk about how to make this recipe gluten-free.
Sicilian Cassata Cake – A Taste of History
The Sicilian Cassata Cake has been around since the 10th century. The name "Cassata" comes from the Arabic word "quas at," which means "bowl" The first version of this cake was made by a shepherd who decided to mix sheep's ricotta with honey in a bowl.
In the court of the emir of Palermo in Piazza Kalsa, chefs decided to wrap this mixture in a short pastry and bake it, making the oven-baked Cassata, the oldest version of this cake.
In 1873, a famous pastry chef from Palermo named Salvatore Guli gave the Cassata its modern look by adding candied fruit and marzipan. But in this recipe, we're sticking to the original version, without the candied fruit and marzipan, to give it a more authentic taste.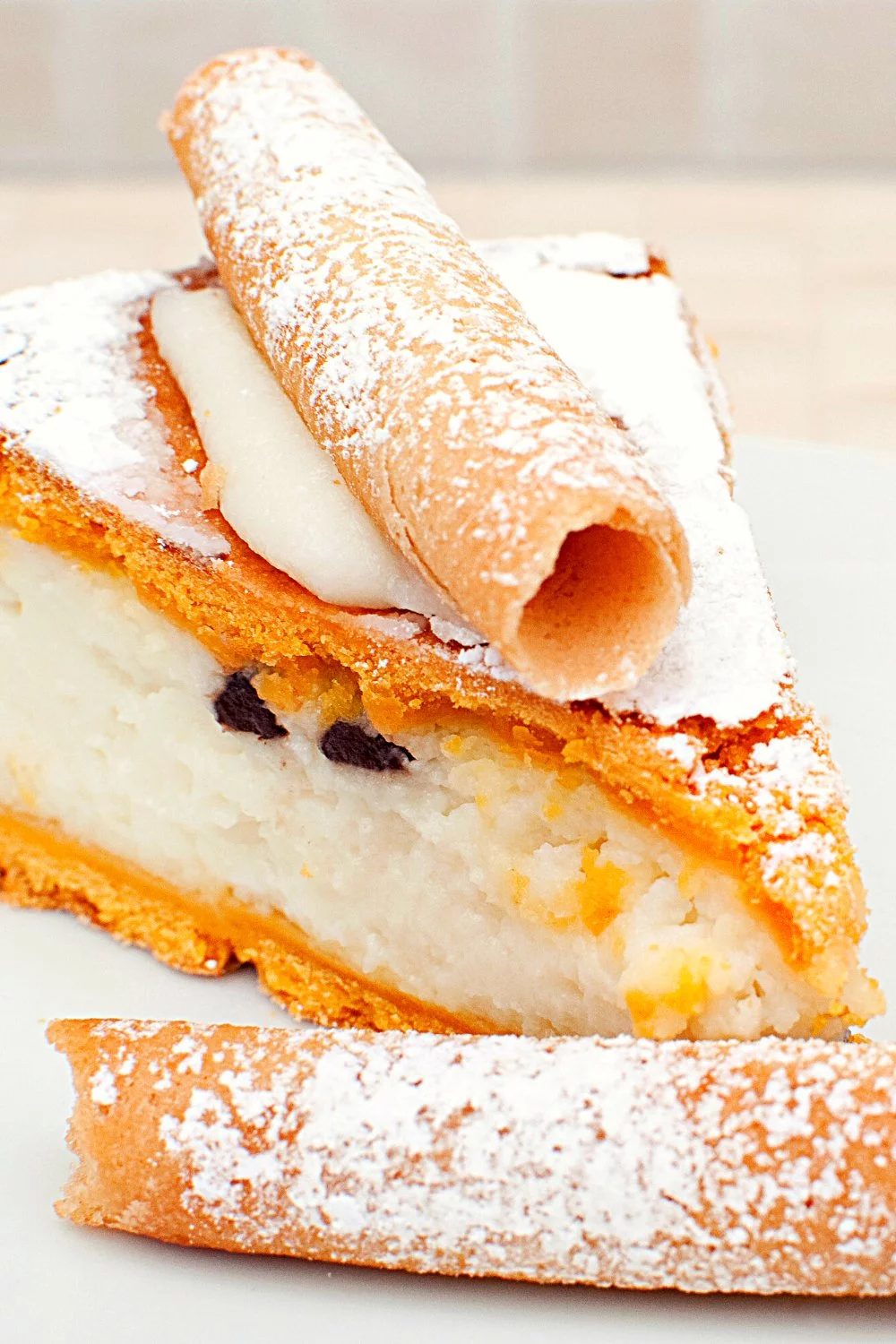 More Italian Desserts To Try:
Famous Sicilian Cannoli Authentic Recipe: Cannoli are pastry shells in the shape of tubes that are fried and filled with a sweet, creamy filling that usually has ricotta in it. This dessert is a staple in Sicilian cuisine and a must-try for anyone who loves Italian sweets.
Authentic Italian Chocolate Gelato Recipe: Gelato is the Italian version of ice cream. It is smoother, denser, and creamier than ice cream. This chocolate version is very rich and full of flavor. It's the perfect dessert for a hot day in the summer or any time you desire some chocolate.
Italian Pizzelle Cookies Recipe (The Oldest Known Cookie): Pizzelle are Italian waffle cookies that are usually made with flour, eggs, sugar, butter, and flavorings. People like them because they look like snowflakes and have a crisp feel. A great addition to your afternoon coffee or tea.
Homemade Canestrelli Recipe: Canestrelli are mouthwatering Italian shortbread cookies that are usually in the shape of a flower and dusted with powdered sugar. They are simple, charming, and perfect for any occasion.
Italian Lemon Ricotta Cake Recipe: This cake is the perfect mix of tangy lemons and creamy ricotta cheese. It's moist and tasty and makes a great dessert for any gathering.
Italian Sponge Cake Easy Recipe (Pan di Spagna): Pan di Spagna is a simple, light sponge cake usually used as a base for many Italian desserts. Even though it is a simple cake, it can be used in various ways and is delicious on its own.
Authentic Maritozzi (Italian Sweet Bun): Maritozzi or Maritozzo are sweet buns that are usually filled with whipped cream. They're a popular breakfast or dessert in Rome. These buns are a delicious treat that will definitely satisfy your sweet tooth.
Italian Chocolate Salami: This treat is a delightful fusion of chocolate, pistachios, biscuits, and a splash of Rum or Amaretto, bound together by creamy butter and heavy cream.
Sicilian Cassata Cake Recipe
Ready to roll up your sleeves and dive into the world of Italian baking? Wonderful! We're about to venture on a culinary adventure as we recreate the classic Sicilian Cassata Cake.
Ingredients
For the Shorty Pastry:
3 cups of All-purpose-flour (For a gluten-free option, use a gluten-free flour blend)
1 3/4 sticks of butter
2/3 cup of sugar
4 egg yolks
Grated peel of 1 lemon
A pinch of salt
For the Ricotta Cream:
3 cups of ricotta cheese
2 cups of powdered sugar
5 oz of chopped dark chocolate
Instructions
For the Shorty Pastry:
Mix the flour, butter, sugar, grated lemon zest, and salt together in a bowl. Using your hands mix the ingredients until they look like fine breadcrumbs.
Add the egg yolks and mix quickly until you have a smooth paste.
Wrap the dough in plastic wrap and put it in the fridge for at least 2 hours.
For the Ricotta Cream:
After draining the ricotta overnight, sift it and mix it with the powdered sugar.
Mix in the chopped dark chocolate.
Ensure your pieces are not too small. Let the cream sit in the fridge.
Assembling the Cassata Cake:
Preheat the oven to 350F.
Take your cake dough out of the fridge and cut it in half. Roll one piece into a 0.2-inch-thick disk and use it to line a baking pan that has been greased and dusted with flour. Remove any extra pastry.
Use a fork to poke holes in the dough without going all the way through.
Pour your ricotta cream into the mold, and use an icing spatula to even it out.
Roll out the rest of the dough to make another 0.2-inch-thick disk and put it on top of the cream.
Bake the Cassata cake for 45 minutes at 350 F or until it's golden brown.
Liked the recipe for Sicilian Cassata Cake? Don't keep it under wraps! Add the image below to your beautiful Pinterest board. It's your chance to nudge your followers into a mouthwatering baking spree.
Tips & Variations
Quality of Ingredients: The taste of your Sicilian Cassata Cake will depend a lot on the quality of the ingredients you use. Try to always use fresh, high-quality ingredients.
Letting the dough rest: Don't forget to let the dough rest in the fridge. This step lets the dough's gluten loosen up, making for a crust that is more tender and flaky.
Sift the ricotta: Sifting the ricotta makes sure that your filling is smooth and creamy. If you don't do this, your filling might be grainy.
Baking Time: Keep a close eye on your cake near the end of the baking time. Every oven is different, and you want to make sure your cake is golden brown and not burnt.
Fruit Filling: If you want your cake to have a fruity taste, add some finely chopped dried or candied fruits to the ricotta cream.
Chocolate lovers: Add a layer of chocolate ganache on top of the cake after it has cooled for an extra dose of chocolate.
Marzipan Topping: If you want to try an updated version of the Sicilian Cassata Cake, you can cover it with a layer of marzipan and decorate it with candied fruits.
Gluten-free: As we've already talked about, this recipe is easy to make gluten-free by making the shorty pastry with a gluten-free flour blend.