Delicate and juicy Italian meatballs cooked with garlic, parsley, fresh bread crumbs, eggs, pork, veal, and beef can be enjoyed on their own or tossed with spaghetti and tomato sauce. Tomato sauce is included in this recipe, so no worries. You will thank yourself in the future if you make extra and save it in the freezer.
Tender, juicy Authentic Italian meatballs prepared in 30 minutes for the entire family.
These delicious veal, beef, and pork meatballs are a true representation of an Italian-American meatball dish. I genuinely believe that this recipe, based on my grandmother's, produces the most fabulous handmade Italian meatballs ever.
My kids will never forget their great-grandma's meatballs. I created this recipe based on my recollection of her meatballs and a ton (too much!) of practice. When my children eventually said, "They're almost as good as great-grandma's," not too long ago, I knew I had attained meatball perfection.
After years of experimenting with different proportions, I can confidently say that this recipe for meatballs that anybody can prepare is the best. Light and moist thanks to a mixture of three different types of meat (two are great as well), fresh bread crumbs, eggs, and milk, flavored parsley with garlic, and parmesan cheese.
They are partially cooked in the oven until firm and then finished off in the sauce.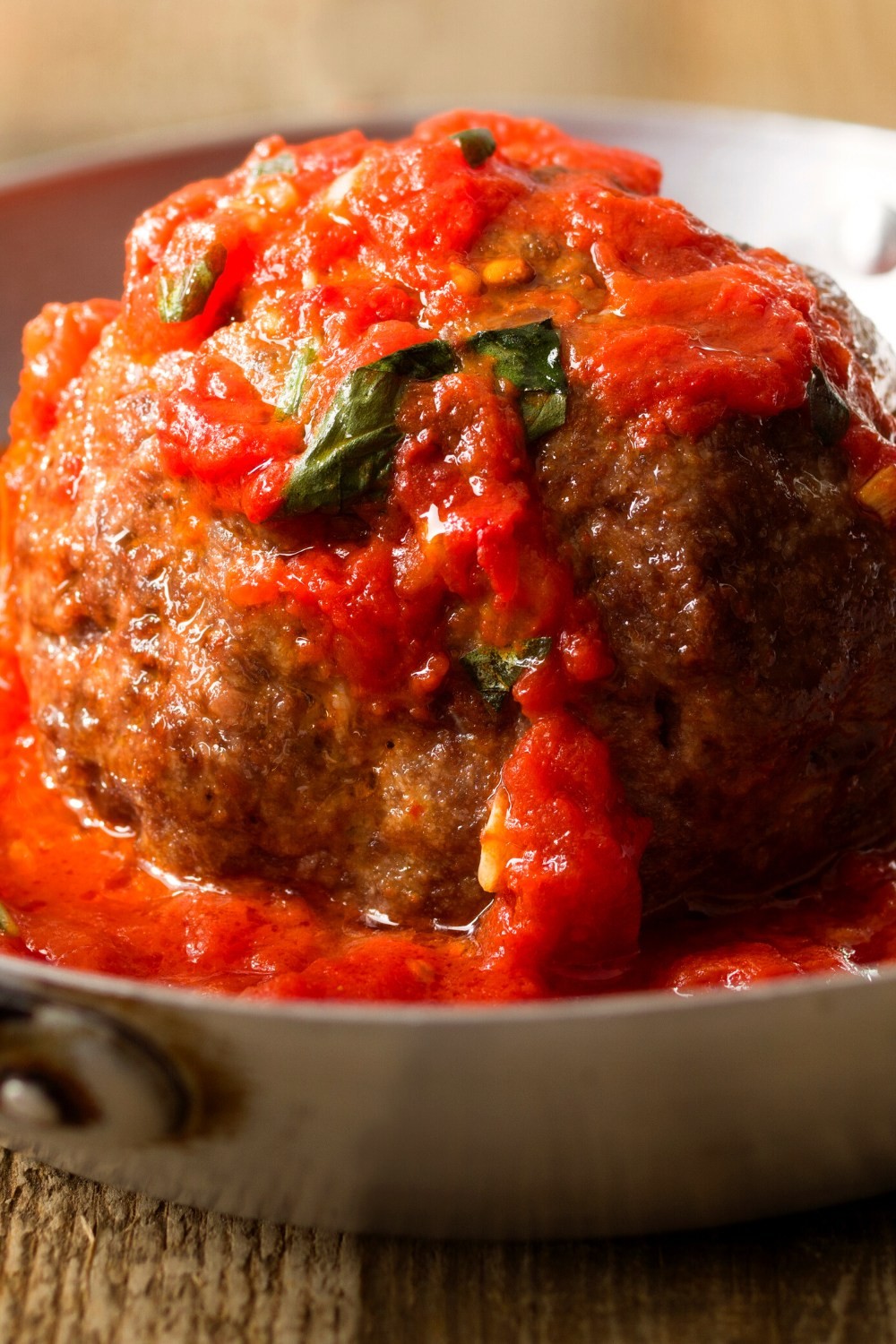 Ingredients you'll need
The short list of ingredients is all that's needed to make a juicy and soft Italian meatball. In order to do this, you will need:
Ground beef, veal and pork –You don't have to use veal; you can just combine beef and pork. Some claim that using a mixture of beef, veal, and pork for preparing meatballs is a more traditional method of preparation in Italian cuisine (and you can too). The optimum texture and flavor may be achieved using a blend of fifty-fifty ground beef and pork.
However, I usually use this combination because ground veal isn't always available.
Purchase freshly ground beef from the shop if at all feasible. Compared to vacuum-packed ground meat, I find that it releases less water and tastes much fresher.
Parmigiano Cheese – Parmigiano cheese, in my view, is a rather crucial component of an Italian meatball. In addition to giving the meatball a ton of flavor, it also makes it soft and creamy. Grana Padano or Pecorino Romano might also work. Remember that Pecorino has a stronger taste because it's a cheese made from sheep's milk.
Eggs – Adding eggs to the mixture serves just as a binding agent, not as a source of moisture. Here we utilize two egg yolks and one whole egg to maintain the lightness and airiness of the meatballs. Eggs are one of the main and most used ingredients in Italian cuisine, for example, in these Canestrelli (Italian Egg Yolk Cookies).
Garlic – Use plenty of finely minced garlic to get the most flavor. It's optional, but I like to add a teaspoon or two of garlic powder.
Bread crumbs –To prepare a paste out of fresh breadcrumbs and milk for these Italian meatballs, we'll need to make a panade. As the meatballs cook, the panade absorbs the liquids, keeping the meatballs moist.
Parsley – The meatballs' fresh flavor comes from chopped parsley. I always miss it if I'm forgetful and leave it out.
Seasonings: For optimal results, season liberally with salt and pepper.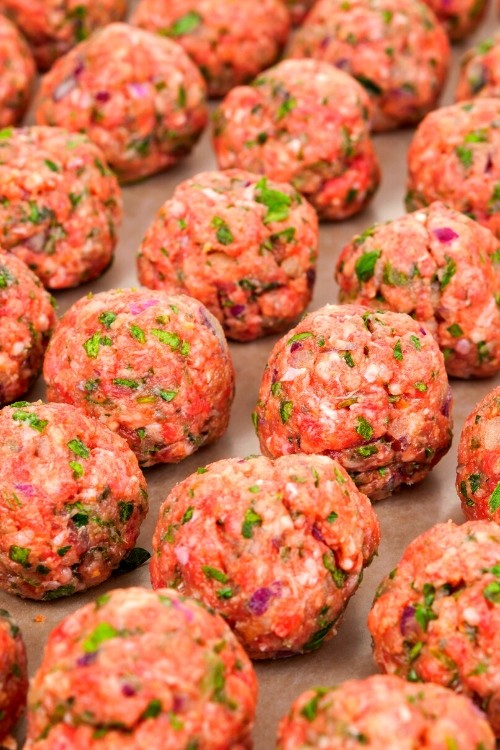 How to make Italian Meatballs
In this recipe, you may choose between fully baking the meatballs in the oven or baking them in the oven only partially before finishing them in a sauce.
Step 1: Put the rack in the top third of the oven and turn it up to 425°. Brush some oil on a large baking sheet with a rim.
Step 2: Mix the milk and breadcrumbs in a big bowl, coating and submerging. Let stand for 10 minutes or so to moisten the breadcrumbs properly. Then, the ingredients should be mashed with a fork until it forms a moist, nearly smooth paste.
Step 3: Using a fork, thoroughly combine the breadcrumb mixture with the egg, egg yolks, parsley, parmesan, garlic, salt, and pepper. Add an equal mix of ground beef, veal, and pork by gently combining with your hands or a big spoon. If not using veal, ad half beef and half pork. Be careful not to overmix.
Step 4: Make golf-sized balls out of the mixture by rubbing some olive oil on your palms. Place the baking sheet that has been prepared. When the meatballs have achieved an internal temperature of 165 F, it's done. It should bake for about 20 minutes. After taking it out of the oven, serve how you like.
Step 5 (Optional) Bringing meatballs in tomato sauce to a finish: Simmer some tomato sauce in a medium-sized pot. About 15 minutes into baking, you should see the meatballs take on some color. Drop into tomato sauce and cook for about 10 minutes or until an instant-read thermometer shows an internal temperature of 165°F.
Dried vs. Fresh Bread Crumbs
The fresh breadcrumbs provided a softer and more juicy meatball in my testing than the dry ones did. Just a few slices of white bread without the crust will do for making fresh breadcrumbs. Alternatively, you may rip the bread into large pieces and pulse it in a food processor to form coarse crumbs. Also, you may use a knife to cube the bread into small pieces.
Dry breadcrumbs can be used in a pinch, but they may cause the meatballs to be tougher.
Put the breadcrumbs in the milk and let them soak for 10 minutes before mashing them up with a fork to absorb even more milk. It's essential to soak the breadcrumbs thoroughly.
Italian Meatballs Size
Size matters when it comes to cooking, so keep that in mind when you roll out your meatballs. Italian meatballs are larger than most of us in North America are used to eating.
Meatballs should be around the size of a golf ball, which is how I usually form them. Due to the somewhat bigger size, the outside may brown properly without becoming overcooked.
Meatballs with the Finest Tomato Sauce
Even without the tomato sauce, these Italian meatballs are delicious. You've prepared some lovely meatballs at home, and now you should really go for it and make homemade tomato sauce. I've included the recipe for the tomato sauce in the recipe card below.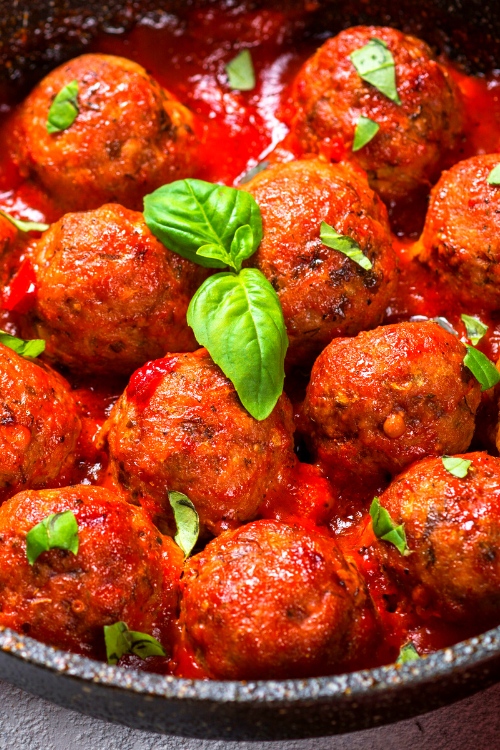 How to serve Italian Meatballs
Spaghetti and meatballs on a nice summer night, especially outside with glasses of red wine running, are difficult to beat, in my opinion, even though Italians do generally not eat their meatballs with any pasta. The Italian meatballs are great over a bed of polenta, mashed cauliflower or potatoes, a bed of rice, or even a bowl of quinoa if you're trying to avoid pasta.
You could also eat the meatballs without any pasta at all and pile them on some braised greens or a salad. Alternatively, you could serve them with a hearty helping of tomato sauce, some crusty bread for dipping, and nothing else. Delicious!
Tucking these Italian meatballs into two pieces of ciabatta bread, then topping them with tomato sauce and mozzarella cheese, is another great option.
How to store Meatballs
If you need to freeze a large number of meatballs, separate them into smaller portions before freezing.
To store: Meatballs (and tomato sauce) may be kept fresh in the fridge for up to 5 days if stored in an airtight container.
To reheat: Place meatballs without sauce in an oven warmed to 350 degrees for 5-10 minutes. Reheat in the sauce for 15 minutes over medium-high heat on the stove.
To freeze: For freezing, ensure total cooling. A single layer of meatballs should be spread out on a baking pan. Put in a freezer-safe container or ziplock bag and freeze for 30 minutes. Freeze for as long as three months. Get it out of the freezer and into the fridge the night before you want to reheat it.
Italian Meatballs Recipe
Tender, juicy, versatile Italian meatballs cooked with garlic, parsley, eggs, fresh bread crumbs, pork, veal, and beef are equally delicious either eaten on their own or simmered in a homemade tomato sauce and served on a bed of spaghetti. For the sake of your future self, make extra and put it in the freezer.
Prep time: 10 minutes
Cook Time: 20 minutes
Servings: 16-18 meatballs
Calories: 190
Ingredients
For the meatballs
1 cup of fresh bread crumbs
2/3 cup milk
10 oz of ground beef
10 oz of ground pork
10 oz of ground veal
3 garlic cloves, grated or finely minced
1 lightly beaten egg
1 lightly beaten egg yolk
1 TBSP kosher salt
1 tsp of black pepper, freshly ground
1/2 cup of grated Parmigiano-Reggiano cheese(You can also use Pecorino Romano or Grana Padano)
1 tbsp of parsley, freshly chopped
olive oil
For tomato sauce
1 can of whole tomatoes, peeled or crushed
3 Tbsp of extra virgin olive oil
1 finely chopped onion
3 garlic cloves
1 teaspoon of Kosher salt
If you're not using veal meat, combine 16 oz beef and 16 oz pork meat.
Instructions
For the meatballs
Preheat oven to 425°F. Place the rack in the upper third of the oven. For simpler cleanup, lightly coat a big baking sheet with a rim with oil or cover it with parchment paper.
Mix bread crumbs and milk in a large bowl, tossing and pushing with a fork to ensure that all of the bread is covered in milk. Leave it for 10 minutes to soak.
Add the egg yolks, whole egg, garlic, parsley, parmesan, salt, and pepper to the bread crumbs that have been soaking, and mix well with a fork.
Start adding beef, veal, and pork in smaller batches and mix it in with your hands or a large spoon. Don't mix too much. Add the rest of the meat and mix well to combine everything without overworking it. (Adding the meat in small amounts makes mixing easier and keeps you from overworking the mixture.)
Put a little olive oil on your hands and roll the mixture into 2-inch diameter balls, approximately golf-sized balls. Place on a baking sheet that has been prepared.
Bake the meatballs for around 20 minutes or until they reach a temperature of 165 F on the inside. Take it out of the oven and pour off any extra fat.
To finish cooking meatballs in tomato sauce, you only need to bake them for 12 to 15 minutes. Place the meatballs in the hot tomato sauce and let them cook for about 10 to 12 minutes, or till an inner temperature of 165 F is reached.
For the tomato sauce
Squeeze the tomatoes with your hands until they are roughly smashed after emptying the tomato can into a big bowl.
Over medium heat, add oil and onions to a large skillet. Cook for 2 minutes or until the onions start to soften. Add one teaspoon of salt and the garlic. Cook the garlic for a further minute while frequently stirring to prevent browning.
Add 1/4 cup of water and tomatoes to the pan.
Turn the heat up to medium-high and bring the sauce to a boil. Cook, stirring every now and then and lowering the heat if necessary, for about 12 to 15 minutes or until the sauce has thickened.
Mix in one or two fresh basil sprigs. Taste it and add a pinch more salt if you think it's needed.
Share the image below to your Pinterest board if you like this meatballs recipe!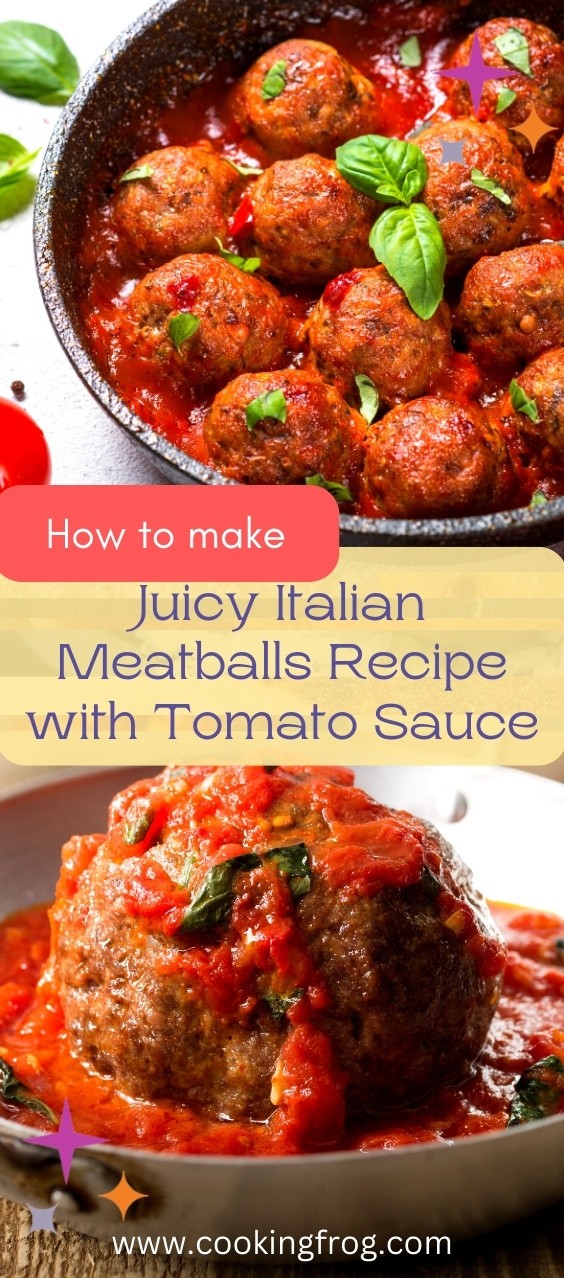 Tips for The Best Italian Meatballs
The majority of these suggestions are covered in the post, but they need a second mention in case you just read certain sections.
Make the meatballs with care.
Don't pack the meatballs too firmly when forming them; otherwise, they will be thick and stiff. Don't worry if they aren't precisely spherical; just quickly form the meatballs. It's best if you don't handle them too much. Apply oil on your hands and shape the meatballs gently.
Keep the meat refrigerated before making the meatballs
The fat will melt and degrade if the meatball mixture gets too warm. The meatballs won't be as juicy and will be difficult to form as a result. Before forming the meatballs, if required, refrigerate the mixture for about 15 minutes.
Don't overcook them
Depending on your oven, large meatballs will cook in around twenty minutes at 425°F (200°C). Use an instant-read thermometer for the best results; meatballs are done when they reach a temperature of 165°F.
I suggest gently cooking the meatballs for no more than 15-20 minutes if you intend to continue cooking them in a sauce to prevent drying them out.
Double, triple, or quadruple the batch sizes.
A great recipe to prepare ahead is meatballs. Making extra for future dinners is a great idea because they freeze wonderfully on their own or in a sauce.