Greetings, folks! Today, we'll show you how to make Maritozzi Con La Panna, or sweet buns with whipped cream, a traditional Italian sweet bun.
Maritozzi are beautiful and tasty Italian cream buns. It's a brioche-style soft and light bun that's divided in half and filled with whipped cream! You may easily find one in a pastry store or a coffee shop in Rome. In Italy, these buns are usually served with coffee during breakfast or with a cup of tea in the afternoon.
After making Filipino Ensaymada buns, and Japanese Cream Pan, it's time for these delicious Italian Maritozzi buns. Also, if you love Italian recipes, you don't want to miss this Famous Sicilian Cannoli Authentic Recipe and these irresistible Canestrelli cookies.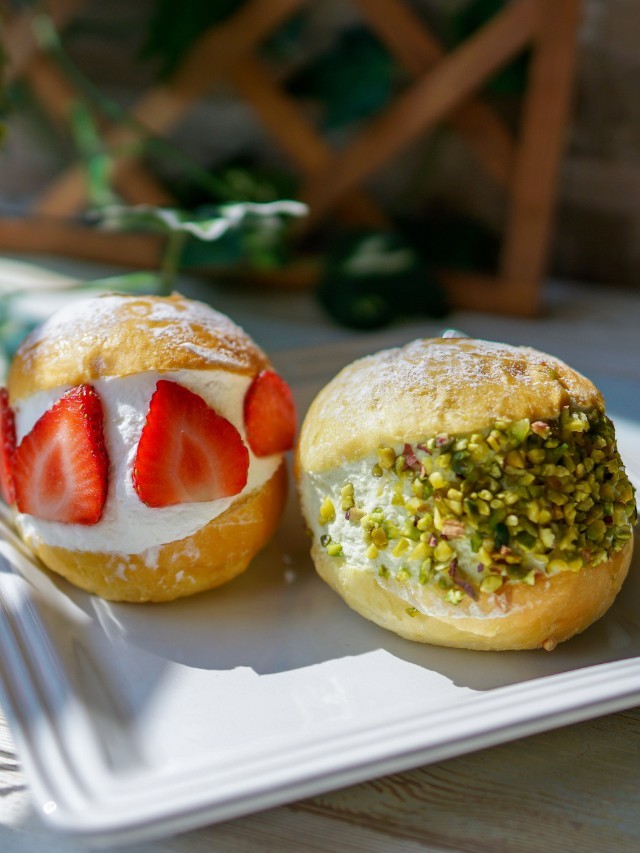 What is Maritozzi?
Maritozzi buns date back to the Middle Ages and originated in the Lazio district of Rome. Flour, egg, yeast, sugar, honey butter, salt, and orange zest (or lemon zest) are ingredients used to make authentic Italian Maritozzi buns.
The term is derived from the slang corruption of the word "marito." Maritozzo or "marito" at the time was well-known to famed Roman poet Gioacchino Belli who observed that "during lent, everybody eats maritozzi at the Caffetteria as they had never dined before."
He would also have recognized that young lovers would deliver them as Valentine's Day present on the first Friday in March. A groom-to-be would get a huge maritozzo topped with sugar and containing a ring or a little golden item from his future wife.
As a result, the term maritozzo evolved to imply "husband." According to another tradition, the girls who prepared the greatest maritozzi were more likely to find spouses well before the rest of the girls.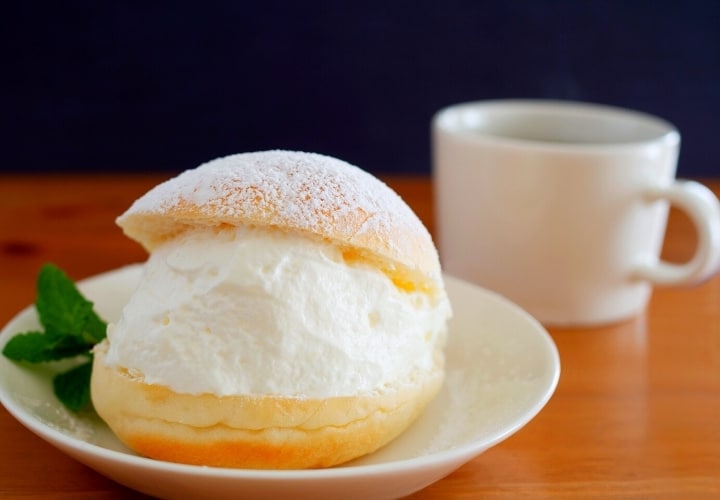 Maritozzi An Old Tradition
Bread flavored with honey and raisins existed as early as the Roman era. For centuries, women have made identical 'pagnotelle' to fit inside the saddlebags of workers who, although away from home all day, may get food on hand.
They shrank in size throughout the years to become a bun. They were so subtle that they were the sole sweet allowed during Lent when the laws of fasting were particularly severe when it came to butter.
They even got the title 'Er Santo Maritozzo'.
Of course, Rome has a plethora of pastry shops and coffee shops selling cakes, pastries, and sweets, but the maritozzo, the King of Roman sweet bread, will always have a place. After decades of neglect, the maritozzo is making a comeback in Rome… and in style.
A delicious maritozzi must be loaded with 'Panna montata' cream and should be both exquisite and delicate. Bakery-made Marioizzi is even lighter than pasticcerie-made, which are richer and less delicate. Enjoy Maritozzi as a delicious treat in the afternoon or with a cup of coffee in the morning.
Check out this Italian Lemon Ricotta Cake!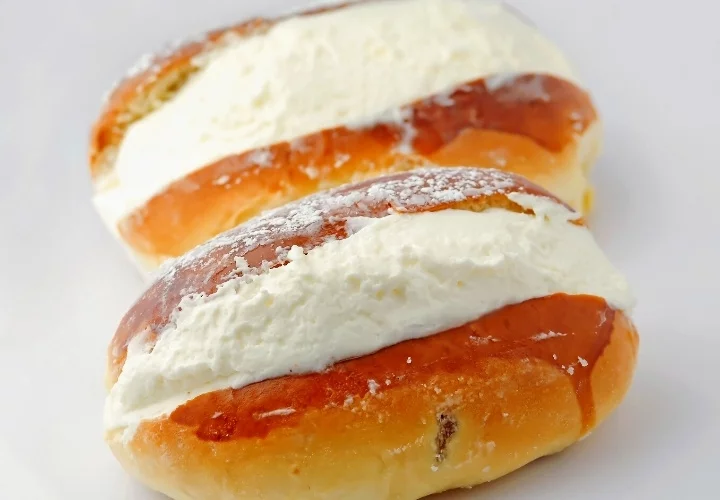 Maritozzo Day
On Saturday, December 4, 2022, Rome celebrates Maritozzo Day, a yearly celebration of the maritozzo. Maritozzo Day, now in its fifth iteration, is devoted to commemorating the well-known Roman dessert, from the traditional cream-filled form to more daring variants.
The event's organizers, Tavole Romane, encourage customers to visit their go-to maritozzo vendors so they may "enjoy each bite leisurely" and share maritozzo images and videos on social media.
There will be plenty of pastry shops, bakeries, and pizzerias in the capital and beyond where you may sample this distinctive treat that represents the Eternal City and is beloved across Central Italy and beyond!
Please share the image below to your Pinterest board if you like this Maritozzi recipe!
Maritozzi Recipe
There are many versions of traditional recipes. The Marchigiani Maritozzi is the most well-known and loved. Today I will share the original Maritozzi con La Panna recipe. This recipe is easy and accessible for all.
The Maritozzi must be coated with sugar syrup after they have been cooked. This is necessary to give them a glossy appearance. Once they have cooled, they should be cut in half lengthwise (or more) and filled up with whipped cream. You will taste the authentic flavor and smell of real Maritozzi with super soft, homemade cream.
If you ever find yourself in Rome, you should visit IL MARITOZZO ROSSO and try their Maritozzi. Because this is where my inspiration for this recipe came from.
So, without further due, let's jump into this Maritozzi Con La Panna Recipe!
Ingredients
For the buns:
2 tsp of active dry yeast
1 TBSP of honey
3 Cups of all-purpose flour, divided
1 cup of lukewarm milk
1⁄3 cup of bread flour
1⁄3 cup of sugar
1⁄2 tsp of salt, kosher
5 TBSP of unsalted butter, softened and cut
2 Tbsp of olive oil, plus more if needed
3 eggs
2 tsp of orange or lemon zest, grated
For the syrup and filling:
3 TBSP of sugar
1 Cup of heavy cream, sweetened and whipped to firm peaks* taste with powdered sugar
Instructions
Make the buns by whisking 1 cup of lukewarm milk, yeast, and honey in a large bowl. Let the mixture stand for 10 minutes before adding the rest of the ingredients. Mix in 1/2 cup all-purpose flour. Cover the bowl with plastic wrap or a kitchen towel and let the mixture rise for 20 minutes.
Add the all-purpose flour, bread flour, sugar, salt, and remaining flour to the bowl of a stand mixer equipped with the paddle attachment.

Mix the ingredients on low speed until well combined. Next, add the eggs, orange zest, and the saved yeast mixture and mix until smooth.

Using your silicone spatula, scrape the sides and bottom of the bowl.

Mix in one-half of the butter at a time in the mixer on low speed until it is well incorporated.

Continue to mix and scrape the butter until it is fully incorporated and add the rest of the butter. Then, while the mixer is still running, drizzle in the olive oil.

At this stage, mix on medium speed until the dough becomes smooth, a bit sticky, and elastic. This part should take a maximum of 10 minutes.

Add a small amount of oil to a large bowl and spread evenly. Move the dough to it and cover it with plastic wrap or a kitchen towel. Allow to rise for 1-1/2 hours at room temperature; it should double in size.
Place parchment paper on two large, rimmed baking sheets and place them aside. Place the dough on a work surface. Divide the dough into 10 same-size portions using a large chef's or regular kitchen knife. Each piece should be rolled into a ball using your palm.
Next, roll the dough against a work surface using your hands. Use your hands to gently press down on the two sides of each ball and create oval tapered shapes (5 inches long). Place the buns on the baking sheets. Make sure there is at least 2 inches between each one (this will give them room to rise). Place the buns on the lined baking sheets and cover them with a towel or plastic wrap. Let rise in warm until they are puffy, soft and have not doubled in size. This can take about 40 minutes.
Place the buns on the lined baking sheets and cover them with a towel or plastic wrap. Let rise in warm until they are puffy, soft, and have not doubled in size. This can take about 40 minutes.
Preheat the oven to 350F with one of the racks in the middle.

Bake the buns and rotate the tray halfway through baking to ensure that the buns are golden brown. This takes between 15-18 minutes.

Make the syrup while the Maritozzi buns bake. Over medium heat, using a small pot, combine the sugar with 3-4 TBSP of water. Stir frequently, cook the syrup for 2 minutes. Then, remove from heat and let cool.
After the Maritozzi buns have been removed from the oven, brush them with the syrup (Be generous) and let them cool completely.
Use a small knife to cut the buns vertically along the middle and split them, but not all the way. Fill the buns with whipped cream and serve right away.
Maritozzi Video Recipe
Dive into the world of Maritozzi mastery with skilled Fabrizio! See a slightly more complicated version of this delicious treat that is well worth your time and attention.
Conclusion
Maritozzi buns are hands down the best sweet buns I've ever tasted and made. Italians know their pastry, that's for sure! I hope you take your time and try this Maritozzi recipe yourself, and if you do, please let me know how it turned out for you by commenting here. Also, if you're having any difficulty with the Maritozzi recipe, please let me know, and I'll reply. Thank you!