The hottest street food in Korea is croissant waffles, A.K.A croffle, the subject of my most recent fascination. For those unable to travel to Korea, I thought I would make a replica of this delectable treat at home.
What are Croffles?
Croffles are a mix of waffles and croissants. Essentially, they are croissants pressed inside a waffle maker to make them look like a waffle. Think of a waffle with several layers of flaky dough and a nice, crispy outside. It's a mix of songs nobody asked for, but it works great!
Croffles are one of the most popular new breakfast foods. They are flaky, buttery, and just sweet enough. Croffles are a cross between croissants and waffles. The inside is soft and chewy, and the outside is crunchy.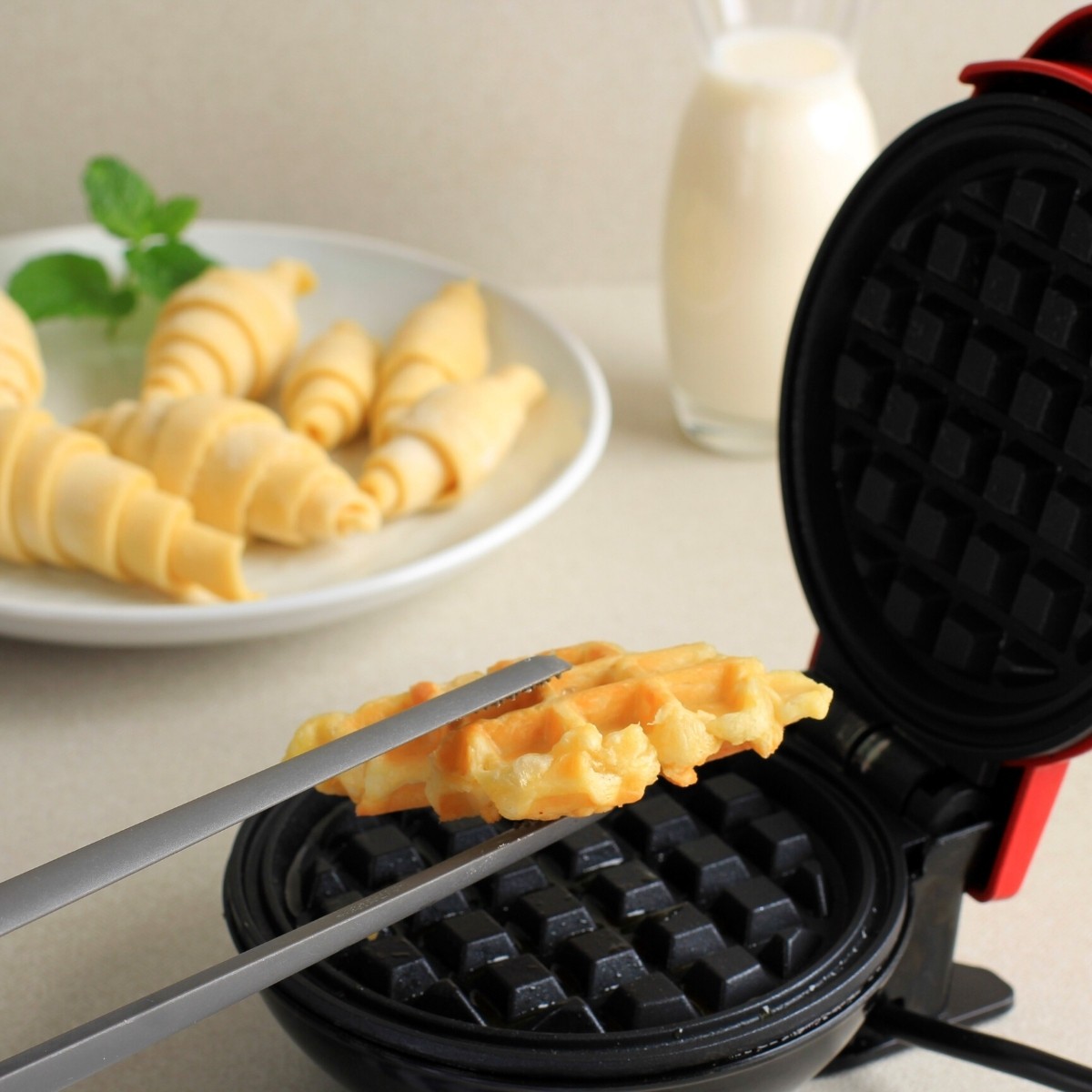 What you'll need to make the best Croffle
Croissant dough: As long as you begin with premade croissant dough, making croissants is easy. You'll need croissants that haven't been cooked to make these croffles (you can buy frozen and thaw them yourself). If you could consider the frying spray used to oil your waffle machine as an ingredient, it would be the only other thing you would need.
However, you may try rubbing melted butter over the grates for something even richer. Consider Pillsbury, or if you want something better, croissant dough that hasn't been baked from a nearby bakery. Here, even puff pastry would be effective! If you're feeling very ambitious, go ahead and create your own!
Your preferred fillings and toppings: Butter, honey, or even Nutella can be used as a filling. To make the exterior of the croffle golden brown, once it is cooked, the croissant dough can be rolled in sugar. Either brown sugar or white granulated sugar may be used. See my complete list of recommended toppings and fillings below.
A waffle maker: Obviously, this is a necessity.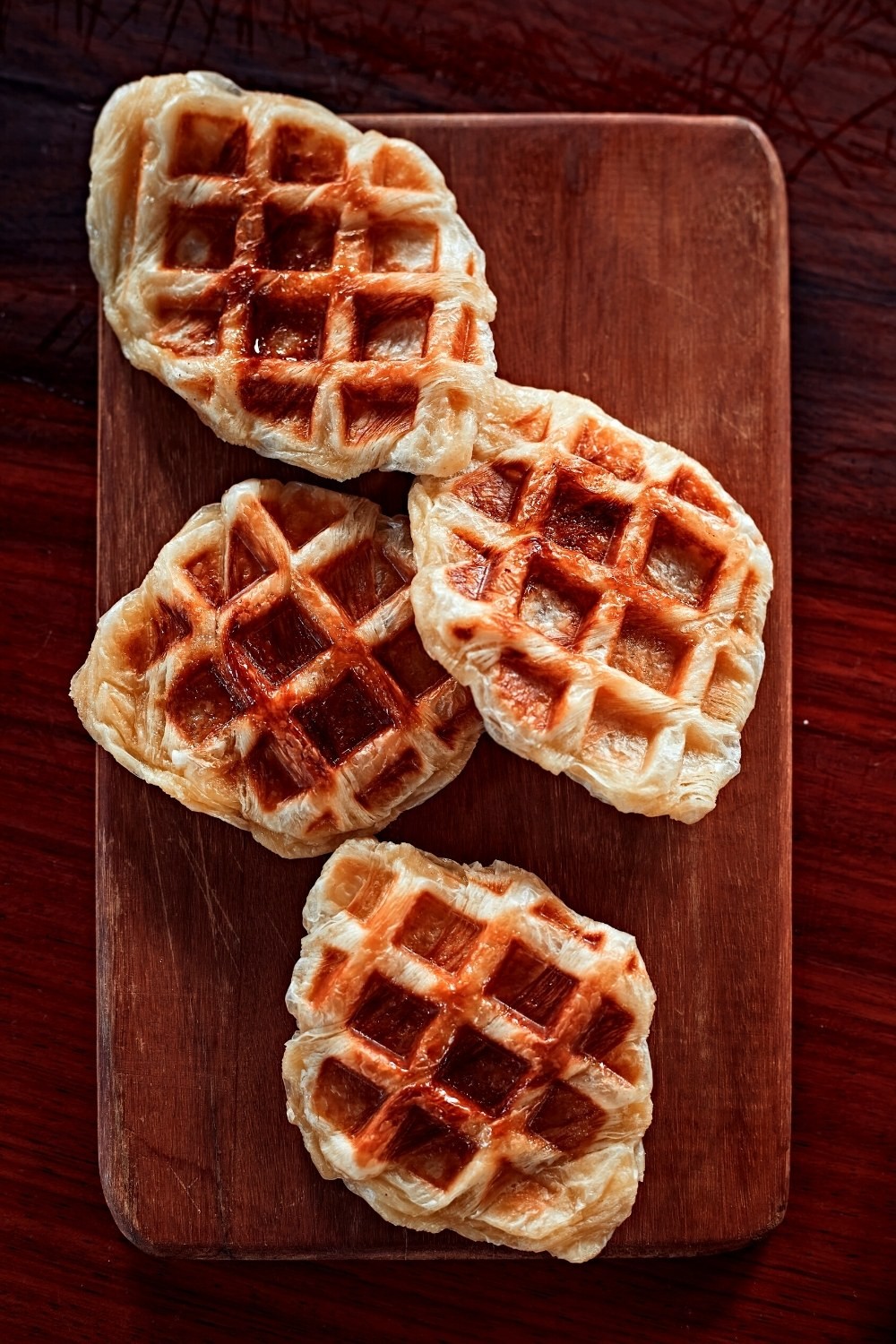 How to Make Croffles
Get the waffle maker ready.
The waffle maker should be preheated before use and greased with cooking spray or butter.
Fill the dough
To prevent sticking, carefully dust your surface as you roll out the puff pastry or crescent dough. Don't overfill them; instead, load them with your preferred fillings.
Starting with the broad end of the triangle dough, carefully roll each triangle. (If you prefer not to fill your croffles, just put the croissant dough to your waffle iron once it has thawed, and press.)
Bake the Croffle
Close the cover of the waffle iron after placing the dough in its center. Check the croffle to see if it is fully cooked after baking the dough for around 2 minutes. If necessary, cook it longer. Even though croissants are delicious, it is unpleasant to bite into unbaked croissant dough.
Croffle Toppings
You can top them with "whipped cream and fruit, yogurt and berries, or honey and nut butter if you prefer a sweet croffle. Additionally, you might use ice cream, melted chocolate, powdered sugar, preserves, or powder. For a lavish breakfast, the croffle might also be served with ham, cheese, and an egg.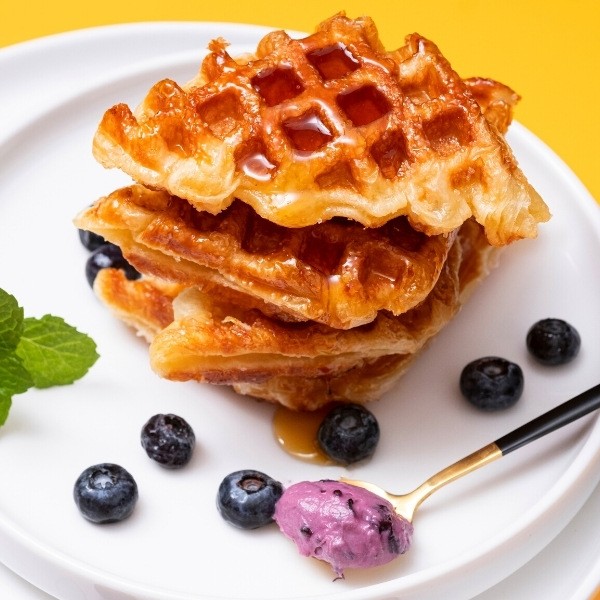 Fillings and Toppings for Croffle
For a sweet variation
Pour some maple syrup, date syrup, or honey (not older than one year) on top if you'd like. For older children and adults, garnish with whipped cream and powdered sugar to replicate the look of upscale bakeries. My favorite combination is mine with ice cream!
Fruit and Ricotta ( use strawberries, blueberries, apples, or other fresh fruit you like)
Yogurt
Whipped cream with sugar powder
Fresh berries and cream cheese
Nut Butter with Banana, apple, strawberries, sweet potatoes, or shredded carrots
Sweet potatoes mashed with cinnamon.
Jam and powdered or coarsely chopped seeds or nuts (hemp seeds, flax seeds, chia seeds, etc.)
For Savory Croffle
Ham and eggs and cheese
Beans and cheese
Eggs and cheese
Shredded chicken with cheese
Hummus with carrots
Hummus with cucumber
Storing Croffles
Croffles can be kept in the refrigerator for up to 4 days if placed in an airtight container.
I suggest flash freezing for freezing. Once completely frozen, transfer to a bag or container that may be stored in the freezer for up to two months. In the refrigerator, thaw overnight.
Reheating Croffle
Reheat in the toaster or toaster oven until crisp and heated all the way through. These work fantastically in lunch boxes!
Homemade Croffle Recipe (Croissant Waffle)
This croffle, or croissant waffle, is delicious and simple to prepare. They may be adapted countless ways to serve as a wholesome breakfast or snack.
Ingredients
1 croissant dough pack
4 Tbsp of fillings of your choice
Instructions
Heat the waffle maker. Depending on your waffle iron, you might need to use oil to grease the waffle plates.
To prevent sticking, carefully dust your surface as you roll out the puff pastry or crescent dough. You may fill with any fillings you choose.
Work with the wider end of the triangle dough and carefully roll each triangle.
Add croissants to the waffle maker one at a time, and cook for 2 to 3 minutes or until golden brown.
Share the image below to your Pinterest board if you like this croffles recipe!