There are a lot of recipes you can improvise with, but when it comes to Sicilian Cannoli, it has to be authentic. That's why I've spent a fair amount of time experimenting and researching, and on this journey, I've realized that to share the recipe, it is important to know some background of this recipe first.
The history of the well-known Sicilian Cannoli
The heritage of the famous Sicilian cannoli goes way back, and it's Moorish Harem, Monasteries, and a special kind of flour.
Sicilian Cannoli. This crisp, tube-shaped cake is filled with ricotta cheese, and it's almost impossible not to love it. It is impossible to imagine a trip to Sicily without eating Cannoli; it is like a weekend in Germany with no Bratwurst sausages, cabbage, potatoes, or Beer. Not to mention Paris without croissants.
They are officially called Cannoli Siciliani in Sicily. One is sufficient, even though their sizes vary from 3.5 – 7.8 inches (9-20 cm). It is also commonly known as cannolo, even though it is singularly cannolo. It is a complicated story. It starts with one and ends with the entire dish.
They are available all over the world, but you should still try them right where they were made. Similar story to the one of Sorbillo and L'Antica Pizzeria Da Michele. It's about more than self-suggestion.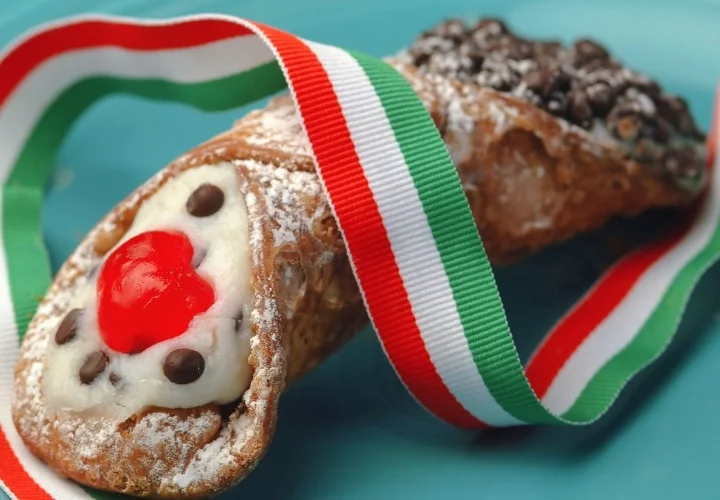 If you like this cannoli recipe, try Sicilian Cassata cake, Maritozzi (Italian Sweet Bun), and Canestrelli (Italian Egg Yolk Cookies).
Caltanissetta
Every food has a story. The history of Sicilian Cannoli is found in Caltanissetta. This gives another perspective on the delicious pastry. It can be accompanied by chocolate, candied fruit, and bits of Italian pistachio.
Caltanissetta, located in central Sicily, is often called Cannoli's birthplace. This delicious delight is often called "Moses' staff" or "King's scepter."
All this was at 568 meters (1,864 ft), the second highest point of Sicily (after Ena at 912 meters 2992.13ft). Caltanissetta is derived from the Arabic kalat-nisa, which means Women's Castle.
Although there are many myths and legends about this delicious delicacy's origins, some historical facts can be trusted: Caltanisset was established by Arabs. There was likely (sadly) a harem that housed the emir and the women who were responsible for creating the cannoli recipe. Some Arabic words are still spoken today by the local population.
Caltanissetta used to be a strategic outpost and one of the largest Arab centers in Sicily. Pietrarosa is one of the most significant castles in Sicily. It was built in the 9th Century as a military watchtower on the Salso River, which is where the city was developed. Only a remnant of the "Redstone" is left today.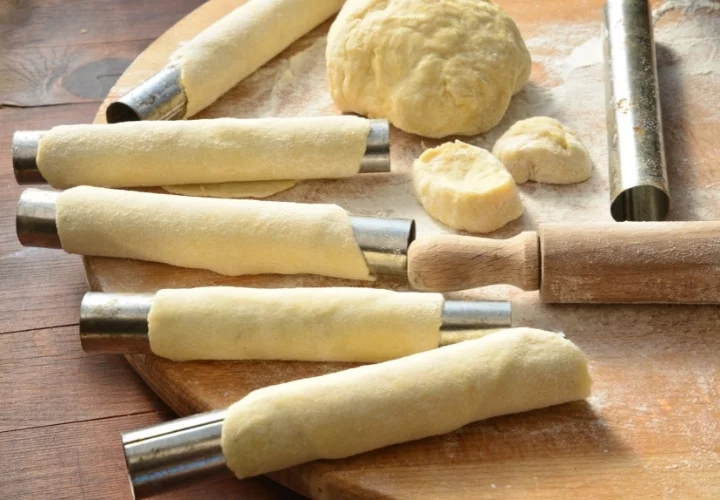 For hundreds of years, Sicily was under Arab rule. This left behind a rich legacy, including culinary traditions and cult dishes like the famous Sicilian pastry.
One of the stories often associated with "Women's Castle," who created the tradition of stuffing puff pastry filled with ricotta as a way to welcome their loved ones when they arrived from Palermo, northern Sicily. Cannoli was the perfect dessert to make upon arrival.
The hollow shell was created by wrapping the dough in thick, imported, and cultivated sugarcane. This grew in the surrounding areas, creating tube-shaped biscuits with crunchy, bubbly, rough surfaces resembling volcanic craters.
The hard "zest," which is the outer shell of Sicilian Cannoli, remained fresh for days. It was then stuffed with fresh sheep's milk ricotta just before it was served. This ensured that it remained firm.
From the harem up to the monastery
Another legend states that Cannoli was moved from harems into nearby monasteries in later years and became very popular among local nuns. "When the Norman Empire rose in 1086, Arab rule was ended. The Arabs were not expelled. They converted to Christianity and became part of society.
Local historians claim that the "Women of the castle" passed their recipe on to the nuns. They had a long tradition of making Cannoli as a dessert.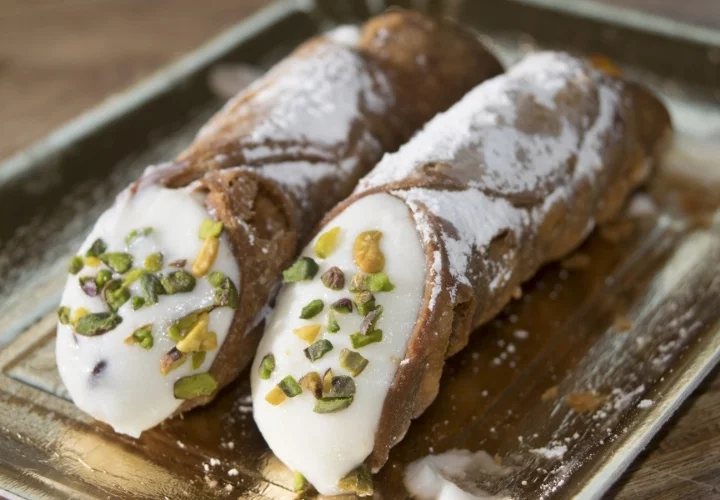 Special flour
Lilo Defria is a Caltanissetta "master" who has been making desserts for over 25 years and also keeping track of their history. He was awarded numerous recognitions and awards, including the "Star for Labor" assignment by the President of the Republic for his "exceptional merits in competence, diligence, and morality during his work". His efforts were also a part of the promotion of the cultural tradition of Sicily.
Caltanissetta's ancestors cultivated a soft, diverse, and delicious variety of wheat flour that was perfect for desserts. This was the first type to make cannoli, and it was originally filled with ricotta and honey. This type of flour, called maiorca flour, is still produced in Sicily by the old stone mill.
The local masters make cannolo with sheep and goat ricotta today. However, they also use sheep's milk which, according to confectioners, is more delicious and easier to digest. Also, vanilla, pumpkin seeds, and chocolate are added. Cannoli can be enjoyed with coffee or as a dessert after a meal. It is a timeless symbol of the multi-culturalism of all Sicilians.
Original Sicilian Cannoli Recipe
Even the most skilled Sicilian chef will admit that it is difficult to make cannoli shells. The dough is made from flour, lard, and Marsala. It can also be sugar, egg, cocoa powder, cinnamon or orange zest.
When frying, it must be wrapped carefully around a rod. Cannoli are a popular dessert all over the globe. They taste best when they are filled right before eating to preserve the contrast between the creamy center and the crisp outer layer.
Although the shells are typically fried, there are many pastry shops and cookbooks that offer baked versions. Vacuum-packed shells are also available commercially. They used sheep's or goat's milk ricotta in Sicily for their cannoli.
The fillings for cannoli are varied around the globe, from whipped cream to pastry cream and custard to cow's milk cream ricotta.
Luigi Falanga is the owner of Falanga, a prestigious Sicilian pastry business. He says that the secret to sumptuous cannoli fillings is to let the ricotta mixture and sugar rest in the refrigerator overnight. This allows the sugar to dissolve and the cheese to combine seamlessly to give it that rich mouthfeel.
Share the image below on your Pinterest board if you like this Authentic Sicilian Cannoli Recipe!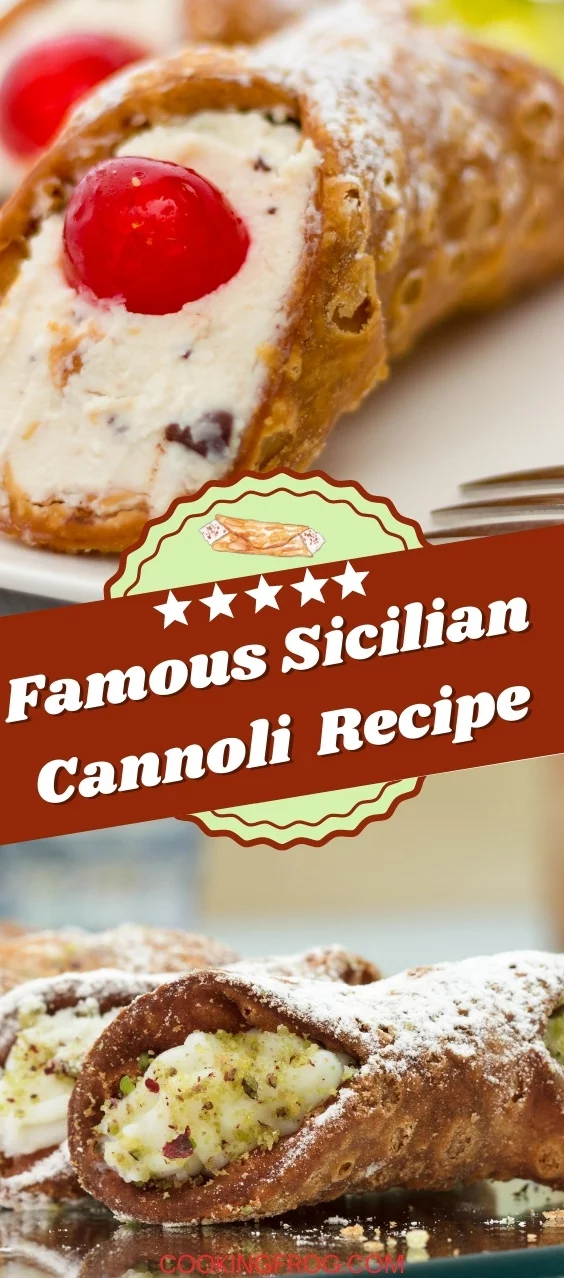 Sicilian Cannoli Recipe
Ingredients
Cannoli Dough
2

cups

Maiorca flour (If you can't find it, all-purpose flour)
¼ tsp of cocoa powder
2 TBSP of confectioners sugar (you can use granulated also)
1 egg
Pinch of salt
⅛

cup

of cold butter (cut into cubes)
¼

cup

of Marsala wine (more if required)
8 cups of canola oil for frying (Or another vegetable oil)
1 egg, for egg wash for sealing the dough on cannoli (well beaten)
Cannoli Filling
3 cups of ricotta cheese, well stained (without liquid)
¾ cups of powdered sugar
pinch of salt
½ cup of chocolate chips
Toppings
candied slices of orange
pistachios, crushed
chocolate chips
Instructions
Cannoli Shells
Mix flour, cocoa powder, sugar, and salt in a large bowl.

Mix in butter and egg.

Mix until the butter is crumbly.

Mix in marsala wine in smaller amounts at a time until the dough is formed.

You may need to add some more wine to make a soft doughy mixture

.

The dough should be taken out of the bowl. Knead the dough for 10 minutes on a floured surface.

Form the dough into a ball. Transfer to a bowl.

Let the dough rest at room temperature for at least 30 minutes or up to 2 hours.

Be sure to cover it.

Add vegetable oil to a large pan and preheat to 340 – 355F.

Use half a dough at a time. Keep the other half in the bowl. Roll the dough thinly onto a floured surface.

A pasta machine or a rolling pin can be used to make the dough thin.

Cut the dough into rounds using a 4-inch cookie cutter or a shape of a cup.

You can wrap individual dough circles around to form a cannoli shape. Brush about 1 inch or less of the one end with beaten eggs (use your fingertip or pastry brush).

To seal the dough around the cannoli mold, press the edge on the opposite side.

Use metal tongs to place the shell into the oil carefully. Fry until crisp and golden brown, approximately 1 to 2 minutes. Be sure to monitor oil temperature so that oil doesn't burn shells.

You can fry as many as 5-6 shells at once.

Use metal tongs to remove the cannoli shells from the oil. Once you have removed the shells, let them drain into the pot. Then move to paper towels and drain. Wrap a paper towel around the cannoli shell and slide it off.
Allow cannoli shells to cool, then continue the process with the remaining dough circles.

Use the flour scraps to shake off any excess flour, then press together, place in a bowl, and allow to rest for at least 10 minutes before reusing.

Let cool on a wire rack, then fill with cannoli filling. Decorate as desired with melted chocolate, chopped pistachios, or mini chocolate chips.
Cannoli Filling
The ricotta can be whipped with a mixer or by hand. It should take about 2 to 3 minutes.

Add the powdered sugar to the ricotta.

Use a spatula or wooden spoon to gently fold the powdered sugar into the ricotta. Continue this process until it is smooth and well combined.

If desired, add the chocolate chips.

Move the filling to a piping bag with a large, round tip—pipe

in the filling into the cooled cannoli shells.

You can also use a spoon, an ordinary plastic bag, and then cut the tip.

Place the ricotta mixture in a pastry bag.

Squeeze the fillings into each cannoli shell from both sides.

Enjoy!
Notes
To make the best Sicilian Cannoli,

let the ricotta mixture rest in the refrigerator for 24 hours or at least overnight.

It is easier to make the Ricotta mixture for Sicilian Cannoli using an electric mixer, but don't! Use your hands; otherwise, it could turn out watery, and you'll need to add more sugar to thicken it.