Copycat Chipotle Pollo Asado is one of the tastiest grilled chicken recipes I've made recently. This chicken is flavorful and tender with lime and orange juice in a chipotle-based marinade.
Fans of Chipotle Mexican Grill will recall that the chain finally introduced a fresh chicken option to its menu in 2022 after 30 years. This must be a really special and tasty chicken meal. The chicken in this copycat recipe is juicy and delicate, with a smokey taste and a touch of spice.
The chicken is not only delicious but also quite simple to prepare. The marinade may be made ahead of time in a food processor or blender and needs no special attention. Marinating the chicken in the fridge overnight will make for a flavorful grilled meal the following day.
Fun Fact on Chipotle: Free burrito coins (and cards) are available! The coins are extremely rare, and nobody knows how to obtain them other than by purchasing them on eBay for $35. At that price, you'd be better off buying the burrito yourself.
What is Pollo Asado?
Pollo Asado is a traditional Mexican cuisine that consists of chicken marinated with Pollo Asado spice, grilled, and served with salsa, lime, and tortillas. Chipotle Mexican Grill's version in the United States is created with chicken thighs marinated in a vibrant, boldly flavored marinade and topped with fresh squeezed lime juice and cilantro.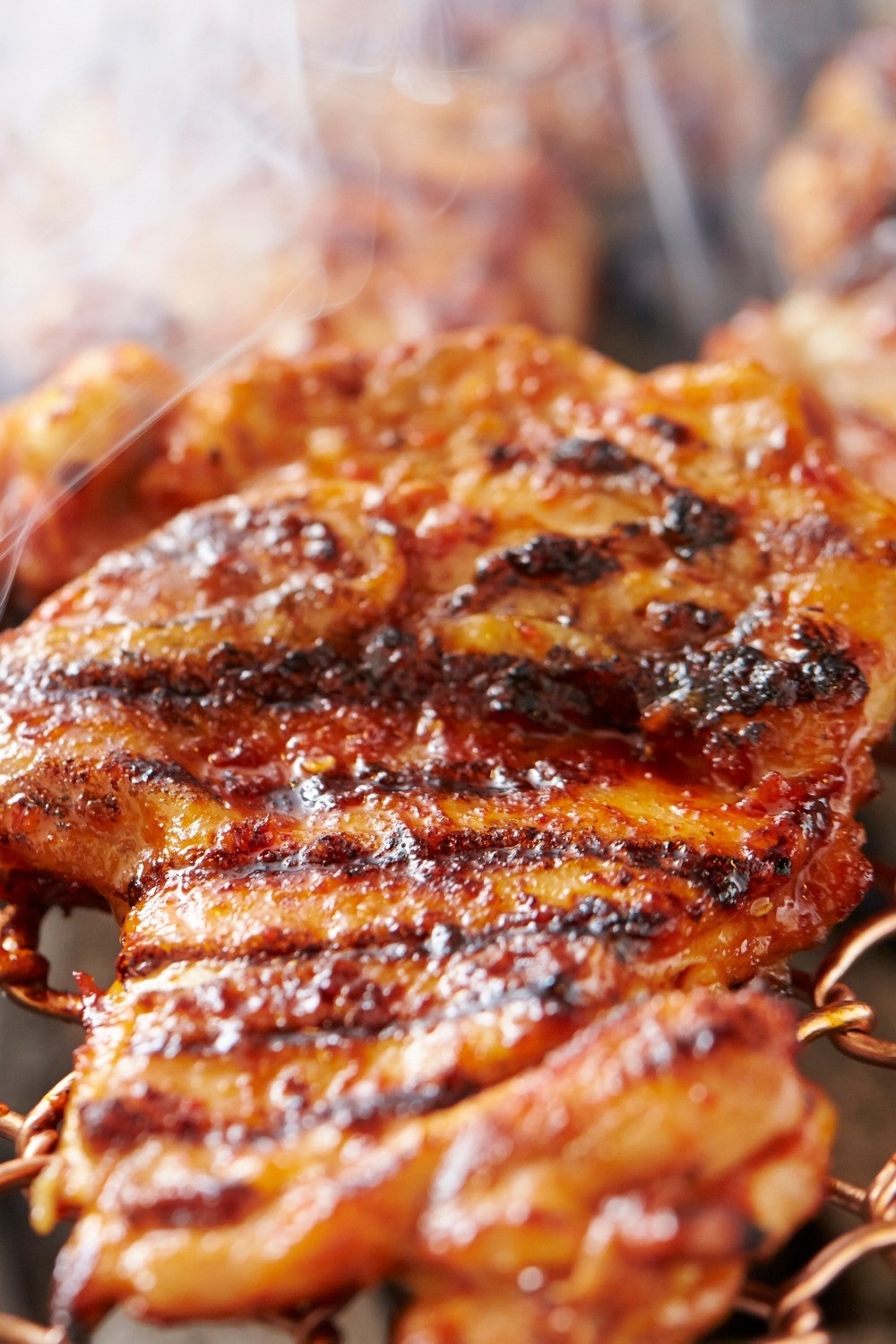 Ingredients for Pollo Asado
Meal planning is a breeze with this recipe for chicken Asado! Make enough chicken to last the whole week and serve it with rice, salsa, and your preferred taco toppings!
Additionally, the marinade may be made, and the chicken can be frozen once it has been marinated. I adore keeping a couple of freezer-stocked batches of marinated Pollo Asado for quick weekday dinners!
Chicken Thighs (or Chicken Breasts) – Pollo Asado may be made with any cut of chicken, but my personal preference is boneless, skinless chicken thighs or chicken breasts. They are ideal for shredding into bite-sized pieces to use with tacos and burrito bowls.
Garlic – Fresh garlic is used in large quantities to make the marinade that gives this chicken its distinctive garlic taste.
Onions – The onion has to be quartered after peeling, then the ingredients are added to a food processor or blender.
Orange and Lime Juice – The marinade's distinctive citrus taste is created by combining orange and lime juice, which goes particularly well with the smokey chipotle chiles in adobo.
Cilantro – Cilantro gives the marinade a freshness and can be left out if you're not a fan.
Chipotle peppers in adobo – sneaky kitchen substance: chipotle peppers in adobo! Add some chipotle chiles in adobo to a marinade to enhance the taste. They are spicy and richly smoked in taste. They also give the marinade a lovely reddish-orange hue.
Harissa Seasoning – Another secret weapon to increase the flavor of this Pollo Asado.
Smoked Paprika – I adore smoked paprika because it gives food a smokey taste right away without having to cook or barbeque it first. Since the chicken may be air-fried or pan-fried without losing the distinctive grilled flavor, this is an excellent marinade for use all year round.
Oregano – If you can get Mexican oregano, I suggest using that kind. Any dried oregano will do because it has a deeper, earthier taste.
Cumin – Cumin is a deep, rustic spice that is frequently used in Mexican cuisine.
Salt & pepper – Last but not least, right? You can't make any chicken dish without seasoning it with salt and pepper. 🙂
How to Make Chipotle Pollo Asado
For the Marinade:
Step 1: Blend, process, or use a big bowl and a handheld immersion mixer to purée all the marinade ingredients. Blend the ingredients until the sauce is smooth and the mixture is uniform.
Step 2: Place the chicken thighs or chicken breasts and marinate in a big, airtight container or Ziploc bag. Mix until the marinade is uniformly distributed over the chicken.
Step 3: Place in the refrigerator, then leave the marinade ideally for up to 24 hours, and at least 4 hours if you're in a hurry.
For Grilling Chicken:
Step 1: Set the grill to 350° to 400°F. Apply olive oil to the grill.
Step 2: Grill the chicken for 15 to 30 minutes, turning once, or until the internal temperature reaches 165 degrees Fahrenheit.
Step 3: Serve and enjoy; not really a cooking step, but it's my favorite step. 🙂
Is Pollo Asado Too Spicy?
You can adjust this recipe's spice level to suit your personal preference. Despite this, classic Pollo Asado can be a little spicy. Adding citrus notes will significantly reduce the spice content, and the amount of heat is negligible for most.
Add more citrus than what is called for in the recipe if you want to skip the spice completely.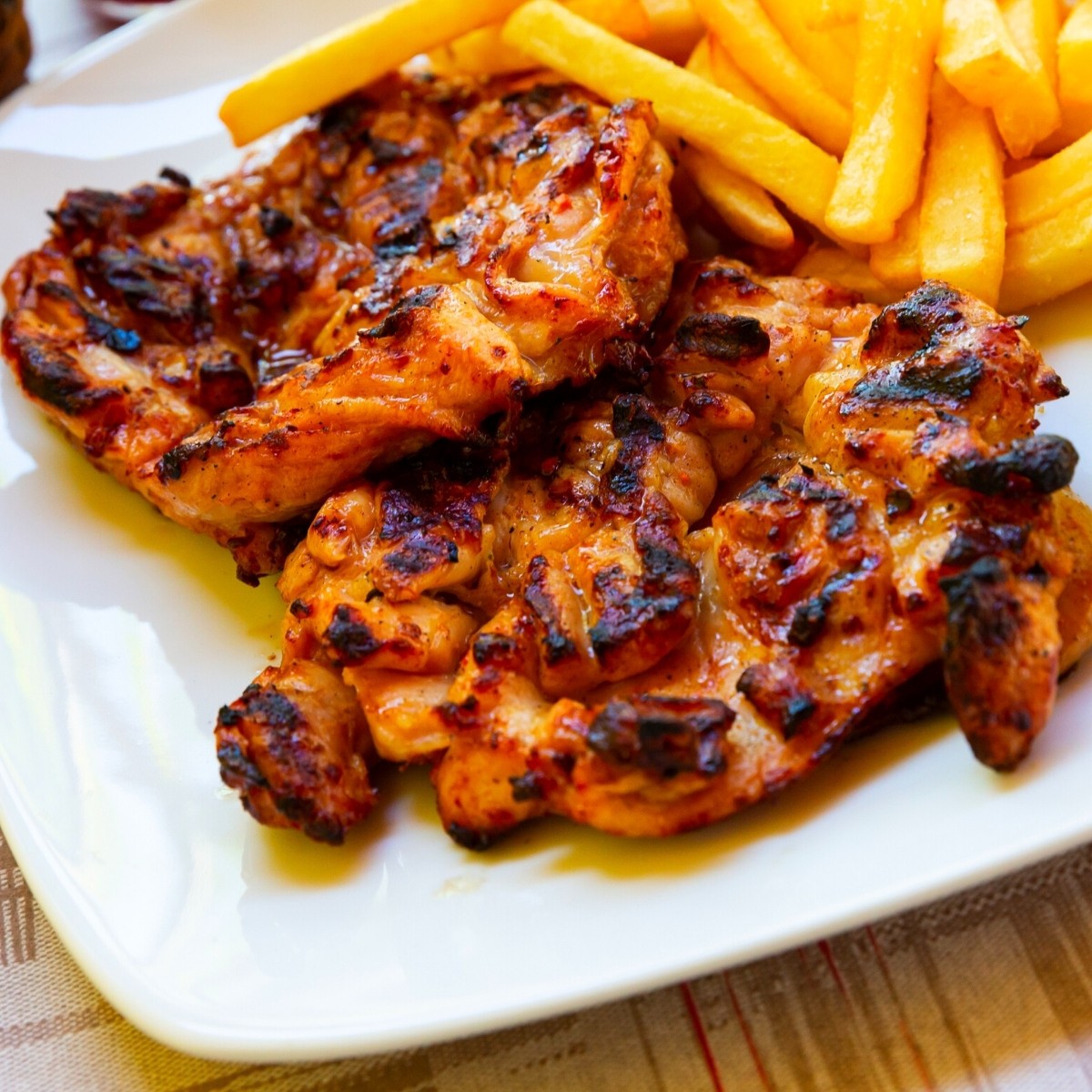 Additional Ways to Make Pollo Assado
Chipotle Pollo Asado in an Air-fryer
Step 1: Apply olive oil to the air fryer basket.
Step 2: Fill the air fryer basket with the previously marinated chicken.
Step 3: For 8 minutes, air-fried the chicken at 400 °F. Flip the chicken over after turning the air fryer on. Cook the chicken for 6-7 minutes or until it reaches 165°F internally. Enjoy!
Chipotle Pollo Asado – Pan-Seared
Step 1: Place some olive oil in a pan that can be used for grilling and set it over medium heat.
Step 2: The chicken and the marinade should be added when the pan is heated. To prevent the chicken from drying out, sear it in the remaining sauce.
Step 3: Sear for 5 minutes, turn, and cook for another 3 to 5 minutes or until an instant-read thermometer inserted into the center of the chicken reads 165 degrees Fahrenheit.
Step 4: After the chicken is cooked, use the sauce left in the pan to dress the chicken. This adds more flavor and helps keep the chicken moist. Add a little water if the sauce dries up in the pan while you're searing the chicken.
A Guide to the Perfect Pollo Asado
Marinade – the marinade has so much flavor that you only need to marinate the chicken for a short period, but I still recommend marinating it for at least 30 minutes. Give the chicken time to marinade in the fridge the night before if you can. Adding citrus juices like lime and orange will enhance the chicken's taste and help it retain its moisture. Marinate the chicken a day ahead and let it sit in the fridge overnight to save time on preparation. A double batch of marinated chicken can be prepared and stored in the freezer for later use.
Chicken, thighs, or breasts – boneless, skinless chicken thighs or breasts are a great option. If prepared right, they can both be juicy cuts of chicken you can use with the Pollo Asado marinade. Thighs have more fat than chicken breasts, so they don't dry out as much when cooked. If you want to have leftovers or use the chicken for meal preparation, I suggest using chicken thighs, so the flesh doesn't dry out.
Grilling, pan-searing, or air-fried – Regarding the preparation approach, grilling the chicken yields the most outstanding results in terms of taste. Good charring and a pleasant smokey taste develop in the marinade. However, whether pan-fried or air-fried, chicken is excellent any time of year.
Share the image below to your Pinterest board if you like this Chipotle-style Pollo Asado!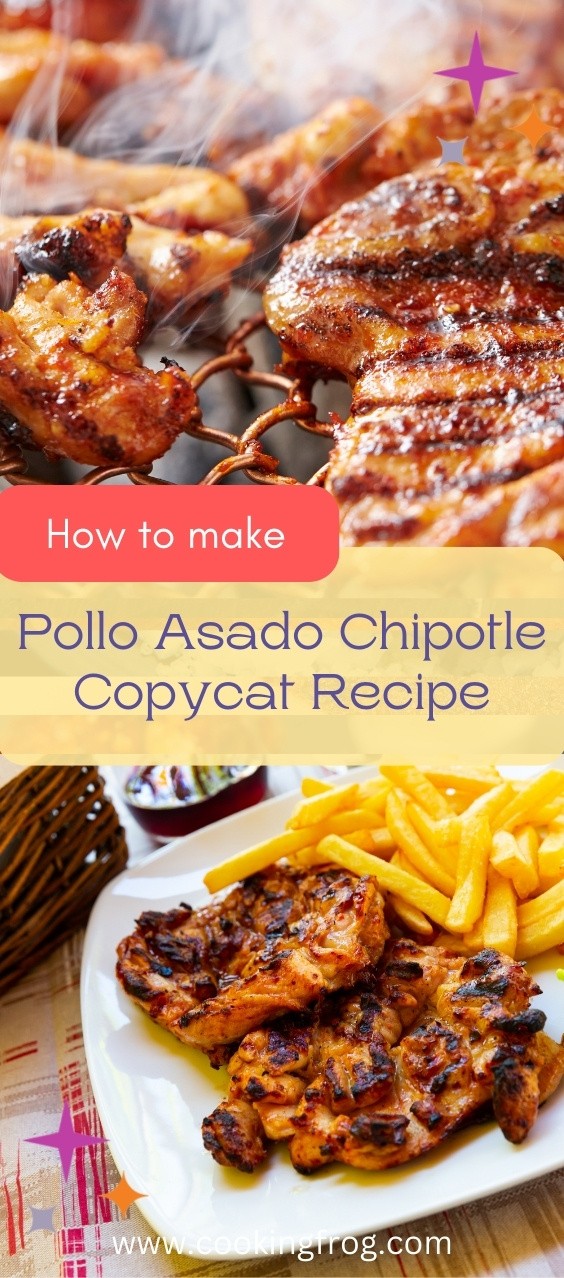 Pollo Asado Chipotle Copycat Recipe
With this copycat marinade, you can have delicious, authentic-tasting Chipotle-style Pollo Asado in no time. This marinade is packed with delicious flavor because to the aromatic herbs and spices used in its preparation.
Ingredients
For the Chicken
3 lbs of chicken thighs or chicken breasts
1 Tbsp of olive oil
5 Tbsp of water (for pan-searing cooking method, optional)
For the Marinade
7 oz of chipotle peppers in adobo sauce (1 can)
4-5 Tbsp fresh lime juice
4-5 Tbsp of orange juice
1/2 cup of fresh cilantro
1 tsp of Harissa Seasoning
5-6 garlic cloves
1 onion, diced
1 tsp of cumin
1 Tbsp of dried Oregano
1 tsp of ground Coriander
1 tsp of smoked paprika
1 tsp of Lemon Salt or regular salt
1/2 tsp of pepper
Instructions
For the Marinade
Place all the ingredients for the marinade in a blender, food processor, or big bowl and purée using a handheld immersion blender. The sauce will be smooth once the ingredients have been blended well.
Combine the marinade and the chicken thighs or breasts in a large airtight container or Ziploc bag. Mix until the marinade has coated the chicken well.
Place in the refrigerator, cover, and marinate for up to 24 hours. Although marinating for at least 4 hours is acceptable, overnight marinating is recommended for the finest flavor.
Grilling the Chicken
Heat the grill to a high setting of 350°–400°F. Apply olive oil to the grill.
Grill the chicken for 15 to 30 minutes, turning once, or until the internal temperature reaches 165 degrees Fahrenheit.
Serve hot, and enjoy!