Get ready to dive into the ultimate summer delight – the irresistible Strawberry Hennessy cocktail. The charm of Hennessy is universal, captivating everyone from the lively nightclub crowd to the sophisticated card-playing aficionados. The fusion of Strawberry and Hennessy is nothing short of a celestial pairing.
This drink is a symphony of light and refreshing notes. It combines Hennessy's rich, smooth flavor with the sweet, juicy freshness of strawberries and a delicious margarita cocktail in a way that works well together. It's the perfect mix for chilling out and enjoying a cool moment of relaxation.
This drink's beauty is in how easy it is to make. You don't have to be a professional mixologist to make this tasty drink. Why go to a club when you can make this tasty treat right at home?
And if you like Hennessy, you shouldn't miss out on the delicious Hennessy Chicken Wings! You won't want to miss this adventure in food.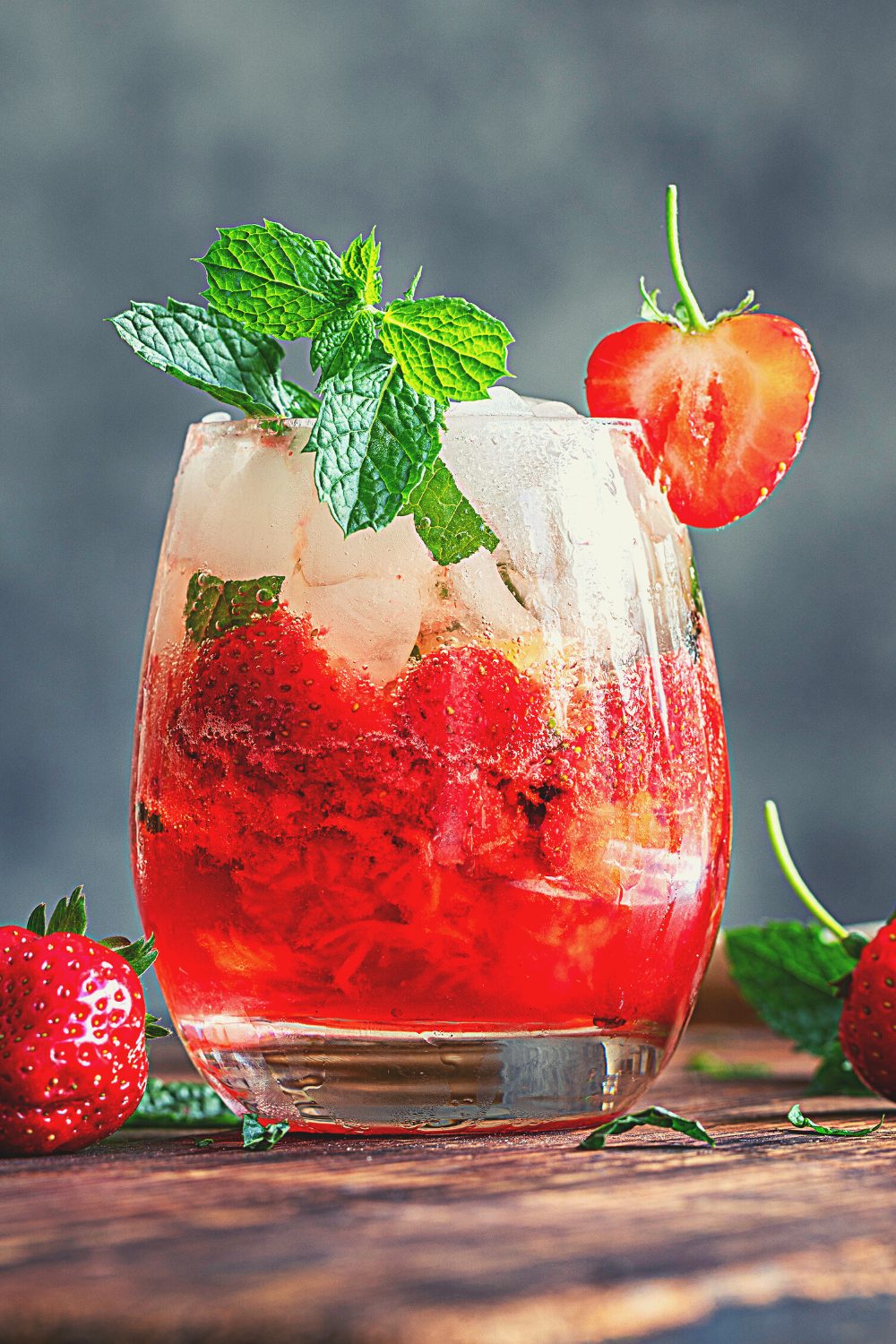 Strawberry Hennessy Recipe
Let's make a fantastic drink to enjoy the nice and lovely ambiance of a club at home.
Ingredients
Fresh strawberries sliced: 1 cup

Fresh strawberries mushed: 1 cup

Strawberry daiquiri Mix: 1 Oz

Hennessy: 3 Oz

Sprite 3 Oz

Margarita mix: 3 Oz

Mint leaves to garnish
Instructions
Start by giving your strawberries a good rinse.
Slice off the tops of the strawberries.
Now, cut those strawberries into petite slices, and let them bask in a gentle shower of sugar.
Set aside some strawberries to be crushed in a mortar. Your mission? To smash them into the finest pulp possible.
Next, strain this strawberry mash, bidding farewell to any lingering seeds.
Take your sugar-sprinkled strawberry slices and add them to a spacious mason jar.
It's time for the mashed strawberries to join the party in the jar.
Now, let's get mixing! Add the strawberry daiquiri mix into the mixer and gently whirl it.
Pour in the star of the show – the Hennessy, followed by a splash of Sprite and a dash of margarita mix.
With all the ingredients in the jar, seal it with the cap and shake it well.
Now, pour this delightful cocktail into your chosen serving glasses.
Add a touch of coolness with some ice.
Garnish your cocktail masterpiece with a mint and strawberry sprig, adding that final touch of fabulousness.
Serve your creation with a smile and watch as everyone savors the flavor of summer. Enjoy!
Success Tips
You don't have any fresh strawberries? No problem! You can easily replace them with frozen strawberries or syrup-flavored strawberries. The key is to keep your cocktail's delicious strawberry flavor.
If a mortar isn't your favorite tool, feel free to use a blender to crush the strawberries. It's all about having that perfect consistency.
For a smoother cocktail, you could strain the mixture after shaking. This will get rid of any remaining strawberry seeds or pulp, giving you a cleaner drink.
If you want a stronger drink, you can adjust the amount of Hennessy to your liking. Just remember that balance is the key to a great-tasting drink.
If you like your cocktails less sweet, you can reduce the amount of sugar or strawberry syrup used.
Always taste your cocktail before you serve it. This lets you make any last-minute changes to make sure it's just right.
Chill your serving glasses before you start. This will keep your cocktail cooler for longer, making it more refreshing.
Don't forget to add the garnish! Even though it might seem like a small thing, a good garnish can make your cocktail look better and taste better overall.
Did the Strawberry Hennessy Cocktail Recipe hit the spot? Don't be shy, pin the image below to your Pinterest board. It's like whispering a secret recipe to your followers.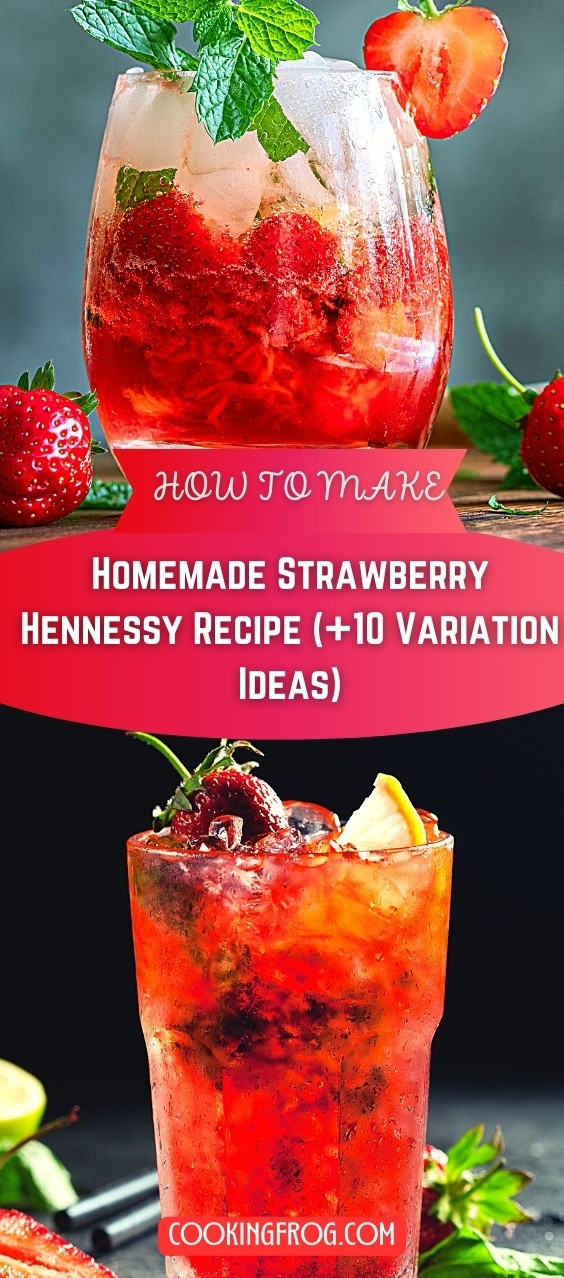 Strawberry Hennessy Variation Ideas
Here are some intriguing modifications you can make to your Strawberry Hennessy cocktail:
Strawberry Hennessy Mojito: For a refreshing twist on your cocktail, add a splash of white rum and a handful of fresh mint leaves. Mix the mint leaves with the strawberries to give the drink an extra burst of flavor.
Spicy Strawberry Hennessy: Mix a few slices of jalapeno with your strawberries if you like a bit of heat. The spice will give your cocktail a surprising kick.
Strawberry Hennessy Lemonade: Add a squeeze of fresh lemon juice to your cocktail for a tangy twist. This variation is great for those hot summer days.
Strawberry Hennessy Bellini: Swap the Sprite with Prosecco for a bubbly twist. This variation is perfect for brunch or a special occasion.
Strawberry Hennessy Cream: For a drink that tastes like dessert, add a splash of Irish cream to your cocktail mix. The cream will add a rich, indulgent touch to your drink.
Strawberry Hennessy Sunrise: Add a splash of orange juice and a pinch of grenadine to your cocktail. The layers of color will look like a beautiful sunrise, and the flavors will add a delightful citrusy sweetness.
Strawberry Hennessy Cooler: Add a splash of coconut water for a tropical taste. This variation is not only refreshing, but it also hydrates!
Strawberry Hennessy Sangria: Mix some red wine and chopped fruits like oranges, apples, and peaches. This variation is great for sharing at parties or gatherings.
Strawberry Hennessy Martini: Shake your drink with a bit of vermouth and serve it in a martini glass. Don't forget the olive or a twist of lemon peel as a garnish!
Strawberry Hennessy Fizz: Add club soda to the top of your cocktail for a fizzy variation. The bubbles add a fun and refreshing touch to the drink.
FAQs
Where does Hennessy originate from?
An Irish army officer distilled his first barrel of Cognac almost 250 years ago in rural Cognac, France. The bottle was called for the eponymous Richard Hennessy, and subsequently, Tupac named a song after it.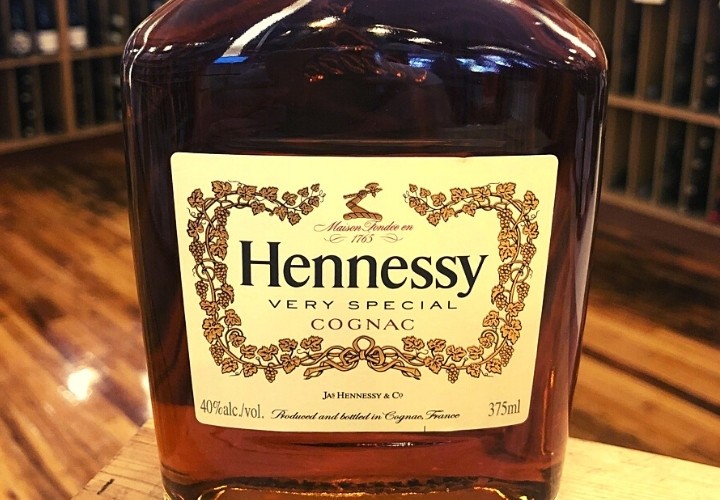 What type of alcohol is Hennessy?
Let's get one thing straight before we go any further. Hennessy is a sort of liquor known as Cognac. Hennessy is categorically not a whiskey, contrary to popular assumption. Grapes, not barley or wheat, are used to make Hennessy Cognac.
Both are distilled and fermented in wooden barrels, but that's where the similarities end. By that logic, anyone who claims it's 'essentially whiskey' (which we believe they do) might just as easily claim it's 'basically wine' (which would be closer to the reality).
Is Hennessy strong?
Yes, it is a very strong alcoholic spirit. Hennessy's ABV content is 40%.
What does Hennessy taste like?
It all depends on which Hennessy type you choose. Hennessy VS tastes like vanilla and oak. It has a soft texture. The Hennessy VSOP has a grapelike flavor. It is dark in color with a good amount of oak. The HennessyXO is a sweet, spicy toffee-like flavor that has a light texture.
Which Hennessy is best?
The most popular Hennessy is the Hennessy XO. It's a strong cognac with a rich, fruity taste of prunes, raisins, and sticky toffee pudding that commands attention.
How does Strawberry Hennessy margarita taste?
A Strawberry Hennessy Margarita is precisely what you need. It tastes both sweet and tart due to the presence of strawberries.
Do I need to use freshly bought Hennessy to make this drink?
Of course not; you don't need to buy one if you have one, even if it's years old. What you have to do is follow the proper Hennessy storage conditions. You must store the Hennessy bottle in a dark place where you can protect it from the extremes of heat and cold. Just store it at room temperature, and it will remain stable for years.
Nutrition Facts of the Strawberry Hennessy Island Drink
Here is a piece of approximate nutritional information about the one serving of strawberry Hennessy Island drink
Calories per serving: 210
Carbohydrates: 27g
Proteins: 0g
Fats: 0g
Conclusion:
The sweet fruity, yet tangy flavor of Hennessy paired with the goodness of strawberries ends up in an amazing cocktail at home. The strawberry Hennessy drink can be made with different variations.
I got the best recipe to make this refreshing drink. You will love the combo of drinks I've added to make this refreshing cocktail.
Just try this recipe, and you'll find its taste out of this world.
If you made any innovations, let everyone know via comments.
Oh, and share with your friends who miss going to the bar due to their busy schedules.
Thanks!