This Espresso Martini with Baileys is a blend that, without effort, combines the richness of coffee with the velvety smoothness of cream. This cocktail is a timeless classic, perfect for date nights, gatherings, or a peaceful evening.
And here's the thrilling part – this article doesn't just stop at the classic recipe. We're also revealing some innovative variations of the Espresso Martini. This is the place for those who love to play with flavors or are just on the lookout for something new. Let's jazz up this lavish drink with a drizzle of imagination!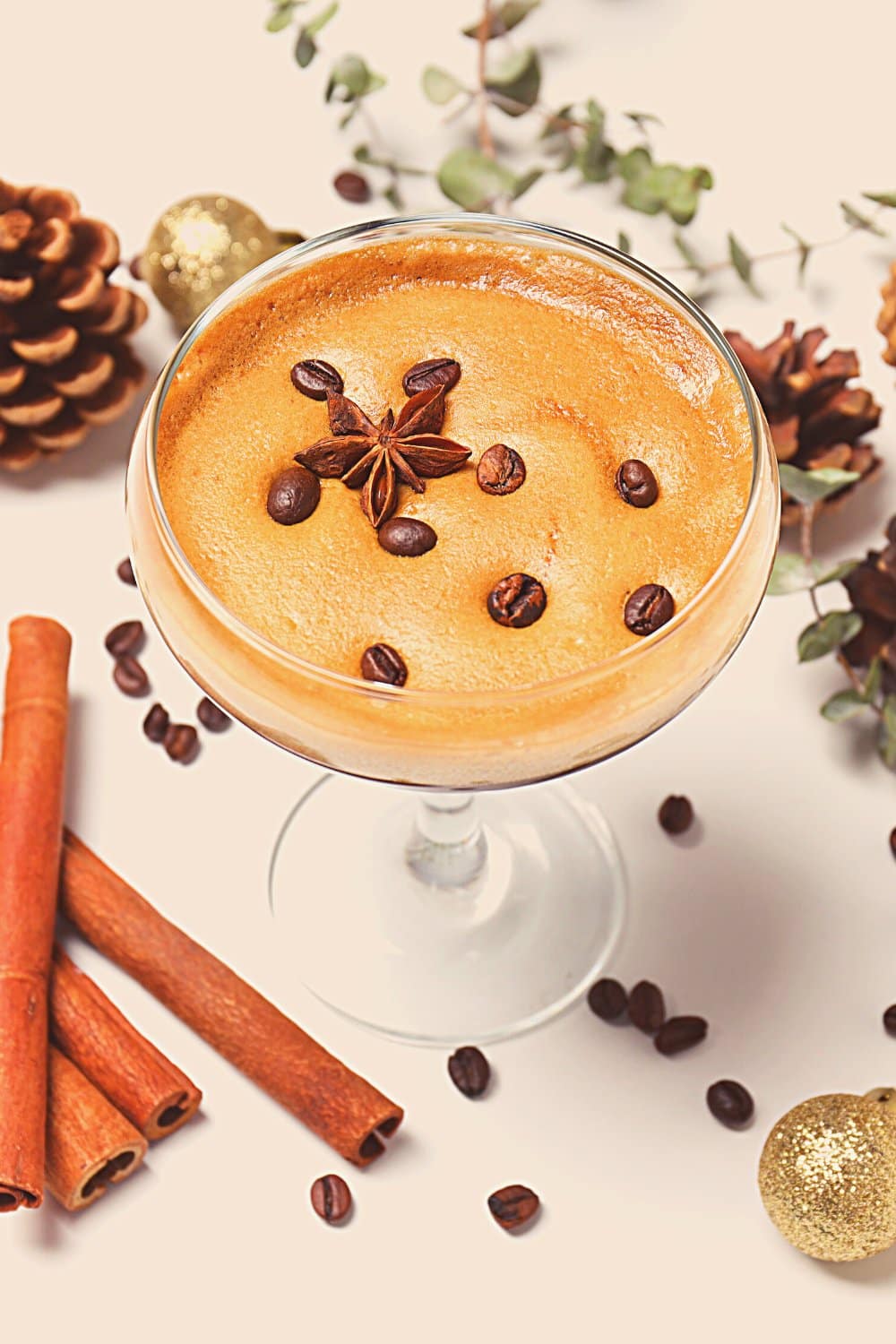 Espresso Martini Ingredients
Ice: Cools the drink, dilutes the alcohol a bit, and adds a refreshing touch.
Espresso: Delivers a robust coffee flavor that forms the base of this cocktail. Freshly brewed espresso is suggested for its depth and richness.
Irish Cream (Bailey's Irish Cream or any Irish cream liqueur you prefer): Adds a creamy, slightly sweet, and silky texture to the cocktail.
Vodka: Contributes to the strength of the cocktail. Any brand works, though espresso or vanilla vodka can add an extra layer of flavor.
Kahlua: A coffee liqueur that elevates the coffee flavor while adding a hint of sweetness.
Optional Garnish: To boost the visual allure and improve the flavor of your cocktail, consider garnishing choices such as chocolate syrup, crushed espresso beans, cocoa powder, powdered sugar, or crushed chocolate.
For a creamy twist, you could add a dollop of whipped cream to your espresso martini. Spices like nutmeg or cinnamon can lend a warm, aromatic touch. A few whole coffee beans on top can hint at the espresso within. Mint leaves can provide a pop of color and a refreshing contrast.
Consider a caramel drizzle for a touch of extra sweetness and a gorgeous display. Lastly, a twist of orange peel can give a citrusy aroma and a sophisticated look. These garnishes add to the taste and make your cocktail look like a piece of art.
Espresso Martini Variation Ideas
Gin Espresso Martini: Swap vodka with gin to make a Gin Espresso Martini. The botanicals in gin can add a unique twist to the cocktail. Use a more neutral gin for this recipe to avoid overwhelming the other flavors.
Vanilla Twist: Substitute the regular vodka for vanilla vodka. This will provide a sweet, fragrant flavor that pairs gorgeously with the coffee and cream.
Ice-Cream Espresso Martini: For a dessert-type variation, add a scoop of ice cream to your Espresso Martini. The creaminess of the ice cream blends flawlessly with the coffee and alcohol, forming a cocktail that's both indulgent and refreshing. You can use vanilla for a classic flavor or experiment with coffee or chocolate ice cream for a richer flavor.
Spice it up: Add a bit of cinnamon or nutmeg to the cocktail shaker before shaking. These spices can provide a warm, soothing note to the drink.
Nutty Treat: Use a nut-flavored liqueur like Amaretto or Frangelico instead of Kahlua. This will give your martini a pleasant nutty flavor.
Mocha Martini: Add a spoonful of cocoa powder to your cocktail shaker for a chocolatey touch on the traditional espresso martini.
Dairy-Free Version: Swap Bailey's Irish Cream with dairy-free Irish cream or non-dairy milk like almond or oat milk for a vegan-friendly variation.
Caramel Creaminess: Add a bit of caramel syrup to your cocktail shaker before shaking. This will give your martini a sweet, buttery flavor that beautifully complements the coffee and cream.
Choco-Cherry Delight: Use cherry vodka instead of regular vodka and add a spoonful of chocolate syrup. This will create a fruity, chocolatey twist on the classic espresso martini.
Coconut Heaven: Swap out Bailey's Irish Cream for a coconut cream liqueur. This will deliver your martini a tropical twist, making it taste like a coffee-infused pina colada.
Hazelnut Bliss: Use hazelnut liqueur in place of Kahlua. This will give your martini a nutty flavor that pairs perfectly with the coffee and cream.
Peppermint Touch: Add a bit of peppermint schnapps to your cocktail shaker before shaking. This will deliver your martini a refreshing, minty zing that's especially delightful during the holiday season.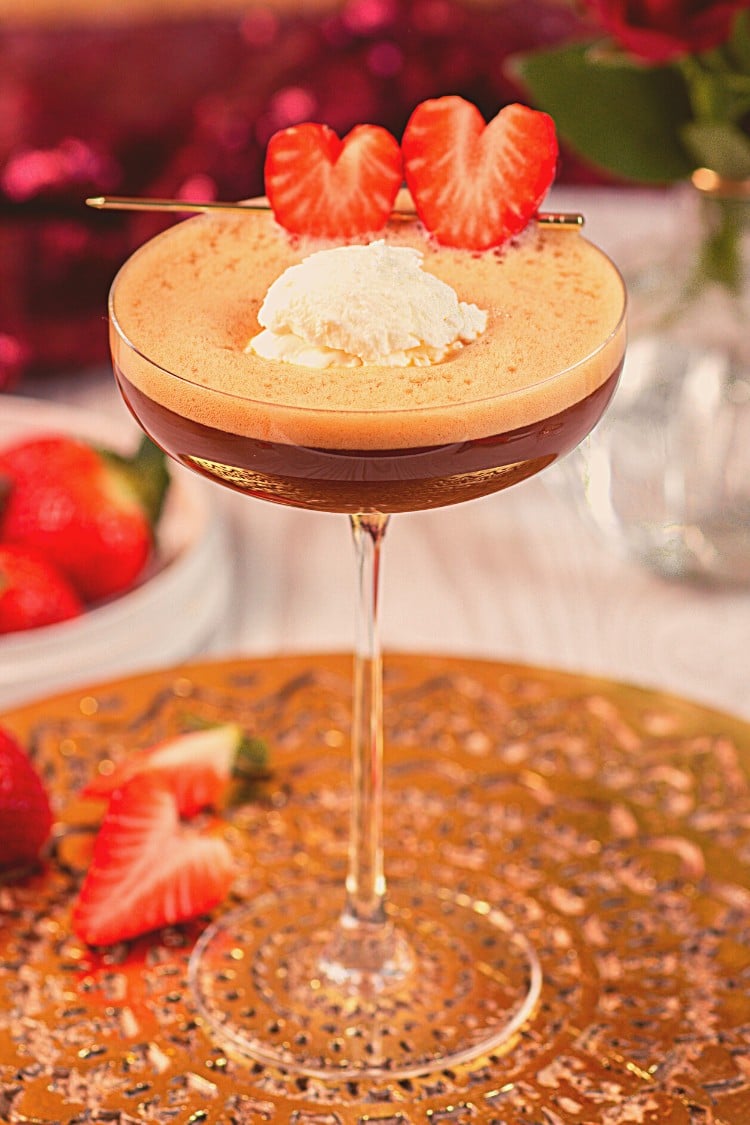 Espresso Martini With Baileys Recipe
Make a cocktail masterwork with this Espresso Martini with Bailey's recipe. This cocktail is rich and creamy and has a lovely coffee kick.
Ingredients
2 oz of freshly brewed Espresso (You can substitute it with Coffee)
1 oz of Bailey's Irish Cream (Feel free to use any Irish cream that you like)
2 oz of Vodka (You can experiment with vanilla vodka for a flavor twist)
1 oz of Kahlua
½ cup of Ice
Optional Garnish: Add a drizzle of chocolate syrup, a sprinkle of cocoa powder, crushed espresso beans, powdered sugar, or some crushed chocolate.
Instructions
Preparation: Start by collecting all your ingredients. Make sure your espresso is freshly brewed for the most pleasing flavor.
Mixing your Cocktail: In a cocktail shaker, mix the freshly brewed espresso, your choice of vodka, Kahlua, and Bailey's Irish Cream. Next, add ice to the shaker.
Shaking: Now comes the most entertaining part. Close your cocktail shaker and give it a good shake. This combines all the ingredients together and also cools the cocktail.
Garnishing your Glass: While your cocktail is cooling, prepare your glass. You can add a touch of refinement by coating the rim and/or inside of your martini glass with chocolate syrup. Then, dip the glass rim in cocoa powder, crushed espresso beans, or crushed chocolate.
Pour and Serve: Pour the espresso martini mixture into your prepared glass. If you like, you can also serve it over ice.
Optional: Sprinkle your cocktail with powdered sugar or cocoa powder for the final touch. This adds to the flavor and makes your cocktail look even more appealing.
Have you enjoyed this Espresso Martini recipe? Don't let it get lost in the internet depths! Pin the image below to your unique Pinterest board. It's like leaving breadcrumbs for a tasty cocktail recipe you'll want to find again. Trust me; it's worth the click!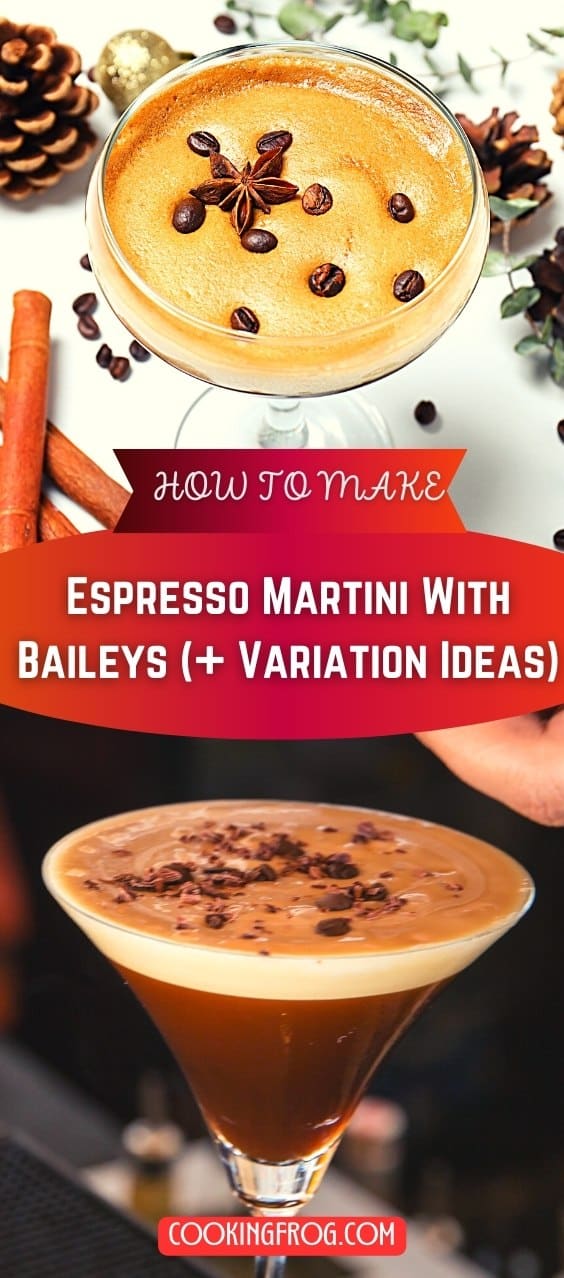 More Delicious Cocktails
Pink Whitney Mix (+ 10 Variations): A adaptable cocktail featuring pink lemonade vodka, ripe for creative variations.
Skrewball Whiskey-Peanut Butter Recipe: A distinctive blend of creamy peanut butter and smooth whiskey.
DIY Strawberry Hennessy Cocktail: A refreshing combination of Hennessy cognac and fresh strawberries, perfect for summer.
Homemade Buffalo Wild Wings' Henny Hustle: A lovely mix of Hennessy, Triple Sec, Lemon Sour, and Strawberry Puree.
Orange Crush Cocktail: A revitalizing blend of fresh orange juice, vodka, and a hint of Grand Marnier.
Homemade Luxardo Cherries: Add sophistication to your drinks with these rich, homemade cocktail cherries.
Texas Roadhouse Kenny's Cooler: Recreate this famous Texas Roadhouse cocktail at home for a refreshing delight.
FAQs and Tips
What makes this Espresso Martini unique?
This Espresso Martini stands out because of the addition of Baileys and Kahlua, making it creamier and more decadent than a classic espresso martini. It's like having your dessert in a glass!
Can I use different kinds of vodka?
Yes! While any brand of vodka will work for this recipe, using flavored vodka like vanilla or espresso vodka can really improve the flavors.
What if I don't have espresso?
No worries if you don't have espresso! You can use regular coffee instead of espresso. However, if you use coffee, you might consider using espresso vodka to enhance the flavor.
Can I use dairy-free substitutes?
Yes, for a non-dairy option, you can use almond milk, soy milk, or oat milk. For dairy options, you can use heavy cream, whole milk, or 2% fat milk.