In search of a cold and soothing drink to help you relax during the summer or holiday occasion? Among flavored vodkas, Pink Whitney Drink is nowadays one of the most desirable options. The best Pink Whitney ever is made with this recipe.
You'll quickly grow to appreciate this mixed drink as your go-to because it's light, refreshing, and provides a pleasant buzz. Although it makes for a great cocktail on its own, you may be wondering what other drinks pair well with this flavored vodka. No worries, I've also covered some fantastic variations in this article.
Pink Whitney Drink Origin
This mixed drink was inspired by a product sold by New Amsterdam Vodka. One of the Spittin' Chiclets Podcast hosts, "Ryan Whitney," inspired the drink's name. Ryan used to play in the National Hockey League, and his podcast is currently massively successful.
The Pink Whitney, a vodka and pink lemonade cocktail developed by New Amsterdam's Ryan, is available in a bottle.
You might also enjoy this Vodka Orange Crush Cocktail!
Why This Recipe Works
I figured I might as well try my hand at recreating it, given how good it is. Trust me when I say that a Pink Drink is the most refreshing beverage you could ever imagine. It's a cocktail that screams "party" because of the harmonious combination of vodka and pink lemonade.
It takes only a few seconds to mix and is one of the most excellent vodka cocktails you can serve at a party. Dispense a handful of these Pink Whitneys to your pals and get the party started!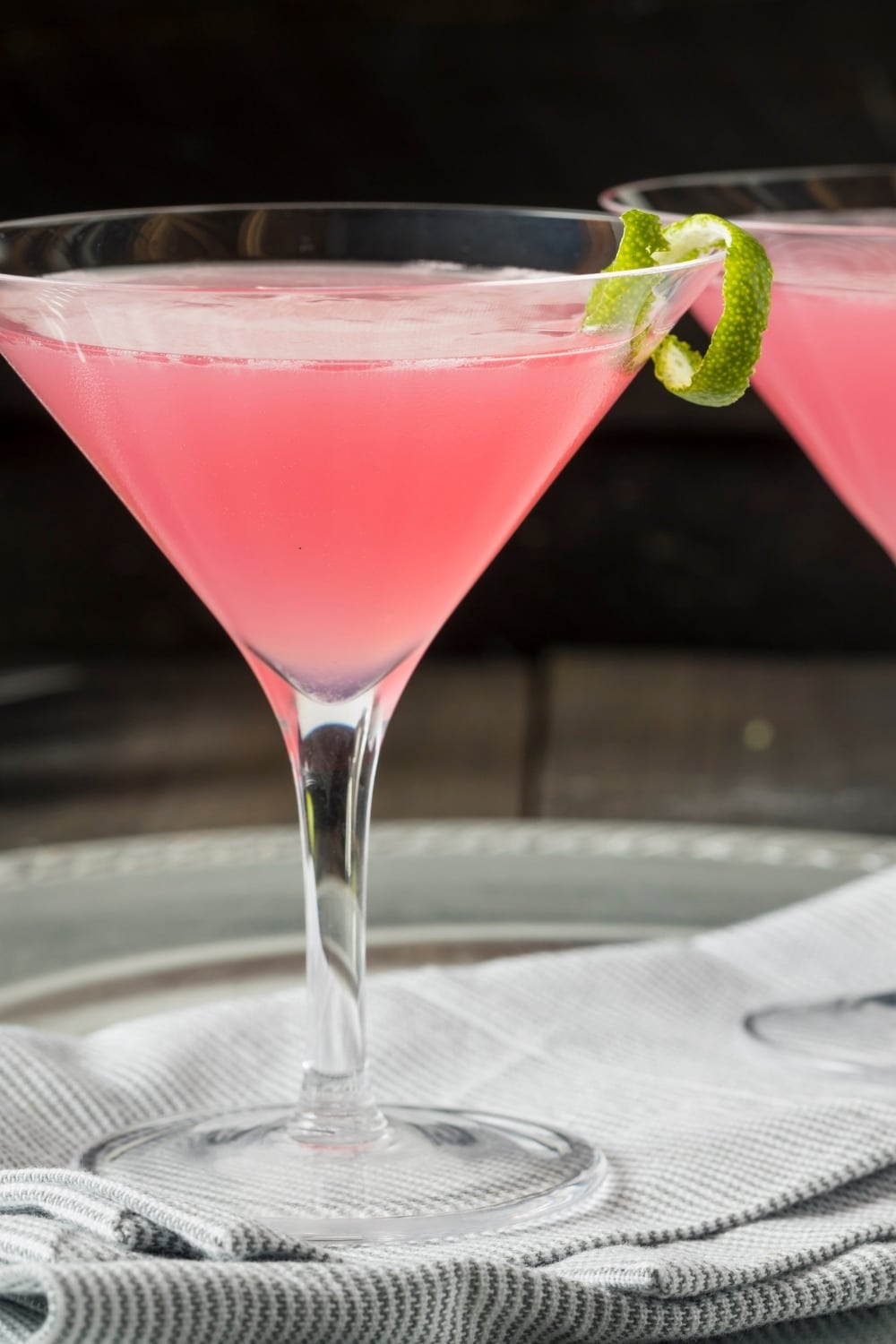 Ingredients you'll need
One of my favorite vodka cocktails is this Pink Whitney, which only calls for two main ingredients. In addition to those two main ingredients, I prefer to include a couple more for both flavor and presentation.
These are the ingredients you'll need to prepare it:
1-2 oz. Vodka (adjust how strong you like it)
6 oz. Pink Lemonade
2-3 Ice Cubes
Just a splash of Lemon Juice
Dried lemons or lemon wedges to garnish
Make this cocktail with whatever vodka and pink lemonade you choose now! Pink Whitneys may be made using a variety of refreshing and tasty ingredients. Also, if you're looking to shake things up, try some of the variants I've included below.
How to make Pink Whitney Drink
It takes under a minute to whip up a batch of these Pink Whitneys, making them among the quickest mixed drinks you'll ever create. If you're planning on serving this at a gathering, you can quickly scale the recipe up by a factor of three or four and serve it in a large pitcher.
Prepare the vodka lemonade cocktail right now!
Step 1: Drink Preparation
Get a cocktail shaker or other big cup with a lid ready.
Now, if you're creating one of the variants, pour in your vodka of choice, followed by the pink lemonade of your choosing.
Add some lemon juice on the top and shake it up to incorporate everything.
Step 2: Serve
Fill a glass with 2-3 ice cubes and pour your Pink Whitney cocktail into it once it's ready. Add some lemon wedges or dried lemons to garnish, and finish them with a stirring straw.
You can mix two cocktails at once with this recipe, so another one will be waiting for you after the first one is gone.
The greatest thing is that it only takes a few seconds to make more of them if you want to make one as a gift or need to make a few more for yourself or a friend. Enjoy!
Pink Whitney Variation Mixes
To elevate your next cocktail experience, I have compiled a complete list of mixes that go well with Pink Whitney.
Pink Whitney Sprite
Carbonated beverages like Sprite pair well with vodkas, making them a fantastic addition to the Pink Whitney. When combined, the vodka's lemon taste in Pink Whitney and Sprite's citrus notes shine through.
Pink Whitney and Sprite can be combined to form a slushie or poured over ice to make a cocktail.
Pink Whitney Pineapple Juice
Although cocktails made with pineapple vodka are not uncommon, even the most basic of cocktails may be transformed with the addition of Pink Whitney.
The Pink Whitney, a combination of pineapple juice and lemonade with a splash of vodka, strikes the ideal balance between fruity sweetness and tart sharpness.
Pink Whitney Limeaid
Limeaid is a beverage flavored with lime juice or lime concentrate. Like lemonade, it's produced by squeezing lemons and sugar into water, but limeade has a sweet and sour flavor.
Limeaid's balanced sourness, sweetness, and tang make it an ideal companion for the Pink Whitney.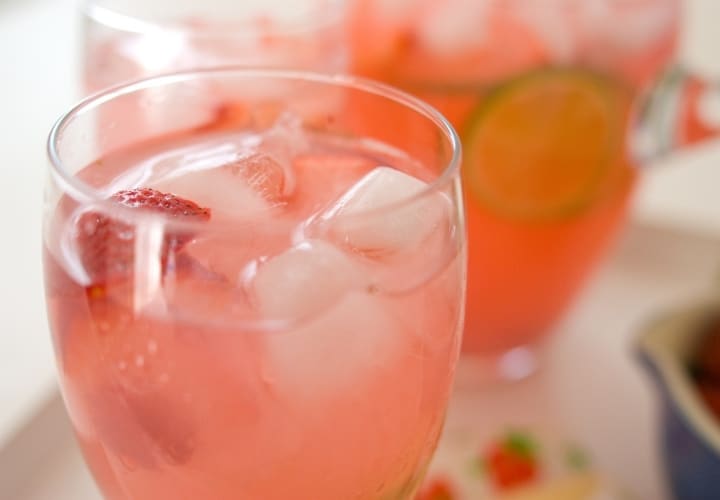 Other Variations
Add Sprite and Cranberry Juice
Add Iced Tea
Combine half Vodka and half J.M Blanc Rum
Add a splash of Tonic Water
Add a splash of Orange Juice
Add a splash of Strawberry juice
You can make a pink vodka lemonade slushier by adding more ice cubes and combining all of the ingredients together.
Pink Whitney Drink Recipe
Let's start with detailed instructions. Among flavored vodkas, Pink Whitney is currently among the most sought-after options. The best Pink Whitney ever is made with this recipe. You'll quickly grow to appreciate this mixed drink as your go-to because it's light, refreshing, and provides a pleasant buzz.
Ingredients
2 oz. of Vodka (1-2 Shots)
6 oz. of Pink Lemonade (¾ Cup)
Splash of Lemon Juice
2-3 Ice Cubes
Dried lemons or lemon wedges to garnish
Instructions
First, combine the pink lemonade, vodka, and lemon juice (and any other optional ingredients from the variant recommendations) in a cocktail shaker or a big cup with a sealable top.
Second, shake it up to combine the contents.
Then, divide the mixture evenly between two glasses, add ice, and garnish with a dried lemon slice. Cheers!
Share the image below to your Pinterest board if you like this Pink Whitney!