Rich in taste and amazingly delicious, expect this paleo keto eggnog to vary slightly from the standard holiday one! To start up the holiday cheer, I've certainly got one of my favorites: incredibly creamy and silky keto sugar-free eggnog.
If you have a taste similar to mine, its taste will undoubtedly be enough to bring you back once again to Christmas past. However, certainly not in A Christmas Carol's Ebenezer Scrooge type of way!
The simple truth is these custard-based drinks are considered to be around ever since the late 1600s. And regardless of whether you appreciate it warm or cooled, virgin or spiked, frothy or creamy, this Eggnog Homemade Recipe will cover your entire bases. And on top of that, only 2 g net carbs, people! Unbelievable, right?
Sweetener For Keto Eggnog
You've got a lot of options with this sugar-free eggnog. You could use allulose (my choice cause there is no aftertaste and 0 GI, just make sure to add 30% more as it's less sweet!), erythritol the one with minimal cooling aftertaste is Lakanto, and xylitol (corn-free though to avoid stomach issues!. Allulose has about 70% sweetness of sugar; you will need to add 30% more (just multiply the total amount of sweetener in recipes by 1.3.
And if utilizing xylitol, be sure you are cautious if you have a puppy at home, as it's highly toxic to small dogs.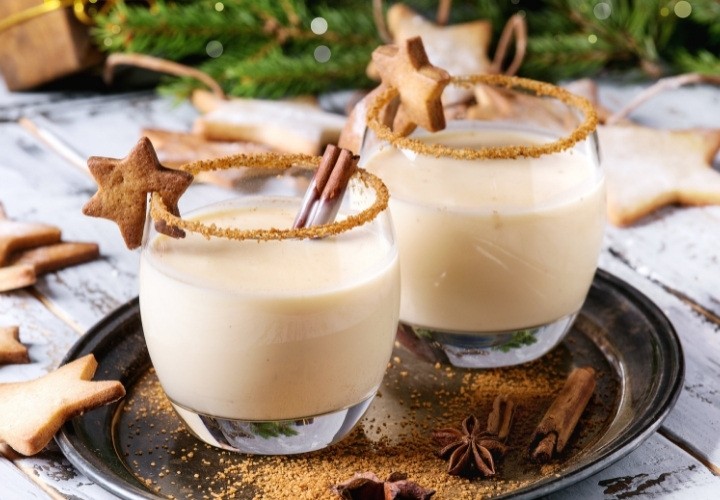 Milk For Keto Eggnog
You have a few options here. Arguably the most effective is the standard version of heavy whipping cream. However, the coconut milk one is awesome, too; you must look after a couple of details.
For the heavy whipping cream version, you can do a 1:1 ratio of cream to nut-based milk (macadamia and almond would be my choice!), adjusting with a bit more milk after cooling till desired consistency is achieved.
And for the coconut version, use 1 1/3 cups of coconut milk with full fat. With approximately an even ratio of the liquid and solid parts from the can. However, bear in mind that this variation is slightly more susceptible to scrambling, so you'll need to include the warm coconut milk very slowly not to scramble the eggs! And extremely important, be sure to remove it from heat just before it begins to simmer.
Spices For Keto Eggnog
Nutmeg (Freshly grated) is actually ideal here. You might have noticed this, but nutmeg loses its kick quite fast. Therefore, the pre-ground version won't ever compare. And also perfect are the cinnamon sticks. However, you may get away with subbing here for 1/2 tsp of cinnamon (ground).
For the Booze
Really optional; however, highly recommended! I suggest you choose either a dark rum or perhaps a bourbon. Both are carbs-free and are great pairings. Interesting fact: by the time eggnog traveled over the Atlantic, rum was a cheap substitute for the rest of the taxed liquors. However, throughout the Revolutionary War in America, the supply of rum dried up, and bourbon began to be utilized as a substitute. Therefore, both bourbon and rum are the standard alcohols of preference.
So, if it's keto, you have to know your limits, as this eggnog can hit you really hard. I personally use 2/3 cups here, but somewhere from half to 1 cup works great. Or simply pour to your liking.
Methods for making Keto Eggnog Homemade
There are numerous ways to make keto eggnog. With the standard being raw and cured…! But because it takes roughly fourteen days, I went for the cooked route.
The simple truth is you're essentially creating a custard, with the yolks as the thickeners for this recipe. So, you will be whisking your egg yolks with the sweetener till it's fluffy and light.
Accompanied by tempering in the 'milk of your choice,' i.e., adding them very slowly so as not to scramble the eggs! And then cook the mix for about ten minutes until it only begins to simmer.
Quite simple, yet amazing results. And when it comes to the eggs, if you're ever to run on organic eggs, that is it. At the least, I think you truly can taste the difference here. Unsurprisingly maybe, since the egg yolks take the center of the stage.
Also, I've chosen folded egg whites at the end. Although it's the original way, I'm just not too keen on the added frothiness. I merely like my keto eggnog thick and creamy, like most commercial variations out there.
But when that's your thing, do it: before serving, beat your egg whites till soft peaks form and fold them into the eggnog. However, remember that if you have leftovers, the egg whites will separate.
Share the image below to your Pinterest board if you like this Keto Eggnog Recipe!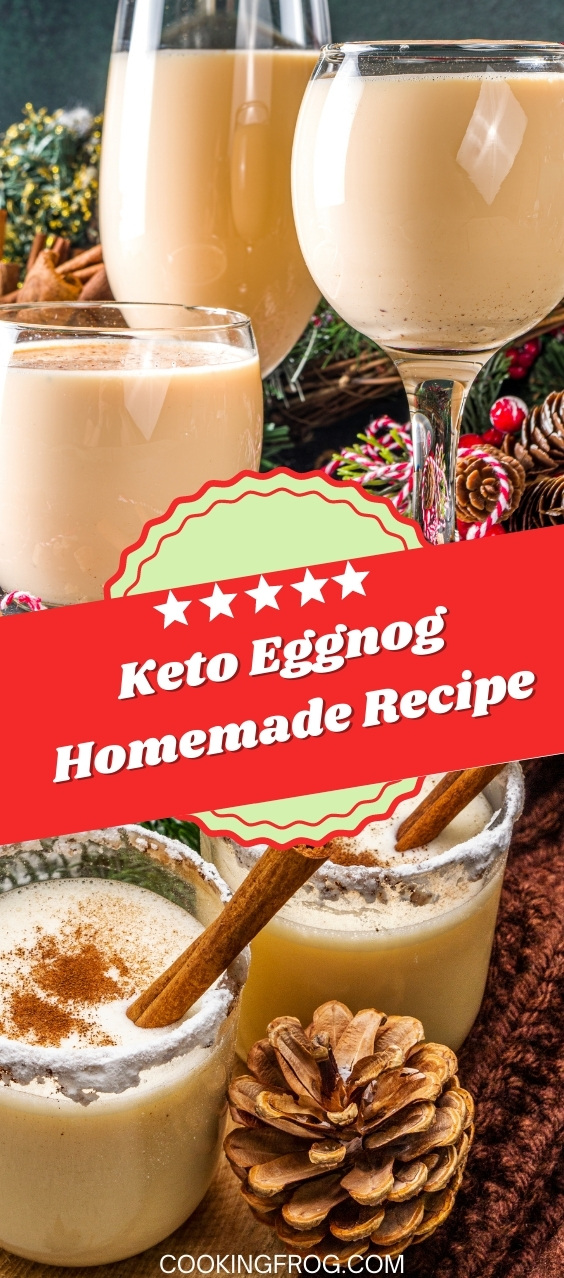 Ingredients
2 cups of nut milk, unsweetened macadamia or almond
2 cups of heavy cream or coconut milk
1 whole cinnamon stick
1 tsp of freshly grated nutmeg
6 egg yolks, organic if possible
1/2-3/4 cup of erythritol or xylitol allulose
2 tsp of vanilla extract
1/2-1 cup of dark rum or bourbon
How to make Homemade Keto Eggnog
Add heavy cream, nut milk, nutmeg, and cinnamon to a medium-size saucepan and simmer for approximately 9-10 minutes to infuse.
Take away from heat and put aside as you prepare the yolks.
Add egg yolks and the sweetener of your choice to a sizable bowl and, utilizing a whisk or an electric mixer (simpler), beat them till fluffy, and light. Most of the sweetener has dissolved (if erythritol is used, some granules will remain, and that's fine).
Slowly temper the hot mixture into the sugar-egg mixture. This means you should add hot milk slowly, in smaller amounts, so that your eggs don't curdle.
Pour everything back into the saucepan, and cook at medium-low temperature for 10 minutes, until your mixture reaches 160 F and coats the back of your wooden spoon.
Take away from heat and sieve onto a medium-sized bowl. Stir in liquor of preference and vanilla to your liking. Cover and move to the fridge to cool.
Your keto eggnog will continue steadily to thicken while chilling. Therefore, give it a nice stir before you serve it. You can thin it out with only a little nut milk until the preferred consistency is achieved. Enjoy!!!