Today, we're sharing a delicious traditional beef olives recipe that will impress your guests and elevate your dinner parties. This recipe is easy to follow and produces succulent and flavorful beef olives that are sure to become a favorite.
So, let's get started and learn how to make these mouth-watering beef olives!
A traditional British dish known as "beef olives" consists of filled, thinly sliced beef folded into a parcel and slowly cooked in a rich brown sauce.
Since the Middle Ages, beef olives have been a staple of British cooking. One would assume that they truly contain olives based on the name. While this is not the case, you can certainly experiment by adding some olives to the dish. 🙂
The British term"Beef Olive" refers to beef that has been wrapped around a flavorful filling, browned, and finished in a brown sauce.
So, What are Beef Olives?
In their most basic form, Beef Olives are thin beef steaks wrapped around sausage meat, minced beef, veal, or a breadcrumb foundation with anchovies; however, I've opted to use Stilton cheese in my filling because it pairs so nicely with beef.
The packed beef rolls get their olive title because they resemble an olive when they are neatly wrapped with string. Veal steaks were also commonly used in the past.
The key to making them juicy and flavorful is browning them in a skillet before finishing them up in a casserole. I found that cooking them in a rich red wine beef stock brought out the best in the delicate beef and the stuffing.
Not to brag, but this Beef Olives recipe is hard to top as a wonderfully delicious dinner that will fill up the whole family when served with Hasselback potatoes and veggies.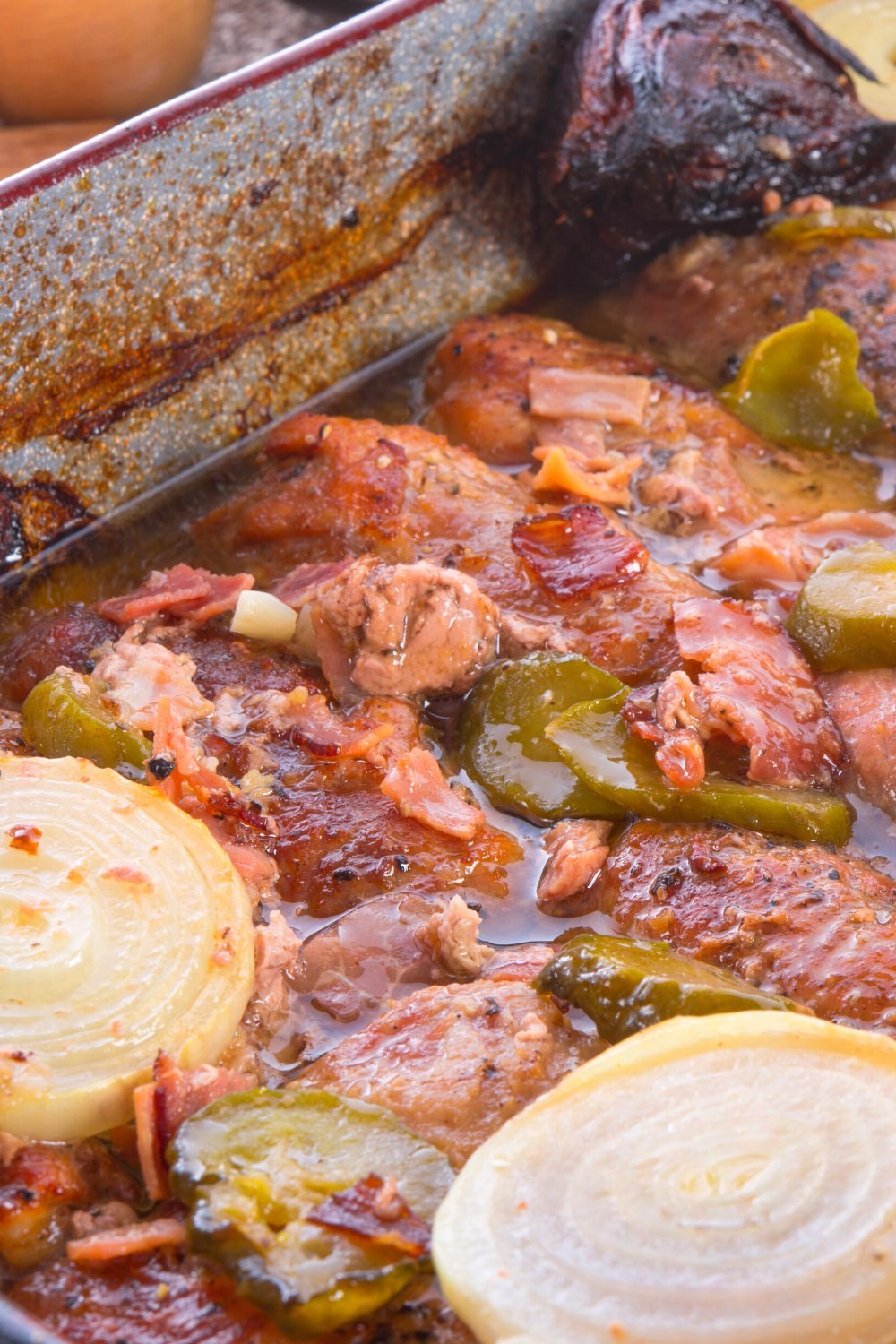 Recipe Variations
Beef – substitute beef with chicken breasts sliced in two pieces and pounded in the zip-lock bag using a meat mallet. You can also use turkey or pork escalopes.
For the stuffing – You can use sausage meat, minced chicken, pork, or beef.
Mushrooms – for added flavor, use rehydrated porcini or shiitake mushrooms.
Stilton – for a unique flavor, try another blue cheese like Gorgonzola, Roquefort or brie, or camembert.
Ingredients you'll need
Beef – Steak sliced thinly and long for frying. It really doesn't need to be of a specific quality because it will be baked at low heat in the oven.
Beef stock – Either in cube form or canned.
Vegetable oil – I advise you to use Canola oil for this recipe. I know you are tempted to use olive oil instead. 🙂
Flour – All-purpose flour is best for this recipe.
Onion and Carrots – I use yellow onion. It needs to be cut and used for the brown sauce.
Seasonings – Sea salt flakes and finely ground black pepper make up the seasoning.
For Beef Olives stuffing:
Breadcrumbs – Store-bought breadcrumbs or prepared from 4 small bread pieces in a food processor.
Shallots – Banana shallots are simpler to peel than their smaller counterparts when it comes to shallots.
Mushrooms – Either white mushrooms or any other kind that you have available.
Cheese – Stilton cheese or any other blue cheese will do. As I've said before, you can experiment with other kinds of blue cheese.
Egg – As in many other recipes, eggs are used for binding.
Thyme & Rosemary – I'm using freshly cut thyme and rosemary for a lovely addition to the flavor.
How to make Beef Olives
Step 1: Remove the skins off the shallots and clean or peel the mushrooms. Finely chop. For around five min over low to medium heat, soften the mushrooms and shallots in 1 tbsp of the oil.
Step 2: Add the shallot and mushroom mixture to the rest of the stuffing ingredients in a large bowl and stir to combine. Split the mixture and create 4-5 sausage shapes that are the same size as the beef. Put the beef slices on a cutting board, add the filling on one of the ends, and roll your beef. Replicate with the rest of the pieces, and then tie them into a package with kitchen string.
Step 3: Put a piece of string on the board, and then put the beef olive. Turn the beef over, then tighten the string and create a knot. Cut the ends off.
Step 4: Heat the rest of the oil using the same pan. Cook the onions and sliced carrots for five min, or until they are soft, and then put them in a small dish for the oven. Turn the heat up, season the meat, sear it on all sides, and then put it on top of the onions.
Step 5: To make the brown sauce, heat the butter until it starts to foam, then add the flour and stir for 1 min. Next, add the stock slowly while stirring, and bring to a boil for a minute to make it thicker. At first, the mixture will look lumpy, but as you stir it, it will smooth out.
Step 6: Cover the beef with the brown sauce, then bake it at 350F for 50-60 minutes.
Step 7: After 50 minutes, test the beef's doneness with a fork; thicker rolls may require additional cooking time. After resting for a few minutes, cut the thread from the beef buns and serve them with the onion gravy and mashed potatoes.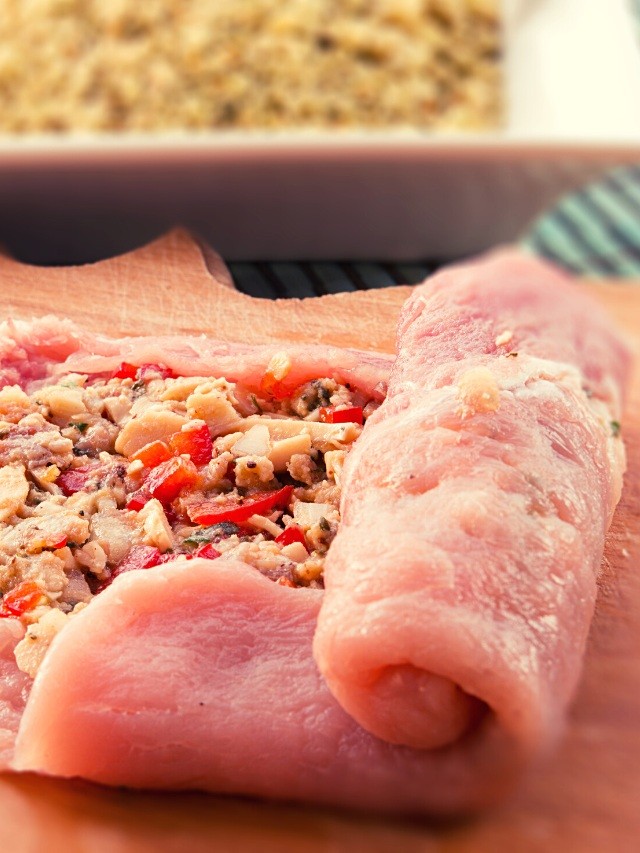 Can I make Beef Olives in advance?
Totally! A day ahead of time, make the filling and roll up the beef parcels to chill in the fridge. Get the sauce ready and pop it in the oven an hour before you want to dine.
How to store Beef Olives?
You can make the filled beef packages a day ahead of time and keep them refrigerated and covered. Meat and gravy leftovers can be kept in the refrigerator for up to three days. Do not attempt to store this dish in the freezer.
Can Beef Olives be reheated?
We advise eating your beef olives as soon as they are prepared because reheating might dry up the beef and make it difficult to heat the food fully due to the various stuffings.
If reheating is required, we advise using a meat thermometer to make that your olive is well cooked.
What makes this dish excellent?
This meal is excellent for making a very small quantity of a less expensive cut of beef go a long way, making it highly cost-effective.
A variety of filling variation options to suit different tastebuds.
Because the cheese holds the filling in place and the packed beef rolls slice easily, this meal is also sophisticated enough for your guests.
Beef Olives Recipe
Cooked in a brown sauce till soft, stuffed beef buns with shallots, mushrooms, and Stilton, or other blue cheese, this dish is a must-try!
Prep Time: 20 minutes
Cook Time: 60 minutes
Calories: 505
Ingredients
15 oz beef steak
14 oz beef stock
2 Tbsp oil
2 Tbsp butter
2 Tbsp flour
2 carrots, sliced
1 tsp salt
1 tsp pepper
For the Stuffing
½ cup breadcrumbs
2 shallots, finely chopped
1/3 cup mushrooms, chopped
¼ cup Stilton, crushed
1 egg
1 Tbsp thyme, fresh and chopped
1 Tbsp rosemary, fresh and chopped
Instructions
Over low to medium heat, heat 1 tablespoon of the oil and cook the onions and mushrooms for five min, until they are soft.
Add the onion and mushroom mixture to the other stuffing ingredients in a large bowl and stir to combine.
Make 4 sausages with the ingredients, each the same width as the meat.
Add the filling at one of the short ends of the meat slices and roll up the steak.
Wrap the remaining slices with kitchen string like a package and repeat with the rest.
Heat the rest of the oil and cook the onions and carrots for five minutes until soft, then put them in an oven dish.
Turn the heat up, season the beef, sear it on all sides, and then put it on top of the onions.
To make the brown sauce, heat the butter until it starts to foam, then add the flour and stir for a minute.
After that, add the stock slowly while stirring, and bring it to a boil until it gets thick.
Cover the beef with the brown sauce and bake it at 350F for 50-60 minutes.
Use a fork to check the doneness of the meat after 50 minutes; larger rolls may need more time. Remove the threads from the beef and serve them with the onion gravy and mashed potatoes once rested for a few minutes.
If you've enjoyed this recipe, please share the image below on your Pinterest board!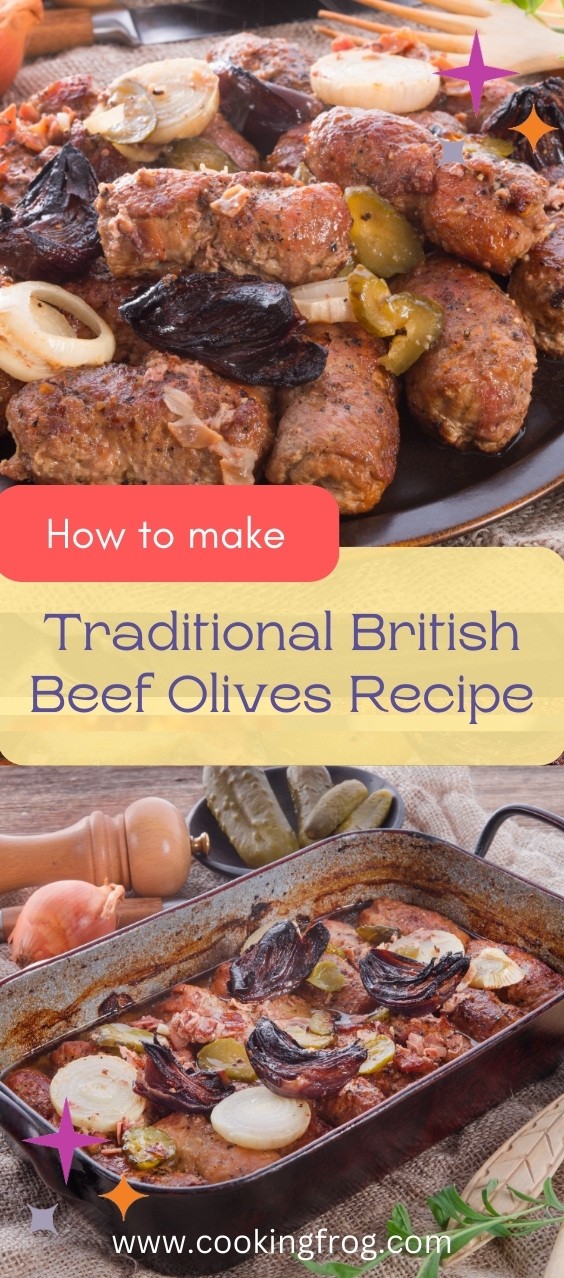 Conclusion
We hope you've enjoyed learning about this delicious and unique beef olives recipe. We're convinced this dish will be a hit at your next dinner party or special occasion. Its unique flavor and texture make it an unforgettable meal that impresses your guests.
Plus, it's surprisingly easy to make, so even if you're a beginner in the kitchen, you can create a stunning and flavorful dish. So, why not try this recipe and see for yourself just how delicious and creative beef olives can be? Happy cooking!