French Bread Boats Stuffed with Sausage are stuffed with creamy cheese, eggs, peppers, onions and sausage. It is the breakfast that your whole family will love and it's easy to make.
Sausage Filled French Bread Boats
The sausage that I'm using for this recipe is made of pork, spices, water and salt. It is homemade, gluten-free, and has no preservatives. You can use any kind of sausage you prefer.
These French Bread Boats Stuffed with Sausage are a hit right now. Filled with cheese, eggs, bell peppers and of course homemade sausage, it is true comfort food. Not to forget the crusty and delicious French bread.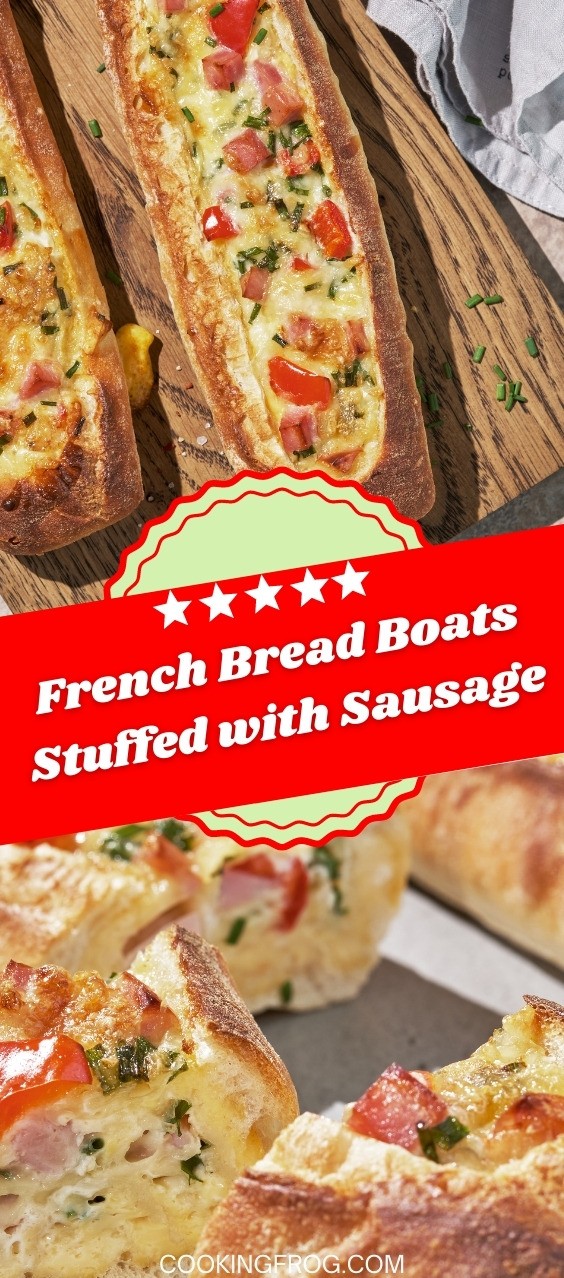 Ingredients
Package of sausages of your liking
Half cup of yellow onion
Teaspoon of garlic, minced
4 ounces of chopped green bell pepper
Loaf of French bread, you can use Italian also
6 tablespoons of melted butter
Teaspoon of garlic powder
6 whole eggs
1 ounce of milk
7 slices of cheddar cheese
Cup of mozzarella cheese, shredded
chives and bacon, optional
How to make French Bread Boats Stuffed with Sausage?
Heat the oven to 400 degrees Fahrenheit. Line a baking sheet parchment paper.
Warm up the skillet on medium heat and cook the sausage. Add garlic, onion and bell peppers about 5 minutes before the cooking is done.
Cut the French bread and place so the face side (crust) is up on the baking sheet.
Use 4 tablespoons of butter to brush both sides of the bread gently, and sprinkle with garlic powder.
Cover the bread with aluminum foil and bake for about 12 minutes.
While the French bread is baking, melt down 2 additional tablespoons of butter in a skillet and add eggs.
Scramble the eggs for about 30 seconds and milk. Scramble just a few more seconds and finish.
Take the French bread out of the oven and stuff with sausage, cheddar cheese, eggs mixture and mozzarella cheese.
Place the bread back in the oven and cook until the cheese is melted, it should take about less than 3 minutes, however watch it carefully so it's not overcooked.
When you're sure it's done, remove from the oven and top by adding some chive and bacon if you like.