This Beijing Beef Panda Express Recipe Copycat is nice, delicious, simple and cheaper than Panda express. Also, you can always try and make things a little different with copycat recipes, and quite often it turns out even better than the original. Check this out…
Beijing Beef Panda Express Recipe Copycat
Beijing beef is a best-selling dish at Panda Express and many people have messaged me and asked me about making a Panda Express like Beijing Beef recipe.
Before coming up with this recipe, I had to go first to Panda express and try their Beijing beef. Following a thorough examination of the ingredients the dish contained and a good tasting of the sauce, I believe I have discovered a mock recipe of their Beijing beef.
So, there you go my delicious homemade version of Panda Express Beijing beef. And it tastes better than the one served at Panda Express.
How To Prepare Beijing Beef
Like most recipes at Panda Express, the meat is first dipped in batter and deep-fried. To replicate their famous Beijing sauce, I changed the recipe a few times to achieve the right blend of flavors and aromas.
Panda Express Beijing Sauce
This sauce has an overwhelming list of ingredients, but don't let this stop you from making it as the final taste will totally win you over. It's so nice that you'll want to make it again and again.
Fortunately, you can prepare a big portion of the sauce and refrigerate it to use it later when you want to make any Beijing meat recipe (chicken, beef, etc). It's a matter of preference.
What Does Beijing Beef Sauce Contain?
Beijing sauce features fermented ingredients that work in conjunction to yield a nice blend of sweet, sour, and savor flavors. The taste is incredibly versatile and you can even use it as a dip in side dishes.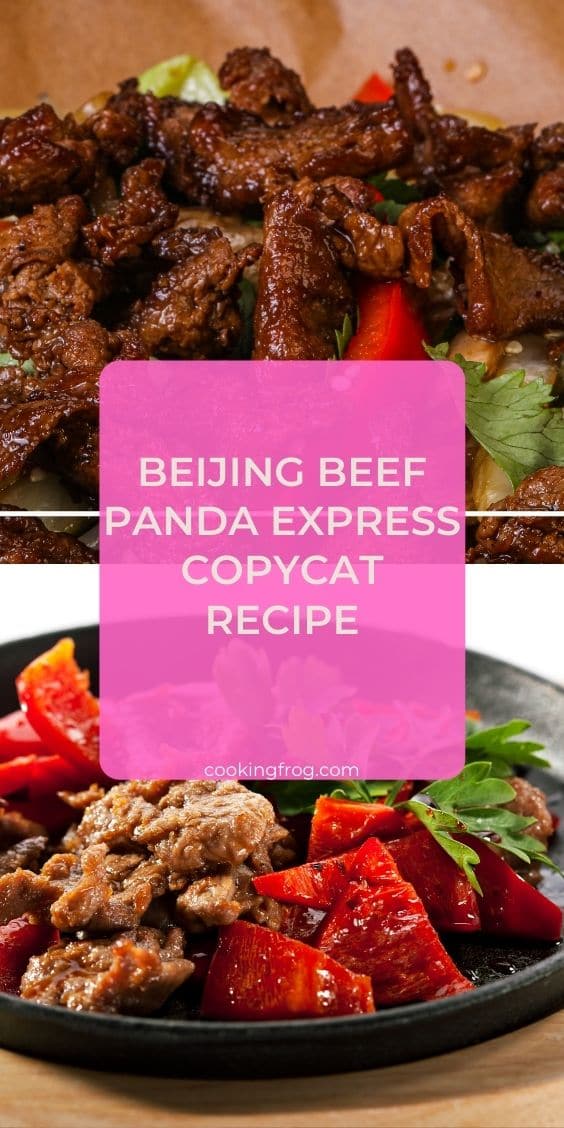 Beijing Beef Panda Express Copycat Recipe
April 3, 2021
: 15 min
: 10 min
: 25 min
: Easy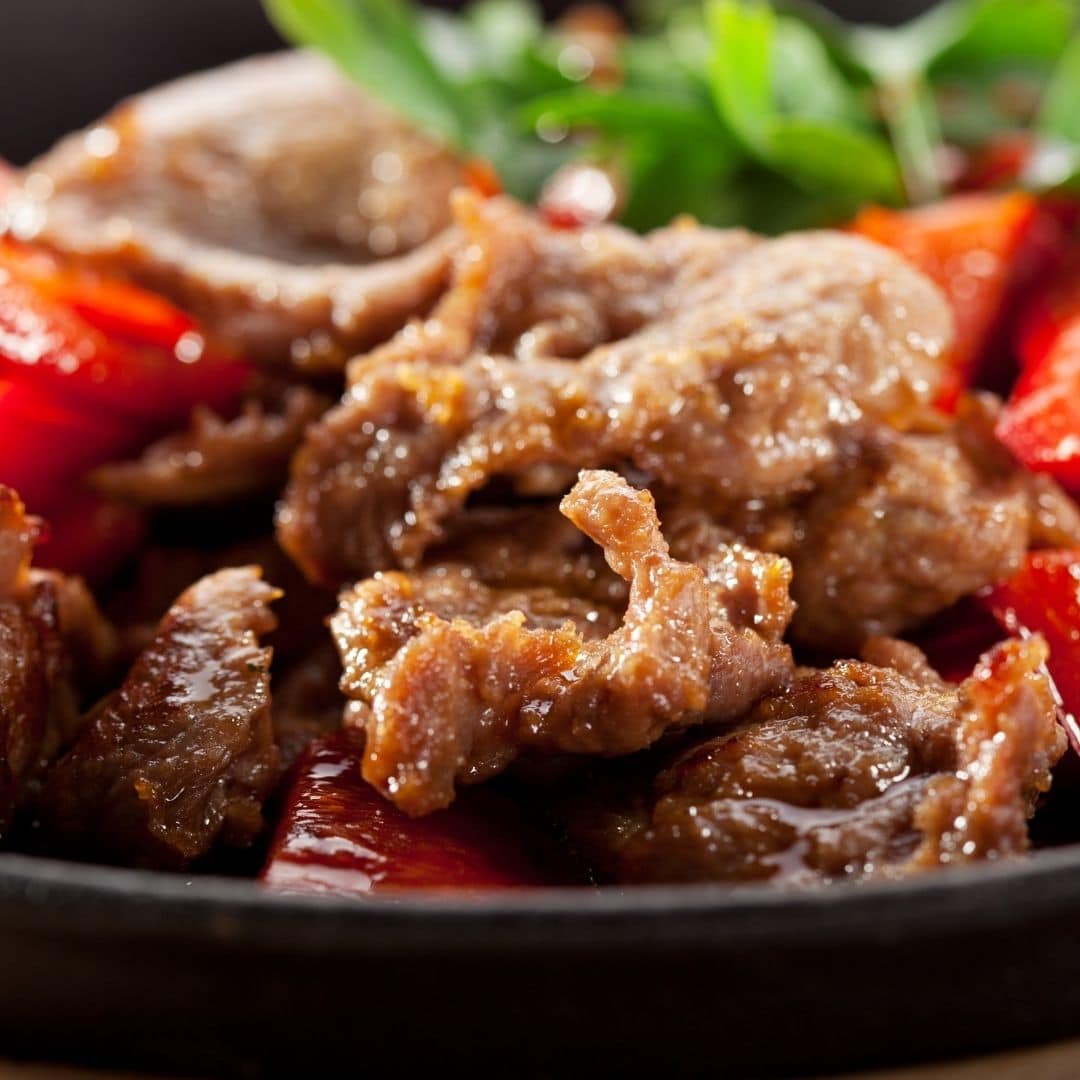 Ingredients
1 (8 oz./226g) flank steak, flap, or sirloin chopped against the grain into ¼" strips
½ medium yellow onion, sliced
½ medium red bell pepper, cut into strips
2 cloves of garlic, minced
2 tbsp vegetable oil
Cornstarch (for dusting the beef before frying)
Salt-Sugar
BATTER INGREDIENTS
1 egg, beaten
½ tsp cornflour
Dash of white pepper
½ tsp salt
BEIJING SAUCE
4 tbsp water
1 ½ tbsp ketchup
2 tbsp sugar
3 tbsp hoisin sauce
2 tsp light soy sauce
1 tsp oyster sauce
2 tsp sweet chili sauce
1 tbsp ACV
1 tsp chili peppers, crushed
Directions
Step 1

Combine all the batter ingredients in a bowl and stir well. Soak the beef in the batter marinade for 15 minutes.

Step 2

In another bowl, combine all the ingredients of the sauce.

Step 3

Add the cornflour in a bag or bowl and toss the beef in the cornflour mixture, coat well and keep in the fridge.

Step 4

Add plenty of oil in a wok or deep pan and toss the battered beef in an extra layer of cornstarch, making sure that all strips are evenly coated. Shake off the excess cornstarch from the meat strips. Deep fry the beef strips in a few small batches for a couple of minutes or until golden brown. Transfer onto a lined dish with a paper towel and keep aside.

Step 5

Heat the oil in wok over high heat. Add the onions and bell pepper and stir fry until fragrant and slightly brown on the edges. Toss in the garlic and stir fry for 10 seconds. Take off the wok.

Step 6

Place the wok over medium to high heat and add the sauce seasonings. Allow to simmer and cook until it thickens.

Step 7

Add in the fried beef as well as stir-fried onion, garlic, and bell pepper. Toss well for 60 seconds or until the beef is nicely cooked and has absorbed the sauce completely. Place on a serving plate and serve warm with steamed rice on the side.