Bacon Gorgonzola Pears Salad recipe is perfect if you want to add more greens to your diet. This tasty and delicious salad is full of the best toppings and balsamic vinaigrette that goes perfectly with it.
We're in February now, and I hope that many of you still stick to your New Year's resolutions strongly. This year my resolution is to eat salad on a regular base. This bacon Gorgonzola salad is my choice of the month!
With bacon, everything tastes just heavenly. Every crispy piece of bacon blended with these ingredients will be a joy to your senses. For my taste, the crunchier salad is the better, it's all about texture for me. Roasted pecans are used for the topping in addition to the lovely crispy bacon. You can use them raw, but if you want you can bake them on a baking sheet for about five minutes.
Most of the salads i make are full of fruits. I love using pears or apples, and since we're in the season right now i use dried cranberries also. For just the right amount of sweetness
A pound of baby spinach or spring mix are both perfect for the greens on this salad.
How to make Bacon Gorgonzola Pears Salad
Heat the oven at 350 degrees Fahrenheit. Place pecans on a baking sheet and bake for five minutes.
Place the bacon and fry until it's crispy.
Take the dressing ingredients and put them in a jar with a lid and give it a good shake.
Take a large bowl and place the lettuce, cranberries, bacon, pecans, cheese and bacon. Add pears and dressing when you're ready to serve. Enjoy!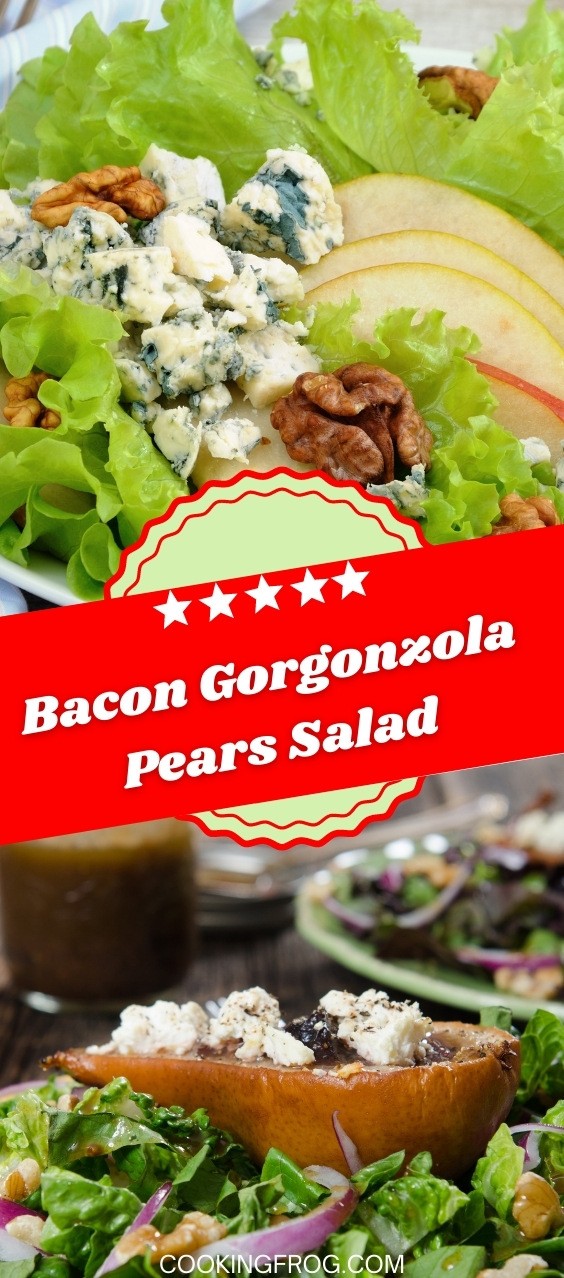 Ingredients
8 ounces of baby spinach or spring mix lettuce
2 sliced fresh pears
Half cup pecans
Half cup cranberries, dried
Gorgonzola cheese, crumbled
9 slices of bacon
Dressing
Third of a cup of balsamic vinegar
One tablespoon of minced shallot
Two teaspoons of mustard, dijon
Two teaspoons of sugar, granulated
A pinch of salt
Ground pepper, fresh