Prepare to amaze your guests this holiday season with our succulent prime rib recipe, finished with a rich au jus and a tangy and creamy horseradish. And for folks who choose a wine-free option, we've got you covered with an equally flavorful au jus alternative.
This isn't just a recipe; it's the secret to a tender, medium-rare roast that's exploding with flavor. This prime rib is surprisingly straightforward to make and excellent for Christmas or any festive gathering. With its delectable assortment of classic flavors and clear steps, it's set to become a holiday favorite.
Why This Prime Rib Recipe Stands Out!
Efficiency at Its Finest: With just a 5-minute prep time, this prime rib recipe is both quick and straightforward, ensuring you spend a shorter amount of time in your kitchen and more with your family and guests without compromising a great meal.
Burst of Flavors: Our tangy horseradish cream and decadent au jus are meticulously prepared to complete the juicy prime rib, enhancing each bite.
Wine-Free Option: Acknowledging diverse choices, we've included an equally delicious wine-free au jus option, ensuring everyone's palate is catered to.
Perfect for Holidays and Large Gatherings: This recipe isn't just about flavor; it's about abundance as well. Serve a gathering and watch the praises flow. Any leftovers can be converted into gourmet sandwiches like this Arby's beef and cheddar, offering a comforting next-day treat.
Simplicity is Critical: Our step-by-step guide ensures a bother-free culinary adventure. There's no necessity for extensive planning or cooking expertise; just follow along and appreciate the results.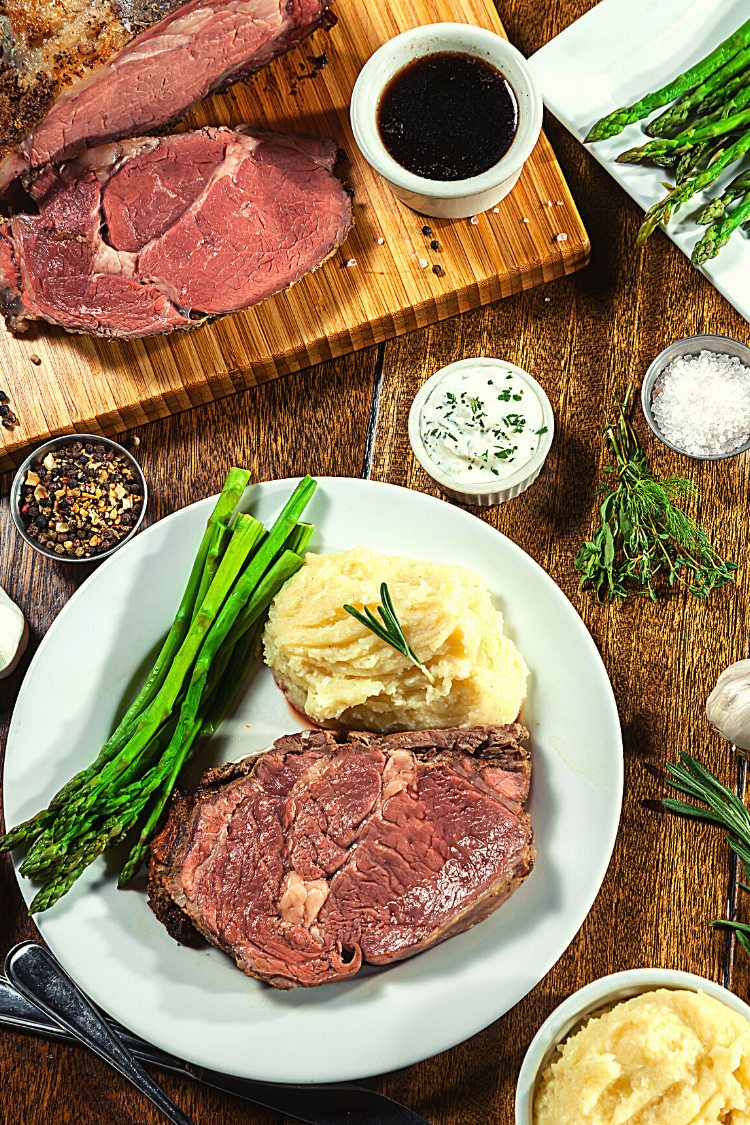 Au Jus Wine-Free Options
Good Ol' Broth: Whether it's beef broth, chicken, or veggie broth, it is an excellent replacement for wine in this recipe. It deepens the meaty essence without a hint of alcohol.
Apple Cider: For a hint of fruity zest, apple cider or its gentler cousin. If it feels a bit sweet, a dash of vinegar or a squeeze of lemon can counterbalance things.
Grape Juice Twist: Often praised as the non-alcoholic twin of red wine, grape juice can fill in adequately. Mix in a splash of vinegar for every cup you use to seize the wine's tang.
Cranberry's Tart: Particularly when you're skipping red wine, cranberry juice, with its natural tartness, can be a satisfying alternative.
Tomato's Tangy Note: Its natural acidity makes tomato juice a convenient replacement, adding a unique depth to the blend.
A Vinegar-Broth Blend: While wine vinegar infuses more tang than standard wine, combining it with broth (add 3:1 in favor of broth) can get you pretty close to the authentic flavor.
Lemon's Zesty Punch: A bit of lemon juice can add the sharpness often brought by wine, especially in small amounts.
Plain Water: It might sound plain, but in a tight spot, water can help keep the recipe's consistency, even if it's a tad less delicious.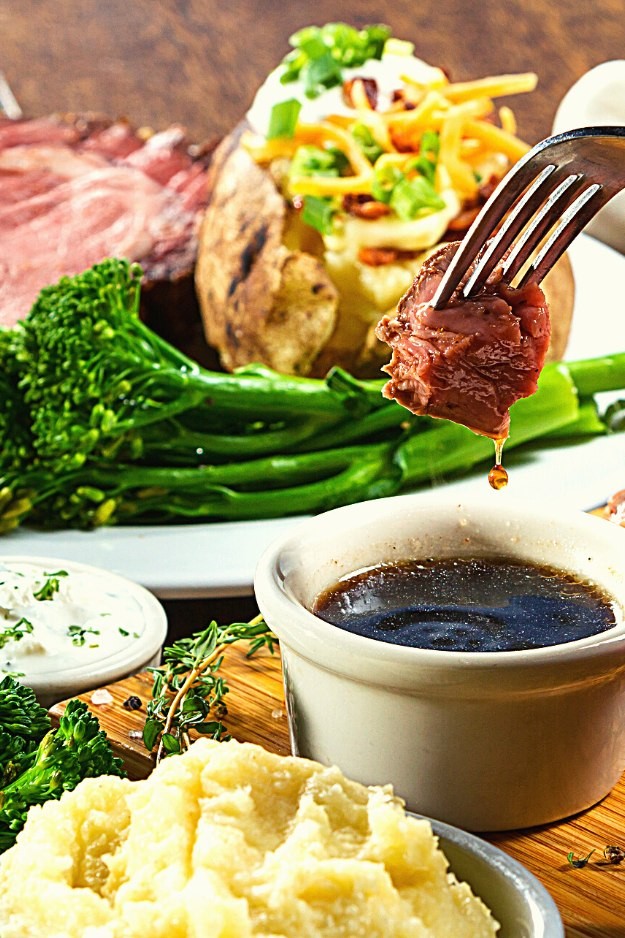 The Ultimate Guide to Cooking Prime Rib to Perfection!
Cooking prime rib to that ideal level of doneness can feel like an art, but with a trusty meat thermometer, it's a breeze. Here's a breakdown of how to achieve that melt-in-your-mouth prime rib, no matter how you like it:
The Method: First, roast your prime rib at high heat, then lower it down for the main cooking stage. It's a method I've refined over time, and trust me; it delivers a prime rib that might just compete with the best steakhouses.
Initial Blast: Start by cooking your prime rib at 450ºF for a brief 15 minutes. This allows you to sear the outside, sealing in those flavorsome juices.
The Main Event: Lower your oven's heat to 325ºF after that initial sear. Now, this is the time when your meat thermometer becomes your best friend:
For Very Medium-Rare: Aim for an internal temp of 120-130ºF. Remember that the beef will resume cooking a bit more after it's out of the oven.
For Medium: Aim for an internal temperature of 130-135ºF.
For Medium-Well: For this, you need a temperature range of 140-145ºF.
For Well-Done: Target for 150-155ºF, but keep in mind prime rib is best enjoyed at a lower grade of doneness.
The Finishing Touch: Remove the prime rib from your oven once you achieve the desired temperature. Let it rest for approximately 20 minutes. This resting stage is required, letting the juices redistribute. While waiting, it's the ideal time to whip up that au jus or any other accompaniment.
Prime Rib with Au Jus and Horseradish Recipe
Dive into a culinary adventure with our Prime Rib with Au Jus recipe with creamy horseradish. Faultlessly roasted, dripping with flavor, and paired with a decadent sauce, this dish promises to be the star of any dining table.
Ingredients
For the Prime Rib:
1 prime rib roast
¼ cup of unsalted butter
2 cloves of minced
1 Tbsp of fresh rosemary minced,
1 pinch of ground sage
sea salt, to your liking
black pepper freshly cracked to your liking
For Au Jus:
¼ cup of butter or beef drippings
2 Tbsp of all-purpose flour
¼ cup of red wine, cabernet sauvignon, or other wine you like (See article for wine-free options)
2 cups of beef broth divided
1 Tbsp of Worcestershire sauce
salt & pepper to your liking
For Horseradish Cream:
8 oz of sour cream
½ cup of mayonnaise
1 Tbsp of finely chopped Scallions
3-4 tsp of prepared horseradish
1 Tbsp of chopped fresh dill
2 tsp of Dijon-style mustard
2 tsp of white wine vinegar
¼ tsp of sea salt
Instructions
Horseradish Sauce Prep:
Mix all the ingredients for the horseradish cream and let it cool. While one hour does the trick, allowing it to sit overnight improves its flavors.
Roast Prep:
No need to wait for the roast to achieve room temperature. Start by preheating your oven to 450º F.
Season your roast generously with salt and black pepper. For garlic, rosemary, and ground sage, blend softened butter with minced garlic and rosemary and sage in a bowl.
Spread this blend evenly over the roast. If you're skipping the roast crust, a layer of softened butter over the roast will do.
Roasting Time:
Put your seasoned roast in a pan and slide it into the oven. After a 15-minute sizzle at 450º F, lower the temperature to 325º F. Insert a meat thermometer into the roast's center to observe the cooking.
Target internal temperature of 120-130º F for a delicious, very medium-rare finish. Keep in mind the roast will keep on cooking a bit even after you take it out. Enhance its flavor by brushing it with the dripped fat every half hour.
Rest and Ready:
Once your roast hits the preferred temperature, it's time to let it rest. Slowly move it to a cutting board and give it at least a 20-minute break. This is your window to make the au jus.
Au Jus Magic:
Melt the butter (or use beef drippings) in a saucepan over medium-high heat.
Add in flour and whisk until it turns into a smooth paste. Pour in red wine and mix until it is smooth and has lost its raw alcohol smell.
Slowly add half a cup of beef broth, whisking constantly. Once integrated, introduce the rest of the broth and a dash of Worcestershire sauce.
Let the mixture boil and simmer until it thickens slightly—season with salt and pepper as per your preference.
Serve and Savor:
With everything prepared, it's time to dive in and appreciate your culinary chef-d'oeuvre!
If this Prime Rib with Au Jus and creamy horseradish recipe sparked your culinary curiosity, share the picture below on your Pinterest board and let your friends and followers in on the feast.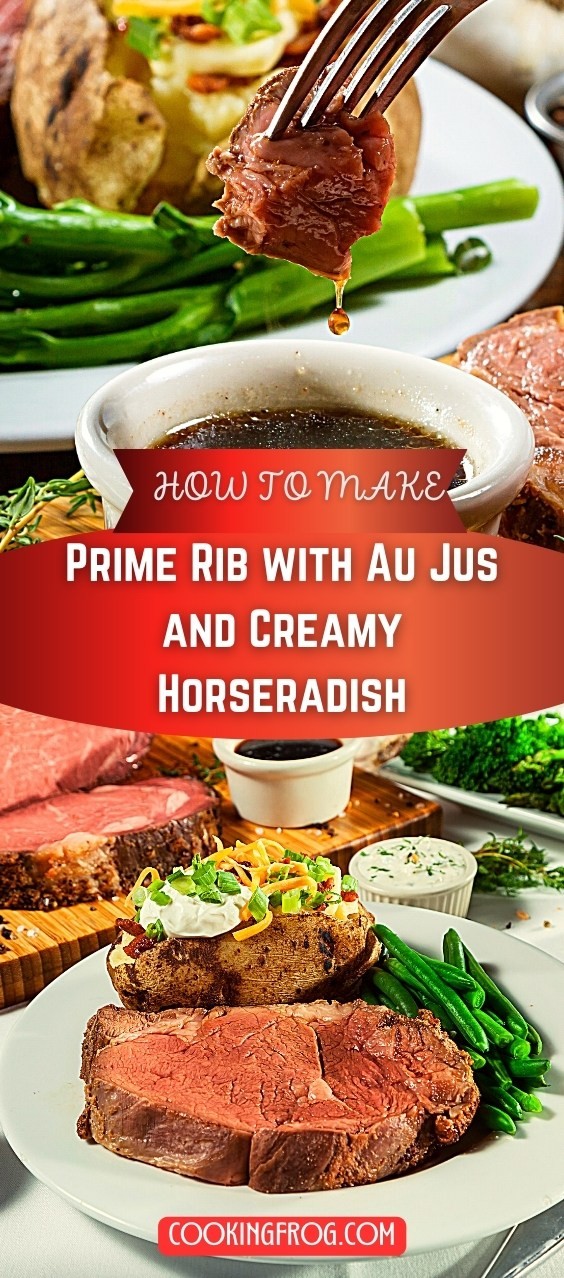 Prime Rib Au Jus Tips for the Best Results:
Horseradish Cream: Use freshly grated horseradish in your sauce for an even richer taste. The spice and freshness can boost the sauce to new heights.
Seasoning Secrets: When seasoning your roast, make sure you're using coarse salt and freshly cracked black pepper. The consistency and flavor they impart are outstanding.
Butter Shine: If you use butter for the roast, always go unsalted. This offers you complete control over the saltiness of your dish.
Thermometer Tips: Always have a good-quality meat thermometer at hand. It's the most trustworthy way to guarantee your roast is perfectly cooked. Remember to insert it into the thickest part of your roast, bypassing any bones.
Resting Importance: Never neglect the resting stage for your roast! This lets the juices redistribute, making every slice juicy and mouthwatering.
Au Jus Adjustments: If your au jus is too thick, you can always thin it with more beef broth. Conversely, a quick simmer can help reduce and thicken it if it's excessively thin.
Wine Understanding: When preparing the delicious au jus, always use a wine you'd enjoy consuming. The grade of the wine can greatly impact the flavor of the sauce.
Herb Hints: Fresh herbs can make a lot of difference to the taste of your roast. If you're using the garlic-rosemary and sage crust, ensure your rosemary is fresh and finely chopped for the best fragrance and taste.
Serving Suggestions: Consider warming the plates slightly before serving your prime rib. This keeps the meat warm and improves the overall dining experience.
Leftover Love: Prime rib leftovers can be converted into mouthwatering sandwiches, salads, or stir-fries. Don't let any of the prime rib goodness go to waste!