It is time for another Arby's copycat recipe. This time it's an amazingly delicious Arby's Beef and Cheddar sandwich. It is made with thinly sliced roast meat, cheddar cheese sauce, and red ranch sauce. It's served on toasted onion bread. This Arby's Beef and Cheddar sandwich can be used anytime, and everyone will love it.
If you're a fan of Arby's, you may also check this Arby's Bronco berry sauce recipe and delicious Jamocha Shake. Let's jump right into the recipe, but if you want the best results, I highly suggest you read through the whole article.
Ingredients
1 ½ lbs of thinly sliced roast beef
1 beaten egg white (for the buns)
1 TBSP of poppy seeds for buns topping
1 TBSP of minced onion, dehydrated (for the buns)
Buns
For Arby's Cheese Sauce
4 oz of shredded cheddar cheese
3.5 oz of shredded American cheese
4 TBSP of half and half
¼ tsp of paprika
For Arby's Sauce
2 TBSP of apple cider vinegar
2 tsp of sugar
1 Cup of Ketchup
1 tsp of garlic powder
1/3 tsp of paprika
¼ tsp of onion powder
¼ cup of water
1/8 cup of mayonnaise
½ tsp of salt
Instructions
Arby's Cheese Sauce
In a small saucepan, heat medium-low heat. Combine the cheddar cheese (4 oz), American Cheese (4 oz cut into cubes), 1/3 tsp of paprika, and half and half (1/4 cup).

Cover the lid, and stir every 5-6 minutes to combine the ingredients nicely.

Set at the lowest temperature while you prepare the rest of your ingredients.
To Make Roast Beef and Buns
Preheat oven to 230F.

Wrap the shaved beef in foil and place it in the oven for heating.

Place buns on a baking tray.

Spread beaten egg white on top of the buns using a brush. Sprinkle with poppy seeds and chopped onion, and bake for about 5 minutes.
For the Arby's Red Ranch Sauce
Heat up the 1 Cup of ketchup, 2 TBSP of apple cider vinegar, 2 tsp of sugar, 2 tsp of paprika, 1 tsp of garlic powders, 2 tsp of salt, and 4 TBSP of water using a small saucepan.

Allow the saucepan to simmer on medium heat for approximately 5 minutes.

Turn the heat off, add in the 2 tsp of mayonnaise, and stir until well combined.
Assembling Arby's Beef and Cheddar Sandwich
Start by topping the bottom bun with Arby's sauce. Next, add roast beef to the pile—finally, spoon on cheddar cheese sauce and then more Arby's sauce.

Top the buns with onion and poppy seeds.

You can keep the prepared sandwiches warm in the oven at 160° Fahrenheit until you are ready to eat them for up to an hour.
Pin the image below if you like this Arby's copycat beef and cheddar sandwich recipe!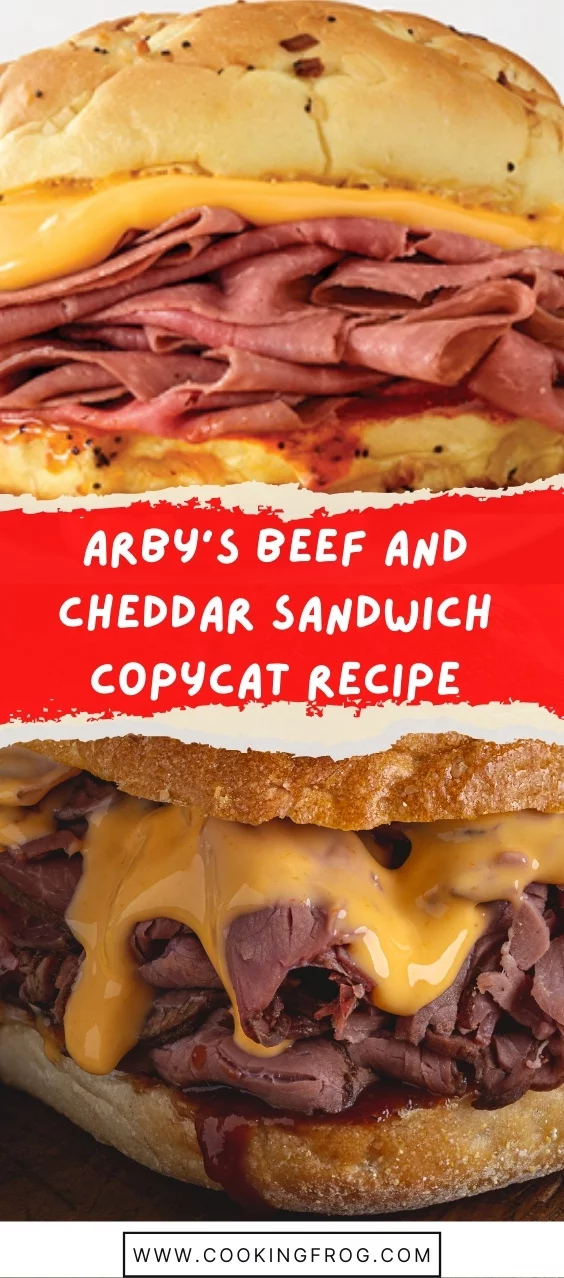 Arby's Beef 'N Cheddar Sandwich
There are many famous roast beef sandwiches. Then there's the famous Arby's Beef and Cheddar. Arby's has been making tender, juicy roast beef sandwiches that melt in your mouth since 1978, that's a little over four decades. The Arby's Beef & Cheddar Sauce is one of their most popular menu items.
It's the perfect sandwich with its soft bun, thinly sliced roast beef, cheddar cheese, and red ranch sauce. The Red Ranch sauce and creamy cheddar cheese sauce are included with this beef and cheddar sandwich.
Arby's Beef and Cheddar classic Beef and Cheddar will make you reconsider your decision to eat a roasted beef sandwich at the local deli.
Did you know Arby's introduced Venison sandwich in 2016 and 2020 for a short period? The good thing is you can make it using this recipe but adding venison instead of beef. Check out this Venison Backstrap recipe!
Why is this Copycat Arby's Beef & Cheddar Sandwich so Good?
It's all about the sauces. This Beef 'n Cheese recipe is more than just putting a little roast beef between two slices of bread and calling it good.
Beef and cheddar by Arby's takes it to the next level with two homemade sauces. Both the sweet and tart flavors of the Red Ranch sauce and the creamy cheddar cheese sauce go together so well that it's unreal.
No matter what you do, don't compromise on quality by using pre-made cheese sauces or bottled BBQ sauces because it won't be Arby's Beef and Cheddar anymore!
The meat for
Arby's Beef & Cheddar Sandwich
A great roast beef sandwich can't be made with low-quality meat. That being said, you should not go and make a pot roast in order to make Arby's beef sandwich. Don't do that!
Only consider these 3 things when choosing meat for Arby's cheddar sandwich:
It must be extremely rare.
Good quality meat.
It must be very thinly sliced.
Be sure to have a knife that is able to slice your roast beef thinly enough to make this sandwich. You can buy some at the supermarket and ask for thin slices from the butcher.
Arby's Cheese Sauce
Although the homemade Arby's cheese-sauce recipe is simple, it requires a specific ratio of ingredients as well as slow melting.
Because the cheese sauce needs to be made slowly, it is best to start with the cheese sauce.
You can prepare the rest of this recipe while Arby's cheese sauce is melting.
Take the block of cheese and slice it.
Take a small saucepan and add in the cheese, half-and-half, heat to medium-low temperature, and add the seasonings.
Cover the saucepan and stir the mixture every 5-6 minutes until it is smooth and melted. Then, reduce the heat to the lowest setting and prepare the rest of your recipe.
You can also use canned cheddar cheese sauce that has been pre-made and heated on the stovetop.
Arby's Red Ranch Sauce
It is crucial to get Arby's sauce right. It is very important to cook the spices properly and allow the flavors to combine.
Combine the spices, apple cider vinegar, ketchup, and water in a small saucepan. Let it simmer for 5 minutes on medium heat.
Take off the heat and stir in the mayonnaise.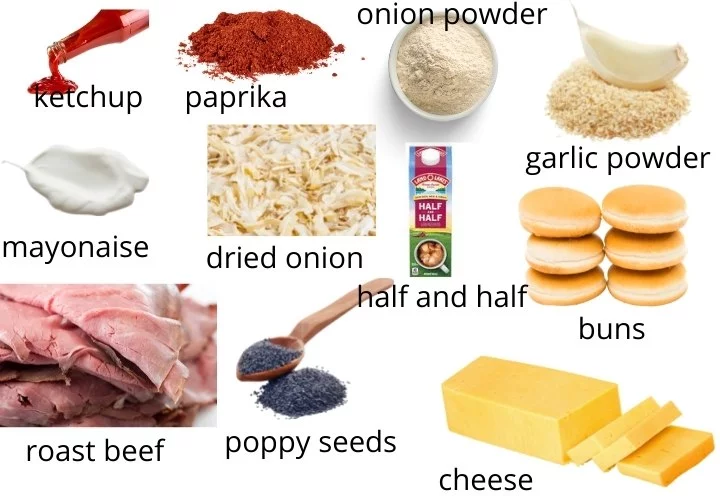 Final Thoughts
If you love a rich and tasty sandwich that literary melts in your mouth, that's Arbys Beef and Cheddar Sandwich. And i think I've really nailed it in regards to authenticity for this recipe. If you've liked this recipe, be sure to check other copycat recipes here on Cooking Frog. Also, it would mean a lot to me if you shre it and get the word out. Thanks!