A few basic ingredients are all you need to make this delicious White Country Gravy! I'm sure you have all of them in your kitchen. It is a wonderful gravy that is really simple to make in a matter of minutes and is creamy, smooth and rich in flavor.
Perhaps one of my favorite comfort food dishes is this homemade white country gravy, a common Southern dish. Although I never tried a gravy I didn't like; this one is amongst my favorite ones. One of my go-to recipes for a cozy meal is white country gravy, a Southern breakfast staple and a staple in my own kitchen.
Chicken fried steak, biscuits and gravy, chowder, mashed potatoes and gravy all fall under this category. You're going to adore this White Country Gravy.
You are missing out if this is your first time making it. This gravy can be prepared in minutes; you've heard it tight…minutes! And I am confident that you already have all the ingredients on hand to prepare it!
Traditional Southern White Country Gravy
Everyone knows the secret to a great Southern dinner is a killer gravy.
In my view, the finest element of a traditional Southern meal is the gravy that is liberally applied to every portion of the meal. Even if your fried chicken, pork chops, or chicken fried steak came out dry, a good gravy might make it edible again.
All things considered, this recipe for creamy white gravy is the gold standard for traditional country gravy. When your supper needs a little something extra, this is the sauce to make. It's rich, beautifully creamy, and velvety smooth. Even better, it takes minutes to prepare and requires only five common pantry ingredients.
This is a dish that may be prepared in almost any place and at any time.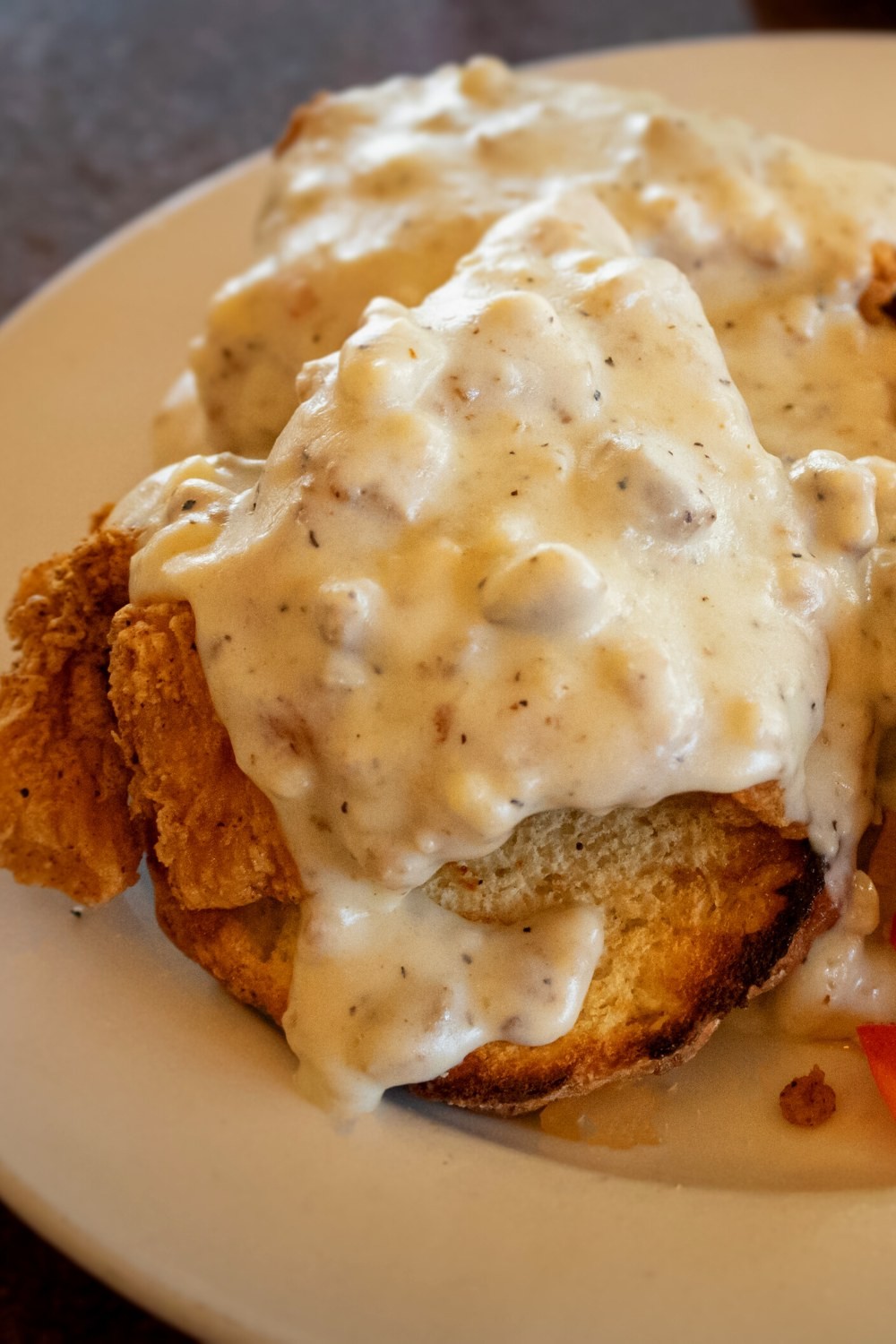 Ingredients you'll need:
Butter: Instead of using meat drippings, this recipe calls for butter as the fat. You can use bacon fat if you prefer.
Milk: I advise using whole milk or at least 2%. You won't get the same richness from low- or no-fat foods.
Flour: Flour adds to the gravy's thickening.
Garlic powder (optional): This is an optional ingredient that isn't often included in country gravy, but I adore the mellow flavor it gives the dish, just like in this garlic parmesan sauce.
Black pepper: It's essential! While garlic is optional, black pepper is a must. Black pepper provides white gravy with its distinctive speckled appearance and its flavor.
Salt: When you use salted butter, you might not require as much salt, depending on your preferences.
How to Make Southern White Country Gravy
Step 1: Heat the small pan over medium heat and melt the butter. After the butter is melted, whisk in the flour. Let it cook for 1 minute.
Step 2: Whisk in the milk slowly. Keep constantly stirring to keep lumps from forming. Once you bring it to a low boil, turn down the heat and let it simmer.
Step 3: Add garlic powder (optional), black pepper, and salt. Keep stirring the gravy as it simmers for about 15 minutes or until it gets thick.
As this gravy cools, it will thicken up significantly. You can just heat it up again or add a little bit more milk. If you have any leftovers, put them in the fridge and eat them within 3 days.
As I mentioned before, I've never tasted a gravy I didn't enjoy, but this White Country Gravy is gradually making its way up to the top of my list of favorites, one delectable dripping at a time.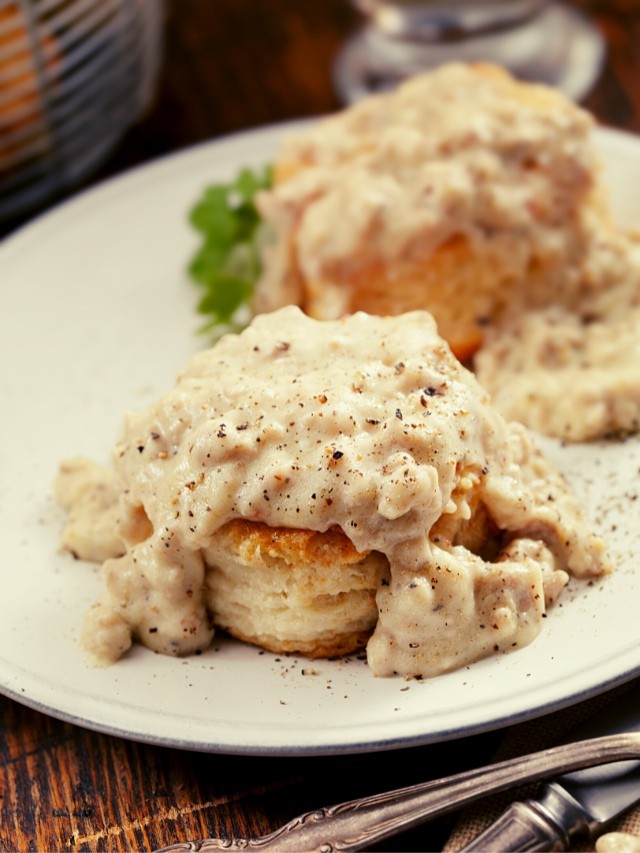 Making White Country Gravy with Bacon Fat
You may use the fat from frying bacon or sausage in place of the butter if there is any leftover. Use enough butter to equal 1/4 cup of total fat if just a little oil is left in the pan. Simply adhere to the remaining directions as provided.
The liquid used to make the gravy is the primary distinction. White gravy is often produced with milk, and brown gravy is typically made using animal fat and broth.
What differentiates brown gravy from white gravy?
The primary distinction is the liquid used to make gravy. White gravy is prepared with milk, whereas brown gravy is made using animal fat and broth.
Serving Suggestions for White Gravy
White gravy paired with homemade biscuits or mashed potatoes is excellent. Additionally, it may be used as a creamy covering for fried chicken, turkey, chicken tenders, toast, eggs, omelets, breakfast pizzas, and pork chops.
Storing and reheating White Country Gravy
This white gravy recipe makes about 2 cups. But if you want to make more, you can always double or triple the recipe.
Let your white gravy cool to room temperature before transferring it to an airtight container to preserve in a fridge. It will last in the refrigerator for approximately 3 to 4 days.
Additionally, you may freeze it in a zip-lock bag on a baking sheet until it freezes. We are freezing it this way because it is simpler to reheat up when it is thinner. Following that, you may freeze this gravy for up to 4-6 months, which is excellent.
To reheat the white gravy, just microwave tor gravy at medium heat in a saucepan. You may always add a little milk or water if it is too thick.
White Country Gravy Recipe
This White Country Gravy is my favorite because of how rich and creamy it is. You may eat it straight off the spoon, or drizzle it over mashed potatoes, buttermilk biscuits, or any other meal of your choosing
Prep Time: 5 minutes
Cook Time: 20 minutes
Calories: 91
Ingredients
3 Tbsp of butter
2 cups of whole milk
2 Tbsp of all-purpose flour
1 tsp of black pepper
1/2 tsp of salt
1/2 tsp of powdered garlic (optional)
Instructions
In a small pan over medium heat, melt the butter. After melting, stir in flour and cook for around 1 minute.
Whisk milk in gradually. To prevent lumping, continue whisking. Once it's on a low boil, then turn down the heat.
Add pepper, salt, and powdered garlic after stirring. For the next 15 to 20 minutes, occasionally stir while the gravy simmers on low heat.
Share the image below to your Pinterest board if you like this gravy recipe!