Irish and British cuisines frequently feature battered sausage. This meal is popular and even matches fish and chips in popularity.
This recipe for battered sausage is delicious, crunchy, and wonderfully filling. The sausages are perfectly coated with the light, crunchy batter, which tastes precisely like the neighborhood chippy.
Its traditional cuisine frequently comes with chips (or fries) and the required condiments, including mustard, ketchup, and (if you prefer) a cool beer.
What Kind Of Sausage To Use?
For this dish, a variety of sausages may be utilized; here are some of my favorites:
Frankfurter sausage: Frankfurter sausage is an all-pork par-boiled sausage. These sausages are tasty and quite practical because they cook in a short amount of time.
Kielbasa: This traditional Polish sausage. This sausage has a flavorful, garlicky, spicy flavor and may be deep-fried.
Italian sausage: The anise in the spice mixture gives this sausage a lovely earthy, licorice-like taste. When choosing this specific type of sausage, be aware that it might need to be cooked before frying.
Bratwurst sausage: If you use the well-known bratwurst sausage, it's impossible to have this dish go wrong.
Choose sausages manufactured with beef, chicken, or lamb that originate from certified Kosher factories if you're searching for a Kosher choice. Bratwurst beef sausages would be my choice in this case.
See also my selection of 50+ Best Sausage Recipes!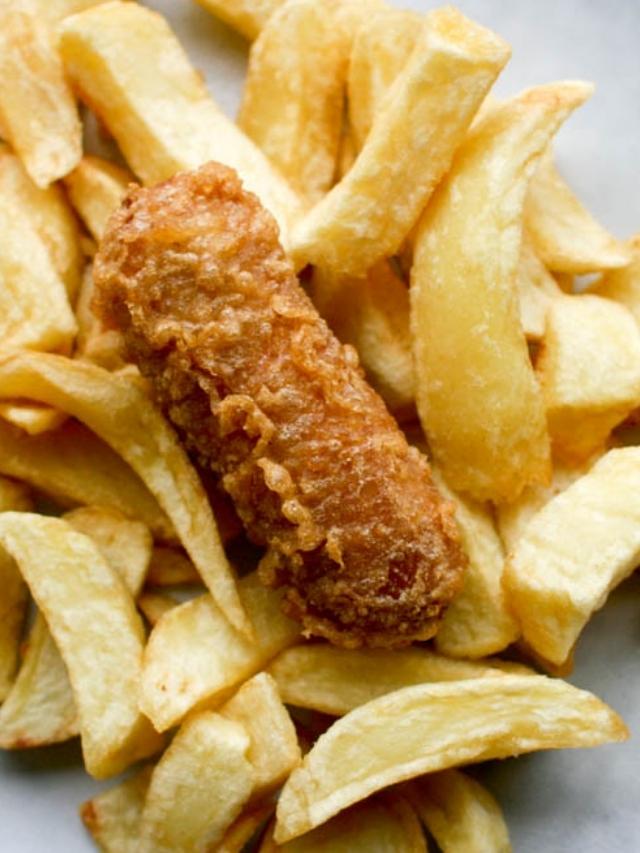 Are the sausages cooked before being battered?
The sausages don't need to be cooked before being coated in batter and fried. Defrosted uncooked sausages are dipped in flour, then batter, then deep-fried.
Before beginning, make sure the sausages are completely defrosted. The cooking time will be longer, and there is a chance that some of the sausages may still be uncooked inside if it is cooked from frozen.
Although I haven't tried making this with cooked sausages previously, you might want to try cooking the sausages first. Please share your experience if you use this technique in the comments section.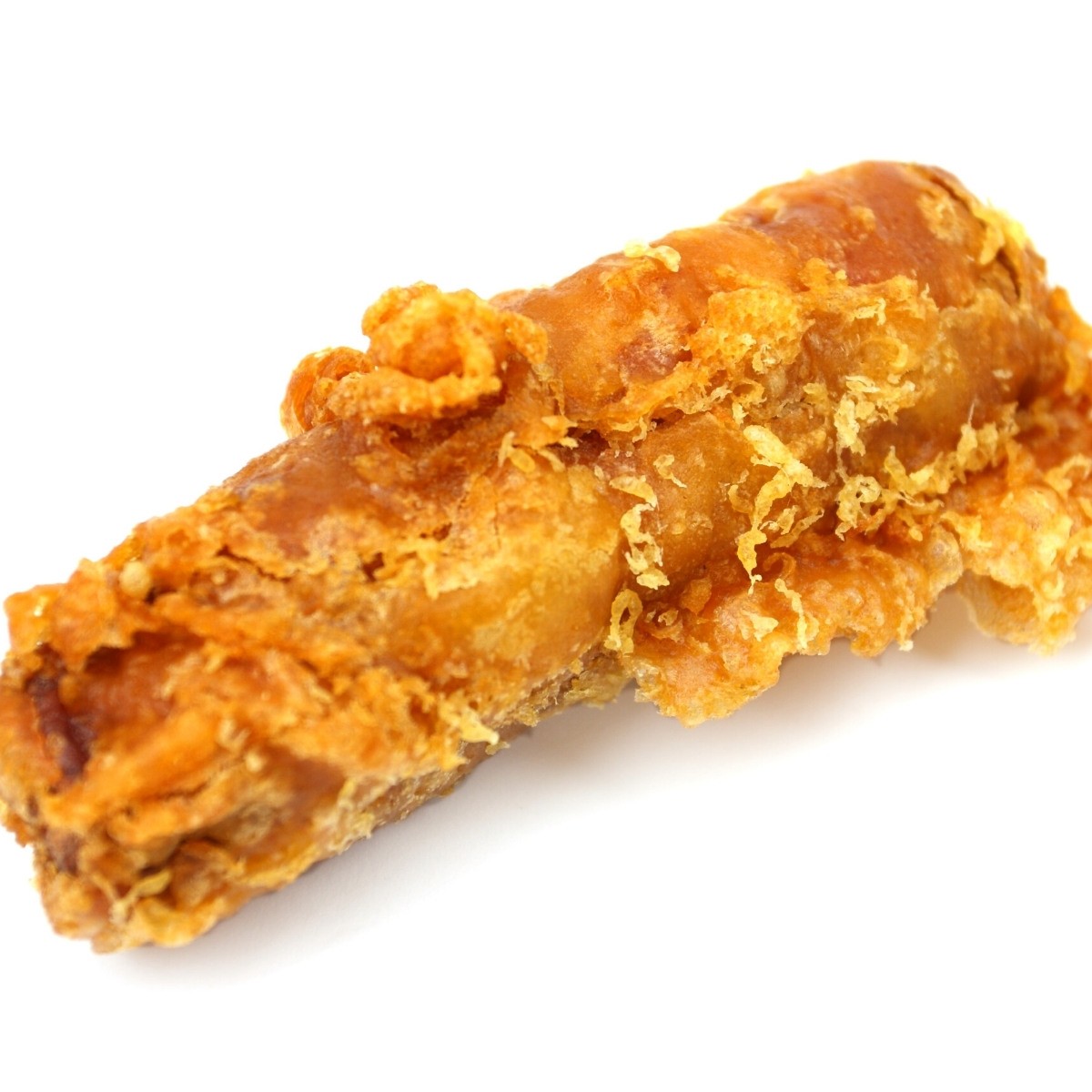 Should I Use Beer in Battered Sausage?
While beer isn't absolutely required for the success of the battered sausage dish, it helps to make it so. Beer contributes three elements: foaming agents, carbon dioxide and alcohol, which is why it is so essential.
Here, carbon dioxide is important. The gas that is already present in the batter rushes out into the heated oil when the carbon dioxide in the batter contacts it, giving the sausage a light and puffy crust.
Of course, without the proper foaming agents, this gas wouldn't be able to remain in place. Although champagne is also a bubbly beverage, the champagne bubbles pop too rapidly to cause the batter to rise. Alcohol is the third crucial component. It makes the crust crisp while regulating the inside temperature.
Beer-based batter will cook more quickly than batter mixed with milk or water because alcohol evaporates faster than water. You have a lower chance of undercooking the batter or overcooking the sausages the faster the batter dries and crisps up.
Can I use Alcohol-free beer?
Alcohol-free beer may be used, yes. Even though alcohol aids in the frying process, carbon dioxide and foaming chemicals still create a very crisp outer crust.
Ingredients you'll need
The ingredients for this battered sausage recipe with beer are listed below:
For the Batter: A combination is used to create the batter. Beer, salt, pepper, and all-purpose flour are combined. By doing this, a quick and easy sausage batter is produced.
For Seasonings: I added salt and black pepper to give the batter more flavor. This addition is optional; you may instead use your own herbs and spices in place of the salt and pepper.
For Sausages: I chose jumbo pork sausages for this recipe. You can use Brats, kielbasa, or another sausage you like.
How to make Battered Sausage (Step-by-Step)
A step-by-step guide for making a battered sausage in the UK style may be found below. On the recipe card are detailed directions for the dish.
Step 1: Mix the flour, salt, and black pepper in a mixing bowl. Stir until ingredients are well combined.
Step 2: Fill the mixing bowl with beer. After that, whisk the ingredients until a thick batter for pouring has formed.
Step 3: Prepare a pan with oil at 350 degrees Fahrenheit. Roll each sausage in the flour, then in the batter, and finally, deep-fried them. Fry for 4–6 minutes, turning once, until golden and fully cooked.
The sausages in the batter can alternatively be shallow-fried. Half the length of the battered sausage should be submerged in oil (lying down). At the halfway point, you should flip the battered sausage.
Step 4: Take out of the oil and set it on a plate lined with a paper towel to soak off the oil. Then, once everything has been cooked, dig in right away.
Can I make Battered Sausages Gluten-Free?
The answer is yes! The only catch is that you have to use gluten-free flour. Because gluten-free flour typically contains binding chemicals, you may need to make a few minor adjustments to the recipe.
Mix in the half cup of flour first and then the beer, a little at a time. You are ready to go when the batter is the consistency of thick pancakes.
Battered Sausage Recipe
Try this battered sausage dish, just as they serve it in British chip shops! You can make this classic at home easily thanks to this easy-to-make batter.
Ingredients
8 Sausages
1 Cup of All-purpose Flour
1 tsp Salt
1 tsp Black Pepper
1 Cup of IPA beer
Instructions
Add the flour, salt, and black pepper in a bowl and stir until everything is nicely combined.
Add beer to the bowl and start mixing. Mix everything together until it forms a thick batter that can be poured.
Oil should be heated to 350 F (180 C) in a pan.
Dip each sausage in the flour and then batter, and deep fry them. Fry for 4–6 minutes or until golden brown and fully cooked.
Take the sausages out of the oil and put them on a plate with a paper towel to soak up any extra oil. Then, when everything is done, eat right away.
Share this mouth-watering beer-battered sausage recipe on Pinterest and invite your foodie friends to join in on the deliciousness. Trust me; they'll thank you for it! So go on and butter up those sausages and spread the love! 🙂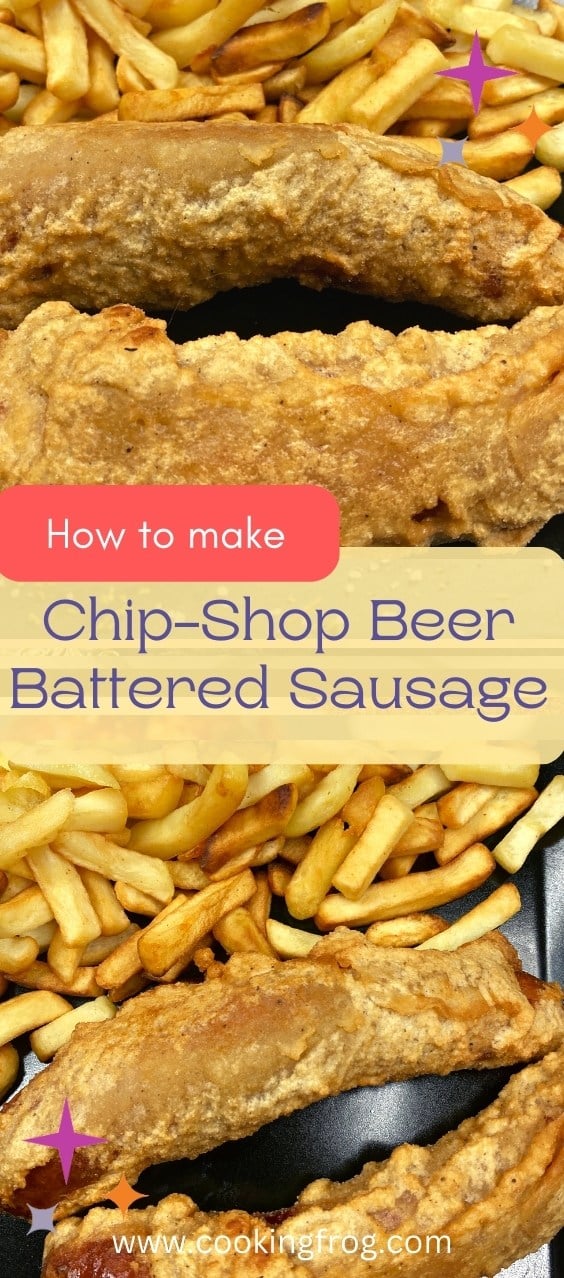 Video Recipe