Olive Tapenade, often referred to as "oilvada", is a cherished recipe from the heart of the Mediterranean. This blend of olives, capers, anchovies, and other select ingredients creates a pâté that's both rich in flavor and versatile in use.
Olives: The Heart and Soul of Tapenade
Olives, a staple in Mediterranean cuisine, are the driving force behind the delectable Olive Tapenade. Their unique flavor profile, ranging from earthy and savory to a hint of tanginess, sets the stage for this dish. When you think of olives, imagine sun-soaked groves, ancient culinary traditions, and generations of expertise in selecting and curing the best fruits. It's this depth of flavor and history that they bring to the tapenade.
But olives don't stand alone. They are masterfully paired with ingredients like capers, which add a briny punch, and anchovies that introduce a subtle umami undertone. The inclusion of fresh parsley and lemon juice brightens the mix, while garlic adds a touch of aromatic warmth. And let's not forget the sun-dried tomatoes, which contribute a gentle sweetness, balancing the robust flavors.
Together, these ingredients dance in harmony, creating a spread that's not just food, but an experience. Each bite of tapenade is a journey through the Mediterranean, capturing its essence and rich culinary heritage.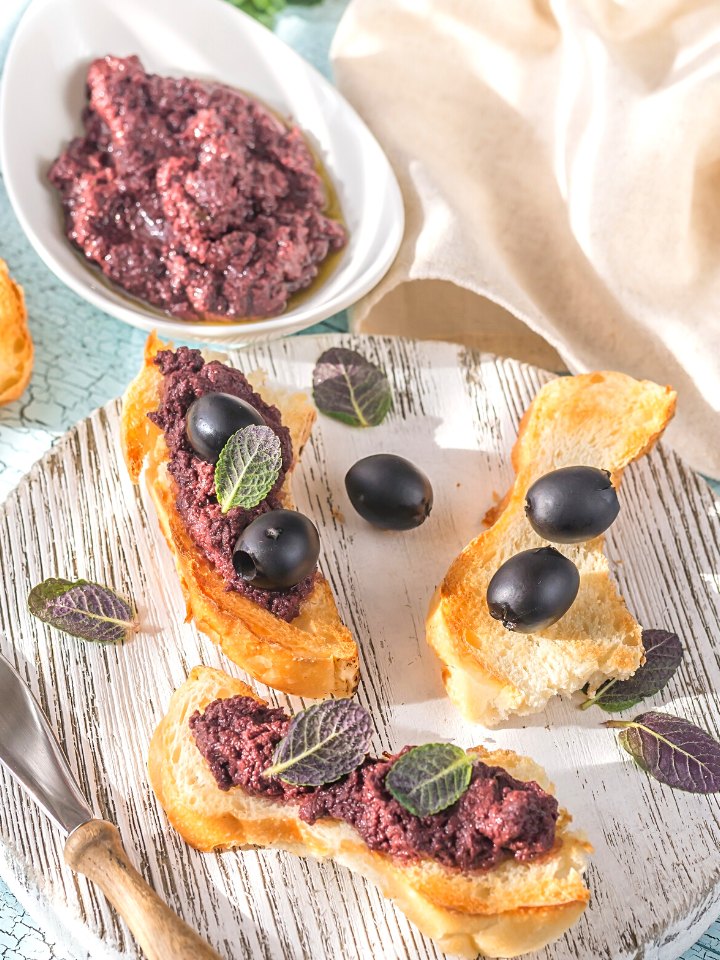 Olives Tapenade Recipe
Ingredients
Green and black olives: 1 cup (a mix, pitted)
Capers: 2 tablespoons, drained
Anchovy fillets: 2 to 3, depending on your taste preference
Fresh parsley: 1/4 cup, finely chopped
Lemon juice: 1 tablespoon, freshly squeezed
Garlic cloves: 2, minced
Extra virgin olive oil: 1/4 cup (or enough to achieve desired consistency)
Sun-dried tomatoes: 1/4 cup, roughly chopped
Instructions:
Preparation: Start with pitted olives and roughly chopped sun-dried tomatoes.
Blend: In a food processor, combine all ingredients, aiming for your preferred texture, whether smooth or chunky.
Add Olive Oil: Gradually introduce the olive oil as you blend, achieving the desired consistency for your pâté.
Taste Test: Sample your tapenade and adjust with additional lemon juice or salt if needed.
Serve: Enjoy your tapenade on toasted bread, within sandwiches, or as a unique topping for dishes.
Got leftover tapenade? 🤔 Fridge it! Made too much? Freeze it! 😜 Loving this recipe? Pin the pic below on Pinterest and spread the olive love! ❤️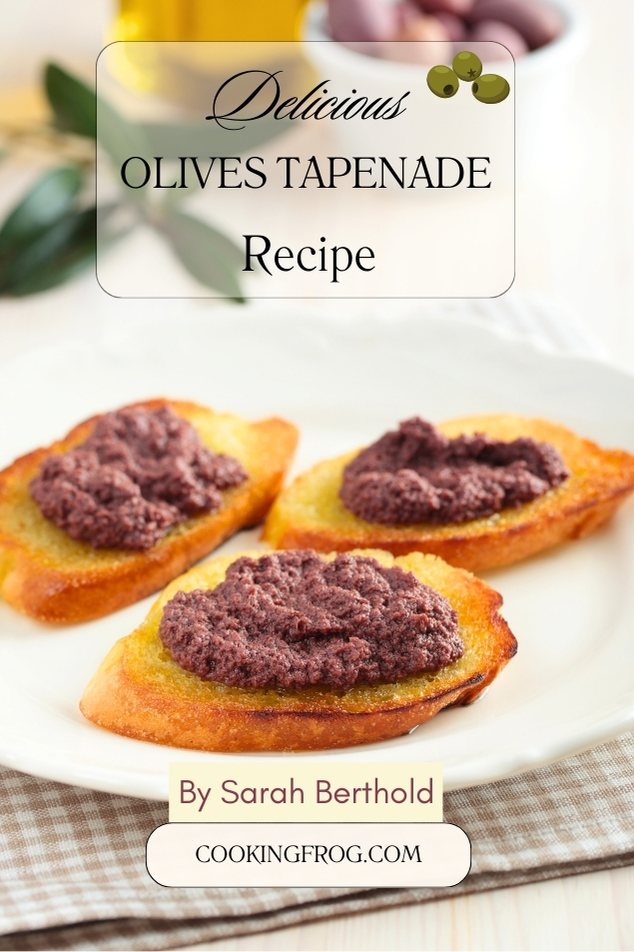 Recipe Variations for Olive Tapenade
1. Herb-Infused Tapenade:
Ingredients: Add 1 tablespoon of finely chopped fresh rosemary or thyme.
Taste Profile: This variation introduces a fragrant and slightly woody note to the tapenade reminiscent of Mediterranean gardens.
2. Spicy Kick Tapenade:
Ingredients: Mix in 1 teaspoon of red pepper flakes or a small diced chili pepper.
Taste Profile: For those who love a bit of heat, this version adds a spicy kick that contrasts beautifully with the briny olives.
3. Citrus Zest Tapenade:
Ingredients: Grate in the zest of 1 lemon or orange.
Taste Profile: The citrus zest brightens up the tapenade, adding a refreshing and zesty undertone.
4. Nutty Olive Tapenade:
Ingredients: Blend in 1/4 cup of toasted walnuts or pine nuts.
Taste Profile: Nuts add a delightful crunch and a nutty depth, making the tapenade even more hearty.
5. Mediterranean Fusion Tapenade:
Ingredients: Incorporate 1/4 cup of crumbled feta cheese or diced roasted bell peppers.
Taste Profile: This variation merges other beloved Mediterranean flavors, adding creaminess from the feta or a sweet smokiness from the bell peppers.
Storing Your Olive Tapenade
Refrigeration:
Once you've prepared your tapenade, transfer it to an airtight container.
Drizzle a thin layer of olive oil on top. This helps in preserving the freshness and preventing the tapenade from drying out.
Store in the refrigerator for up to one week.
Freezing:
If you've made a larger batch and wish to store it for an extended period, tapenade can be frozen.
Portion the tapenade into freezer-safe bags or containers, ensuring you remove as much air as possible before sealing.
Store in the freezer for up to three months.
To use, thaw in the refrigerator overnight.
Serving:
Before serving, especially if it's been stored in the refrigerator, allow the tapenade to come to room temperature. This enhances its flavor and makes it easier to spread.
Always use a clean utensil when serving to prevent contamination and extend its shelf life.
Note: Due to the presence of fresh ingredients like garlic and parsley, it's essential to keep the tapenade refrigerated when not in use. If the tapenade appears or smells off, it's best to discard it.