Rich, delicious and easy to make, this Apple Curd is overflowing with apple flavor. There are only six basic ingredients in our straightforward recipe, and no additional tools are needed.
This luscious apple spread is a favorite in our home all year. We spread it on just about everything we eat. This tasty apple curd recipe eliminates the need for a double boiler or pressure cooker, making it more convenient than other apple curd recipes.
Apple Curd
Have you ever tasted curd made from apples? Apple curd is another flavorful spread that may be used in place of lemon curd, which is perhaps more well-known among the general public. This great adaptable spread is really affordable, especially if you have an abundance of apples in the fall when you can use them to make this spread.
It goes wonderfully with breakfast, whether on bread, toast, pancakes, Croffle, in a sandwich, or stirred into porridge; nevertheless, it also has a wide variety of other uses.
You can also use it to enhance this Italian lemon ricotta cake.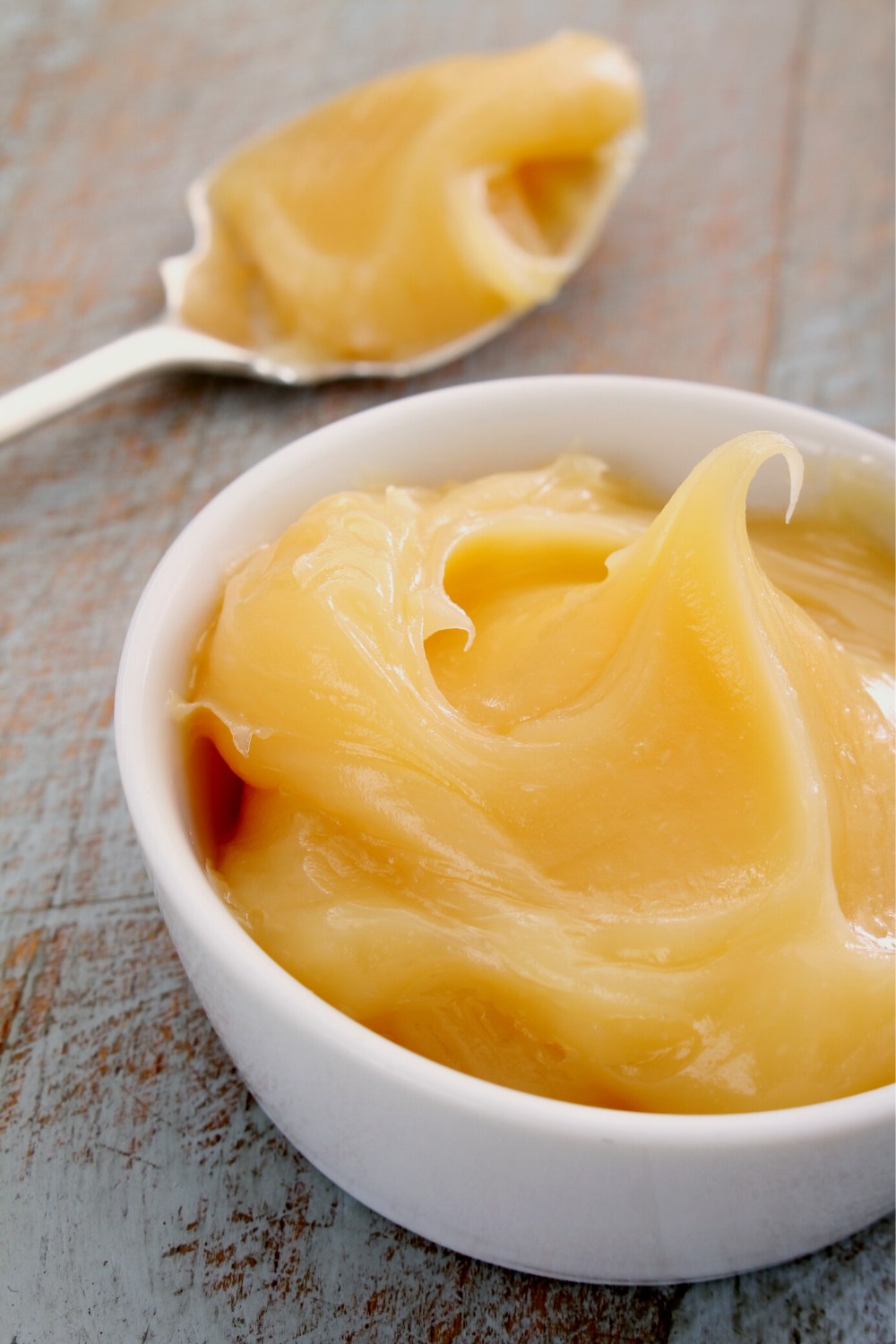 Ingredients you'll need
Apples: I chose the Gala variety for flavor, but you may use whichever apples you have. A strong-tasting apple will provide better results, but you may also utilize garden windfalls or other apple deals you can get at this time. Apples with stronger flavors include Honeycrisp, Granny Smith, Pink Lady, and Cox's Orange Pippin.
Sugar: You can use regular granulated sugar or caster sugar for this recipe.
Butter – I recommend using salted butter in this recipe.
Eggs: I always go for organic and free-range eggs, especially when making desserts.
Lemon – Jarred lemon juice works well for this. The amount is equal to the juice of a typical lemon.
How to make Apple Curd
Step 1: In a large bowl or saucepan, mix the lemon juice and water. The apples will cook more quickly and uniformly in a large saucepan, and the mixture will cool off more rapidly after being cooked.
Step 2: Place the apples in the water after peeling, coring, and chopping them into pieces of about 1/2 inch.
Step 3: Put the liquid and apples in a saucepan and cook for approximately 20 minutes with the lid on over low to medium heat.
Step 4: Use a potato masher to mash up the apples to accelerate the process. After allowing the mixture to cool for five minutes, strain it through a sieve. In my experience, pushing the mixture through with the back of a big spoon is simpler.
Step 5: Put the mixture back in the pan. Mix the eggs together with a whisk and cut the butter into small pieces. Mix in the apples with the eggs, butter, and sugar. Simmer for 10 minutes while stirring over low heat. This will enable the eggs to solidify the apple curd and dissolve the sugar.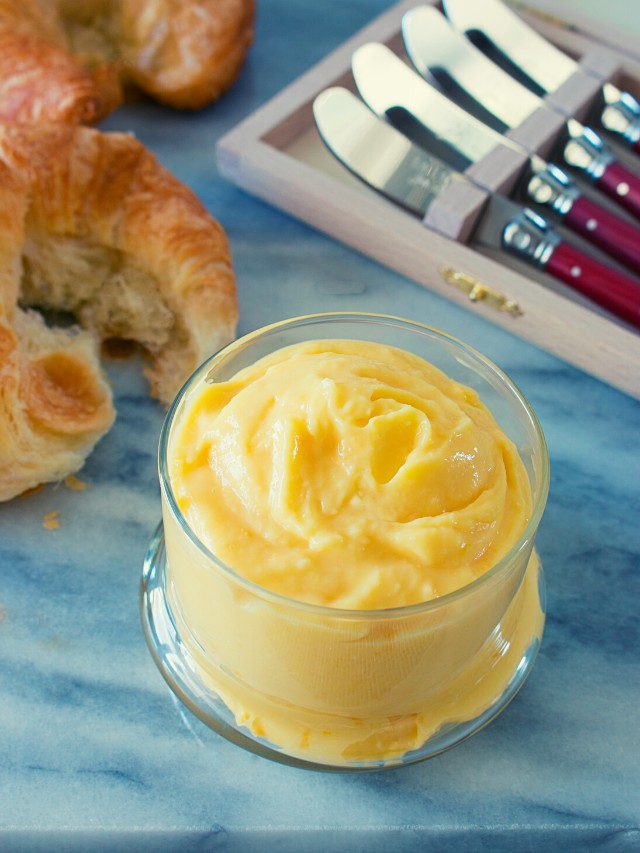 Why You'll Love This Apple Curd
Flavor – Apple curd can be prepared in one pot and has the flavor of apple pie and caramel. The variety of tastes complements so many different dishes!
Texture – Apple curd has a somewhat thicker consistency than custard or jam, but it is still spreadable.
Ease – This recipe is simple and easy to follow, making it ideal for cooks of all skill levels.
Speed – Making apple curd takes only 30 minutes.
Apple Curd Variations
To enhance the flavor with a little touch of warmth, you may add cinnamon. Nutmeg can be substituted for cinnamon if you like a more delicate wood taste.
To give this apple curd an even more lemony flavor, add more lemon juice or zest. It tastes great to combine apple and lemon flavors.
The curd gains richness and sweetness with the addition of vanilla extract or vanilla bean paste. Use vanilla bean paste for a more potent vanilla taste.
Sterilize Jars Before Making Apple Curd
Sterilizing any jar you use for preserves is crucial since germs may grow there quickly and ruin the contents.
I frequently reuse jam jars and lids for preserves. It is best to avoid using a jar lid that has come into touch with vinegar since the seal is destroyed. By soaking in hot water, outdated labels and adhesives can be removed.
Set the oven temperature to 270 F. Soak the jars and lids with hot soapy water and a good rinse, but don't let them dry. Put the jars on an oven tray with the lids flat on the tray—15 minutes of heating.
The jars (but not the lids) can also be sterilized in the microwave. Jars should be washed and left damp. Put in the microwave for 40 seconds at maximum power.
Also, any jar, lid, or seal can be sterilized in a dishwasher.
Apple Curd Recipe
Apple curd is created in 30 minutes and is buttery, flavorful, and smooth. It makes a wonderful Holiday gift and is the ideal way to use up extra apples from apple picking in the fall.
Prep Time: 10 minutes
Cook Time: 30 minutes
Calories: 690 per jar
Ingredients
6 apples
½ Cup of water
1 ½ Cup of sugar
4 Tbsp of lemon juice( or juice from 1 lemon)
2 eggs
½ Cup of butter
Instructions
Mix the water and lemon juice using a large bowl or large saucepan.
Place the apples in the water after peeling, coring, and chopping them into pieces of about 1/2 inch.
Put the liquid and apples in a saucepan. The apples should be tender after approximately 20 minutes of cooking with the cover over low to medium heat.
Break up the apples with a potato masher. Let the mixture chill for five minutes, then strain it through a sieve. Put the mixture back into the pot.
Cut the butter into small cubes and whisk the eggs.
Combine the eggs, butter, and sugar with the apples. Simmer over low heat for 10 minutes while stirring. (In doing so, the eggs will be able to dissolve the sugar and thicken your apple curd.)
Share the image below to your Pinterest board if you like this Apple Curd Recipe!