Longhorn Steakhouse Crispy Brussel Sprouts Recipe – Each little green jewel is cooked carefully to keep its tenderness while giving it crisp, golden edges. Each bite is a harmonious mix of sweet and spicy flavors that makes you want more. The best part is you can make this delicious dish in less than 30 minutes.
Longhorn Steakhouse Crispy Brussel Sprouts Copycat Recipe
Longhorn Steakhouse's famous Brussels Sprouts Recipe has become popular for all the right reasons! Even though perfectly cooked steaks are the main draw at this renowned steakhouse, the Longhorn Brussels Sprouts Recipe holds its own as a strong contender.
This delicious homemade copycat recipe has a tangy sauce with a hint of sweetness that you'll want again and again. If you think Brussels sprouts are boring and soft, this crispy version will change your mind.
With this creative and tasty dish, I've won over many people who didn't like Brussels sprouts. With its tasty mix of spicy, sweet, and crunchy ingredients, this recipe has become our family's go-to choice for a delicious side dish or a fantastic appetizer, just like this Burgerville fried asparagus.
If you are looking for a new and refreshing way to serve Brussels sprouts, look no further! This easy-to-make, cheap recipe is a great addition to your dinner table and will make everyone's taste buds happy. Find the best way to enjoy crispy Brussels sprouts with this great recipe from Longhorn Steakhouse.
For a supper that is guaranteed to impress, serve these Longhorn spicy chicken bites with your golden, crunchy brussel sprouts. You'll improve your cooking skills and make everyone happy.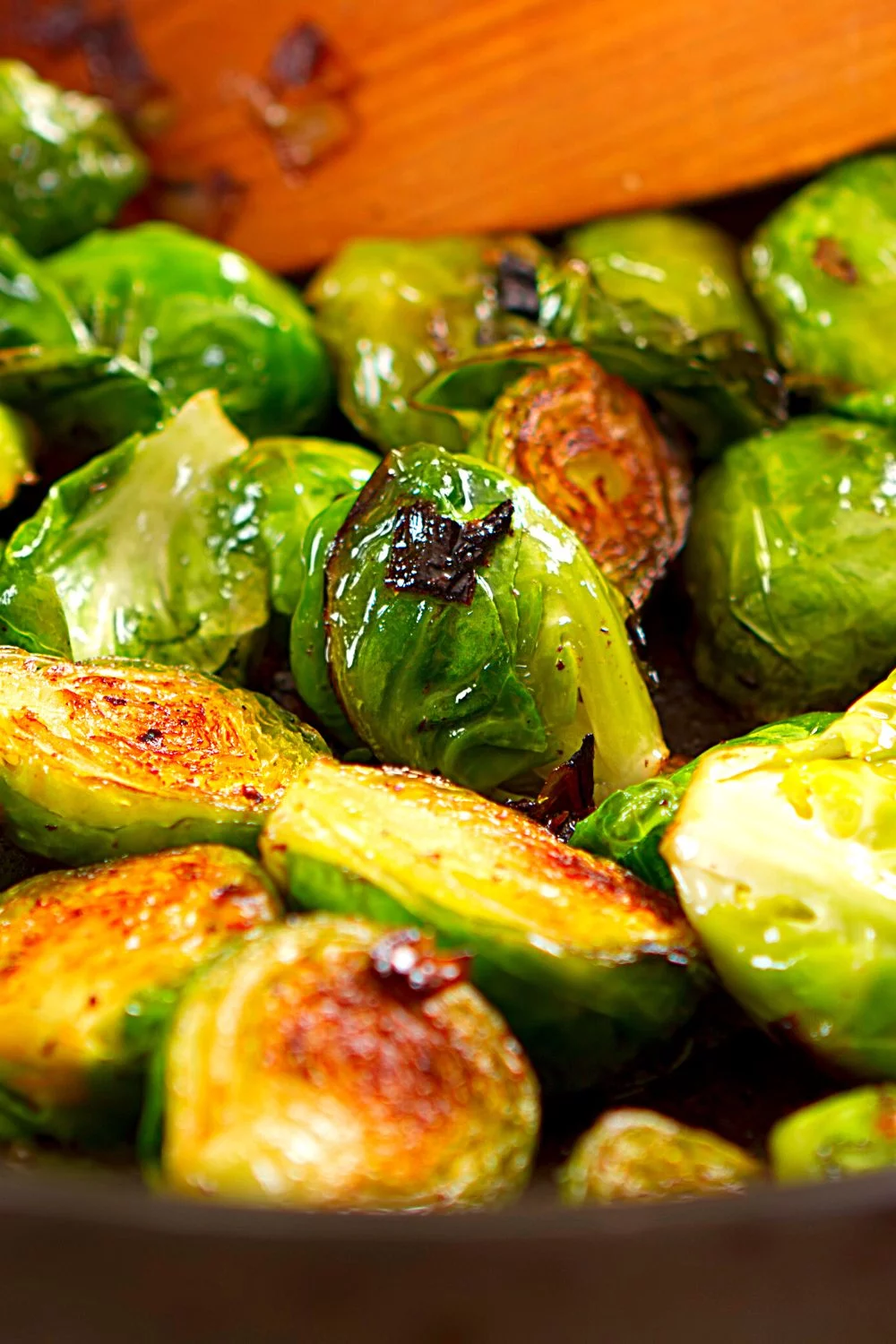 Is this Brussel Sprout Recipe Truly Similar to the one at Longhorn Steakhouse?
I'd say that this version is approximately 99% akin to the original Longhorn Steakhouse dish. When I make copycat recipes, I strive for 100% accuracy, which can only be done through repeated trials/errors and adjustments – and I believe the brussel sprout rub I've developed for this recipe is spot-on. Of course, you can always experiment with the spices if you'd like.
But I can say with certainty that this is a worthy rival. The sprouts turn out crispy and irresistibly tasty!
Ingredients for Longhorn Steakhouse Crispy Brussel Sprouts
For Crispy Brussel Sprouts:
Brussels sprouts: Brussels sprouts are the star of the dish. When they are cooked just right, they have a soft center and a satisfying crunch.
Olive oil: When drizzled over the sprouts, olive oil helps them crisp up evenly and gives them a rich, subtle flavor.
Sea salt: Sea salt brings out the earthy notes in Brussels sprouts that come from their natural flavor.
For the sauce:
Butter: Butter gives the sauce a smooth, creamy texture and helps all the flavors blend together.
Chili powder or Calabrian chili rub: Adds a spicy kick that balances the sweetness and gives the dish more depth.
Smoked paprika: Smoked paprika adds a hint of smoke to the sauce, giving it a rich, savory flavor.
Sea salt: Sea salt boosts the sauce's flavor and brings out the boldness of the spices.
Red pepper flakes: Red pepper flakes add an extra layer of heat for those who like things to be spicier.
Maple syrup: Maple syrup adds a touch of natural sweetness to balance the heat from the spices.
Honey: Honey boosts the sweetness of the sauce and has a unique taste that goes well with the spicy and smoky flavors.
Can I Make Longhorn's Crispy Brussels Sprouts in an Air-Fryer?
Yes, to make crispy Brussel sprouts in an air-fryer.
Set your air fryer to 380°F (190°C) to get it ready.
Put the cleaned and cut-in-half Brussels sprouts, olive oil, salt, and pepper in a mixing bowl.
Place the seasoned Brussels sprouts in a single layer in the air fryer basket. Don't overcrowd them.
Air-fry for 12 to 15 minutes, shaking the basket halfway through the cooking time to make sure the sprouts crisps evenly.
Once the Brussels sprouts are golden brown and crispy, take them out of the air fryer and toss them with the sauce in a mixing bowl.
Alternative Takes on Longhorn's Crispy Brussels Sprouts
The Longhorn Brussels sprouts recipe is very flexible and can be changed to suit your tastes, whether you like them sweeter, spicier, or more savory. Here are some ideas to try the next time you make this meal:
Mild: Just leave out or reduce the amount of red pepper flakes to make the dish less spicy.
Gourmet Twist: Sprinkle some Parmigiano or Parmesan cheese on the dish right after tossing the sprouts in the sauce. This will make the dish taste even better.
Vegetable Variety: Try out this versatile sauce recipe by putting it on other cruciferous vegetables. This will broaden your culinary horizons.
Nutty Decadence: To improve the dish's texture, add toasted walnuts, almonds, or pecans, which give each bite a delightful crunch.
Zesty Addition: For a tangy twist, squeeze a little fresh lemon juice over the finished dish or add lemon zest to the sauce.
Hearty and wholesome: Add some crispy bacon bits or crumbled pancetta for a savory, protein-packed option.
Herbaceous Magic: Sprinkle freshly chopped herbs like parsley, cilantro, or dill on top of the dish to add a layer of fresh, fragrant flavor.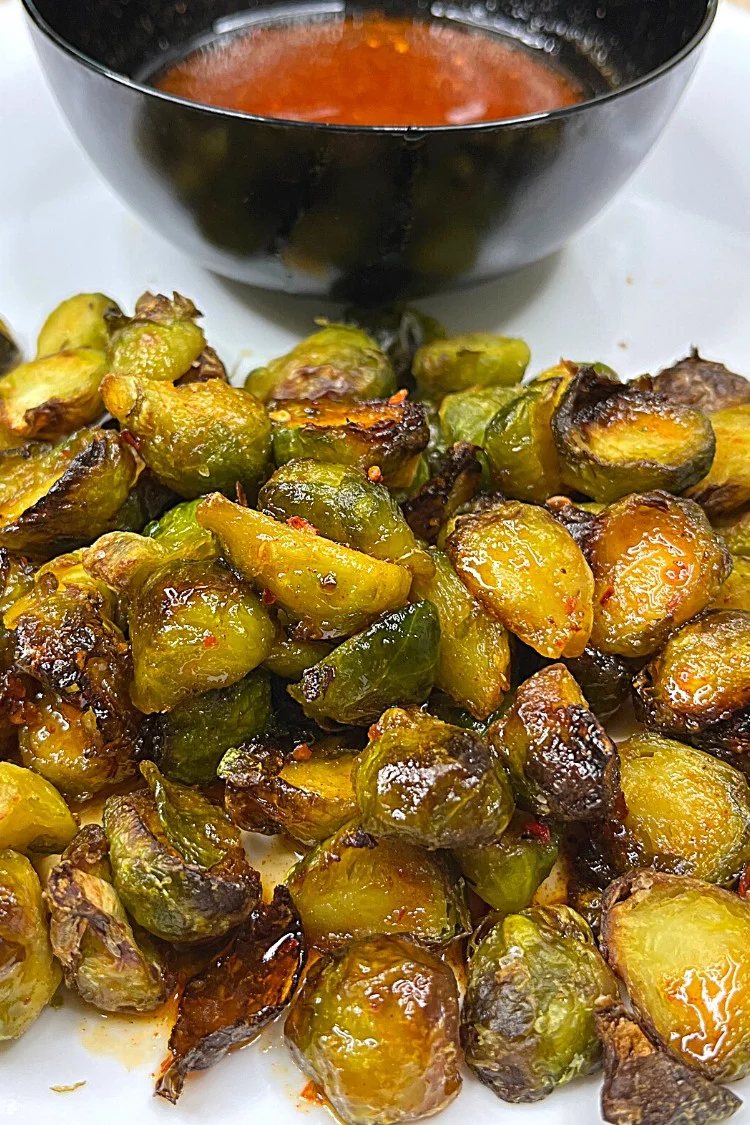 How to Store and Reheat Brussel Sprouts
Storage:
Refrigeration: You can keep any leftover Brussels sprouts in the fridge for up to 3 days in an airtight container or a jar with a lid.
Freezing: For longer storage, place the leftover sprouts in a freezer-friendly container and freeze them for up to 3 months. Prepare a new batch of this delicious sauce to add once they're reheated.
Reheating:
Oven: The best way to reheat leftover crispy Brussels sprouts is to bake them at 350 degrees Fahrenheit for 4 to 5 minutes in a preheated oven.
Skillet or Pan: You can also quickly warm up the sprouts by tossing them in a hot skillet or pan.
Microwave: If you want to heat up the sprouts quickly, you can do so in the microwave for 1–2 minutes.
Longhorn Steakhouse Crispy Brussel Sprouts Recipe
Longhorn Steakhouse's Crispy Brussels Sprouts Recipe will blow your mind! A delicious mix of sweet, spicy, and crunchy flavors that will hook you. Make this easy but delicious copycat dish as a side or appetizer, and watch your loved ones go crazy for it.
Ingredients
For the Brussel Sprouts:
1 lb of Brussels sprouts
2 Tbsp of extra virgin olive oil
1 ¼ tsp of sea salt
For the Sauce:
2 ½ Tbsp of melted butter
½ tsp of chili powder
½ tsp of smoked paprika
½ tsp of sea salt
1 ¼ tsp of red pepper flakes
1 ½ tsp of maple syrup
1 tsp of honey
Instructions
Set the oven temperature to 400 degrees F. (Baking at high temperature for a short time is the key to making them crispy)
Prepare a large baking sheet by lining it with aluminum foil and coating it with cooking spray or simply greasing it with butter. Don't use parchment paper because it can make the sprouts steam.
Bring a pot of water to a boil, then add salt to it. To clean the Brussels sprouts, peel off any damaged leaves from the outside and cut the stems.
Put the cleaned Brussels sprouts in the pot and let them cook for 5–7 minutes or until they are fork-tender. Get the sprouts out of the water and put them in a large bowl. Let them cool for 5 minutes, or put them in an ice bath for 30 seconds to speed up the process. Pat them dry with paper towels.
Cut the Brussels sprouts in half to get more sauce coverage. Before spreading them out on the prepared baking sheet, mix them with olive oil and salt. Bake for 20–25 minutes or until the edges turn golden brown and get crispy. Mix the sprouts halfway through the baking time.
In a separate bowl, mix the melted butter, paprika, chili powder, salt, red pepper flakes, honey, and maple syrup together with a whisk.
Once the Brussels sprouts are done, take them out of the oven and toss them with the sauce. Arrange the coated brussel sprouts on a large platter and serve them right away.
If this delicious Longhorn Steakhouse Crispy Brussels Sprouts Recipe made your mouth water, feel free to pin the beautiful image below to your Pinterest board. And, let's be honest, who doesn't want to show off their newfound culinary skills with these crunchy green wonders?