Simple and easy classical salt and pepper chicken- Chinese Takeaway recipe! A flavorful popular dish packed with lots of spices and fresh vegetables. With this recipe, you can cook at home better than your local Chinese takeaway.
The central aspect of this recipe is the spices, which work well with the fresh, tangy vegetables. This Chinese cuisine uses the harmonized flavors of the ingredients to pack a lot to your palate, from mixed chilies to spring onions to peppers; everything compliments each other.
Fried chicken is not only tasty but also high in proteins and vitamins, both of which are beneficial to your health.
Here I've presented this recipe with all successful tips and tricks so that you can enjoy restaurant-style homemade Chinese Salt and pepper chicken at home.
Tips & Tricks for Perfect Salt and Pepper Chicken
Our goal is to make salt and pepper chicken that is juicy on the inside while crispy on the outside. I've used thighs to make this recipe. The thigh cut is super-soft and moist. It gets fried in just 2 to 3 minutes. If you fry for longer, you will end up with a dry texture.
Fry the marinated chicken in well-heated oil on medium flame. If you add the chicken to cool oil, the coating will fall apart, hence losing its crispiness.
You can also carry out the frying process in one round. I recommend you fry the chicken twice to enjoy some extra crunch in your mouth.
Fry the chicken in small batches instead of getting it all done in one round. It will result in perfect crispy salt and pepper chicken better than any local Chinese takeaway.
Once you dished out the chicken with veggies, you can sprinkle some salt and pepper over the top and toss the chicken well. This step is completely optional and depends on your personal preferences.
Don't forget to use fresh vegetables in this recipe, as the real beauty of your plate lies in the texture and flavor your veggies will add to the crispy chicken.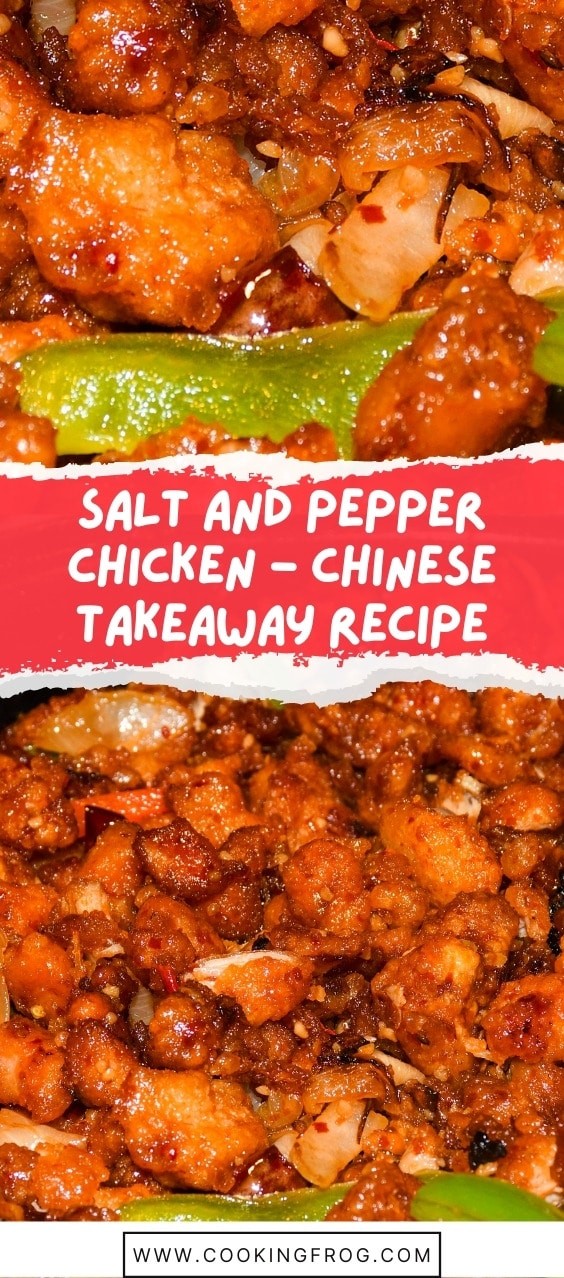 Salt and Pepper Chicken Ingredients
Boneless Chicken thigh: 1.1 pounds
Potato starch: 1 cup
Sweet onion: ½
Carrot: 1
Red/Green pepper: 1
Green chili: 4
Garlic cloves: 3
Ginger slice: 3
Spring onion: 2/3
Oil for frying
Marinate for chicken
Sesame oil: ½ TSP
Salt: ½ TSP
Black pepper: ½ TSP
Ginger and garlic paste: 1 TSP
Spice Mix
Salt: ½ Tsp
Black pepper: ½ TSP
Chinese five-spice powder: ¼ TSP
Chicken powder: ½ TSP
Salt and Pepper Chicken Directions
Start with marinating your boneless thigh chicken. In a well-kept bowl, add chicken. To this, add sesame oil, salt, black pepper, and ginger garlic paste. Then mix thoroughly until all the spices are well merged with the chicken.
Set aside the marinade for 15 minutes. Keeping the marinade for an hour or two will enrich the flavor or tenderize the chicken more deeply if you are not in a hurry.
Meanwhile, while the chicken is marinating, cut fresh vegetables—thinly slice garlic cloves, ginger, pepper, and onions.
Next, make the spice mix. To a neat and clean bowl, add salt, black pepper, and Chinese five-spice. Mix it well. To make it taste like a perfect Chinese takeaway, you can also add chicken powder. But this step is optional.
Now coat the chicken with potato starch. You can also use cornstarch.
Then fry the chicken in hot oil. Once the chicken starts floating, you are done with the first fry. I've double-fried the chicken to make an extra crunchy salt-and-pepper chicken bite.
Next, stir-fry the vegetable. Take a pan on the stovetop and add some oil. First, sauté thinly sliced ginger and garlic. When you can smell that characteristic ginger-garlic aroma, add in the remaining veggies. Continue frying the veggies for 2 to 3 minutes.
Then add in fried salt and pepper chicken and mix thoroughly with the colorful vegetables.
Last but not least step, add the spice powder and mix everything well.
Dish out your better-than-Chinese takeaway, salt and pepper chicken, and serve it hot and lovely.
Nutrition Facts
Calories: 250kcal per 100g
Carbohydrates: 10g
Protein: 20g
Fat: 15g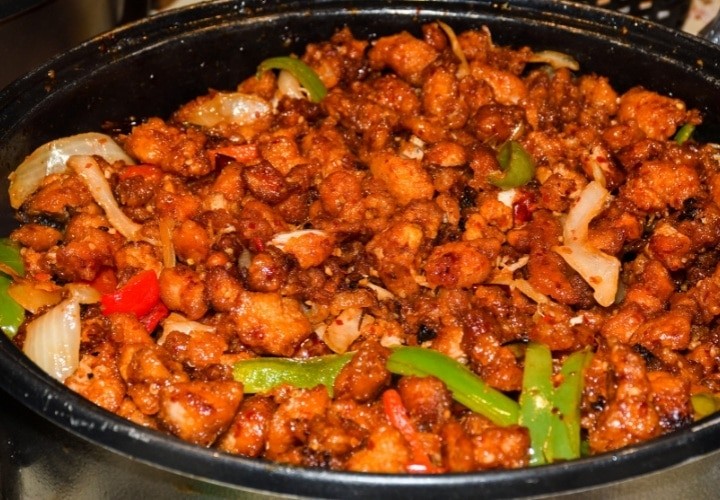 FAQs
Is it necessary to deep-fry the chicken?
No, it is not necessary to deep-fry the chicken. I have deep-fried the chicken because I like this version of salt and pepper chicken. You can also air-fry or bake chicken in the oven to make it healthier according to your wish.
What if I don't want to use thighs to make Chinese salt and pepper chicken?
If you don't like thighs, then you can use breasts, even wings, to make this delicious cuisine. Fried breasts and wings will give you an equally amazing taste and texture you will love. Mind some rules of frying the breast and wings part of the chicken. The breast part requires 8 minutes to get fried, while the wings require 5 minutes to get it done just right. You need to marinate wings for longer to get the crispy golden brown texture with deeply penetrated rich spices flavor, as spices are the real essence of the best salt and pepper chicken recipe.
What is five-spice powder?
Five-spice powder is the essential ingredient of the Chinese salt and pepper chicken recipe. It is a combo of different spices, namely whole clove, fennel seeds, star anise, peppercorns, and cinnamon stick. The ingredients of five-spice powder may vary from one region to another, but above mentioned five ingredients are compulsory to add to make it.
Conclusion
If you want to let your loved ones enjoy restaurant-style Chinese Salt and Pepper Chicken at home, then give this recipe a try. I'm sure you would never regret trying it. It's so easy to make and far better than any Chinese takeaway.
I'm sure you will love it. If you really admire my recipe, share it with your friends and family. If you have tried any recreation, don't forget to update us through your valuable comments.
Thanks!