If you haven't had the opportunity to celebrate Polish Fat Thursday or, as it is also known, Paczki Day, then you are missing out! Paczki are a type of Polish donut that only comes around once per year and are a must-have treat for those who love sweets. No worries, this Polish Paczki Recipe will allow you to have "Paczki Day" every day if you want to.
What is Polish Paczki?
Polish Paczki is almost the same as donuts. They are made from fried dough and filled with different fruits or custard fillings. Then they are coated with sugar.
Paczki is made with a rich dough that contains yeast, eggs, sugar, and fats. So, they are thicker and heavier than regular donuts, which reflects its taste and texture.
You can fill your Packzi with your favorite fruit or cream fillings. You can glaze them or cover them with granulated sugar or powdered.
The most popular fillings in Poland are stewed plum jam and wild rosehip jelly, but you can also use other fillings such as cranberry, blueberry, strawberry, prune, or simply use custard.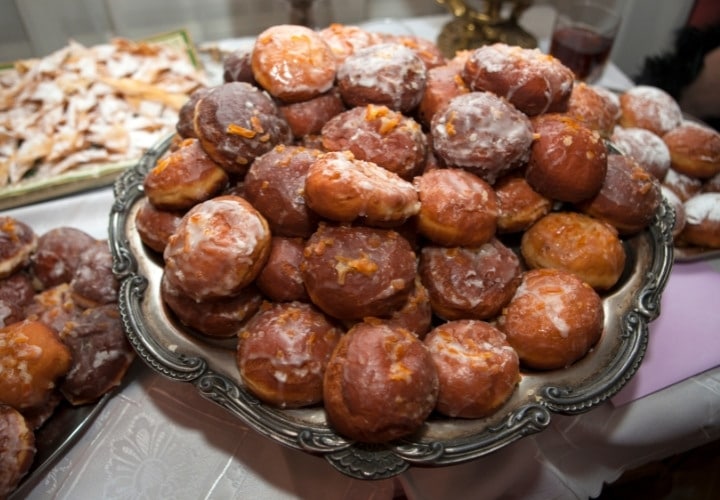 Polish Paczki Recipe
Our Polish Paczki Recipe gives you all of the information you need to make these delicious treats.
I love to make them because they are so easy and you can make them in advance and freeze them. Once you thaw them, you can stick them in the refrigerator and they will be ready to eat when your guests arrive. So if you are looking for a tasty treat for Fat Thursday, these are a must!
FAQs about Paczki
Is Paczki the same as a Donut?
The basic ingredients used in donuts are flour, eggs and milk. The closest to this recipe is a jelly donut, but this Polish Paczki is so much more.
Yeast is used along with butter and eggs in the making of paczki, so they are thicker and therefore, richer than regular donuts.
When is Paczki eaten traditionally?
In Poland, on the last Thursday before Lent, paczki are eaten. This tradition came to be in Poland because they want to use up all the ingredients, like sugar, eggs, and fruit, and enjoy good and a bit unhealthy food before the beginning of the fast.
In America, they are available on Fat Tuesday. It is also enjoyed as a dessert among Polish folk who are keeping up with the tradition.
Which fruit filling is best for Paczki?
You can use any filling you like but are recommendations include lemon curd, strawberry jam, blueberry jam, sweet cream or plum jam.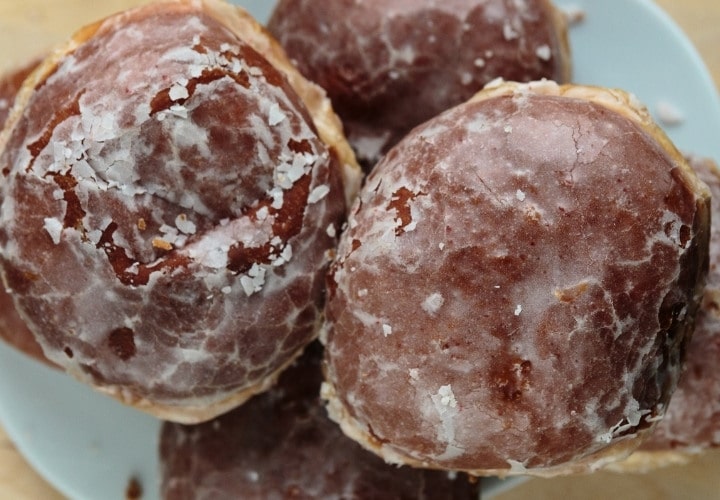 Can I bake Paczki?
Yes, you may bake them but fried paczki are better in taste. Bake them at 350 F for 10 – 12 minutes.
Is it appropriate to freeze paczki?
If you want the best taste, eat them fresh. If you want to freeze them, use an airtight box lined with butter paper between layers. Storage life is three months. Before you serve them later, reheat them.
We hope you enjoyed the recipe. Please leave us a comment and let us know how you liked this Paczki recipe.
Share the image below to your Pinterest board if you like this Polish Paczki Recipe!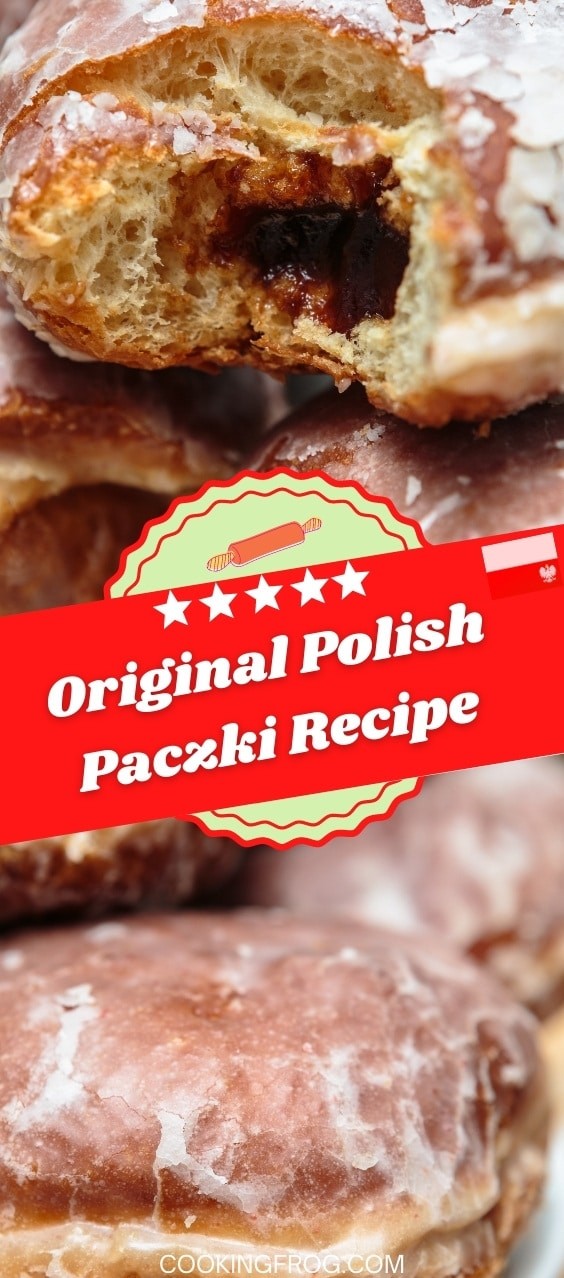 Preparation Time: 25 minutes
Cooking Time: 30 minutes
Servings: 12 paczki
Ingredients
Instant Yeast – 4 1/2 tsp
Whole milk – 1 cup
Egg yolks – 2
Granulated White Sugar – ¼ cup
Melted Butter – 2 tbsp
Vanilla – ½ tsp
Salt – ½ tsp
All-purpose flour – 3 to 3 ½ cups
Oil for frying
White Granulated Sugar – For dusting after frying
Jam or custard – for filling
Instructions
Take a saucepan and heat milk in it until it starts to boil. Don't let it boil, remove it from the stovetop and cool it to a lukewarm temperature.
Take a bowl and add yeast and lukewarm milk. Mix and keep it aside for five minutes. Now, add a cup of flour and mix. Keep it aside for nearly half-hour until it forms a bubble.
Meanwhile, beat the egg yolks.
In the yeast mixture, add butter and sugar. Stir well and add in salt and vanilla extracts. Again stir while adding egg yolks. In this mixture, now start adding flour gradually. Keep adding flour until a soft dough is formed and don't make it sticky. Take out the dough mixture and knead it on the countertop. Make a ball.
Take a bowl and grease it. Add in the kneaded dough ball. Wrap it in plastic and keep it in a warm place. The rising time may be more than 1 hour.
Transfer the dough to a cutting board, and using a rolling pin, roll it into a circle shape. With the help of a three-inches cookie cutter, cut out the circles. Put them on the baking sheet and cover them to rise more. Here, the rising time is half-hour.
Take a frying pan and add oil. Heat it to 360 degrees Fahrenheit. Put in paczki and fry them. Make sure all sides are cooked well and turn golden. It is advised to cook 3 in one go and not more. Fry them calmly so they are properly cooked. After they are fried, transfer them to the cooling rack for half a minute and instantly dust them with sugar. Now, allow them to cool completely.
After they are cooled, using a knife, create a hole on either side. You can fill the paczki with jelly or custard inside it using a pastry bag with a tip.
Tips & Tricks
Paczki with granulated sugar dustings are perfect to go. I prefer the sugary crunches but you may try icing sugar and milk. You can enjoy it either way, they are delicious.
Fresh paczki are perfect to eat on the same day but if you want, you can freeze them. No deep fryer is needed. If you are using a deep fryer then keep checking the temperature and stay careful. In case, the temperature is high, the Paczki will not cook from inside and if the temperature is low, it will absorb more oil.
Coat granulated sugar when paczki are hot, so it sticks to the sugar. If you are using icing sugar, then let them cool more. It is because icing sugar may dissolve, so add before serving.
Using a deep fryer and controlling the temperature is tiresome. It may create a mess.
Nutrition Values
Per each paczki, you will get 190 kcal of calories, 33 grams of carbs, 1 gram of fiber, and 1.8 mg of iron.
Conclusion
I hope you've liked this Polish Paczki recipe! You know I love making Polish recipes, so I highly recommend you try this Polish Cabbage Pierogi. Oh and if you have any questions or suggestions about this Paczki Recipe, feel free to comment down below. Thank you!