Uncover the art of preparing the flawless smoked brats, enriched with a hint of brown sugar and paired with aromatic seasonings, for a grilling experience that stands out.
Bratwursts, aka brats, are German sausages and have long been a favorite on grills worldwide. In this recipe, we're taking the classic brat and elevating its flavors with a hint of brown sugar, complementing the delicious meat with a subtle sweetness.
Paired with the fragrant blend of garlic, onion, and beer, these smoked brats sausages are a lovely fusion of traditional and contemporary flavors. As you dive into this article, you'll uncover the step-by-step process to achieve perfectly smoked brats and various serving suggestions, tips for the best results, and creative variations to customize the dish to your preference.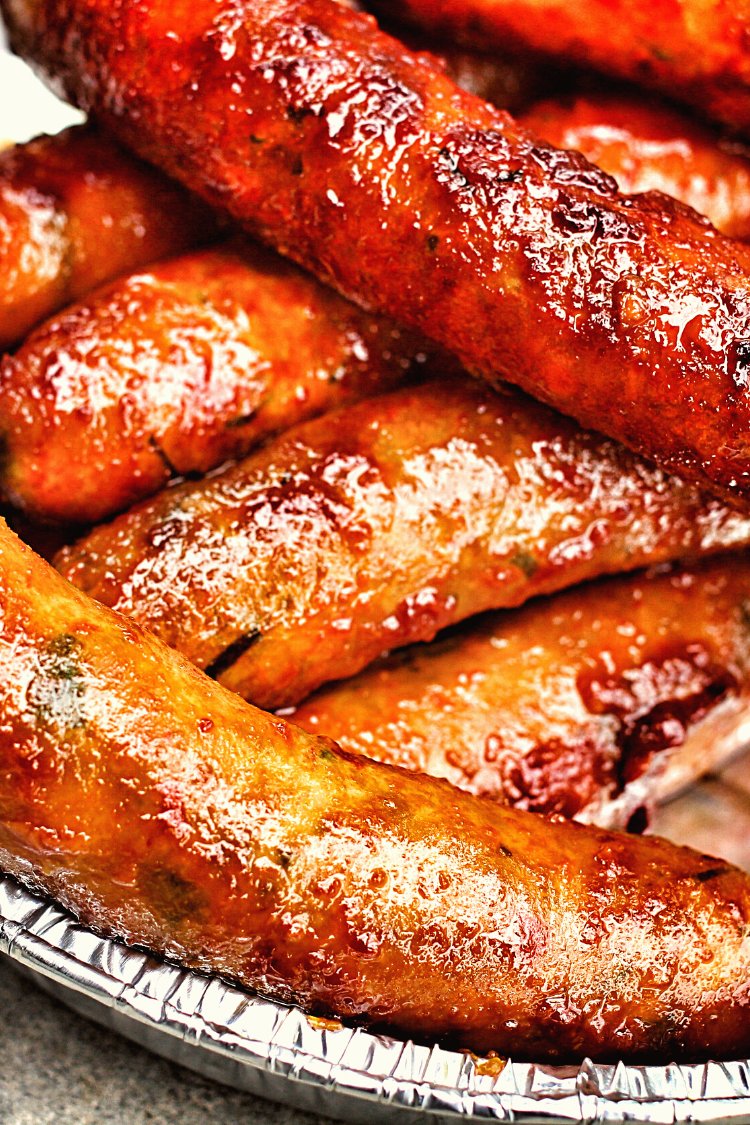 Why These Smoked Brats Are a Must-Try:
Sweet Meets Savory: The brown sugar doesn't just add sweetness; it creates a caramelized exterior that contrasts beautifully with the savory meat.
Beer Onions: These onions, simmered in beer, offer a malty, subtle, and profound richness.
All-Occasion Dish: Whether it's a summer BBQ, a game day, or a cheerful family dinner, these sausages fit right in.
Universal Appeal: They're not just for sausage lovers. The distinctive flavor profile appeals to a wide range of palates.
Variations to Try:
Cheese Dream: Melt the cheddar cheese or smoked gouda over the brats for a creamy contrast.
Herb Haven: Fresh basil, cilantro, or even tarragon can add a refreshing herbal touch.
Spice Seekers: Blend sliced jalapeños or drizzle with a homemade spicy mayo made with sriracha and lime.
Sauce Swap: Consider a tangy apple cider vinegar BBQ sauce or a rich bourbon-infused sauce.
Tropical Touch: A pineapple and mango salsa with a hint of red chili can add a sweet and spicy contrast.
Mediterranean Mood: Crumbled Greek feta, kalamata olives, and a drizzle of tzatziki can transport you to the Mediterranean.
Asian Angle: A teriyaki glaze sprinkled with toasted sesame seeds and green onions can offer an Eastern variation.
Tex-Mex Tango: A bit of guacamole, fresh pico de gallo, and a sprinkle of cotija cheese can add a Southwestern flair.
Serving Suggestions:
Buns:
German Brötchen: These crispy buns are a classic choice, offering a satisfying crunch with every bite.
Brioche Buns: Their slight sweetness and buttery taste complement the smokiness of your brats.
Hamburger Buns: A soft and classic choice, they're readily available and always a hit.
Sauces & Spreads: Consider presenting a range of condiments like spicy mustard, tangy sauerkraut, or even a homemade beer cheese sauce.
Potato Pairings: Garlic mashed potatoes with a touch of rosemary or crispy potato wedges seasoned with sweet paprika and thyme.
Vibrant Veggies: Grilled asparagus with a sprinkle of parmesan, buttered corn on the cob with chili powder, or roasted bell peppers drizzled with balsamic.
Salad Selections: A fresh garden salad with cherry tomatoes, cucumber, and a lemon vinaigrette. Or, consider a tangy coleslaw with a hint of apple cider vinegar and mustard seeds.
Drink Delights: Pair with a cold amber ale, a refreshing iced tea with a splash of lemon, or a Kenny's cooler cocktail.
Smoked Brats Recipe
Release the grillmaster within! Dive into a recipe that transforms ordinary brats into a smoky sensation.
Ingredients:
Brats (6 pieces)
Brown sugar (2 tablespoons)
Beer (1 cup for the onions)
Onions, finely sliced (2 large)
Butter (2 tablespoons)
Salt and pepper, to taste
Buns (6, for serving)
Worcestershire sauce (1 tablespoon)
Instructions:
Preheat the Smoker: Get the smoker up to a temperature of 275 F using your chosen hardwood for a rich, smoky flavor.
Smoke the Brats: Place the brats sausages directly on the grill grates and close the lid. Allow them to smoke for 1 to 1 1/2 hours or until their internal temperature reads 160 F.
Prepare the Beer Onions: As your brats smoke, it's time for the onions. In a large skillet, melt the butter and sauté the onions until lightly browned. Stir in the beer, brown sugar, and season with salt and pepper. Let this mixture simmer until the beer reduces and the onions are plump and flavorful, which should take about 15 minutes.
Finish the Brats: Once your brats have reached the desired temperature, you can serve them as they are, with a snappy skin. If you prefer a crunchier exterior, boost your grill's heat and sear the brats for 2-3 minutes. This might cause them to split, giving them a crispy outer layer.
Serve and Enjoy: Lay out your buns, place a smoked brat in each, and generously top with the beer onions. Add your favorite condiments and enjoy your perfect smoked brats!
Do you like our Smoked Brats? Slide that mouthwatering image below onto your Pinterest, and watch the 'likes' roll in! 🙂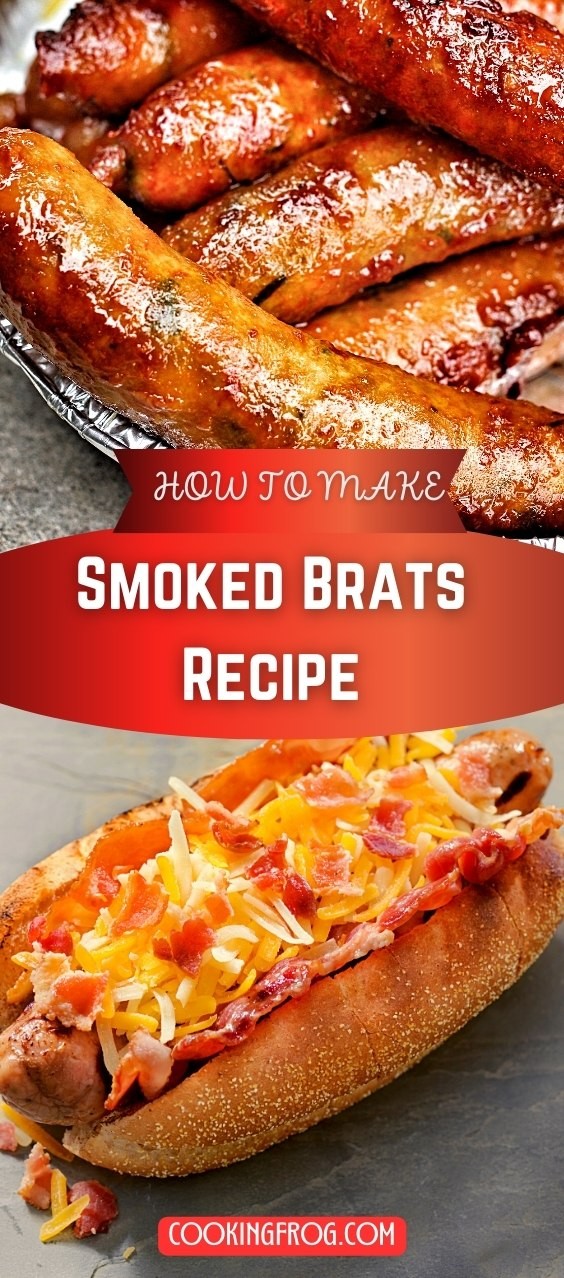 Tips for Perfect Smoked Brats:
Temperature Tactics: A steady smoker's temperature guarantees even cooking. Consider using a smoker thermometer for precision.
Rest & Revel: Post-smoking, letting the rest of the brats ensure the juices redistribute, making every bite juicy.
Wood Wisdom: Applewood or cherrywood chips can impart a milder, fruity-smoke flavor. For a more vital smoky note, consider hickory.
Slicing Strategy: When serving, slice the brats at a diagonal. This increases the surface area for toppings and presents beautifully on a plate.