I have a love affair going on with pierogi. Actually, I have a love affair going on with anything dumpling, but these Cabbage Pierogi are one of my favorites. I don't know what it is about them, but I always feel like it's a better day when I eat a pierogi.
The first dish I learned to make was pierogi. My grandma used to make them all the time when I was growing up, and I always loved helping her in the kitchen. I had no idea what I was doing, but I loved every minute of it.
Cabbage pierogi are a traditional Polish dish and a great way to use up extra cabbage. This version replaces the traditional potatoes in a pierogi with cabbage, adding a subtle tanginess to this tasty dish.
Making pierogi is a great way to get the family involved in the kitchen and also a great way to get creative with food. This cabbage pierogi recipe is a great way to get creative with classic comfort food.
The family can even help out with the preparation of the dish by cutting the cabbage, slicing the onions, and mixing the ingredients together.
Moreover, It is very easy to make, and one of the things I love about pierogi is that you can use any ingredients you want, so you can change this meal up very easily. My kids love this meal and we make it all the time. Hope you enjoy this recipe.
What is Polish Pierogi?
Pierogi are traditional Polish dumplings that are stuffed with a variety of fillings. Since the mid-1990s, pierogi have become popular in other areas of the U.S. and Canada, especially areas with a significant Polish population. They are often available frozen in supermarkets in areas where they are not traditionally served.
Pierogi can be found in grocery stores, usually frozen in a multi-pack, in Polish specialty stores, and in some mainstream supermarkets, fresh or frozen. They can be purchased boiled, fried, or baked. You can make them at home as well.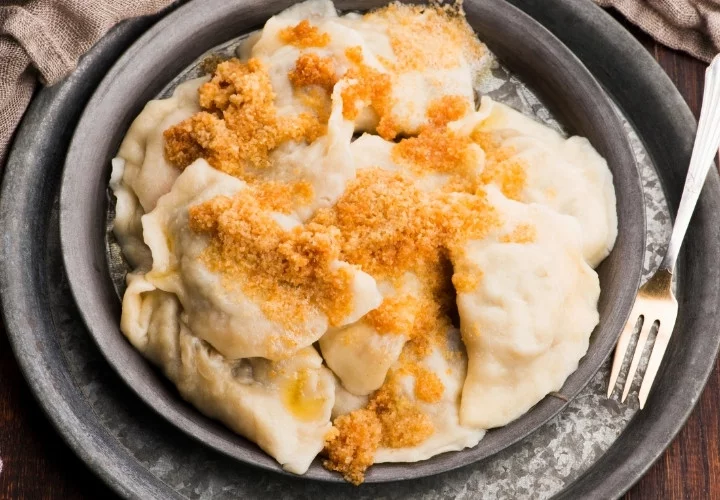 What to serve with Cabbage Pierogi?
You can serve friend onions, Melted butter, Sour cream, Maggi seasoning sauce, and Skwarki (left from making homemade lard). If you have any other options, share them in the comments section below.
How to know that your dough is ready to roll out?
Pinch the dough with your fingers; if it sticks, knead more flour into the dough. If it doesn't stick to your finger, it's ready to roll out. Cover it with plastic wrap and set it aside while you are making the filling.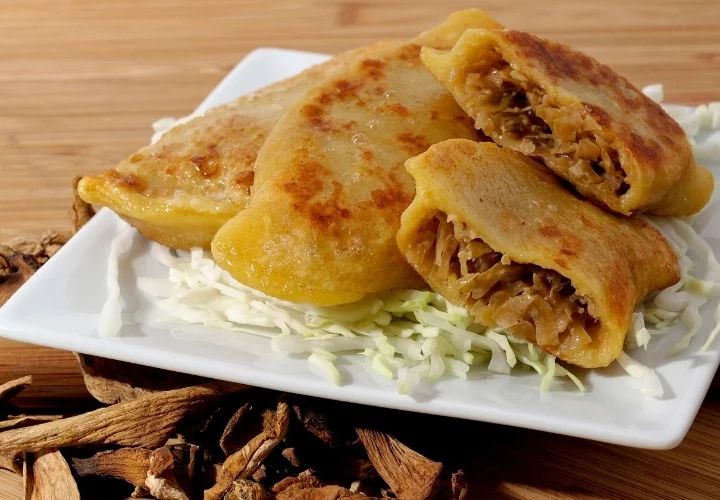 Can I griddle or pan-fry my cabbage pierogi?
Yes, you can! Take a large saucepan or Blackstone griddle and melt butter in it over medium heat. Place pierogies in a single layer and cover them with a lid. Let it cook until you get golden brown crispiness. Flip and cook the other side.
How to Freeze Cabbage Pierogi?
Cabbage Pierogi is a great food to have in the freezer because they are easy to freeze and they are great to eat in the wintertime when it is cold outside and you want something warm and hearty.
Pierogi can be frozen either raw or cooked. The raw pierogi will freeze much better than the cooked pierogi. To freeze the cooked pierogi, put them in a container and spread plastic wrap over them before placing another layer.
This will help keep the pierogi from sticking together. If you don't do this, you will probably end up with a big frozen lump of pierogi. If you freeze the raw pierogi, you don't have to worry about them sticking together. When you throw them in the water, they will be separated.
Serving: 30 Pierogi
Preparation Time: 30 Minutes
Cooking Time: 1 Hour
Total Time: 1 Hour and 30 Minutes
Pin the image below if you like this Cabbage Pierogi Recipe!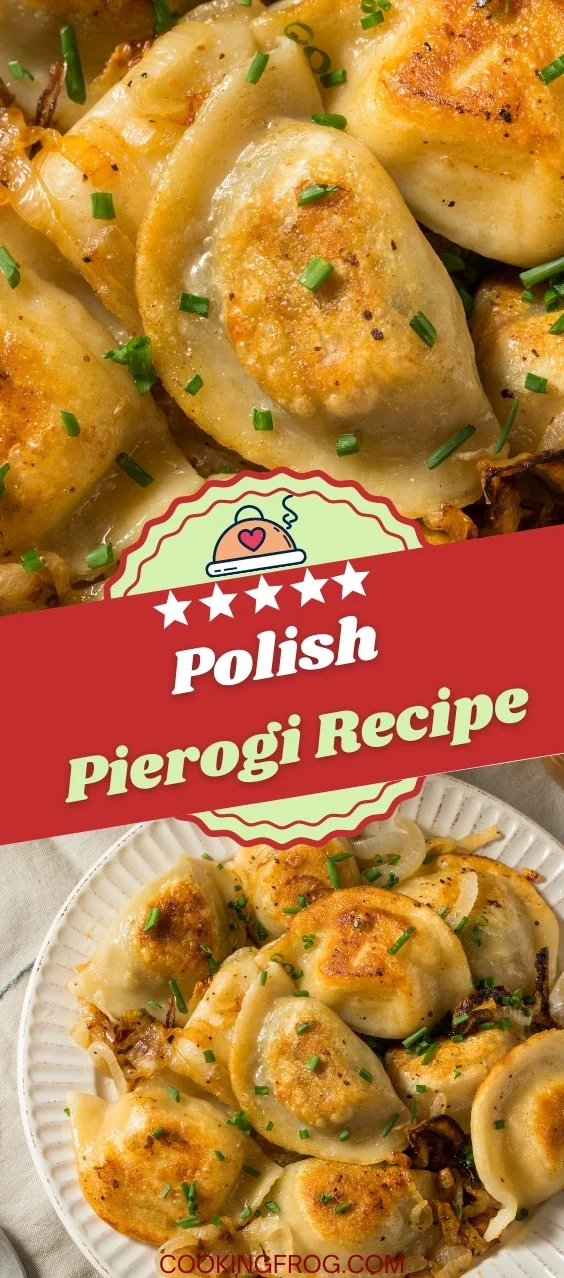 Ingredients
For Dough
3 cups all-purpose flour

1 egg (at room temperature)

½ tsp salt (to taste)

4 tbsp oil or butter (at room temperature)

1 ⅓ cups lukewarm water
For Filling
1 large cabbage

1 big onion

2-3 tbsp butter/oil

Salt (to taste)

Pepper (to taste)
Instructions
For Making the Dough:
Take a bowl and put the egg, oil, flour, and salt into it. Mix the ingredients with your hands. You can also whisk it with a dough hook attachment.

Now add water slowly and knead the dough until all ingredients are mixed and no lump is left.
For Cabbage Filling:
Wash the cabbage and onions and finely chop them.

Take a pan and put the cabbage in it. Add 2 cups of water and cook the cabbage until soft.

When the cabbage is soft, drain extra water.

Melt butter in the pan and fry the onion in it until soft and caramelized.

Mix onions and cabbage and season with pepper and salt.
For Making Mold Cabbage Pierogi
Divide your dough into 3 or 4 pieces. Spread some flour on the countertop and thinly roll each dough piece over it.

Cut circles from the dough by using a round cookie cutter.

Put 2-3 tbsp of cabbage filling in the center of the circles.

Pull the edges together to form pierogi. To save your pierogi from breaking, pinch tightly and don't leave any free space while sealing.

Repeat the same process until all the dough and filling is utilized.
For cooking pierogi
Take a big pot add water, and salt in it. Let it boil.

Throw your pierogies into the boiling water one by one. Let them boil for 1 minute.

When the pierogies start floating on the top, take them out with the help of a slotted spoon.

Your Cabbage Pierogi are ready. Pour the lard or melted butter on the top and serve hot.
Nutrition Value (per serving)
Total calories: 377

Fate: 15g

Carbs: 51g

Sugar: 2g

Protein: 8g
Tips & Tricks
You can adjust the amount of filling according to your liking. But don't overstuff the Pierogi. Otherwise, it will fall apart while cooking.

Don't waste the remaining dough after cutting the circles. Collect and put it to the other dough and roll again.

To avoid sticking, arrange the cooked pierogi on the plate in this way that they are not on top of each other.

The quality cabbage is seasonal, so it is recommended to try this recipe in the summertime.

To create a more beautiful look, press the fork around the edges.

Arrange them so they are not on top of each other so they won't stick.

If you'd like a lighter version, fill the pierogi with some mashed potatoes, but leave out the cabbage.
Let's Sum Up
We hope you enjoyed our cabbage pierogi recipe. We have had a lot of fun writing this blog post and learning more about cabbage pierogi. It was a pleasure to share this cabbage pierogi recipe with you, and we hope you will share this recipe with your friends and family who are looking for a quick, delicious, and easy dinner idea.
You may also want to check this Instant Pot Corned Beef with Cabbage.