Today, I've decided to share with you how to cook bratwurst with an original German recipe. Caramelized and sweet, with simmering beer and onions, this sausage recipe will take you straight to the famous October Fest.
So when fall festivities like sports events and Oktoberfest come alive, I'm pleased to prepare this classic, virtually every German-American picnic or sports day: German bratwurst sausages with onions with Wisconsin spin.
My friend John comes from Wisconsin, a state with a lot of German descendants. John enjoys beer, sausages, and football. Years back, John prepared his well-known bratwurst for a Superbowl gathering at our home.
Simmered in beer with onion slices and then added onto soft rolls with the best grainy mustard, this form of bratwurst quickly became my favorite.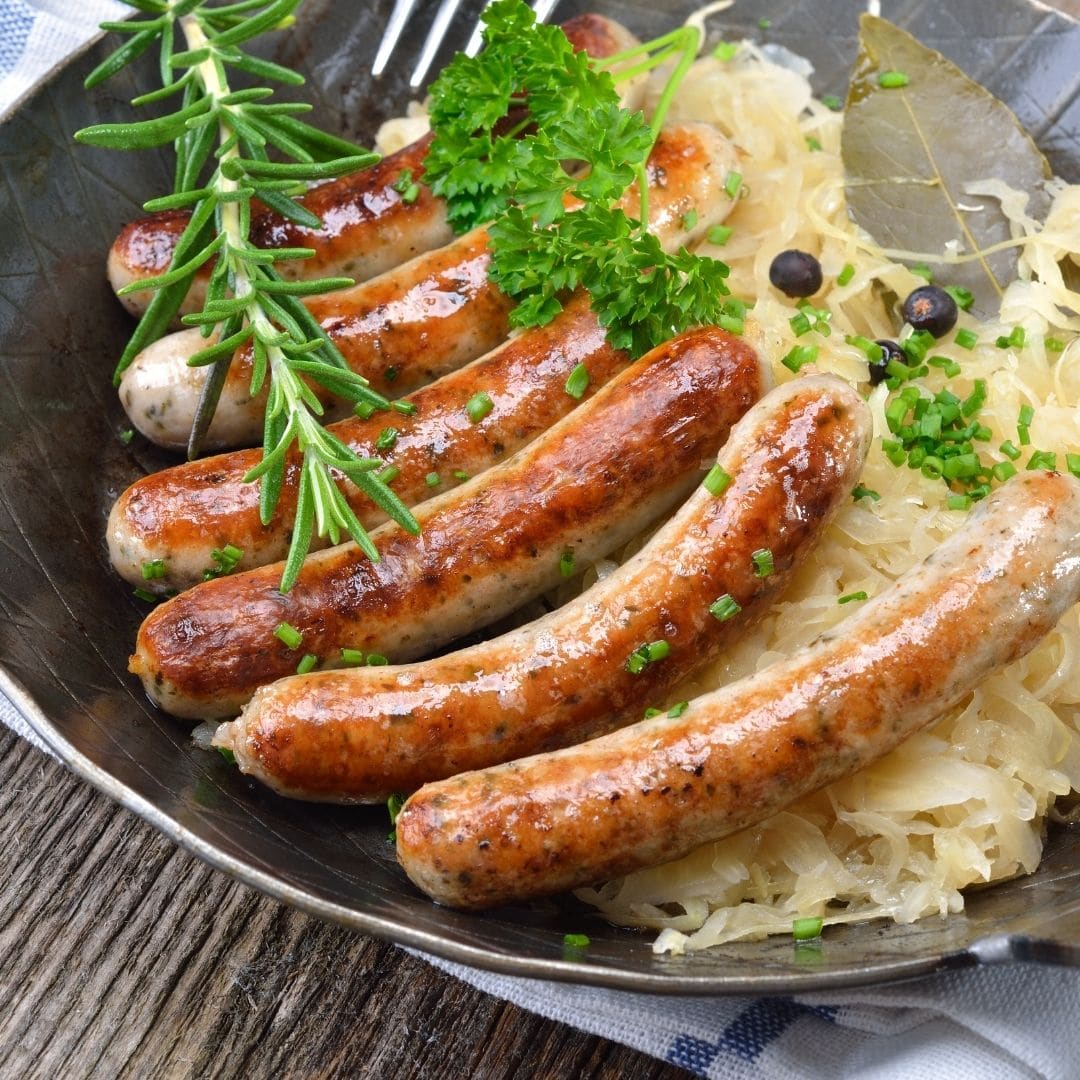 What's the difference between Bratwurst and other sausages?
Sausages are very popular in Germany, and bratwurst is one among the countless on the list.
So, what is the difference between a typical sausage and a bratwurst sausage? Sausage could be produced from smoked sausage, dried sausage, and fresh sausage, with many regions having their particular version. Bratwurst sausages are fresh as opposed to smoked or dried.
Bratwurst is really a fresh sausage of pork and veal, with added seasonings like coriander, caraway, and nutmeg. Separate areas of Germany have different seasonings with other favored sausages like knackwurst, which is garlicky, being certainly one of my children's favorites.
Sheboygan-style bratwursts are a well-known variation of sausage with lots of onion that comes from Wisconsin and is certainly one of my personal favorite ways to cook brats.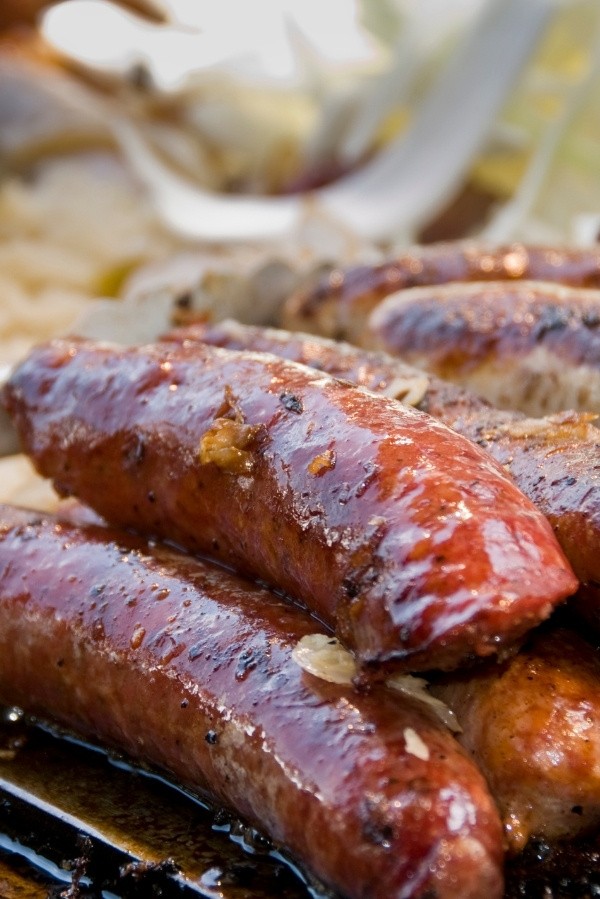 Ingredients for Bratwurst Sausage
I enjoy brats; you know that by now. I really like them grilled, steamed, air fried, and even boiled. Give me some grainy mustard and a brat on a smooth bun, and I'm happy. Also, you can make this fantastic currywurst sauce for the ultimate German experience. This particular bratwurst sausage recipe was made based on the Sheboygan-style bratwursts prepared with sliced onion and some beer.
The key ingredients you'll need for bratwurst and onions are listed below:
Bratwurst sausage: Of course, select a top-quality bratwurst. If you're able to, have them freshly produced by a butcher.
Onions: I personally use trusted old-fashioned yellow onions. Sliced thickly, they don't really disappear because they cook right down to sweet and caramelized to a candy taste.
Caraway seeds: Caraway spice is one particular spice that tastes distinctly German. Add 1 Tbsp of other spices and herbs if you wish to experiment, like fresh ground ginger, mustard seed, garlic cloves, coriander seed…
Beer or ale: I work with a light pale ale or amber ale for the flavor to this Bratwurst recipe. These kinds of beer put in a malt flavor that sweetens since it cooks down and flavors the brats as well as the onions.
Buns: Certainly, one of my dislikes about hot dogs, bratwurst, and other sausages is it needs to be served with a great bun. It is just not true. And I beg you, ensure it is warm also. Select a plain bun or one with onion flakes or poppyseed if you wish.
The Best Way to Cook Bratwurst
These bratwursts are steamed in onions and beer to absorb all of the yummy flavors the amber ale beer gives.
Firstly, the sliced onions are cooked with a bit of butter and then braised in the beer with the bratwursts.
The sliced onion is cooked with a bit of butter and then braised in the beer with the bratwursts.
While they cook, the onion softens in the beer broth, making it slightly jammy.
If you're in a rush and want to try a delicious and unique recipe, why not give this air-fryer bratwurst a try? It's a quick and easy way to prepare brats without having to spend hours in the kitchen. Plus, the air-fryer gives the brats a crispy, flavorful crust that will have your mouth watering.
Beer substitute for Bratwurst recipe
If beer is not an option for you for this recipe, you can cook the bratwurst in a non-alcoholic beer, apple cider, or apple juice, or you could even try it with chicken or veggie stock.
See here how you can cook beer-battered bratwurst!
How to Serve Bratwurst?
Bratwurst may be served as a sandwich with the buns and topped with onions, mustard, and or sauerkraut or served as a main dish with potato salad of your choice, sour and sweet cabbage, and sauerkraut on the side. Bratwurst sausage demands excellent German mustard.
I prefer a mix of both grainy mustard and yellow German mustard. This really is one dog that's best with deli-style yellow mustard that chills in the refrigerator.
Pin the image below if you like this Bratwurst Recipe!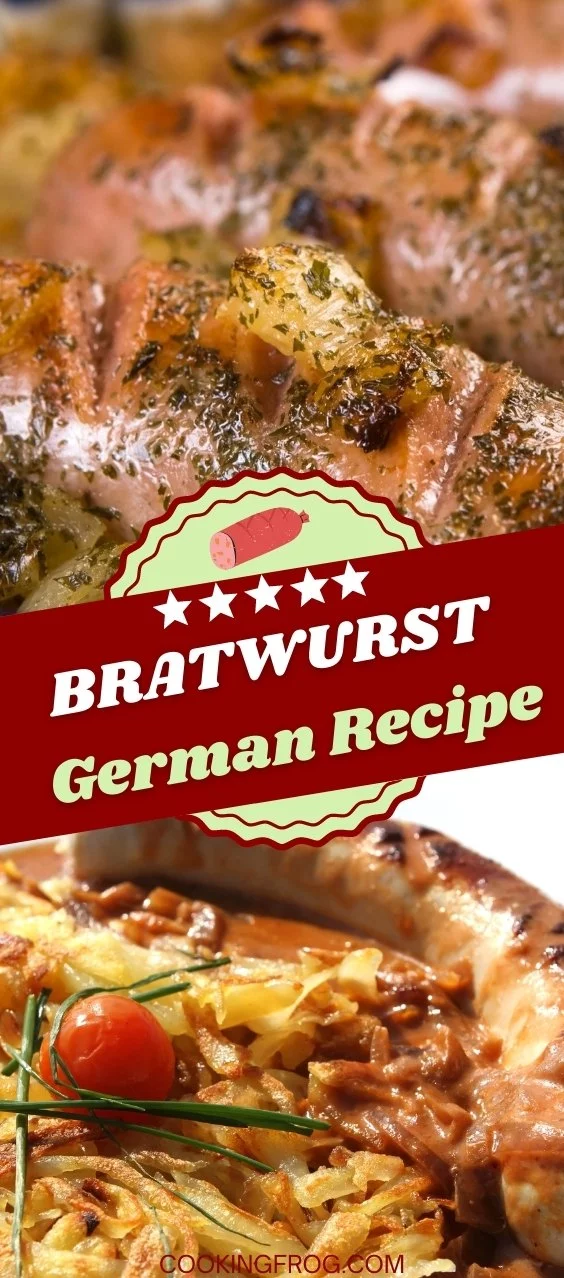 Ingredients
2 Tbsp of butter
1 1/2 sliced yellow onions
1 Tbsp of caraway seeds
1/2 tsp of kosher salt
6 Bratwurst sausages
1 12- oz bottle of amber ale
6 buns
How To Cook Bratwurst Instructions
Using a heavy-bottomed skillet, on medium-high heat, melt down the butter.
Put in the sliced onions and caraway seeds and cook for about 5 min or before the onions start to soften, and season with salt.
Place the bratwurst with the onions, add the bottle of ale, and bring it just to a boiling point. Lower the heat to a simmer and cook for 35-40 min, flipping the brats from time to time.
In order to finish the brats on the stove, move the onions and beer broth to a dish and put them aside.
Brown the brats equally on all sides, adding a bit more butter or oil if required. Pour the onions and beer broth back once again into the skillet and keep it hot.
In order to finish the bratwurst sausage on the grill, heat up the grill to medium-high heat.
Cook the brats on the grill for 2-4 minutes on each side or till they're brown on both sides. Add back once again to the skillet with the onions and beer and keep hot.
Serve on warmed buns with onions and coarse sauerkraut, grainy mustard, or according to your taste.