Welcome to a tropical food experience that brings the best of land and sea. Our Air-Fryer Salmon Bites in Pineapple Bowl recipe is a wonderful mix of flavors that will take you on a beachside feast of flavors. This Hawaiian dish combines the rich, savory flavor of salmon bites cooked to perfection in an air fryer with the sweet and tangy notes of fresh pineapple salsa.
All of this is served in a beautifully carved pineapple bowl (See how to make a Pineapple boat), which adds a fun and creative touch to your meal. The addition of coconut-flavored pineapple rice makes a comforting base that ties all the other parts together.
This Hawaiian recipe is a must-try if you're looking for a memorable dish to serve at your next party or want to enjoy a restaurant-quality meal at home. So, let's dive in and get cooking!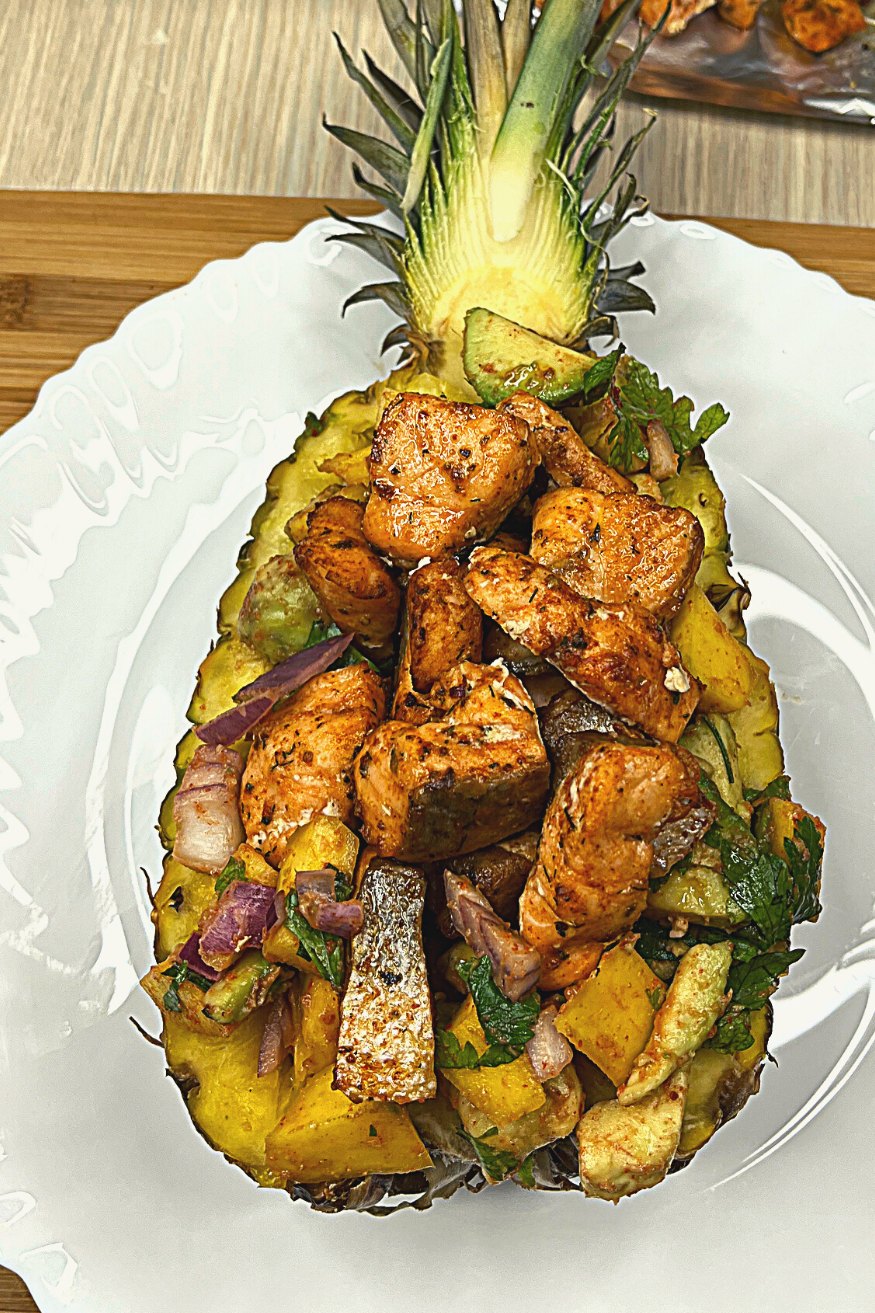 Air-Fryer Salmon Bites in Pineapple Bowl Recipe
Ingredients
For the salmon bites:
2 (4-oz.) Salmon fillets
1 tsp of sweet paprika
1/2 tsp of dried cayenne pepper
1 tsp of garlic powder
1 tsp of dried thyme
1 tsp of dried oregano
1 tsp of kosher salt
1/3 tsp of black pepper
A drizzle of Olive oil
For the Pineapple Bowl and Salsa:
1 fresh pineapple
1 cup of mango, peeled and chopped
¼ cup of avocado, peeled and chopped
3 Tbsp of red onion, finely chopped
2 Tbsp of cilantro, chopped
¾ tsp of salt, divided
¼ tsp of chili powder
lime juice from one lime
For the Pineapple Rice:
1 cup of canned coconut milk
½ cup of long-grain white rice, rinsed
¼ cup of water
½ tsp of crushed red pepper
Instructions
Prepare and Air-Fry the Salmon Bites:
Dry the salmon with paper towels and cut it into bite-sized pieces.
In a small bowl, stir together the sweet paprika, cayenne pepper, garlic powder, thyme, oregano, kosher salt, and black pepper.
Season the salmon bites with this mix of spices, then drizzle with olive oil. Heat your air fryer to 400F.
Put the salmon bites in the air fryer basket and cook for 10 minutes or until the salmon is cooked through. Cover with aluminum foil and set aside.
Prepare the Pineapple Bowl and Salsa:
Start by cutting your pineapple in half lengthwise. Use a sharp knife to cut into and around the edge, about 1/2 inch from the peel. Cut out the core and toss it.
Cut the remaining pineapple into squares. Using a spoon scoop out the pineapple pieces.
Mix the mango, avocado, red onion, cilantro, lime juice, 1/4 teaspoon salt, and chili powder in a separate medium bowl and set aside.
Prepare the Pineapple Rice:
Mix the coconut milk, water, and salt in a small saucepan. Over medium-high heat, bring the mix to a boil.
Once the coconut milk is boiling, stir in the rinsed rice and lower the heat. Cover the pot and let it cook on low heat for 10-15 minutes or until the rice is soft and all the coconut milk is absorbed.
Add the pieces of pineapple and the crushed red pepper. Let the rice sit for a few minutes so the flavors can meld. Use a fork to fluff the rice before you serve it.
Assemble the Pineapple Bowls:
Place the pineapple halves on a serving platter. Separate the rice mixture between the pineapple halves and top each with the air-fryer salmon bites and salsa.
Video Recipe
Have you enjoyed our Air-Fryer Salmon Bites in a Pineapple Bowl recipe? Why not have your beautiful Pinterest board join the party? Give the picture below a swift pin. It's not just a recipe; it's also a conversation starter!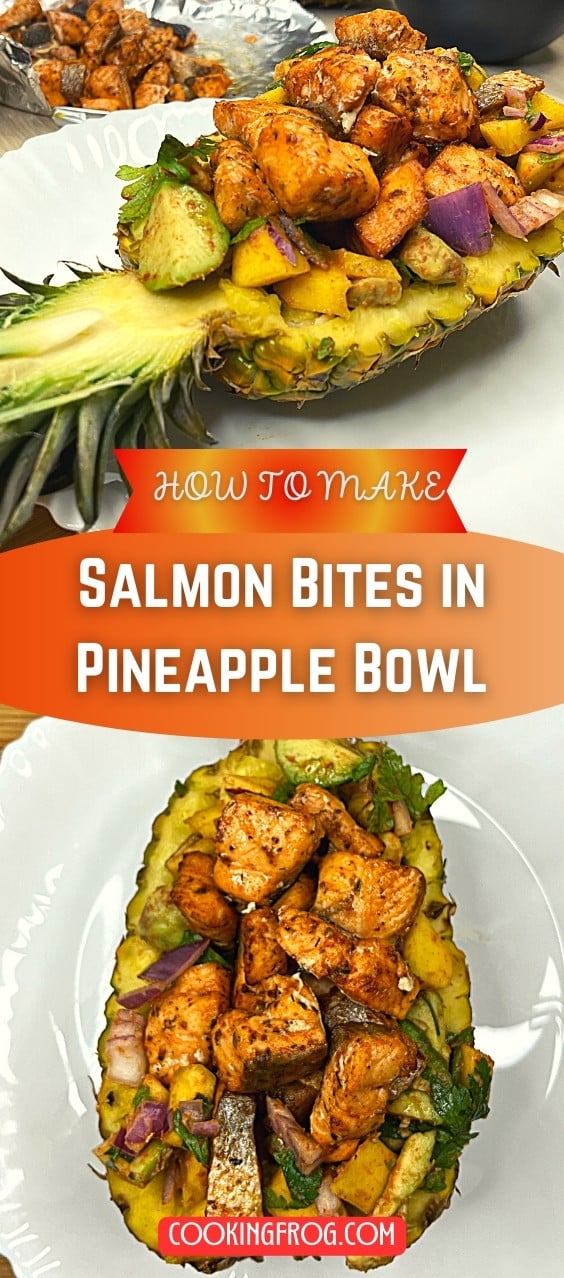 Tips & Recipe Variations
Choosing the Proper Pineapple: When selecting a pineapple, look for one that is heavy for its dimensions and has a sweet, fragrant smell at the base. The leaves should be green and look fresh. This will ensure you have a ripe and sweet pineapple for your dish.
Air-Fryer Cooking: Don't overcrowd the basket when cooking salmon bites in an air fryer. Salmon pieces should be in a single layer to ensure that they cook evenly.
Serve Right Away: For the best flavor and texture, serve the dish immediately after assembling it. The heat of the salmon and rice against the cool, fresh salsa makes a comforting contrast.
Level of spiciness: If you want more heat, add more cayenne pepper to the salmon seasoning or diced jalapenos to the salsa.
Extra Toppings: You can add more toppings to your pineapple bowls if you want to. The dish could be made more interesting by adding some shredded coconut, chopped nuts, or even a drizzle of tangy yogurt sauce.
Grilled Pineapple Bowls: You could lightly grill the pineapple bowls before filling them to give them a little extra flavor. This will give the dish a nice smoky taste.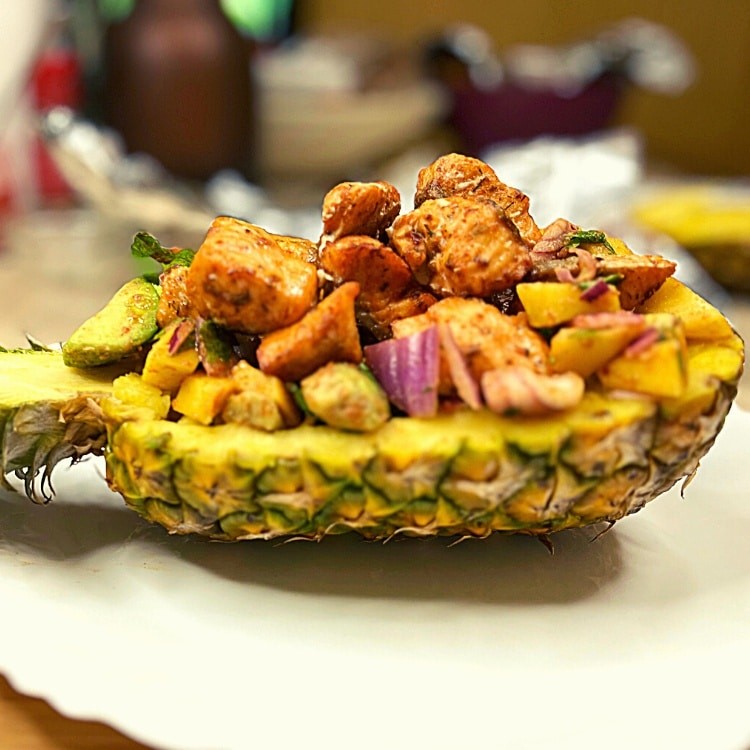 FAQs
Can I make this recipe with a different kind of fish?
Yes, you can use other kinds of fish like Hawaiian Mahi-Mahi, cod, tuna, shrimp, halibut, or tilapia instead of salmon. Just make sure to change the cooking time in the air fryer because different types of fish may need different cooking times.
What if I don't have an air fryer?
You can bake your salmon bites in the oven if you don't have an air fryer. Set your oven to 400F (200C), put the salmon bites on a baking sheet, and bake for about 10-15 minutes, or until your salmon is cooked through.
Can I use pineapple from a can instead of fresh pineapple?
For the best taste and presentation, use fresh pineapple, primarily since it serves as a bowl. But if you can't find fresh pineapple, you can make the salsa with canned pineapple and serve the dish in regular bowls.
What can I do with the pineapple leftovers?
Pineapple can be used in a lot of different ways. You can put it in smoothies, fruit salads, or even grill it for a sweet and smoky dessert.