So, you are familiar with Arby's chicken salad? Precisely, the one with red pecans and grapes. You can now make it just as good right in your kitchen. Imagine this: juicy chicken, fresh veggies, and sweet red grapes all blended together.
After that, you add pecans for that additional crunch. Top it off with a creamy dressing, and that's it! You've got yourself an out-of-this-world chicken salad. It's perfect for lunch or even a light dinner. Trust me, once you try this, you'll always make it, just like this mega-popular Chick-Fil-A chicken salad. And while we're at mega-popular, you might want to check Arby's Bronco berry sauce and Arby's beef and cheddar sandwich!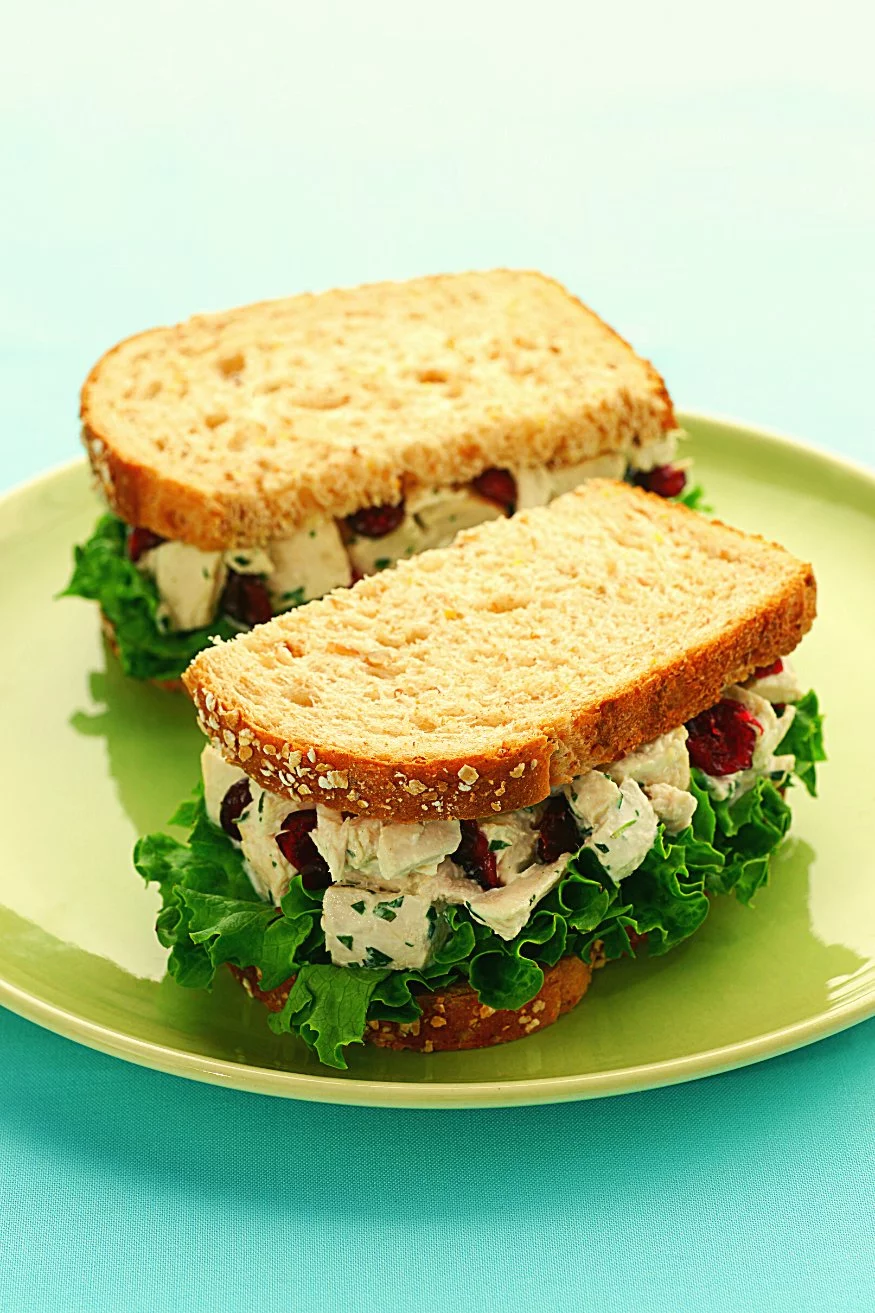 Arby's Chicken Salad Sandwich
Arby's chicken salad is an amazing concoction of diced chicken, celery, apples, red grapes, and pecans, all combined in a creamy mayonnaise dressing. And the best part? It's served on a bed of fresh green leaf lettuce and sandwiched between slices of toasted honey wheat bread. It's like a summer picnic in a delicious sandwich!
Although it's available on Arby's menu, here's the thing: Arby's chicken salad sandwich is like a summer fling. It's a seasonal item that's only offered during the sunny months of the year. So, if you're craving it in the middle of winter, you're out of luck.
But don't fret; I've got you covered. With this homemade recipe, you can whip up your copycat version of Arby's chicken salad sandwich anytime you like. It's like having summer on a plate all year round!
Arby's Chicken Salad Ingredients
Cooked Chicken: This isn't just any chicken; it's the heart and soul of our chicken salad. It's the protein-packed hero that makes this salad a satisfying meal. I go for poached chicken, but you can also use leftovers, freshly roasted, or store-bought rotisserie; it's all great.
Pecans: These aren't just nuts; they're little crunch bombs that burst with flavor. They bring out a nutty delight to the salad that's difficult to resist.
Mayonnaise: Mayo is the adhesive that keeps this salad together. It wraps everything in a creamy, tangy blanket that's just so comforting.
Lemon Juice: It's a zesty wake-up buzz for all the ingredients in the salad. It cuts through the richness and makes the ingredients taste fresher.
Salt + Pepper: They're the magical dust that improves all the other flavors. A sprinkle of each, and the salad taste amazing.
Green Lettuce: It's the fresh, crispy base that our chicken salad sits on. It provides a refreshing crunch and a contrast of color to this chicken sandwich.
Apple: Apple is a sweet and slightly tart addition to this salad. It's a traditional ingredient that never dissatisfies.
Red Grapes: Grapes are sweet little gems that burst with juiciness. They also add a lovely sweetness that offsets the savory chicken and tangy mayo.
Celery: Celery is a crunch star. It also brings out an earthy counterbalance to the sweetness of the grapes and apples.
Bread: And last but not least, the bread. But not just any bread; it's toasted honey wheat bread. It's the golden, crunchy cover to our tasty story, adding a touch of sweetness and a whole lot of texture. It's the ideal component for our chicken salad to shine.
The Best Chicken for Arby's Chicken Salad Sandwich
When making this Arby's-inspired sandwich, it's worth noting that the authentic recipe champions poached chicken breasts. It's a process that ensures tenderness and taste. Personally, I'm a fan of cubing the chicken for that even distribution in every bite. But shredding is a great way to go if you're feeling adventurous: your kitchen and culinary rules.
Poached Chicken: Poaching is like a soft bath for your chicken. It's a serene method that provides your meat with tenderness and juiciness. And if you're scratching your head on how to do it, you can check in this Chicken Salad recipe.
Rotisserie Chicken: It's fast, delicious, and ready to be cubed or shredded. A sizable rotisserie chicken will give you around 4 cups, more than you're aiming for.
Grilled Chicken: Had a BBQ chicken or oven-roast this summer? Leftovers are out of this world here. Dice 'em, shred 'em, and it's a premium flavor key if they've got that crispy golden skin.
Smoked Chicken: Ever tried smoked chicken? Sure you have. It adds a lovely, woody undertone to your chicken salad, offering a unique twist.
Air-Fried Chicken: If you're into the air fryer craze, this crispy, more beneficial option will add a comforting crunch to your salad.
Slow-Cooked Chicken: Let your chicken simmer and soak up flavors over hours. The outcome? Chicken is so tender and juicy that it virtually melts in your mouth.
Leftover Chicken: That chicken from last night's dinner? Whether from a previous BBQ, a family dinner, or a takeout chicken, it's primed to be the star in this salad.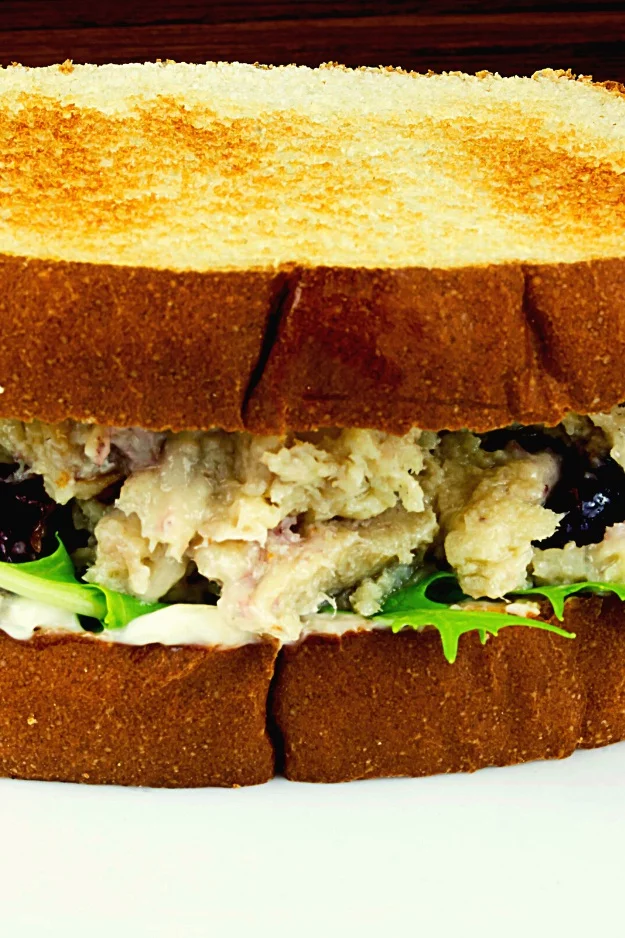 Arby's Chicken Salad Sandwich Recipe
This recipe for Arby's chicken salad sandwich combines juicy chicken, crunchy pecans, and fresh grapes in a delightful mix. It's a homemade twist on a beloved classic, perfect for a snack or a simple dinner.
Ingredients
1 cup of diced red apple
1 Tbsp of lemon juice (or juice from one small lemon)
3 1/2 cups poached chicken breast, cubed
1 cup of grapes
1 cup of chopped celery
1 cup of chopped pecans
1 cup of mayonnaise
salt and pepper to your liking
lettuce leaves
16 pieces of thick-sliced honey wheat bread
Instructions
Prepping Your Chicken:
Start with your cooked chicken. You can either slice it into neat 1/2-inch cubes or pull it apart using two forks if you're feeling a bit adventurous.
Mixing the Main Ingredients:
Toss your diced chicken, apple chunks, grapes, sliced celery, and crunchy pecans in a big salad bowl. Give it a gentle mix to combine nicely.
Dressing Time:
In a separate bowl, make the dressing by combining the mayonnaise, a splash of lemon juice, and a pinch of salt and pepper. Once it's smooth, pour it over your chicken and fruit mixture. Mix slowly, ensuring every component gets a taste of that creamy excellence.
Patience Pays (Optional):
Sure, you can eat it now, but the flavors blend beautifully if you let it sit for a while. Seal your salad bowl with cling film and let it refrigerate. Give it 30 minutes to an hour, or if you can resist, let it marinate overnight.
Building Your Sandwich:
Toast your honey wheat bread to a golden crisp. Lay down a fresh green leaf lettuce, pile it on your chicken salad, and top it with another slice of bread. Alternatively, this salad glows in lettuce cups, wrapped in a tortilla, or arranged over fresh greens.
Final Touch:
Relish your Arby's chicken salad sandwich right away. The salad mix can be prepped a day in advance if you're making it ahead. Just a pro-tip: assemble those sandwiches before serving to keep that bread crispy and fresh. Enjoy!
Have you enjoyed this Arby's chicken salad? Why not give that image below a whirl and smash it onto your Pinterest board? Because great food deserves a good share, right?