Are you tired of making the same boring sandwiches again and again? Don't worry. Today we are going to share the German stuffed Bierocks recipe. This particular recipe will teach you how to make Bierocks from scratch, so they'll be more delicious than any store-bought ones you could buy!
By making this delicious Bierocks recipe, you'll never have to worry about serving boring sandwiches again. 🙂
Bierocks are a staple in the cuisines of certain European countries, especially Germany and Russia. And while many people know about them, most don't know how to make them authentically.
No worries, I'm an expert in German recipes; you can check out my German Bratwurst and German Goeta Recipes. These are very popular here on Cooking Frog, and hopefully, this German Bierocks Recipe will be as well.
What are Bierocks?
Bierocks are delicious German pastry pocket sandwiches made with flour, water, yeast, and a variety of savories. They're often filled with ground beef and have a crunchy, flaky outside and a fluffy, soft inside.
Bierocks were brought to the US by German/Russian immigrants somewhere around the 1870s. In the US, they are called "Kraut Bierocks"
They are very easy to bake and can be filled with all sorts of savories. They're a common dish at social gatherings.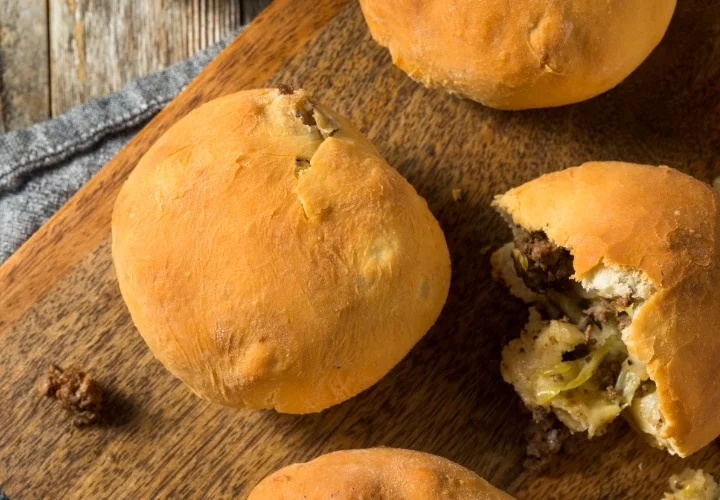 German Bierocks Recipe
Ingredients
Ingredients For Bierocks Dough
¼ cup sugar
1 cup lukewarm milk
4 cups all-purpose flour (unbleached)
2 ½ tsp dry yeast
2 tbsp melted butter (salted)
¾ tsp salt
1 egg (at room temperature and beaten)
For Filling
½ large onion (diced)
½ lb ground beef
¼ tsp salt
3 cups shredded cabbage
¼ tsp black pepper (ground)
1 tbsp milk
Instructions
Bierocks Dough Recipe
Mixing the Ingredients:

In a large bowl, combine sugar and milk, stirring until the sugar dissolves.
Add yeast to this mixture and let it sit for 7-10 minutes, until it starts to foam. This indicates the yeast is active.

Preparing the Dough:

Whisk the yeast mixture and add half of the flour, an egg, melted butter, and salt. Stir until well combined.
Gradually add the remaining flour, and knead the mixture for 10-12 minutes. The goal is a smooth, soft dough.

Letting the Dough Rise:

Place the dough back in the bowl. Cover it with a damp towel or plastic wrap to prevent drying.
Let the dough rise for about an hour in a warm spot. It should double in size. During this waiting period, you can prepare the filling.
Preparing the Filling
Cooking the Meat:

In a large non-stick pan, cook the meat over medium-high heat for 5-7 minutes until it browns.
Drain any excess grease.

Adding Cabbage:

Mix in the cabbage with the meat, cooking for another 8-10 minutes. The cabbage should become tender.

Seasoning:

Turn off the heat and season the mixture with salt and pepper to taste.
Assembling and Baking the Bierocks
Preparation:

Preheat your oven to 375°F (190°C).
Grease a baking sheet to prevent sticking.

Shaping the Bierocks:

Roll out the risen dough on a clean surface and divide it into 8 equal portions.
Flatten each piece into a circle (about 4-5 inches in diameter).
Place 2-3 tablespoons of the filling in the center of each circle.

Sealing the Bierocks:

Carefully bring the edges of the dough over the filling, pinching them together to seal. This will create a stuffed pocket.

Baking:

Place the sealed bierocks on the greased baking sheet.
Brush the tops with milk for a golden finish.
Bake in the preheated oven for 25-30 minutes, or until golden brown.

Cooling:

After baking, remove the bierocks and let them cool on a wire rack.
Spread the love for cooking! Pin this delightful Bierocks recipe to your Pinterest board and share the joy of homemade goodness with your followers. Let's make this recipe a staple in kitchens everywhere!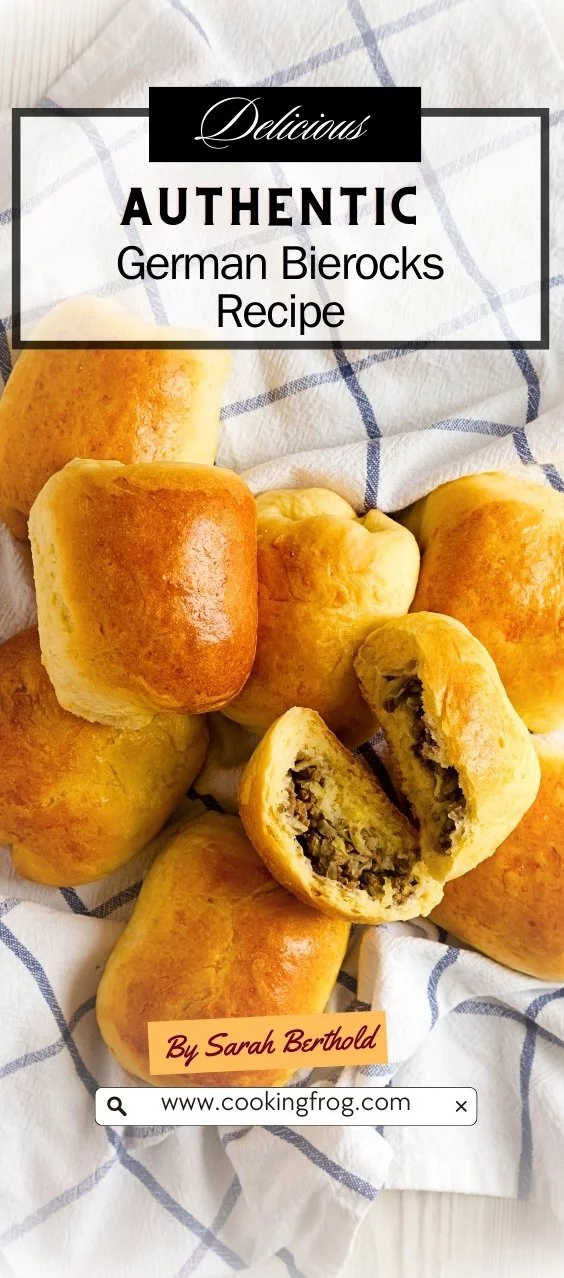 What is the difference between bierocks and runzas?
Are bierocks the same as runzas? The differences between bierocks and runzas are quite small. In fact, most people consider them to be pretty much the same.
The main difference between bierocks and runzas comes from where the dish is from. In the case of bierocks, from Germany.
And in the case of runzas, the dish is from Nebraska. The 2nd difference between them is the shape. Bierocks are round. On the other hand, Runzas are rectangular.
Are bierocks the same as pierogies?
Bierocks are equally delicious as pierogies or varenyky, but they are not the same. You can check our recipe for Polish Cabbage pierogies.
Bierocks are made with yeast dough. On the other hand, pierogies are made with unleavened dough, and they resemble dumplings more.
How do you store and reheat Bierocks?
Bierocks can be stored in the refrigerator for up to 3 days. You can even freeze them after baking. Take out the frozen Bierocks from the freezer 4-5 hours before eating and warm them in the oven for 8-10 minutes.
If you notice they start to brown too quickly, simply wrap them in the foil. We will not recommend microwaving the frozen Bierocks because they will get soggy.
Can I make Bierocks with the frozen rolls?
Traditionally, Bierocks are made with homemade soft yeast roll dough. In this recipe, we have shared a full tutorial on how to make Bierocks dough from scratch.
But you can make Bierocks from the frozen yeast roll. Some people also make them with store-bought biscuit dough. Also, don't forget to thaw the roll before adding the fillings.
Can I make Bierocks with Pizza Dough?
Yes. Although I suggest you go for Chicago deep-dish pizza style because thin-crust doesn't go well with Bierocks.
You can even experiment a bit by adding mozzarella to your Pizza Bierocks recipe; it has a mild taste so that it won't interfere with Bierock's amazing flavors.
What can you serve with Bierocks?
You can serve onion rings, crinkle fries, German potato salad, peas and carrots, side salad, and Kroketten. Also, don't forget to serve a glass of German beer with these delicious stuffed buns.
Follow these steps and you can confidently try to make delicious Bierocks.
They're easy to make and taste great as an appetizer or as a main dish when served with your favorite dipping sauce. So, let's make these amazing Bierocks together!
Tips & Tricks for Bierocks Recipe
The dough should be tacky, but it should not stick to the surface or to the hand.
You can include ground sausage, horseradish, and shredded cheese in your filling.
Some parts of the meat should be with fat, which, when frying, will soften the meat fibers and prevent the cutlets from being dry and hard.
You can substitute the shredded cabbage for sauerkraut in these bierocks.
Serve with mustard as a dipping sauce.
For the perfect results, leave filled bierocks at room temperature and bake when they are double in size.
Nutrition
311 calories
protein 9.7g
carbohydrates 39g
fat 11g
cholesterol 31mg
sodium 412mg
Conclusion
We hope this blog post has helped you learn how to make the perfect bierocks! So what are you waiting for? Get out there and start making your own bierocks!
If you follow these guidelines, you should have delicious homemade bierocks every time! Enjoy!