Honey Mustard Baked Salmon is an awesome and healthy dish that is really easy to make. They say you should eat fish at least twice a week. Salmon is certainly one of those nights in our house. I also love that it's so quick and simple to make. Whatever flavor you wish, you'll cook a salmon entree in twenty minutes, no problem. Yes, I'm in for it!
Here I've gone with an easy honey-mustard coating. I use a mixture of Dijon and coarse-grain mustard cause I like the taste and texture that it adds. If you don't keep coarse-grain mustard in your kitchen, you'll go with all Dijon mustard.
All you do is stir the honey and mustard, spread it over your salmon, top it with a touch of butter for additional flavor and richness, and toss it in the oven.
I additionally highly suggest shopping for wild-caught salmon. It's got a lot of flavors and more nutrients; a win-win if you ask me!
Also, check my complete guide on cooking temperature for salmon.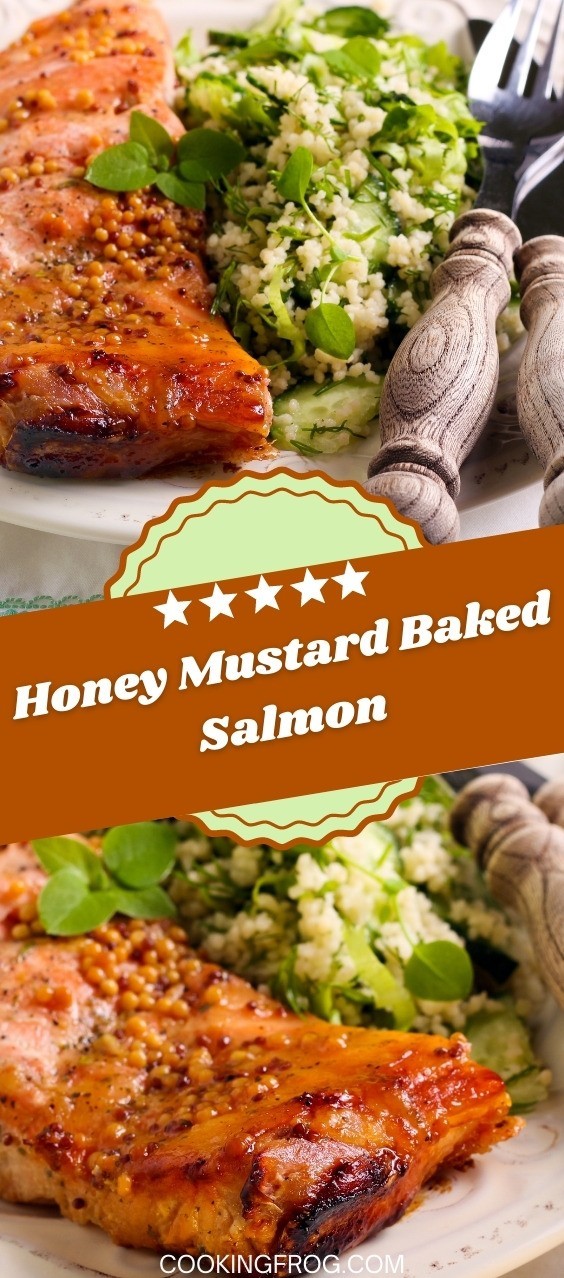 Ingredients
26 oz. Salmon fillets (I highly suggest wild salmon)
A teaspoon of coarse mustard
A teaspoon of Dijon mustard
2 teaspoons of honey
salt and pepper
Small pat of butter
How to make Honey Mustard Baked Salmon?
Preheat oven to 400F degrees.
Line a baking dish with tin foil. Spray with olive oil cooking spray.
Mix coarse mustard, Dijon mustard, and honey in a smaller bowl. Set aside.
Rinse and dry salmon. Place salmon in the previously prepared baking dish—season with salt and pepper.
Brush mustard mixture onto salmon – really put it on. Top every salmon filet with a tiny pat of butter. Or, if you're feeling indulgent, top it with a pair of pats of butter.
Roast at 400 F for 13-18 minutes or until virtually baked through. Cooking time can vary regarding the thickness of your fillets. Let salmon rest for five minutes before serving. (It can continue cooking; thus, take it out some minutes before your required degree of doneness.)
Nutrition
Serving Size
Amount Per Serving
As Served
Calories 389kcal Calories from fat 219
% Daily Value
Total Fat 24g
Saturated Fat 6g
Cholesterol 96mg
Carbohydrate 7g
Dietary Fiber 0g
Sugars 6g
Protein 35g