Korean Hot Dogs is a battered and breaded hot dog that is deep-fried in oil in the Korean manner. Tasty, creamy, and crispy, it's a favorite Korean street meal.
Korean Hot Dogs: What Are They?
In Korea, the Korean Hot Dogs, or Korean Corn Dogs are commonly called gamja-hotdog (감자핫도그), is one of the most famous street foods. It might not be as nutritionally balanced as other traditional Korean dishes, but it tastes fantastic.
These corn dogs are a popular street snack in Korea. Deep-fried hot dogs are battered and deep-fried. They're then delicately dusted with sugar before being topped with your favorite sauces.
Amazingly, the sweet and salty mix works. There are also a few varieties, such as a mozzarella dog that is solely packed with cheese (which is particularly popular on the internet) and others that are encased in potatoes or ramen noodles.
Korean Hot Dog vs. Hot dog in the United States
There are four characteristics that distinguish this street cuisine from its conventional American cousin. Sausages aren't the only thing that can be filled.
Cheese, fish hot dogs, squid, spam, Korean rice cakes, or a combination of these ingredients can be utilized. There is no cornmeal in the batter. Instead, it's covered with panko breadcrumbs to give it a crunchier texture.
You may also use French fries, cornflakes, or ramen. It is covered with a coat of sugar after it has been fried to a golden brown. Also, you can make a vegan version of Korean Corn Dog.
Some nations, like the United States, have their own version of the corn dog, but I tend to prefer the Korean recipe. It features more crunch, mozzarella cheese, and a more excellent appearance than a typical corn dog.
What's on the inside of them?
Sausage, mozzarella cheese, or a mix of the two are used to make Korean corn dogs. This is skewered and then dipped in a layer of toppings before being covered in a sweet flour coating.
Panko breadcrumbs, french fries, cornflakes, and even ramen noodles are popular toppings. After being cooked, the corn dog is wrapped in sugar and dipped in ketchup and mayonnaise!
Is Yeast Required in the Batter?
No. Although I did find a few recipes that called for yeast, and I suspect some of the vendors selling these hot dogs do, I was able to get almost identical results without it. Incorporating yeast into the dough aids in creating an elastic batter, but it also adds to the time it takes to proof and let the dough rise.
Today's dish is a quick and easy batter that takes around 5 minutes to prepare. It resembles pancake batter, but it's heavier and stickier. The batter must be thick and sticky in order for it to stay on the hot dogs and not drop off.
Share the image below to your Pinterest board if you like these Korean Hot Dogs!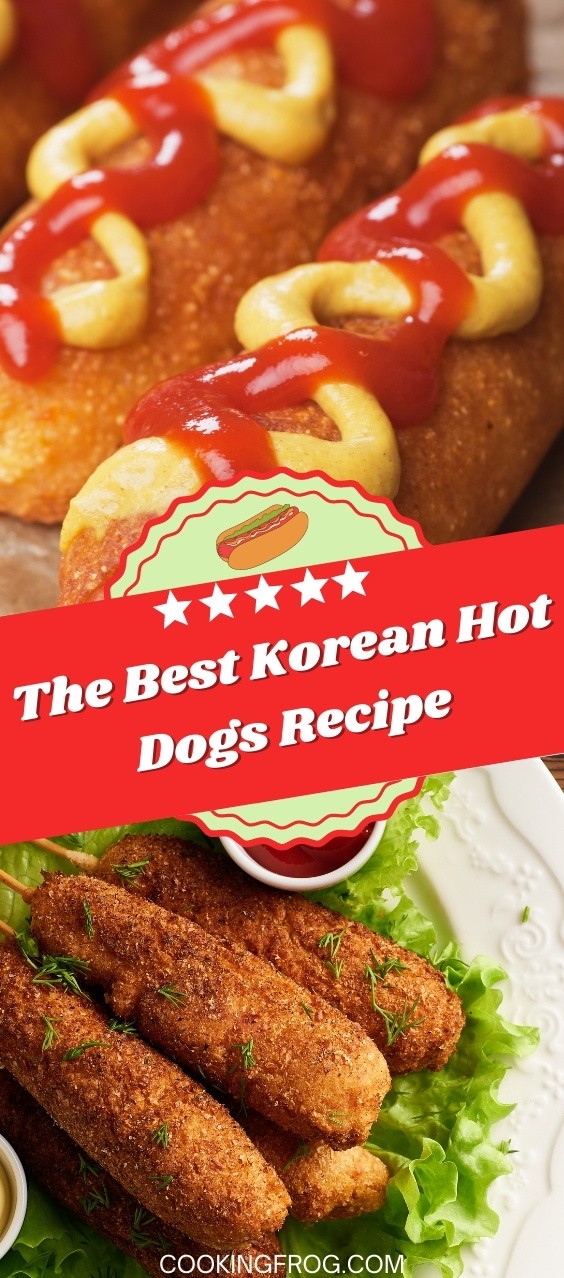 List of Ingredients
The Filling
10 skewers (you can use wooden chopsticks instead)
9 Oz of shredded mozzarella or mozzarella sticks
4 hot dogs
The Batter Mix
½ teaspoon baking powder
2 tablespoon sugar
1¼ cup all-purpose flour
1 egg
3.5 Oz of ml milk
The Toppings
1 cup frozen bag of fries (cubed) or 1 diced potato
1 cup panko breadcrumbs
Directions
Prep
Sausage and mozzarella cheese should be cut into half inches wide pieces. Scatter the panko breadcrumbs and cut fries on opposing sides of a baking dish or plate.
Technique
Using skewers, assemble the sausages and mozzarella cheese sticks. You can create mozzarella corn dogs without the sausage using only the cheese.
In a mixing dish, combine the dry ingredients and gradually add the milk and egg. If your batter is too thick, add 20 ml of milk at a time. A thick, sticky viscosity is desired.
The batter should be able to adhere to the sticks and not simply drop off.
Fill a glass halfway with the mixture. Immerse your skewer into the heavy batter in the glass. Remove any excess and wrap in panko breadcrumbs or cut fries before serving. A blend of the two might also work nicely.
To keep the breadcrumbs or cut fries on the skewers, press down on them carefully. Deep-fry for 3-5 minutes at 160-170 degrees. To control and maintain the temperature of the oil, only cook 2-3 skewers at a time.
Allow to cool completely before dusting with sugar and serving with condiments.
Suggestions
Chef's tip: Refrigerate the cheese until you're ready to deep fry it, so it keeps its form. Maintain a steady oil temperature so that things cook evenly and don't absorb too much oil. Or else, you'll wind up with an undercooked inside. To get a taste of everything at once, divide the stuffing into smaller portions.
Conclusion
I hope you've enjoyed this Korean Hot Dogs. Yes, they are a bit unhealthy, but we gotta give ourselves a break occasionally. Leave your opinion, or if you have any suggestions about this Hot Dog recipe down in the comments section. Thank you!