Have you ever wanted a fast and easy-to-make snack that is crunchy and savory? Look no further than corn nuggets you make yourself. These tasty little nuggets have a crispy outside and a moist, flavorful inside that will make your taste buds dance happily.
And what's best? You can make a batch of these tasty bites in less than five minutes. Yes, you don't have to wait in long lines or buy bland food from the store. With just a few simple ingredients and a little bit of expertise, you can make a delicious treat that will satisfy any craving.
What are Corn Nuggets?
These tasty treats are a spin-off of corn fritters, which are a popular snack in South America. Even though sweet corn is the main ingredient in both, corn nuggets add a whole new level of flavor.
Unlike thin, flat fritters, corn nuggets are often deep-fried or fried until the outside is crispy and has a lot of flavors. And what's best? They come in many different flavors, from spicy to sweet and spicy, to fulfill any craving.
So, corn nuggets are a great choice whether you want a quick snack or something new to put on a party platter. Try them for yourself, and get ready to be hooked on how good they taste.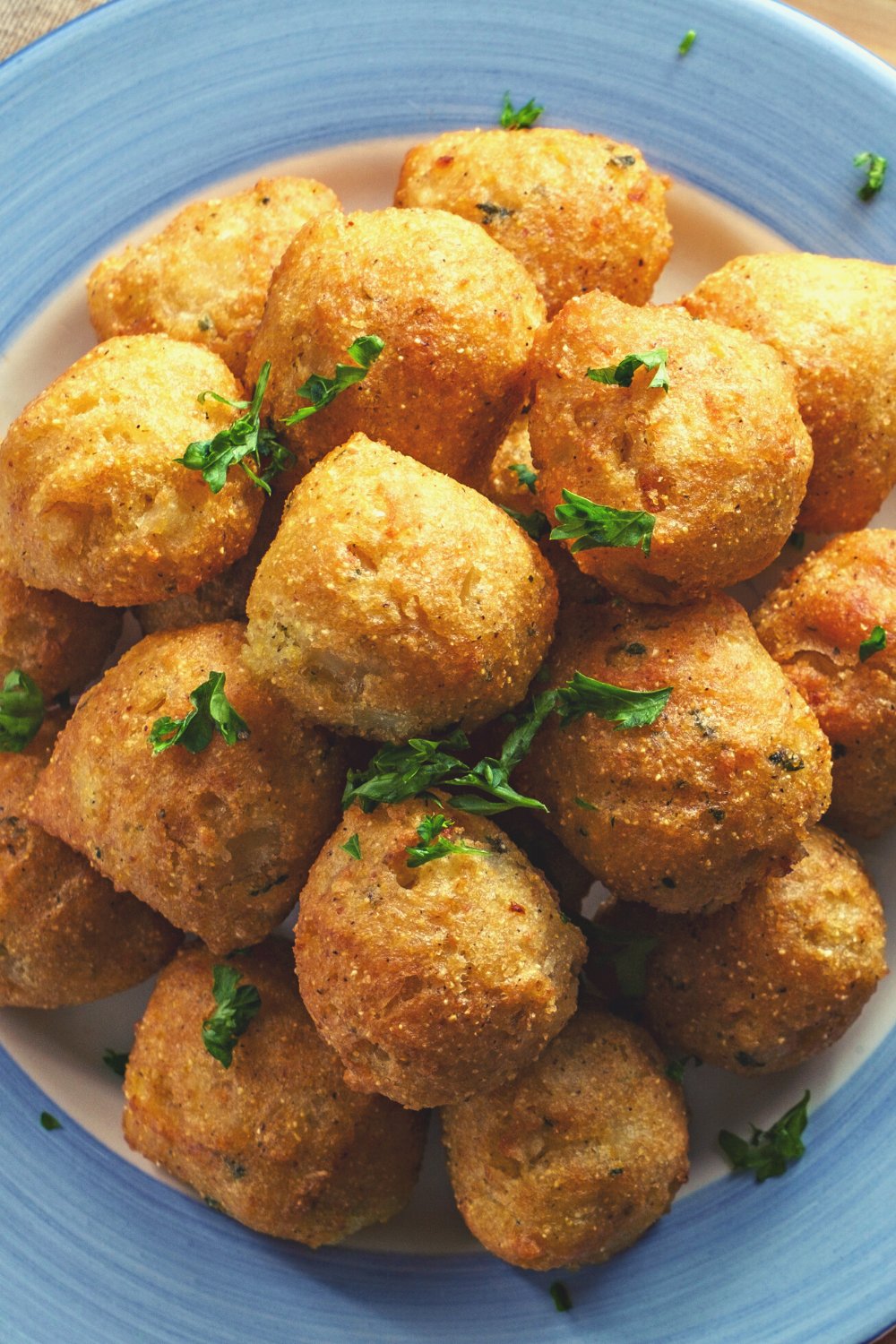 Ingredients you'll need
You won't want to miss this recipe for corn nuggets if you're looking for a tasty snack that's easy to make and only needs a few simple ingredients. Also, you probably already have most of the ingredients in your kitchen, but you can easily find them at your local grocery store if you need more.
You'll need the following items to create these irresistible nuggets:
Oil: Choose an oil with a high smoke point, like peanut oil or vegetable oil, to fry your corn nuggets. This will make sure that your corn nuggets are crispy and brown.
Flour: You can use either white flour or whole wheat flour for the flour, whichever you prefer. White flour will make your nuggets lighter and fluffier, while whole wheat flour will give them a heartier, nuttier taste.
Egg: The egg acts as a binder, holding all the other ingredients together and ensuring that your nuggets stay together while you fry them.
Milk: Milk makes the batter a little bit creamier and helps to balance the flavors.
Baking powder: Baking powder is a key ingredient that makes your nuggets rise and feel soft and fluffy.
Shortening: Shortening is the way to go if you want to deep-fry your nuggets. It has a high smoke point, more than margarine or butter, which makes it great for frying at high temperatures.
Sweet corn: Last but certainly not least, sweet corn is the recipe's star. You can use either canned or fresh sweet corn to give your nuggets a sweet, juicy flavor that will make your taste buds start dancing.
How to Make Corn Nuggets (Step-By-Step)
Step 1: Heat the oil
The first step in making tasty corn nuggets is to prepare the oil. You can do this in a pan or in a deep fryer. Oil should be heated to 365 F or 185 C.
Step 2: Mix the batter
While the oil is getting hot, get the batter ready. Mix the flour, baking powder, salt, and sugar in a small bowl. In a different bowl, whisk together an egg, milk, and melted shortening until the mixture is smooth. Mix the corn into your flour mixture after adding the egg mixture. Mix the ingredients well.
Step 3: Cook The Nuggets
Drop spoonfuls of your batter into the hot oil with a spoon. The nuggets should be cooked until they are golden brown. To cook both sides, flip them over.
Step 4: Strain and serve
Once your corn nuggets are done, take them out of the oil with a slotted spoon. Put them on paper towels to get rid of any extra oil. After that, your corn nuggets are ready to eat.
Step 5: Enjoy!
Now that you've made your yummy corn nuggets, it's time to sit back, relax, and eat them. Whether you are hosting a party, a family dinner, or simply a snack, these delicious little nuggets are certain to please.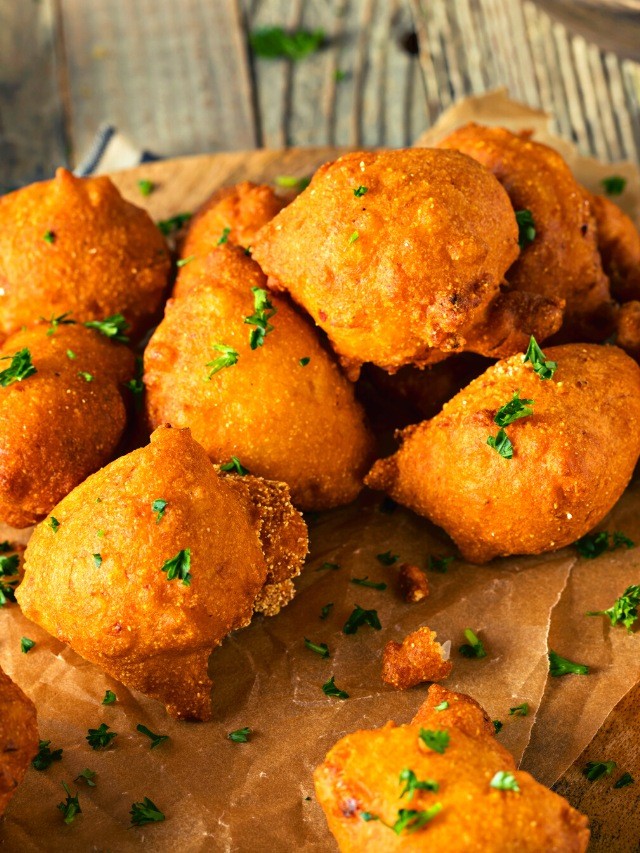 How long do you deep-fry corn nuggets?
To get the right texture when cooking corn nuggets, it's important to time things just right. In this case, you should cook it at high heat for 10 to 12 minutes and flip it over halfway through (around 7-8 minutes).
The reason for this particular cooking time is that it lets the nuggets cook all the way through and evenly and also gives them that crispy, golden brown outside that we all love. If you cook the nuggets for too long, they might get dry and overcooked. If you cook them for too little time, they might be soggy or mushy.
By sticking to the recommended cooking time and temperature, your nuggets will be the perfect mix of crispy and juicy, making them a hit with everyone who tries one.
Storing & Reheating
If you can't get enough of the crunchy outside and juicy inside of these tasty snacks, you need to know the best way to store them so they stay juicy and tasty. Here are some insider tips on how to store corn nuggets.
Storing corn nuggets in the fridge
Once you're done enjoying your corn nuggets, be sure to put them in a container that won't let air in and place them in the fridge. That will keep them fresh for up to 3 days. Remember that freshness is the key to keeping your favorite snack's taste and texture.
Storing corn nuggets in the freezer
Now, don't worry if you have some leftovers that you can't eat in three days. You can still eat them later if you put them in the freezer. Just put them in a zip-top bag and freeze them for up to 3 months. So, you can eat chicken nuggets whenever you want, even if you don't have fresh ones on hand.
Reheating corn nuggets
If you want to reheat your nuggets, be careful about how you do it. You can bring them back to life in the oven, air fryer, or skillet, but you should never put them in the microwave. Trust us, microwaving them will make them limp and mushy, and that's not how corn nuggets are meant to be eaten!
Corn Nuggets Recipe
Are you ready for a detailed recipe for these delicious corn nuggets? I'm not talking about a quick bite off a corn cob. I'm talking about corn nuggets, which are the golden standard of corn dishes. These fried corn balls are like the lovechild of popcorn and hushpuppies, and they're guaranteed to make everyone love them.
Ingredients
1 cup of flour
1 tsp of baking powder
1/2 tsp of salt
1 tsp of sugar
1 egg, large
1/2 cup of milk
1 Tbsp of shortening, melted
12 oz of corn, canned and drained
1 cup of frying oil; use more if required
Instructions
Heat the oil in a pot or fryer to get ready to fry by making sure it is at 365F.
Mix together flour, baking powder, salt, and sugar in a medium bowl. Then, whisk an egg, milk, and shortening together in a separate bowl.
Now comes the fun part: mix the wet and dry ingredients together and fold in the corn.
Place spoonfuls of your delicious nugget batter into the hot oil. Fry them until they are golden brown and crispy (about 2-3 minutes).
Once your corn nuggets look perfect, take them out of the oil and put them on a paper towel to soak up any extra oil.
Voilà! Your corn nuggets are done and ready to eat. Don't wait too long though, because these little bites of heaven are best when they are served right away.
Were those corn nuggets mind-blowing? Well, don't keep that deliciousness to yourself! Share the image below on Pinterest to let everyone know what they're missing out on. Trust me; your friends will thank you forever. Spread the corny joy, and let's make the world a crunchier, happier place!