The Beef Liver Pate recipe is a game-changer for people who don't like the taste of liver. But don't worry; this recipe has a secret spice that changes the taste in a way that even people who don't like beef liver will love.
I know what you are thinking, liver. Ewww! But trust me, I've tried a lot of recipes in my time, and this one takes the cake (or pate, in this case) as my favorite. It's not only delicious, but it's also easy to make.
I was so happy when my kids and even their friends ate it up spoon by spoon. And what was best? You can try different livers from chicken, lamb, goat, elk, and moose. The options are endless.
But let's talk about the beef liver, organ meat which is the star of the show. It comes from cows that eat grass, which means it has more healthy fats and less bad stuff.
Beef liver pate is a decadent treat that will make your taste buds dance. Imagine a spread that is full of cream cheese, fresh herbs, and beef liver that has been sautéed. It would be like a party in your mouth.
But this isn't just any spread; it's a sophisticated appetizer fit for a queen. Spread it on crackers, baguettes, brioche, or toast, and get ready to be amazed.
According to BBC Good Food, liver and liver products such as paté are a hidden treasure trove of nutrients, especially vitamin A in the form of retinol.
This "active" form of vitamin A is not often found in muscle meats, and plant sources must be changed before the body can use them.
So, if you want to get more vitamin A, ditch the chicken breast and give the liver a try.
Whether it's in the form of a creamy paté or a traditional dish, your taste buds and body will thank you for the change.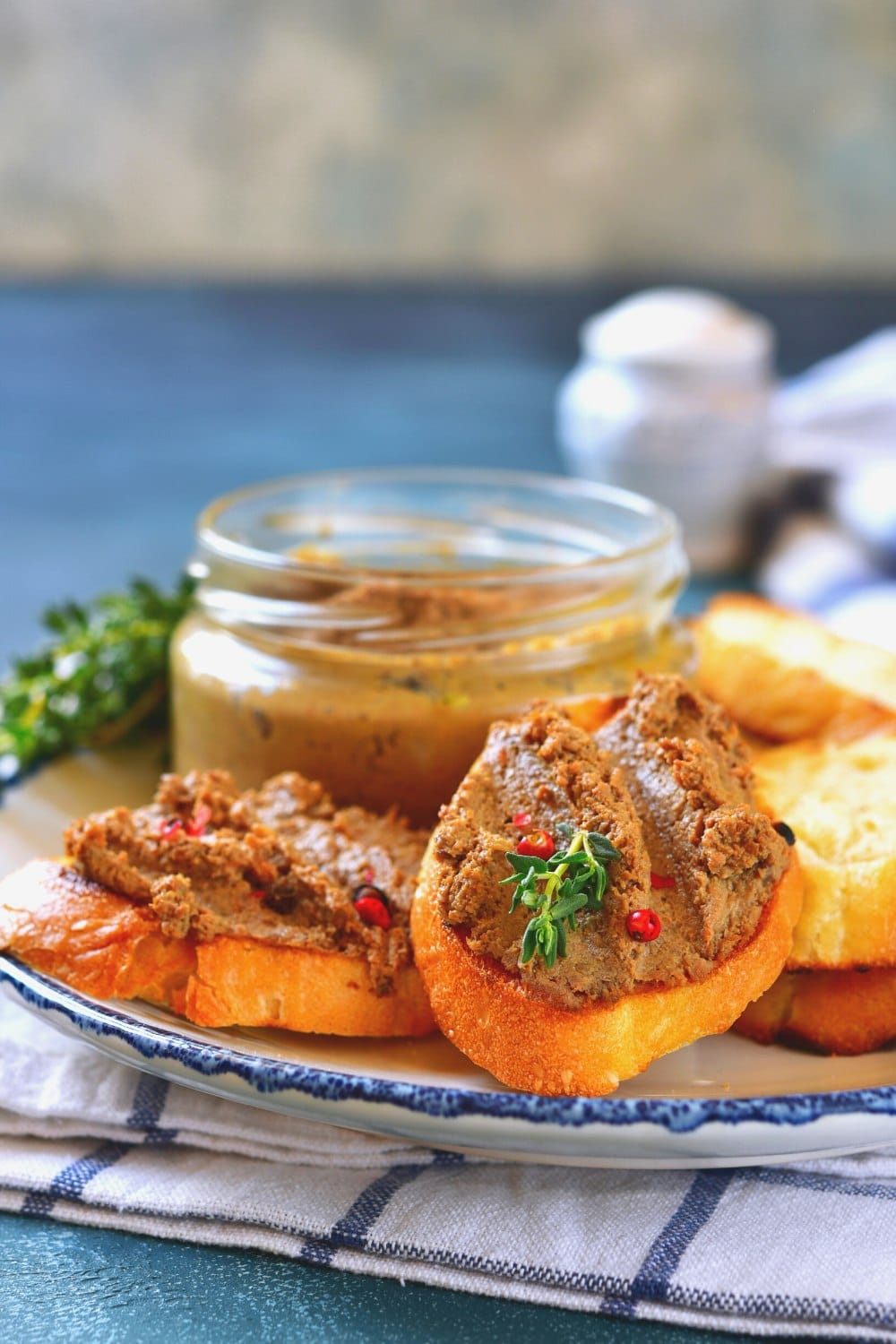 Beef Liver Pate Recipe Secrets
Beef liver pate is a tasty and rich spread that can be used as a dip or spread on crackers or bread. It is one of the main ingredients for this amazing Filipino Beef Caldreta. You'll need a few key things to make the best beef liver pate.
You'll need fat first. Ghee is my favorite because of how sweet it is, but you can also use butter. Coconut oil or lard can be used instead of ghee for people who can't handle it.
Then, you'll need onions. By caramelizing the onions in the fat, their natural sweetness comes out and gives the pate more depth of flavor.
Sage is an important part of this recipe as well. It gives the beef liver a unique, tasty flavor that goes well with it.
Allspice is another important ingredient to add. It is a spice that can be used in many ways and is often thought of as a Christmas or pumpkin spice, like cinnamon and nutmeg. But it can also be used to make savory dishes like pate.
How to store Liver Pate
To keep your paté's delicious flavor, you can store it in the fridge in an airtight container or tightly wrapped in plastic wrap. This way, you'll be able to eat the cold and savory snack within five days without any weird flavors sneaking in.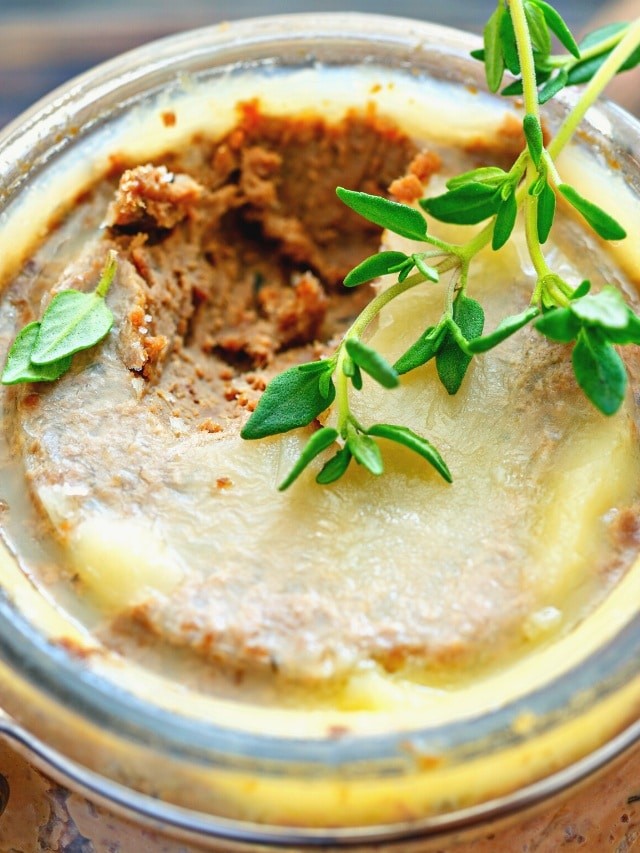 Beef Liver Pate Recipe
Ingredients
1/2 cup plus 2 Tbsp ghee butter or other butter (150 g)
1 large or 2 small onions (200 g)
2 garlic cloves
14 oz beef liver (lamb, chicken, or whatever you prefer) (400 g)
1 tsp of salt
1 1/2 tsp of allspice
2 Tbsp of chopped fresh sage
1/4 tsp of pepper
4 Tbsp of heavy cream (use coconut milk for a dairy-free recipe)
Instructions
Roughly chop an onion and sauté it on low heat in ghee (or any other butter of your choice) until it's caramelized (about 15 minutes)
Slice the liver and remove any white, thin membrane.
Chop the garlic and add with the onions to a food processor.
Once the onions and garlic are blended nicely, take them out of the food processor.
Sauté the liver over medium heat in the remaining fat until it's cooked all the way through.
Let the liver and fat cool for a couple of minutes before adding them to a food processor.
Add in the onion, garlic, salt, allspice, sage, pepper, and heavy cream (or coconut milk for a dairy-free option)
Blend the mixture until it is nice and smooth.
Line a container with plastic wrap, and smooth the paté into the container so it can chill and becomes sliceable.
Optional: Place the paté in a bowl or other container and scoop it out as needed.
You can eat it right away or let it cool and harden to blend the flavors.
Like our beef liver pate recipe? Spread the love by pinning the yummy image on your Pinterest board. Don't keep the delicacy to yourself, share it to your family and friends. Trust me, they'll appreciate it.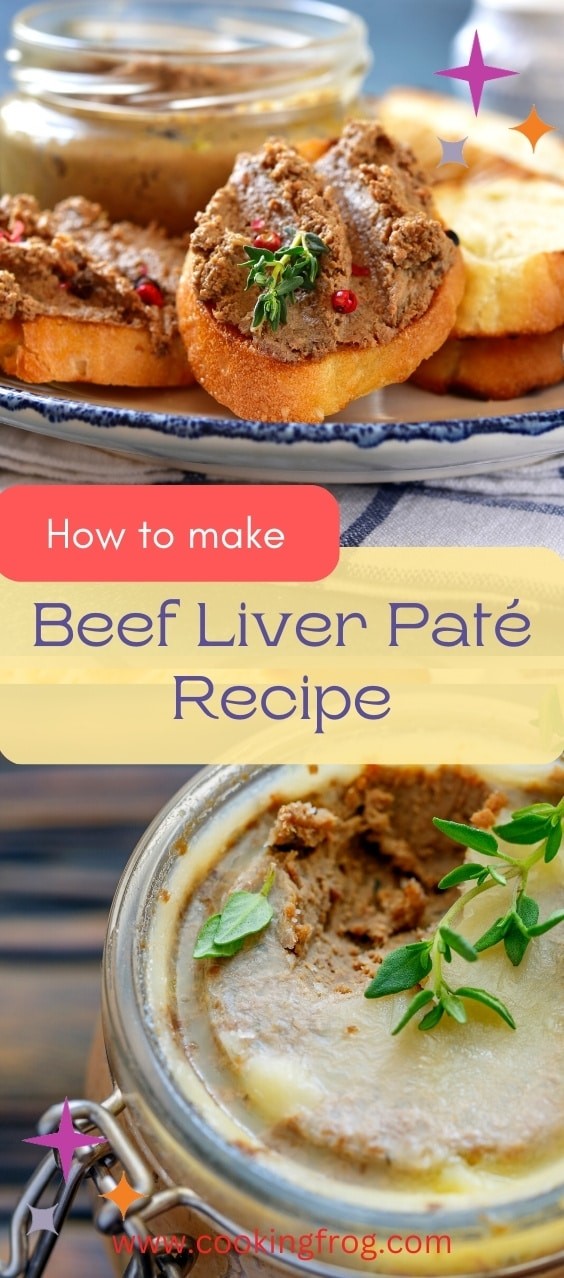 Liver Pate FAQs
Is this Liver Pate Raw?
Liver paté is not raw, despite what most people think. It's been cooked carefully and then skillfully mixed with rich cream, fragrant herbs, and other ingredients to make a velvety texture that's very satisfying. So you can enjoy it without worry, knowing that it was made in a safe way for you to enjoy.
Can you freeze Liver Pate?
Yes. You can keep your homemade pate tasty by putting it in the freezer. To keep freezer burn from happening, pack it tightly in an airtight container or vacuum seal it in a zip-lock bag. Your pate will stay good in the freezer for up to three months. When you're ready to eat it, just put it in the fridge overnight to let it thaw.
Where to buy Beef Liver?
When looking for beef liver in a grocery store, it's important to know that it might not be in the usual fresh meat section. Check the frozen meats section instead, as that is where it is more likely to be. If you want fresh, high-quality beef liver, you can also buy it from local farmers, who often have a wider range of cuts and options.
Nutrition Information for Beef Pate
Per Serving: Calories: 202; Total Fat: 18g; Saturated Fat: 7g; Polyunsaturated Fat: 1g; Monounsaturated Fat: 7g; Cholesterol: 101mg; Sodium: 264mg; Potassium: 173mg; Carbohydrate: 3g; Fiber: 0g; Sugar: 0g; Protein: 10g Nutrition Bonus: Vitamin A: 310%; Iron: 14%