How to Make Chicken Liver Adobo? Perhaps the most famous Filipino dish and Filipino can cook any meat as well as veggies as adobo. If you'd ask any foreigner exactly what Filipino dish they enjoyed, they would mostly say it is Adobo ~ especially speaking about Chicken adobo or the Chicken Pork adobo blend.
Now, here is another version of adobo we enjoy; it is Chicken Liver Adobo. People that aren't using it enough. However, I tell you, as soon as you've attempted this, I bet you'll like it and its yummy taste. And I've read a post that says the chicken liver is stuffed with vitamin A, folate, B12, Iron, and protein. It's amazingly low in fat and has no carbohydrates.
I enjoy this adobo version with a thick sauce. And my picky-eater daughter loves this dish. It's Adobo, recall? So who wouldn't like it?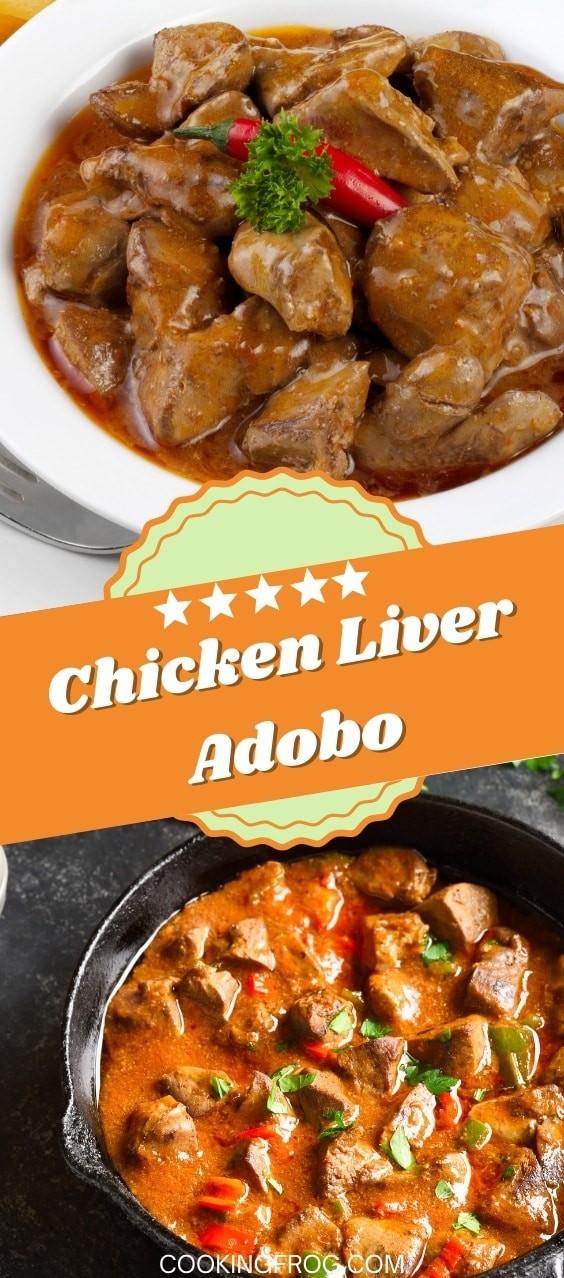 2 tablespoons of Vegetable oil
1 tbsp of annatto seeds
3 pounds Whole chicken thighs, separated into drumsticks
1 tbsp. of kosher salt; add more if you like
4 cups of distilled white vinegar
2 tsp. of whole black peppercorns
3 bay leaves
6 garlic cloves, sliced
1 large yellow onion, halved and cut lengthwise into 1/2-inch-thick pieces
1 lb. of chicken liver, dried and rinsed
How to Make Chicken Liver Adobo Instructions
Prepare the chicken liver by cutting it into small pieces.
In a large Dutch oven, warm the oil and annatto seeds over high heat till the oil is colored a deep red from the seeds, about 4 minutes. Using a slotted spoon, scoop out and discard the seeds.
Add the chicken drumsticks and thighs into the pot along with the vinegar, salt, peppercorns, and bay leaves, and bring to a boil.
Reduce the heat to maintain a constant simmer, and cook, occasionally stirring, until the chicken is cooked through and the liquid is reduced, about 45 minutes.
With tongs, transfer the chicken to a plate and return the pot to heat.
Add in the garlic onion and chicken liver and fry in the fat in the pot, stirring until they turn golden brown and sticky in the sauce, about 15-20 minutes.
Return the chicken to the pot and stir gently until warmed through and coated in the sticky sauce, about 3 minutes more. Remove the adobo chicken from the heat and serve while hot.