Pumpkin Tres Leches Cake! A light-weight and delicious pumpkin spice cake soaked with 3 milks and amaretto, then topped with cinnamon amaretto cream. A deliciously tasty cake that will heat you up on a cool winter night.
Pumpkin Tres Leches Cake
Now for a fast lesson that took me a lot of time to realize: one of the necessary aspects of Tres Leches is that you just cannot use regular cake. Yes it'll still taste nice because cake and decadent milks are good no matter how it's served, but, a really quality Tres Leches is formed with a sponge or chiffon cake that's on the airier/drier side and may absorb all the liquid you're pouring into it while not being mushy.
There's a particular difference on the end results of a Tres Leches created with classic moist cake and sponge cake. Once twenty-four hours of soaking, a regular cake would turn into a mushy one. It became a dessert you'd scoop into a bowl instead of slice it nicely.
The aim is to make a refreshing creamy cake that's nicely balanced between the spongy cake and the moisture from the milks.
Share the image below to your Pinterest board if you like this Spicy Pumpkin Tres Leches Cake!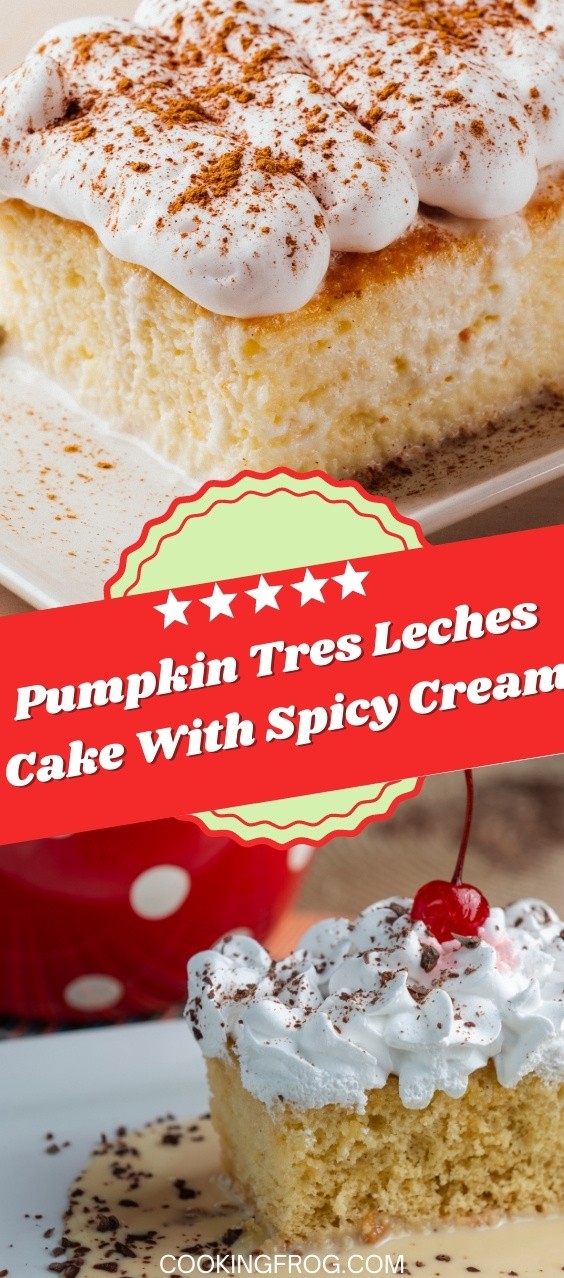 For the Tres Leches Cake:
2 cups of flour, all purpose
2 tsp of baking powder
¼ tsp of salt
2 tsp of baking soda
1 Tbsp of Pumpkin Pie Spice
1 cup of sugar
¾ cup of oil, vegetable
2 tsp of vanilla
2 cups of Pumpkin puree 100%, with removed liquid through cheesecloth
4 whole eggs
12 oz of evaporated milk
14 oz of condensed milk, sweetened
1/3 cup of heavy cream
2/3 cup of Disaronno Amaretto
For the spiced whipped cream:
2 cup of whipping cream, heavy
3 Tbsp of powdered sugar
1 tsp of cinnamon
1 Tbsp of Disaronno Amaretto
How to make Pumpkin Tres Leches Cake With Spicy Cream
Heat the oven to 350 F. Grease a 9×13 in. sheet pan.
Whisk along all of your dry ingredients for the cake in a medium size bowl and set aside.
Use the stand mixer bowl to mix the sugar, vanilla, oil and strained pumpkin puree. Beat in the eggs and do it one at a time, mixing after each addition.
Pour the flour mixture a bit at a time to the wet mixture.
Pour the batter and spread equally onto the previously prepared pan.
Bake till a toothpick comes out clean when you insert it in the center, about 30-35 minutes . Let the cake to cool down for one hour.
Meanwhile, whisk along the 3 milks and Amaretto using a mixing bowl.
Poke the holes everywhere on the surface of the cake using a fork.
Pour it very slowly over the cake, permitting it to seep in. Cover and place in the fridge overnight.
Prepare whipped cream by beating the cream till it begins to thicken nicely. Add in the powdered sugar, amaretto and cinnamon and continue to beat till peaks form.
Spread equally over the cake and sift cinnamon over the top of the cake.
For the spiced cream
Beat the cream, cinnamon, sugar, and vanilla using an electrical mixer with the whisk attachment till peaks form well. spread equally over the cake, slice, and serve.