Are you looking for an easy recipe that is nutritious and tempting cuisine to opt for dinner? I have a fantastic recipe for you. Oven-baked chuck roast, well served with fresh veggies, will be a super tasty treat for your friends and family.
A lump of juicy, tender beef with colorful vegetables will look so tempting that your kids cannot deny having it. So, dear mothers, let's become smart enough to kill your children's appetite with this nutritious yet equally delicious dish.
I know you are already mouthwatering. I've myself tried this irresistible, easy-to-make recipe again and again.
Have a look at these pantry ingredients, wear your apron, and go into making the best oven-baked chuck roast.
Ingredients
Boneless chuck Beef: 2 pounds
A pinch of black pepper
A pinch of salt
Olive oil: 2TBSP
Onion bulb: 1
Garlic cloves: 2
Soy sauce: ¼ cup
Beef broth: ¼ cup
Potatoes: 3 cups
Broccoli: 3 cups
Carrot: 2 cups
Oven-Baked Chuck Roast Directions
Season your chuck beef with some salt and pepper. Use your hands to season the meat well. I tried to keep it as much healthier as possible, but you can also use thyme, oregano, or sage for seasoning.
Take a pan on the stove pot, and add in a little olive oil. Place beef over a high flame until it becomes crispy from the outside. It will take 7 to 8 minutes to get some color on the beef.
Now stir fry some vegetables. Take a pan, add some oil, an onion bulb, garlic, soy sauce, and beef broth. Sauté them. To add some extra flavors, you can also add red wine, tomato sauce, apple cider vinegar, or a combination of these.
When the onions become golden brown, place the beef in the pan and cover the top with aluminum foil.
Transfer the beef to the oven for 1.5 hours at 350F.
When the time is over, take the beef out of the oven, and add in the remaining vegetables. You can also sprinkle some salt according to your taste. Again cover the pan with aluminum foil and transfer to the oven for 30 minutes at 350F.
A perfectly baked chuck roast with juicy vegetables is ready to serve.
You've enjoyed this recipe for Oven-Baked Chuck Roast? Pin the image below to your Pinterest board to spread the deliciousness! It's like giving us a virtual hug, and who doesn't like those? Many thanks! 😁👇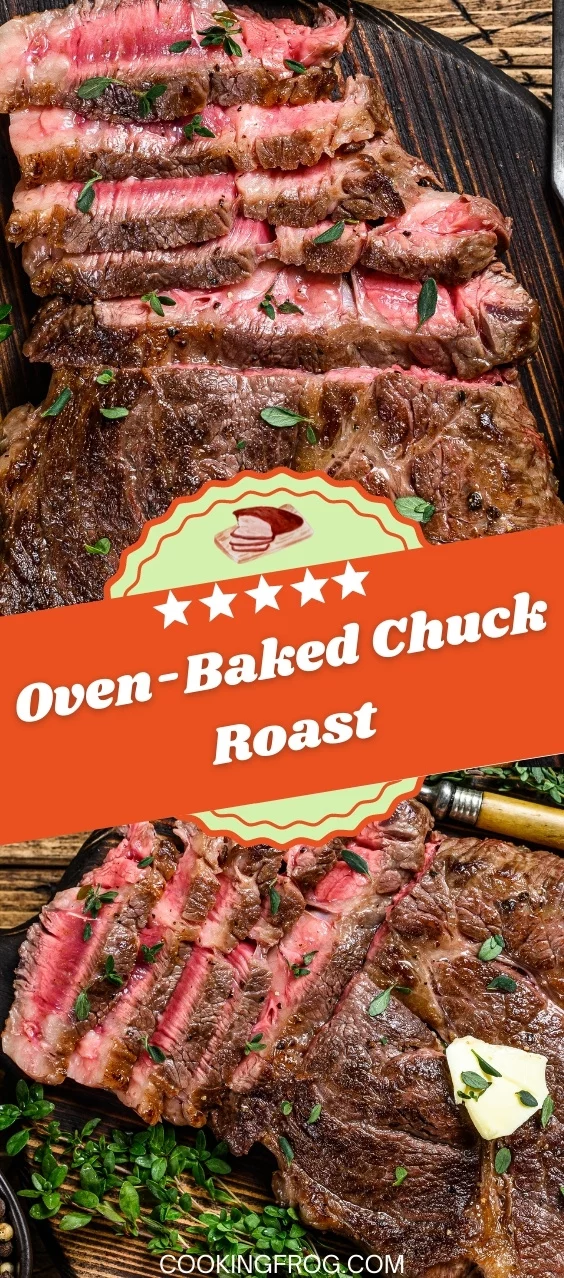 Tips & Tricks for Oven-Baked Chuck Roast
Take the chuck roast out of the refrigerator two hours before you want to cook it. If you start cooking refrigerated chuck roast, it will surely end up becoming dry.
Don't forget to season the surface of the chuck roast with salt and pepper. When the salt melts, juices are formed and absorbed by the meat, thus adding a rich flavor.
Once the chuck roast is done, allow it to rest for 5 minutes before serving it to your family. It will make the chuck roast moister and tender.
You can also select veggies according to your choice. Mushrooms, celery, and bell peppers go equally well with the oven-baked roast.
The cooking time of oven-baked Chuck roast depends on the cut of beef. It takes 3 to 3.5 hours to bake 3 pounds of chuck roast.
Chuck Roast Nutrition Facts
Based on the rough estimation, here I've mentioned nutritional facts about the oven-baked chuck roast recipe.
Calories: 316kcal
Carbohydrates: 10g
Protein: 24g
Fat: 17g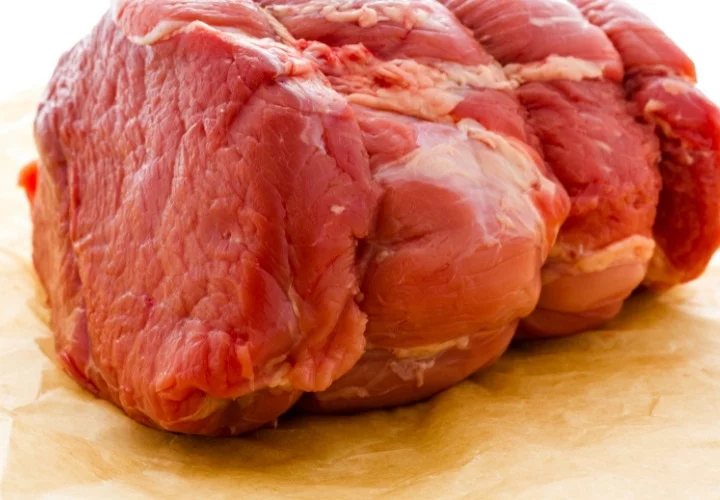 FAQs
How to know when the chuck roast is properly baked?
Two ways can be used to determine whether or not your roast is adequately baked. The first is using a meat thermometer. If the internal temperature of the meat on your thermometer reads 200 degrees Fahrenheit, the roast is done. If you don't have a meat thermometer, you can use a fork to test the tenderness of your chuck roast. A well-shredded chuck roast signals that it's time to relax and enjoy dinner.
Can I cook a medium-rare chuck roast?
Well, it all depends on the kind of cut you are opting for. There are different types of beef cuts like bone-in-rib, beef tenderloin, or chuck roast. If you want to enjoy medium-rare, then opting for bone-in-rib or beef tenderloin is the best option. As you will want some fats to remain intact, locking moisture and making your roast juicy. Herewith chuck roast, the story is different. It requires cooking for a long time until the meat falls apart with the fork. You know one secret, the more you cook it, the more tender and juicy it will become.
How to fix the dry chuck roast?
If you have got your roast dried out, then you can fix it. Unfortunately, losing its sliced shape will help you tenderize it or make it worth eating. First of all, you need to cut the dried chuck roast into small cubes. Then cook these cubes with broth in a Dutch oven at 275 degrees Fahrenheit until it shreds easily.
At what temperature shall I roast meat?
The oven temperature setting depends on the tenderness of the cut you are planning to cook. Chuck roast is best baked at 350 °F. Roasting at this temperature goes well with the larger section of the meat.
What if I need to bake 4 to 5 pounds of chuck roast?
If you want to make oven-baked chuck roast in higher quantities, no worries. You can increase the baking time to 4 to 5 hours.
Can I recycle the chuck roast leftover?
Yes, you can use leftovers to make some interesting cuisines. I'll suggest you some. You can finely shred the meat and use it as food stuffing. You can also deep fry the meat to convert it into jerky.
Conclusion
Whether you are running short of time or want to entertain your family with a surprise dish, the baked chuck roast is an ideal option. If you follow my recipe, you will end up with a perfect dish in a very short period. You will surely love it and will try it again and again as I do.
Must try this recipe, and don't forget to share it with the loved ones you care for. Thanks!
Check out these juicy oven-baked baby back ribs.