Do you want to prepare something exclusive and different for this year's Christmas? Look no further! If you've never had escargots, you're skipping out on an extraordinary French culinary delight. The soft, delicate snails are unexpectedly delectable when cooked in butter and garlic.
A savory and decadent dish for an appetizer calls for cooking snails in a butter and parsley sauce and serving them with a buttered baguette. It's really simple to make these escargots, and it's a wonderful way to try French food.
Escargots History
The Provençal "escaragol" and the Old French "escargol" are the origins of the term "escargot." Words associated with scarabs are considered to have impacted both phrases. The term "escargot" was first used in English to refer to an edible snail in 1892.
Since ancient Rome, escargots have been regarded as a delicacy, and with good reason. Even though eating elegant French snails can seem unusual at first, they have a rich, buttery flavor that is popular with people worldwide.
Although escargots are a staple of French cuisine, they are also well-liked in Portugal and Spain. There is no need to look for live snails while making this escargot dish, which makes for a classy appetizer at any dinner gathering.
You should undoubtedly check out this recipe if you previously believed that cooking escargots would be excessively expensive and challenging, especially if you have a special occasion!
Long before heliciculture (farming of snails) was established, people ate terrestrial snails. The tradition of raising these mollusks for human food began in a region that is now part of Italy.
Furthermore, although escargot is frequently associated with France, the earliest ingestion of snails is thought to have occurred in Spain, some 10,000 years before France and other nearby nations.
The French countryside has historically supported all of the major edible snail species. Due to their abundance, these mollusks served as an additional food supply for the prehistoric people from this side of the earth, which was crucial for their survival and adaption. Its acceptance in France didn't wane and continued to rise up until the present.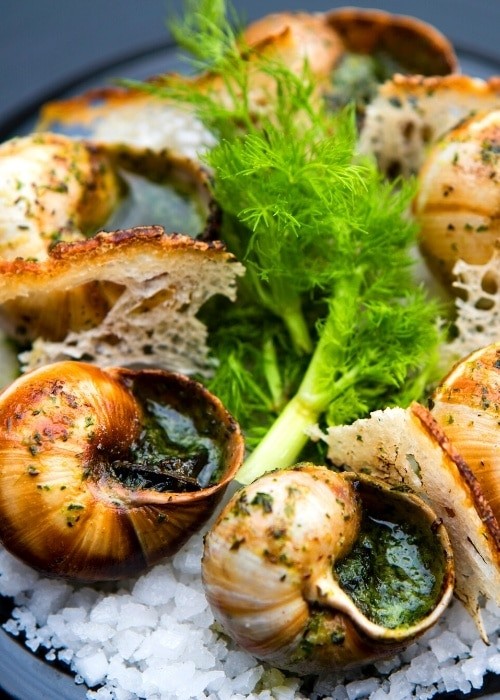 Escargots variations
Not every type of land snail is edible. While many are, not all deserve the privilege of grace your table. They must taste well and be the ideal size. Following Cornu aspersa (commonly known as "petit-gris") and Helix lucorum in the frequency of usage in the delicacy in France is Helix pomatia species.
Escargots are consumed across France, but Paris and Burgundy, where these gastropods were historically most prevalent, are where they are most frequently consumed. There are other versions of the meal, but the Burgundy escargots—the traditional French escargot—are the most well-known throughout France. Garlic butter and parsley are typically used to prepare this meal.
Escargots à la bordelaise, or escargots prepared in the Bordeaux way, are a well-liked alternative for Burgundy escargots. In this dish, snails are prepared in white wine and beef broth.
Another well-known dish made with snails is escargots vol-au-vent. Puff pastries stuffed with escargots, butter, and garlic and topped with mushroom caps. These are popular starter dishes in France, Netherlands, and Belgium.
Bulots is the name of a less popular variety of escargots served with garlic mayonnaise rather than the more typical garlic butter. It's also one of the odd foods you can eat in France.
Cargolades, a delicacy of southern France near the Spanish border and another uncommon escargot dish, are a popular food item. Cargolades are grilled snails served in their shells and are a Catalan-influenced meal.
You might also like this article: Best Recipe For French Macarons
Today's Escargots Recipe Origin
Around 1814, when Napoleon's steward Tallyrand wished to have lunch with Tsar Alexander I, he created the contemporary recipe for escargot. Snails were the only food the cook had left to offer when they finally made it to the restaurant.
He enhanced the flavor and appearance of the meat by adding garlic and parsley to the snails. Escargot has gained popularity worldwide (notably in France) since the guys enjoyed it so much.
Today, France is regarded as one of Europe's major snail-eating nations. Each year, they consume nearly 16,000 tons of snails!
They are eaten as an appetizer all year long, but they are especially well-liked during the holiday season.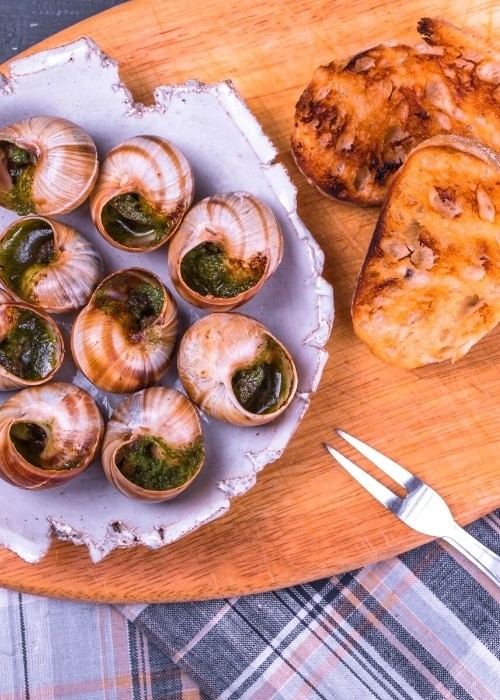 Is it safe to eat Snails (Escargots)?
There are occasions when snails, especially those that are collected in the wild, transmit parasites like nematodes. Escargot, however, is generally safe to consume when prepared properly and cleaned.
It is recommended to pass if you are unaware of the nail species, their origin, or how they were processed. The safest course of action is to only dine at trustworthy establishments that provide them.
3 Reasons you should make Escargots
It will take you to France: This recipe for escargots is a great way to experience a taste of France if you've ever desired to. Only a delectable snail slathered in butter flavored with garlic and parsley will do for the French. And you'll be addicted to French cuisine always!
A Distinctive Entrée: Although less prevalent outside of France, escargot is a very well-liked appetizer there. You'll step outside of your comfort zone and discover how enjoyable eating unusual foods can be with this appetizer! You'll adore it, I can tell!
Efficient: To prepare this meal, simply combine the garlic butter, stack the butter and snails, and bake. Even while it just requires a short amount of active time, the finished product feels like it took hours to make.
Share the image below to your Pinterest board if you like these Escargots! Thank you!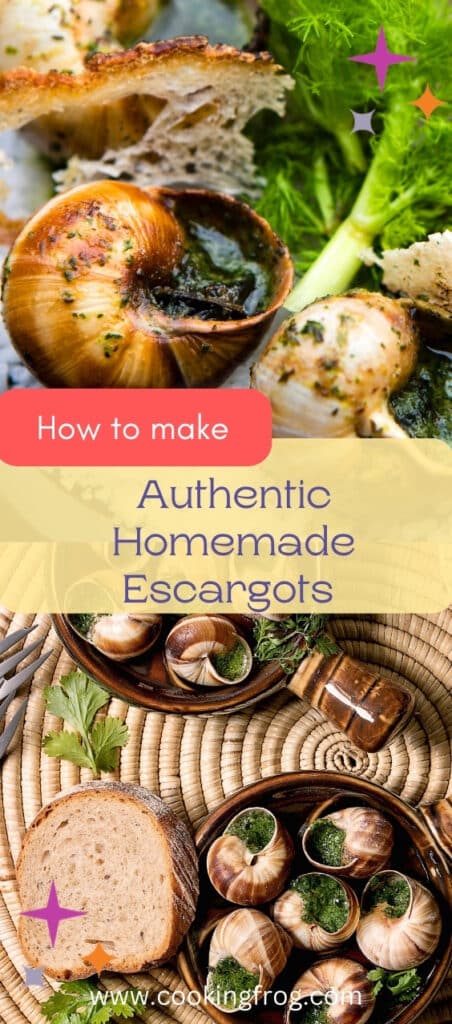 How to make Escargots?
A savory and decadent appetizer that uses snails cooked in a butter and parsley sauce and served with a toasted baguette. This dish for escargots is really simple and a wonderful way to try French food.
Ingredients
12-16 Snails (7 oz Can)
1 shallot, finely diced
½ cup of unsalted Butter, softened
3 tsp Garlic, minced
1 TBSP of flat leaf Parsley, chopped
1 TBSP of white wine, dry
½ tsp of sea salt
2 TBSP of Breadcrumbs

pinch of cayenne pepper (optional)

1 French baguette
Instructions
Add 1 tablespoon butter to a skillet along with the shallot and cook until tender. Add Snails towards the end, season with salt, and cook for around 2 minutes.
Combine five tablespoons of softened butter, parsley, garlic, and white wine in a food processor or blender. To make garlic butter, pulse the ingredients until they are combined.
Add one snail to each escargot container and add roughly a half teaspoon of the garlic butter concoction on top. Then, add a small amount of breadcrumbs to each snail.
Set the oven to 375 and bake until they obtain nice brown color. This should take around 12-14 minutes.
Make 1/4-inch-thick slices from a baguette (each slice should be for one snail). Place the bread slices on a cookie sheet.
Microwave 5 tablespoons of butter to melt it. Butter should be applied using a pastry brush to the bread's surface.
After the snails have finished baking, remove them from the oven. The oven should be set to broil. Place the bread-filled cookie sheet in the oven and leave the door left open slightly. The bread should be toast in the oven. Watch it carefully since broiling can easily cause it to burn.
After toasting the bread, plate it with the snails. Enjoy!
Tips for the Best Escargots Recipe
Canned snails are used in most US restaurants' escargot recipes, which are excellent. I would advise staying with canned snails for a still-high-quality, simpler-to-prepare appetizer, as escargot in the shell is typically just canned snails packed into empty shells for a better appearance.
The escargot may occasionally (not frequently, but it is conceivable) spew hot butter after being taken out of the oven. Work with the escargot for the first few minutes after baking while wearing an apron and oven gloves!
FAQs
Are Escargots in Cans Already Cooked?
Escargots in a can are cooked previously. Following that, they are canned in the cooking fluids.
Why are escargots so pricey?
Purchasing the ideal snails to serve you is not inexpensive. Snails are raised on specialized farms rather than just being collected in the garden. Escargot preparation requires time as well.
What flavor does escargot have?
Escargots are frequently compared to clams in terms of flavor and texture. Escargots are sometimes compared to chicken or fish, with a hint of mushroom, according to some people.
How many snails are consumed annually in France?
An estimated 16,000 to 25,000 tons of escargots are consumed by the French each year. That amounts to 5 to 7 million snails annually.